Fantasyland Part 1
Before I start my description of Fantasyland, I need to post a correction. My friend Katsumi, who lives in Tokyo, informs me that the Japanese do indeed wear shorts during the months of July and August when temperatures demand cooler attire. So feel free to don your lighter togs during this time.
Now, onto Fantasyland.
Just beyond Cinderella Castle we find the most magical land of all, Fantasyland.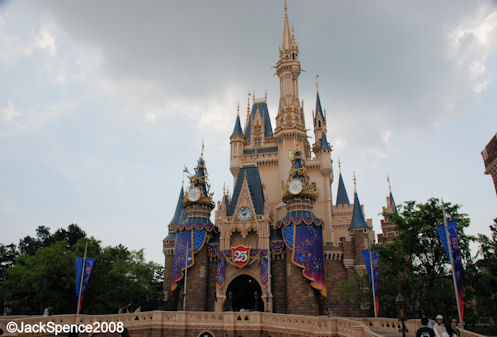 As I mentioned in a previous blog, the exteriors of the Tokyo and Florida castles were almost identical until just recently when the Tokyo castle was given a new color scheme.
Here's a picture standing at the castle entrance, looking back toward The Hub and World Bazaar. The two large turrets conceal lighting and sound equipment used for many of the shows presented in front of the castle.
Within the castle breezeway, you'll find the same Cinderella mosaic as the one at Walt Disney World.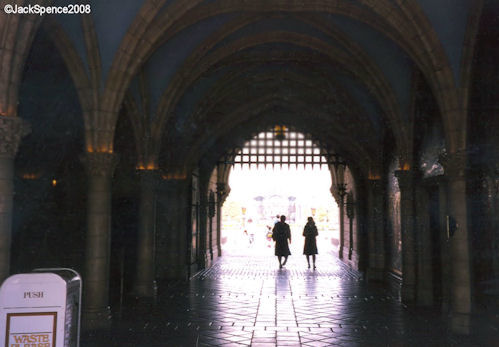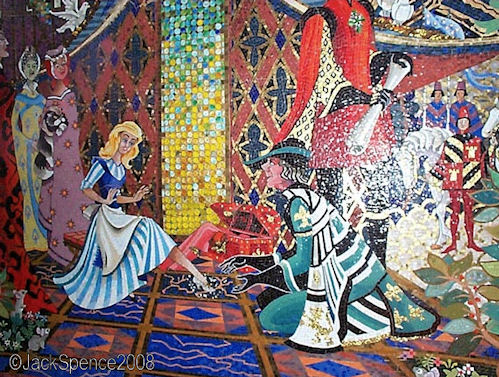 Up until two years ago, the interior of the Tokyo castle contained a walkthrough attraction called the Cinderella Castle Mystery Tour (there is no restaurant in this castle). Here, groups of about 25 guests were escorted through a labyrinth of rooms and hallways, dungeons and turrets by a cast member who would have an ongoing discussion with the "Magic Mirror." Along the way you would encounter a number of villains in various settings. You even came face to face with a dragon that was very reminiscent of the dragon that lives beneath Le Château de la Belle au Bois Dormant (Sleeping Beauty Castle) in Paris. The climax of the tour involved a showdown between good and evil and a youngster was chosen from the group to do battle with the Horned King from the Black Cauldron. Of course virtue triumphed and there was a happen ending.
Even though I didn't understand any of the dialogue, I enjoyed this attraction as it was completely different from any other Disney experience. I was sad to see it close. No replacement has been announced.
Here are a few more pictures of the castle and its courtyard.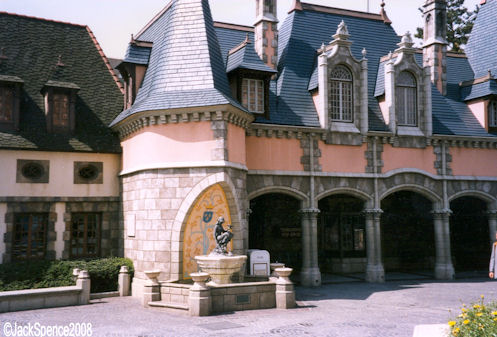 Moving clockwise from the castle courtyard, you come to Snow White's Adventures. Notice the word "Scary" is not in the title here. I find this strange because I felt that this version of the ride was much more intense than its American cousins – especially the scenes in the haunted forest. The trees were more menacing and this section of the ride was longer.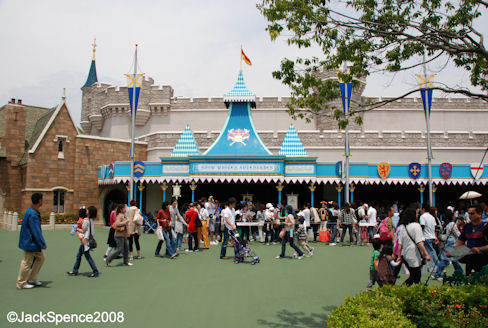 Next we come to Peter Pan's Flight. In this case the attraction is almost identical to the one in Florida. However, I will make two observations.
First, the boarding area is about four feet higher than ground level. To bring guests up to this height, the queue is actually a series of ramps that switch back and forth until you reach the boarding area. Unfortunately, when you're in line on a lower level you're able to look up into the ride mechanism and see the track. It's impossible to ignore and I feel it really detracts from the magic.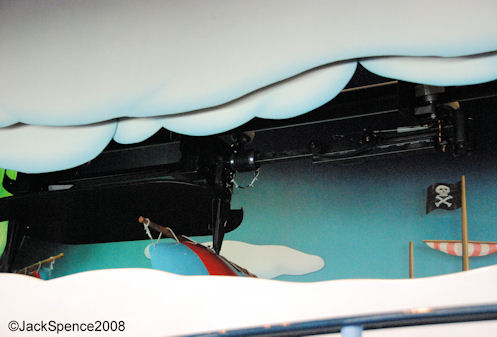 For my next comment, I'm only using the Peter Pan attraction as an example. For what I'm about to describe is common everywhere at the Tokyo parks.
There is never a lack of cast members manning the rides. For Peter Pan there were two cast members maintaining the queue — greeting guests and keeping the line moving. When you reached to boarding area, a third cast member asked you how many people were in your party and a fourth helped you into your ship. And finally, a fifth cast member helped you exit your ship at the end of the ride. That's five cast members for one simple attraction.
I've often seen only one cast member man the "dark rides" at California and Florida. I was continually amazed by the number of cast members I saw everywhere. Restaurants, shops, and attractions easily had one and half to two times the cast members as their American counterparts.
Keeping in our clockwise direction, and practically entering Westernland, we come to Snow White's Grotto. This pleasant spot is a copy of the grotto found at Disneyland CA.
For those of you not familiar with the story of the Snow White Grotto, it goes something like this. It seems that Walt received an anonymous gift from an Italian admirer who sculpted Snow White and the Seven Dwarfs. Walt was so touched by this gesture that he insisted that the figures be placed in his new Disneyland park. There was just one problem. It seems that the sculptor made Snow White the same size as the dwarfs instead of twice their size. In order to remedy this oversight, the Imagineers decided to use forced perspective and place Snow White high above the dwarfs, thus minimizing the similarity in height and making her look taller than she actually is.
When the Oriental Land Company was told this story, they insisted that their Snow White Grotto be the same as the California version. They did not want the "mistake" corrected.
Continuing our clockwise tour of Fantasyland we come to the Haunted Mansion.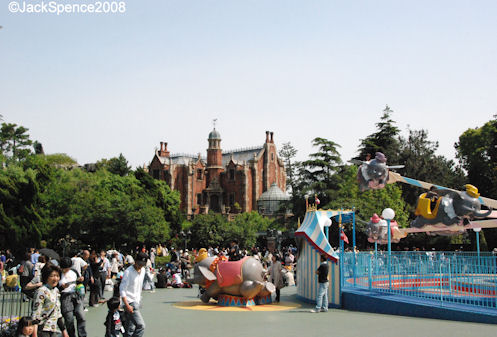 At first you might think that this is an odd place to put the Haunted Mansion, but there are a number of reasons why it ended up here. Since Disney was only going to build "half" of New Orleans Square in Adventureland, there was no place for it here. Also, Tokyo would have no Liberty Square as this was an area the Japanese could not relate to. So nix that idea.
Throughout the Haunted Mansion's development and history, thoughts of placing it on Main Street and Frontierland had been considered. But these ideas were also dismissed for the new Tokyo park for various reasons. In the end, it was Japanese culture that determined its location as ghost stories are considered fairytales or fables in their society. Since Fantasyland is all about fairytales, what better place for the Haunted Mansion.
Until the mansion in Florida had its major rehab last year, the Tokyo mansion was an exact copy inside and out. The only difference is that the exterior of the Tokyo mansion is run down, evidenced by broken windows and overgrown gardens.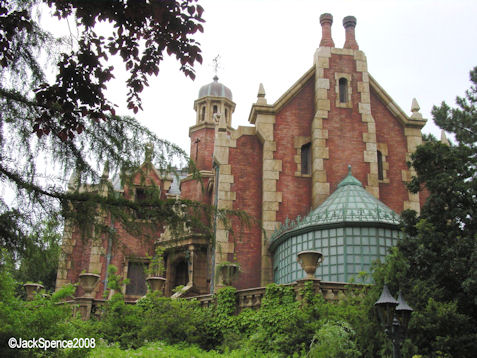 The queue is also somewhat different. Here you pass by several crypts in various stages of decay.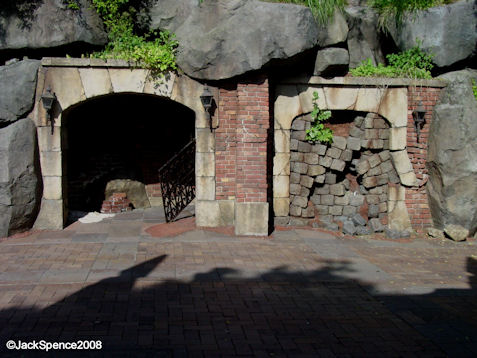 The parades also make their entrance from an area next to the Haunted Mansion. I don't have any pictures of the current parade so I'm only going to be posting one photo that has to do with an interesting detail I will relate.
A number of Americans are hired to portray many of the "face" characters in the parades and throughout the park. A "face" character is someone whose actual face is visible to the public like Snow White, Prince Charming, and Sleeping Beauty. Since a Japanese cast member could not be made up to look like these characters, it's necessary to hire people who can emulate them. This is also done at Hong Kong Disneyland.
When I've watched the parades in Tokyo, I've taken some of the greatest pictures because my blonde hair stands out among the crowd. Therefore, I'm more noticeable to the characters and they lock eyes with me as they pass by.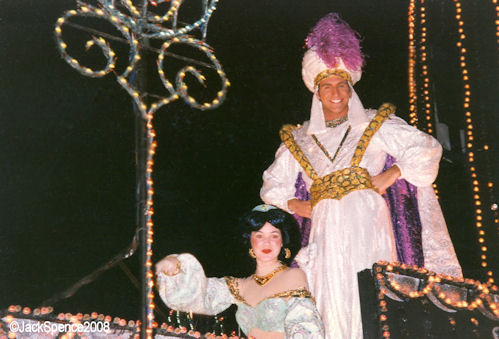 Continuing on, we come to Dumbo The Flying Elephant. My comment here is that this attraction needs to be torn out and rebuilt. See for yourself.
This version of Dumbo harkens back to the original Dumbo attraction at Disneyland California in 1955. It looks cheap. It only has eight elephants (instead of 16 like the other parks) and has very few architectural embellishments around the ride. Considering the money Oriental Land Company is willing to spend on other projects, it surprises me they haven't updated this attraction.
The next ride we come to is Castle Carrousel. There's not much I can add to this – it's a merry-go-round. However, I would like to note that the cast members stand attentively and wave to you as you ride by on your steed.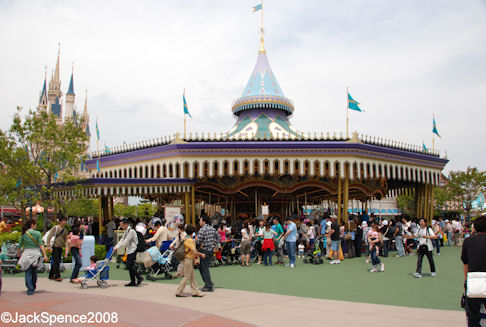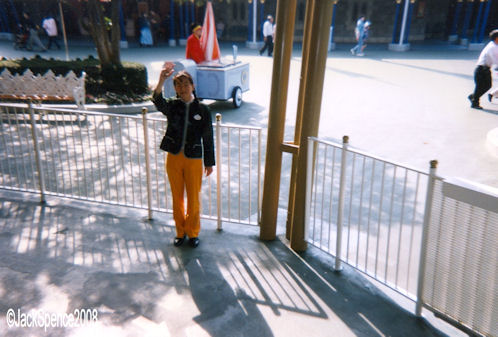 Like the carousel, there's not much I can say about Alice's Tea Party. Round and round you go, where you puke, nobody knows. Like Florida, this attraction is covered to protect you from the elements.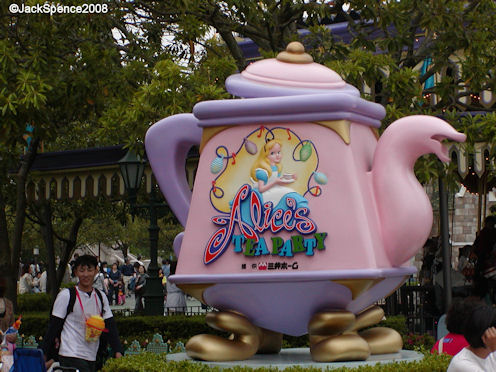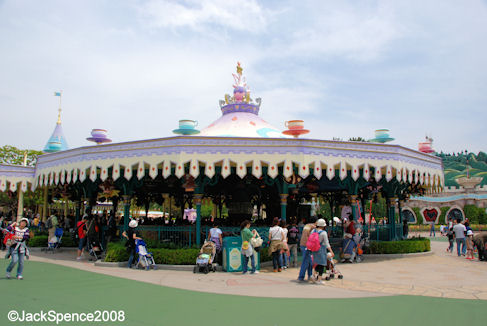 Visitors familiar with Disneyland in California often complain when seeing Disney World's "it's a small world" for the first time. The exterior is quite a disappointment compared to its west coast counterpart.
In an effort to correct this mistake, the Imagineers took the best from both American parks when designing the Tokyo version of "it's a small world." The elaborate exterior from California would be combined with Florida's indoor boarding area.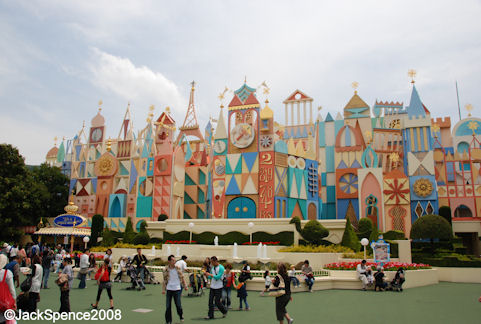 The actual ride is closer to Florida's design as your boat floats through a "lake" rather than a trough.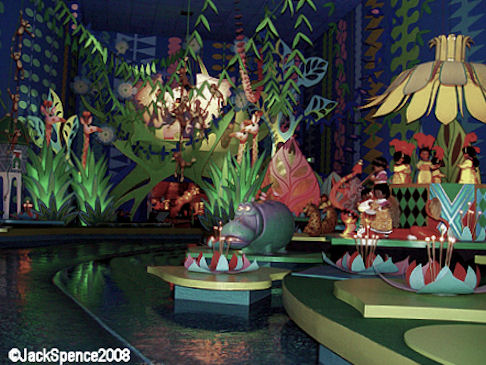 Here's another picture of "it's a small world" taken from the now defunct Skyway.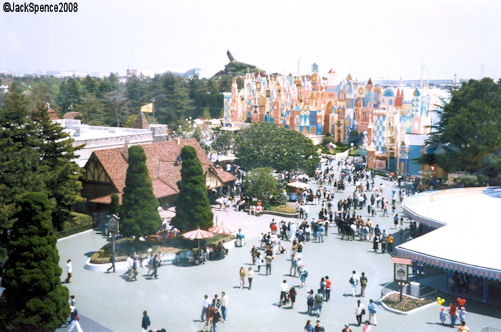 That's it for Part 1 of Fantasyland. Stay tuned for Part 2.