So last Sunday, after we toured the Disney Magic, Lee and I stopped by
the Disneyland Resort on our way back to San Diego. Hey, it wasn't THAT
far out of the way! 🙂
And we *finally* got to try out Toy Story Mania! We hadn't been
to the parks since Memorial Day, so this was the first chance we'd had
(it opened June 17).
It was great fun!!! I could've done it over and over again…but the
line was 45 minutes long (which is short when compared to the
90-120 minute waits for Finding Nemo Submarine Voyage last summer),
but that's still about 25 minutes too long for me to be willing to
do more than once. Unlike the attraction at WDW, there's no Fastpass
at the one in California.
I'd like to say that I have new appreciation for the great photos
that Chelsi Murphy took during the Annual Passholder Previews, which
she shared with us in this
blog entry and in this Wandering the
Land feature. There's several that she managed to take during
the ride, and that's *really* hard – the cars spin you around pretty
fast as they move through the attraction, and then you get caught up in
playing the games themselves! So thanks again, Chelsi!
As I mentioned, we had about a 45 minute wait to get on. For the first
10 minutes or so we were entertained by Mr. Potato Head, who talked to
people in the queue and told bad jokes…but he never removed his ear.
Still, that's one very impressive audio-animatronic – his lips move and his eyes are very expressive.
It was a warm sunny afternoon, but not as hot as it often is in the
summer. Most of the queue is outside, but most of it was shaded
either by the building or by a whole bunch of beach umbrellas, so those gave
us a break from the sun.
I'm rather disappointed in the queue itself. Other than Mr. Potato Head
it's pretty boring – there are a bunch of posters that describe how to
play and "advertise" the games, but that's it – other than that it just
snakes back and forth. (Quite different from the queue in Florida – you
can see pictures of it in Mike Scopa's blog
HERE.)
The queue is very deceptive, too – after you pass by
Mr. Potato Head and make a turn, you can see people on the other side
of the wall getting ready to get on the ride, but noooo…you go around
the next turn, and instead of joining them, suddenly there's a
whole lot more queue!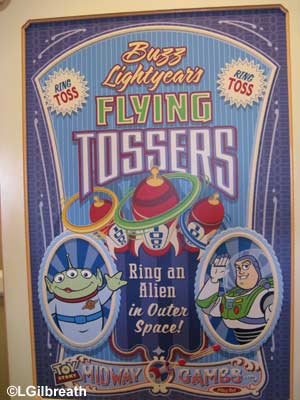 The loading process seemed pretty fast and efficient and they got us out
of there quickly. Lee hadn't seen pictures of the ride vehicles, so
he was surprised that you sit back-to-back with other people.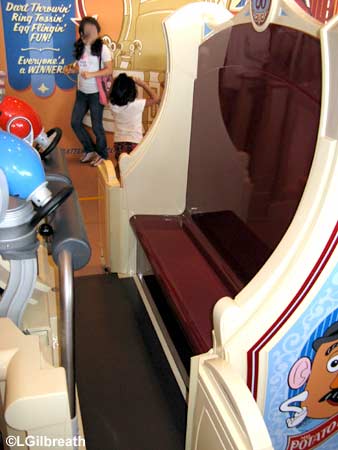 Once the ride started…wow. We got whirled away without much chance
to look at what's going on around us…and then we're at the first
game trying to figure out how to fire and aim. Though actually it was
quite easy, and it's SO nice to be able to see what I'm shooting – so
unlike Buzz Lightyear Astro Blasters! It seemed to me that a lot of the
high-scoring targets were actually closer to the bottom of the screen,
so I started focusing a bit more there. After our "practice"
pie-throwing round we were whirled away to the next game, and so on. So
we threw eggs and popped balloons with darts, broke plates with
baseballs, tried to throw rings over little green guys (I thought
that was the hardest) and then ended up at the shooting gallery
where we got a "bonus" round. It was really a lot of fun, but it
went way too fast!
Of course the most important thing was that my score was higher than
Lee's. 🙂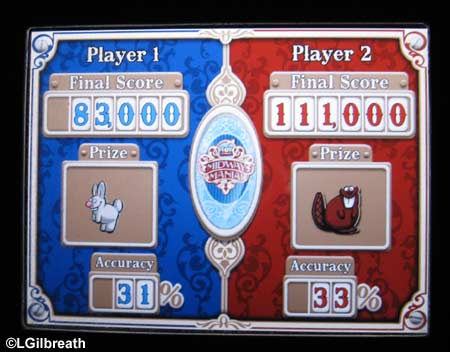 And here's my prize…If this photo appears fuzzy to you, put on your 3-D glasses. 🙂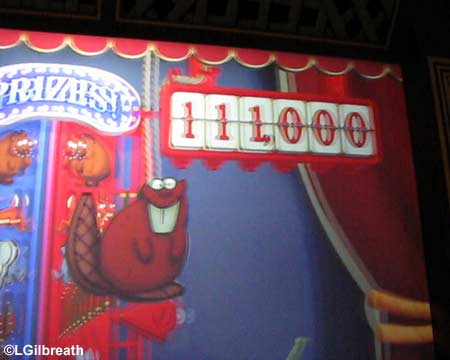 A few other notes…Lee wears glasses, which can sometimes be an issue
with the 3-D glasses, but he had no problems seeing at all.
In the queue I noticed a couple of signs cautioning about motion
sickness, which at the time I thought seemed a bit of an overreaction,
but after riding it I can understand why they posted it. The ride
really does move fast and spin you around a lot – and that could
bother those who are sensitive to motion.
You exit the ride on the opposite side of where you got on…and to get
back outside again you have to climb a flight of stairs that takes you
back over the track, then go down a flight of stairs on the other
side. Which, surprise, surprise, puts you into a gift shop. I
assume there's a different arrangement for those who can't climb
stairs, but I don't know what it is.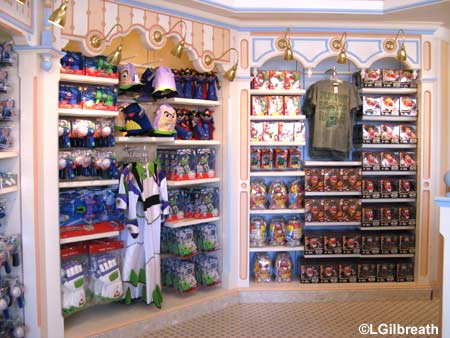 While we were in line I noticed a couple of new food stands that have
been set up along the boardwalk in front of Toy Story Mania – a hot dog
place and a snack place which sells drinks, turkey legs, and chimichangas.
I wanna ride again!!! So I'm looking forward to some morning when
I can get there at park opening and ride several times with little/no
wait.
Have you visited the Disneyland Resort recently? Share your experiences in our Disneyland Rate and Review Area!