For Linda and I Magic Meets begins today, Wednesday, with this evening's arrival of Beci (MouseFan Travel) and Shontell (DVCbyReSale)! Both are sponsors and breakout room speakers at Magic Meets!
In my last Magic Meets blog I told you very briefly about some of the planning that goes into Magic Meets from the All Ears point of view.
There is much much more….
LindaLou takes the lead for all promotional items and she selected some great ones for this year's event.
We have a white board in the office where we begin to outline ideas of what logo merchandise to take to specific events; it's divided into Want, On Order, Arrived, Packed. We TRY to be organized.
Often times it's not as simple as, we want mugs, this one looks nice, let's order it (from the online catalog).
Did you know that prior to ordering the special mugs for Friday's Meet before the Magic, we had our merchandise supplier send us a variety of mug samples. We wanted something special, not just an ordinary ceramic mug. Once we decide on the specific mug, we then have to make sure we have an acceptable graphic image for the vendor to apply to the mug. And of course, we want a color that represents All Ears®. The mugs took 3 weeks from the time we placed the order until they arrived. We ordered them very early to ensure they'd be here in plenty of time, especially if there was a problem and we had to reorder!
Once the mugs arrived, LindaLou and I went through each of the boxes and examined each mug individually to make sure everything was in order. Then we repacked the boxes and they are ready to pack in the car!
LindaLou also puts together the Gift Baskets we give away. This year there will be 3, one Friday night for the Meet before the Magic, one for the main Magic Meets Saturday Event and one for my Saturday breakout on the Disney Cruise Line.
Here is the Step by Step process to making an All Ears Basket (at least from LindaLou's perspective).
First, I go thru my merchandise containers and select items for each basket. If you've ever Disney shopped with me, you know I am always looking for bargains to stock up on for giveaways!
Let me add, Linda has the patience of a saint.. there is no way I have to patience to put together one of these baskets! LindaLou makes them look "neat and pretty" and shrink-wraps them for the meet.
Linda begins by taking everything out of the basket and laying it out so she can begin to arrange everything in her head.
She layers the very bottom with newspaper….
And then puts pretty colored shredded paper on top of that.
She starts arranging items, many times she puts things in and then takes them out again and rearranges. (That's why I said I have no patience for this LOL)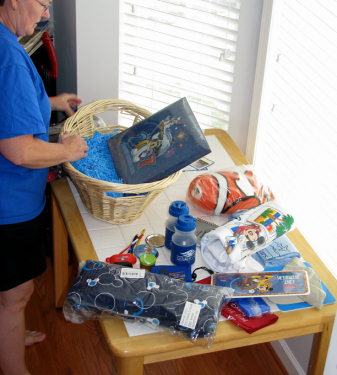 Hey! Just look at all the cool stuff that someone will go home with after my Disney Cruise Line breakout talk on Saturday!!!!!!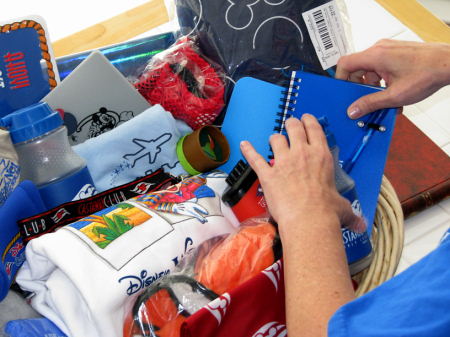 It's Done!! She looks up and smiles! All Finished!!!!!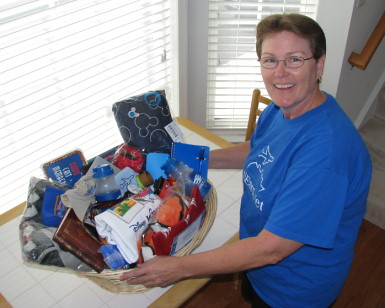 One last step, LindaLou puts shrink wrap paper all around the basket so everything stays in place and looks Neat and Pretty for the Giveaway.
And there you have it!!!!
Come to my DCL talk on Saturday at Magic Meets and maybe you'll win the basket.