It was a spur of the moment idea"¦an idea that probably has been in the back of a lot of WDW guest minds but unfortunately never surfaced to the point where they can try it.
What am I talking about?
Well on my recent trip to Walt Disney World while walking around World Showcase with Annette Owens of MEI and Mouse Fan Travel we found ourselves discussing interesting things to do in Walt Disney World that the usual guest would probably either never think of nor have the time to do.
We had just finished the third leg or our four Parks in One Day Adventure and before heading off to dinner we were obviously thinking of this challenge and what other interesting challenges we could come up with that would make for an interesting day at one of the parks.
Of course what is World Showcase known for but its diversified cuisines and the offerings of food from around the world?
So we began to wonder out loud what it would be like to try and get a little taste of what World Showcase pavilions have to offer"¦all 11 of them.
Now unless you are either Takeru Kobayashi (world famous Japanese competitive eater) or a 350 lb. National Football League interior lineman you probably don't have the intestinal fortitude to sit down in every pavilion and eat a meal in one day.
So the problem was to throw in enough wrinkles so that the average person could in fact stand a chance at doing this.
That night over dinner I threw out some ideas to some friends and after some discussion we came up with the following challenge that we were going to attempt the very next day.
We called it"¦."Sip and Snack Around the World."
Rules of the Game
Here they are:

The goal is to consume either food or drink from every pavilion in World Showcase.

Since this was a bit of a competition we said that it was every man (and woman) for him/herself. That meant no sharing.

Each participant was responsible for purchasing his or her own "stuff."

Whatever is consumed had to be unique to that pavilion and not available anywhere else.

Whatever the choice, be it food or drink, at least 75% had to be consumed for that pavilion's offering to count.

There were four of us who took up this challenge, the aforementioned Annette Owens, Len Testa Co-Author of the Unofficial Guide to Walt Disney World and one of the co-hosts of the WDWTODAY podcast, his fellow WDWTODAY co-host Mike Newell, also of MouseWorldRadio, and yours truly.
We decided to do it the next day.
Now keep in mind that this is an unusual way to spend your day at Walt Disney World. On a normal vacation day in Orlando you would not find yourself spending an entire day doing this"¦well after reading this you might.
Good Morning
When I got up the next morning I made sure I had nothing for breakfast"¦well maybe some juice"¦but no food.
We all arrived at EPCOT just about opening time and knew that World Showcase would not open until 11 so we strolled around and checked out Future World before our "Feast."
We visited The EPCOT Legacy Museum…

and Mission Space and Test Track…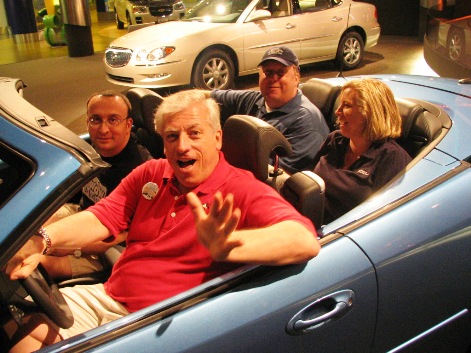 …and Club Cool before heading over to World Showcase.
I was a little hungry but held off eating anything but a small granola bar.
I cannot say the same for Len. About 10:30 or so Len decided he needed something so he decided to grab a cherry Danish and coffee at the pastry cart in Canada.
Hmmmm"¦.would this impair his gastronomical ability for the day?
We decided to help Len out so we walked from Canada to Mexico where our challenge would begin. This would give him some time to walk off the Danish and prepare for the challenge.
Just before we got started Len dropped a bomb"¦"Uh guys I have to be somewhere by mid afternoon so we need to do this by 2:30."
"What?!?!?!
Hoo boy!
I had expected that we would be looking at an eight to nine hour ordeal. Not now.
Len's schedule meant we had to covering 11 pavilions in 3 ½ hours"¦do the math"¦that means we had to consume something every"¦drum roll please"¦20 minutes. Yikes.
Now I was REALLY glad I had not eaten breakfast.
Mexico: La Cantina de San Angel
First stop was Mexico. Now think of the strategy one could go with on such a challenge. You could go one of several ways. We all had our own ideas as to how best to approach this challenge.
My plan was sort of a two plans in one kind of an approach. My primary objective was to think small. I was going to look for the smallest item in every pavilion.
I was also thinking that I would also need to space out any liquids I would have. I knew that during the challenge I would need to wash down any food I consumed so I needed to constantly monitor myself for dry throat.
Well for Mexico at La Cantina de San Angel three of us decided to start off light. Len, Annette, and yours truly opted for the child's meal"¦a few nachos and a small beef burrito"¦and a small bottle of water.
Then there was Mike Newell. Mike has also not eaten breakfast so he assumed that having a regular sized meal to start off the challenge would be fine.
Well, take a look at the following picture and you will see how much of a difference the child's meal was from a regular meal. It would be a choice Mike would regret.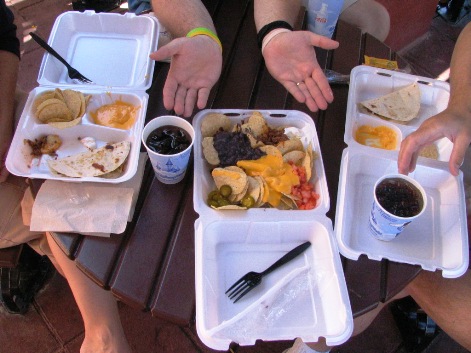 Remember, we all had to eat 75% of whatever we chose at each pavilion so size was a consideration.
Norway: Kringla Bakeri og Cafe
I can tell you that one of the reasons I was excited about this challenge was that I knew that it would be a fun day. After all, I was in Walt Disney World with some friends and I knew"¦I just knew that we would laugh during this whole ordeal.
Well, you can imagine how much we laughed when Mike Newell, after eating his Mexican dish, turned around and decided to get the chocolate mousse. Now ordinarily, I'm sure many of you would leap at the opportunity of enjoying a chocolate mousse. However, would you really want one after eating a huge plate of nachos? I guess we all knew, especially Mike that his choice was let's say questionable when he took his first swallow.
The rest of us were on this small food kick and opted for the smallest thing we could get"¦like the Lefse or the cloudberry horn.
We were two pavilions in and already we knew we were in for quite a day.
We skipped past China because our target, the Tea Wagon, was not open for business just yet.
Germany: Sussigkeiten (Sweets and Treats)
In Germany we thought that Sommerfest would have some good options. Right off the bat we all agreed that a German beer is definitely the wrong shoice so we looked at other options.
We were thinking Strudel. Sure, a little treat and some sugar to give us energy.
Well the problem was that the apple strudel offered at Sommerfest was more like dessert for three and none of us was brave enough to attack it. In fact all the desserts offered"¦including the Black Forest Cake and Cheesecake, although delicious, was looking just a bit too much to have on this day.
What about the pretzel? Well, that too looked huge, and in Len's words by then his stomach had convinced him that the pretzel was about the size of a piece of fence.
So we went into the store called Sussigkeiten. It did not get any easier.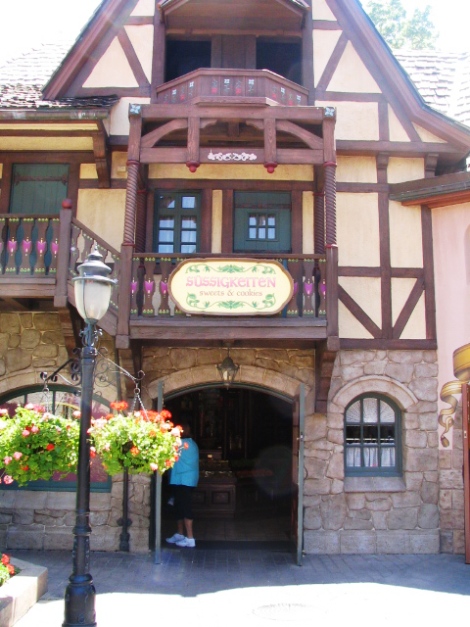 Think of it this way. If any of us bought a small package of cookies we'd have to eat 75% of the package. That WASN'T going to happen.
This pavilion was about to be the first pavilion in which we were looking at candy bars. Most of us looked around for a candy bar that appealed to us and that meant not just ingredients but size.
I was adventurous and tried this one candy bar that looked innocent.
Of course when we all got different items we would ask one another how they tasted.
So when Annette said, "Hey Mike, how is it?" I went into my Rod Serling impression and said calmly, "Imagine if you will"¦chocolate covered Play-Doh!"
Well you can imagine that we knew right then and there that we were risking getting sick from either eating too much food that day or laughing with each other. It was great.
Next Time: Part II: Tea, Nuggets, and Dried Fish, Oh My!