AllEars Reader Chelsi Murphy attended the Annual Passholder Preview of Toy Story Midway Mania! at Disney's California Adventure on Tuesday, and has kindly shared her experience in this guest blog.
My husband and I received an email a few weeks ago announcing the Toy Story Mania sneak preview for annual passholders. You had to pick times you were available to go and enter your pass number. Lo and behold an email arrived instructing winners to bring a copy of the confirmation, along with a valid Disneyland annual pass for each member of the party, to the West information booth "at least 30 minutes before your time slot." Our time was between 10 am and 3 pm on June 10th. We, being very excited to see this new ride, arrived at 9 am at the designated booth and exchanged our email for our passes
This gave us plenty of time to get through security and wander over to California Adventure and wait for the park to open. Once inside and allowed past the main holding area, we walked over to the Paradise Pier Boardwalk where the new ride is located, along with an estimated 100 or so other lucky pass holders. Mr. Potato Head was not out and working this morning to greet us. He was having a few mechanical issues but there was plenty of signage to help us along the way.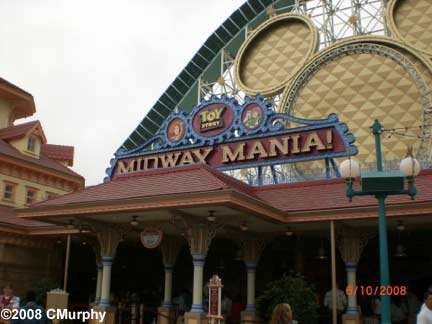 Once in line we had both passes and our annual passes checked three times before finally getting the go ahead to pass through to the main line to get our 3-D Glasses.
Along the walls of the waiting area are what resemble circus posters explaining how to play games once on the ride.
At this point you are divided up by groups to get on your cars. They resemble a cross between the Buzz Lightyear car and your cab from Roger Rabbit. You sit in pairs, each with their own shooting device and you share a score and information screen.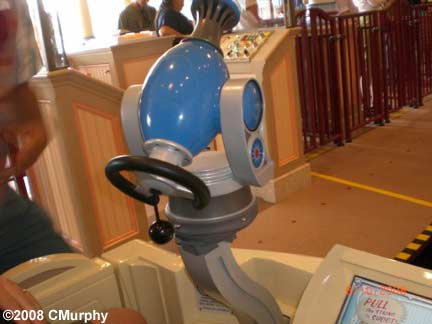 When you take off, you should have your glasses on ready to go. You pass by great big scenes of all your favorite games as a kid.
Once you come to a stop, a giant 3-D video screen comes on and you are in an interactive video game. Depending on what you hit you will have different experiences: Some symbols are worth more points than others and some shoot air or water at you when you hit them. You make your way through different areas and each time you stop you play a shooting gallery style new game. I know if you hit certain things, a new game may come up on your screen but you are going so fast and having such a good time, its hard to concentrate on hitting exactly the right pattern!
At the end, your screen comes on to tell you your score, accuracy and give you a prize! We both got Rabbits! They also have a giant screen at the end that gives high scores of the day and month.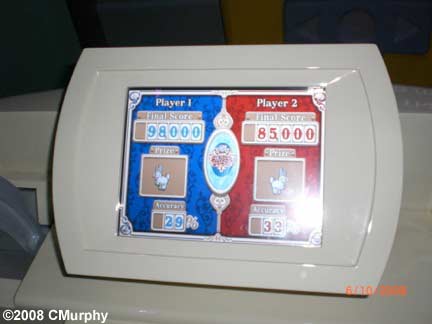 Some pictures while you're waiting to exit the ride.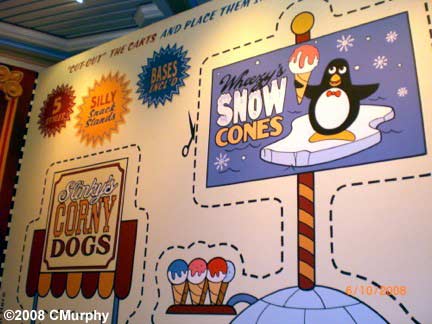 This was at the end of the ride and I thought – "how does this help me now?"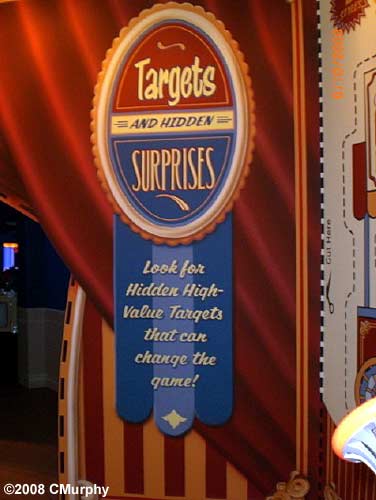 When we first exchanged our email for our pass they told us depending on the crowd size we would be able to ride it again. We asked and sure enough they let us back in line. The unfortunate part was that by the time we were about to receive our 3-D glasses they made an announcement that the ride was down and that everyone should go enjoy other areas of the park and check back in later. This is Disney code for "this is going to take a while." My husband and I and most who had already ridden left the line happy we got to do it once.
The ride is amazing to look at and a heck of a lot of fun – and should not be missed. I can't wait for my next opportunity to enjoy it, I just hope the others waiting for their 1st opportunity yesterday eventually got on.