The California Grill is the Contemporary Resort's signature restaurant, offering upscale dinners, sophisticated atmosphere, and spectacular views of the Magic Kingdom.
For many years, the Concourse Steakhouse, on the fourth floor of the Contemporary, was their casual dining spot, serving breakfast, lunch, and dinner. Although I liked this restaurant, I always felt it lacked a true identity. Since it was open to the cavernous Grand Canyon Concourse, you could never achieve any intimacy here, no matter how hard you tried. So I was happy to learn that this eatery would be replaced by The Wave on the first floor of the hotel, occupying what used to be the Food and Fun Center.
Last night (June 7), The Wave opened its doors for dinner and today it opened for breakfast and lunch. My friend Donald and I were on hand today to sample lunch.
To begin with, I like the entrance. The Disney Imagineers have taken what was once dead space and created a modernistic tunnel that leads to a stylish check-in desk.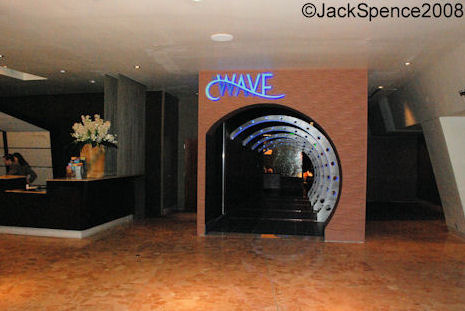 To the side and behind the check-in desk are two lounges where you can wait for your table or sample a refreshing drink. These lounges are decorated in deep blues with fabric-covered walls, plush bench seating, and black cocktail tables. The lighting is very low and the atmosphere cozy.
Also behind the check-in desk is a stylish bar with seating for approximately 36. Overhead "stars" twinkle. Even the cocktail glasses have "The Wave" etched into them.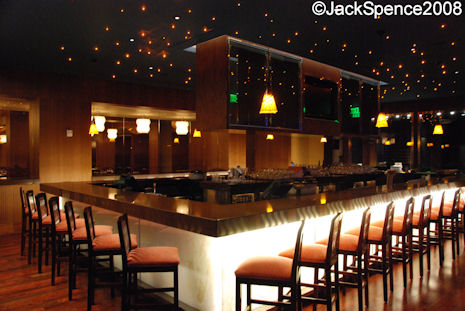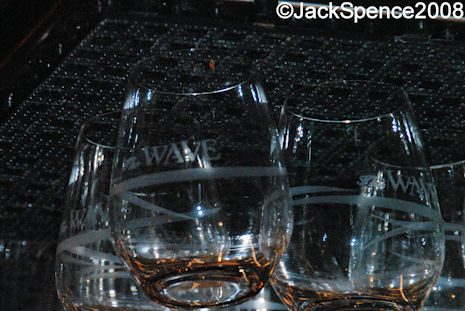 One might think that with a name like "The Wave," everything would be decorated in shades of blue (like the lounge), but in trying to avoid the obvious, the designers chose a pallet of browns for the main dining room. Instead, the "wave" theme is carried out in the chair's seat backs and the ceiling's lighting.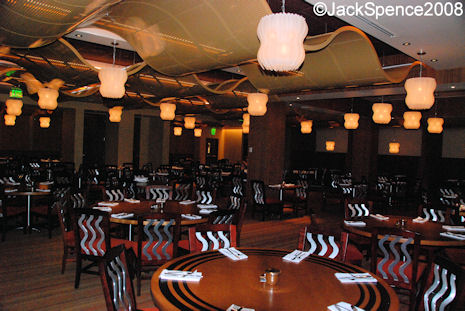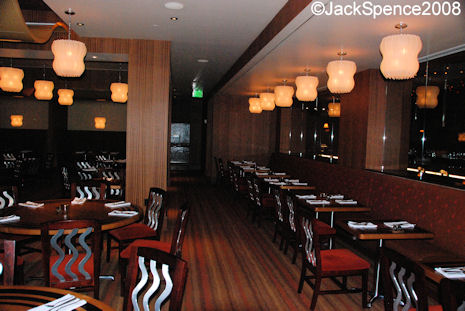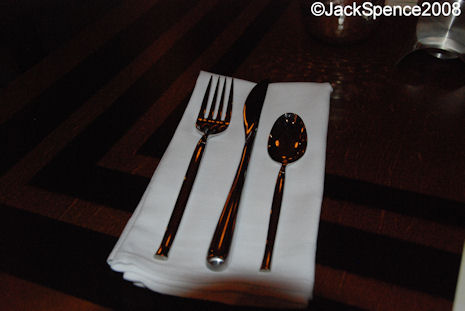 I spoke to one of the managers and she told me that the restaurant's "punch list" is still being worked. There are a couple of areas that still need to be tweaked, such as they are adding sheer curtains over the windows that separate the bar from the dining room.
At the back of the restaurant is an area that can be closed off to create one large or two smaller, private dining rooms. Also, hidden from the main eating area is a sizeable buffet that can be used when booking a banquet style conference.
At night, the overhead lights are turned down to create a more intimate dining atmosphere. Also, the salt, pepper, and sugar containers are removed from the table and presented on a "request only" basis. In addition, votive-style candles are placed on each table.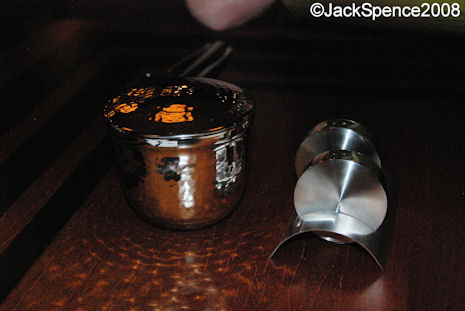 I was never enthused about eating dinner at the Concourse Steakhouse. Even though they served very good food, I wasn't willing to pay the prices they were asking to be seated in a restaurant with so many distractions and so much noise. I don't feel that way about The Wave. With the lights turned down low and candles on the table, I think this would be a nice spot to enjoy a casual meal.
Overall, I very much liked the décor of The Wave. It has an intimate and relaxing feel about it. However, I do have one negative comment. The pillars and the overhead soffits appear to be covered in a wood-grain laminate instead of real wood. I thought this was a little tacky. I don't suppose it will be obvious at night, but during lunch, it can easily been seen.
Being our first visit, Donald and I wanted to try several items, so for appetizers, Donald ordered the Lettuce Wraps and I ordered the Avocado & Citrus Salad. We were told that the Lettuce Wrap is big enough to share, and I suppose it is, but it would be rather messy. The wraps come with sautéed lamb, bay scallops, and red bell pepper in a soy-rice wine vinegar sauce. The menu did not mention the bell peppers, which Donald hates, so he traded with me.
I'm not a big fan of lamb, but I have to admit, I really didn't notice the gamey flavor that I dislike. In fact, I would have no problem ordering this item for myself sometime. It was a little spicy and my lips were tingling when I finished.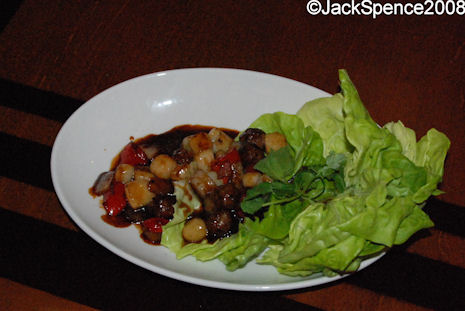 The Avocado and Citrus Salad comes with a nice variety of greens, grapefruit sections, and plenty of avocado in an orange vinaigrette. I had one bite before I traded with Donald and I was very pleased with the flavor.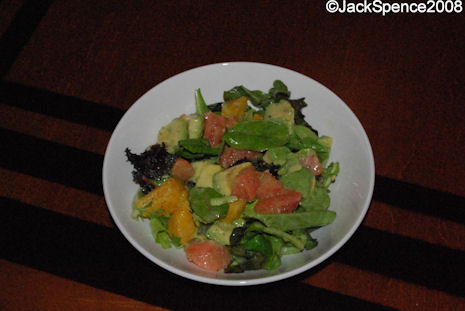 For entrees Donald order the Spice-crusted Chicken Salad and I ordered the Italian Chef Salad. The Spice-crusted Chicken Salad is an assortment of greens, chicken, apples, and polenta croutons. I stole a bite from Donald and both of us agree, this salad is excellent! I've always touted the Colony Salad at the Liberty Tree Tavern as being the best salad at Disney World. I think it has competition.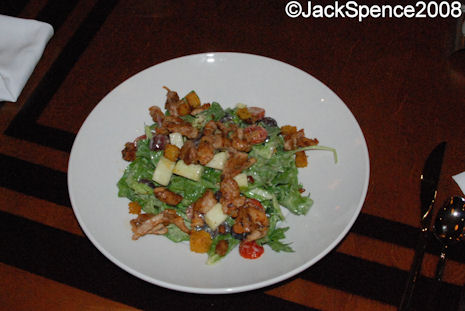 I think the name "Italian Chef Salad" is a misnomer. I feel it really should be called "Italian Chef Deli Plate." There were far too few greens to call this a salad. That's not to say I didn't enjoy my meal. There was an abundance of prosciutto, cappicola, provolone, salami, and shaved parmesan, sprinkled with red wine vinaigrette – all of it very good. But if you were expecting a green salad, you'd be disappointed.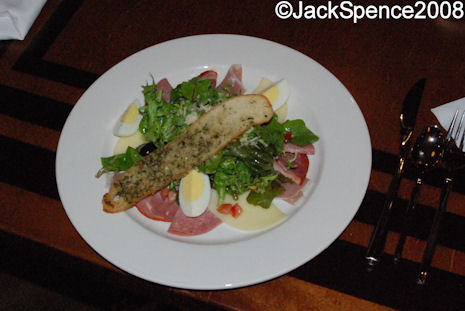 I love the way desserts are served here. There are four selections, each costing $7.99. Within each selection are three offerings.
For example, the "Creamy Indulgence" includes a small serving each of Cheesecake, Coconut Panna Cotta, and Chocolate-Passion Fruit Mouse. The "Crisp & Crunchy" offers Vanilla-braised Pineapple Spears, Baklava, and Zucchini-Carrot Cake. But if you don't like one of the specific offerings, you can pick and choose from among all twelve taste treats.
I had the Creamy Indulgence and was very happy with my selection. Donald had the selection of sorbets and he said it was a refreshing way to end his meal. He especially liked the Lemon-Basil Sorbet.
Two other new items on the menu are Coke-Zero and Sprite-Zero. As I like Coke-Zero better than Diet Coke (which is still available), I'm hoping that other restaurants will also start to offer these beverages.
Our server was Agueda. She has waited on us several times in the past at the Concourse Steakhouse. When we walked into the lobby today, she immediately recognized us and arranged for us to be seated at her table. As always, she gave us exceptional service. In addition, it is obvious that the management of The Wave has gone to great lengths to make sure their staff is current on the new offering as Agueda was very knowledgeable and was able to answer an array of questions I had for her.
I also inquired about vegetarian meals and sugar-free desserts. I was told that the Seasonal Vegetable Stew is normally finished with a pat of butter, but this could easily be omitted if requested. Likewise, the Vegetarian Sandwich can be tweaked to suit the needs of the diner.
The chef came out to talk to me about sugar-free desserts. After some consultation with others in the kitchen, he told me that the Braised Pineapple and Baklava have no sugar added to them.
I had a very good experience today and I hope to be back soon and try their dinner menu.
Reservation can be made by calling 407-WDW-DINE. The Wave is open for breakfast from 7:30am-11:00am, lunch from 12:00pm-2:00pm and dinner from 5:30pm-10:00pm. The lounge is open from 12:00 noon to 12:00 midnight.
The Menus:
Breakfast Menu
Lunch Menu
Dinner Menu
Child's Menu
While I was at the Contemporary, I snapped a few pictures of the Kingdom Tower aka Bay Lake Tower , the new, rumored DVC to the north of the hotel.