To all who come to this photo trivia game, Welcome! Along the way, the photos can make us relive memories and see details Walt's Imagineers put into everything we love in Walt Disney World!
To everyone celebrating:

Annette Nuenke is heading for Walt Disney World! Have a great time! Think of us!
Sandie Albrecht, I do remember when you rode the bug on the Backstage Tour! Remember when "Thunder in Paradise" with Hulk Hogan filmed everywhere in the resort and had a tank for the boat on the Tour? We used to watch that to play "guess where in the World did they film this scene!" Like going from the Grand Floridan's beach to the Moroccan Pavilion's shops and then the Adventurers Club's Treasure Room! The only good thing about the TV show (IMO). In fact, after typing this, we had to go to YouTube and watch an episode. So funny!
Oh sure, Liz & Dave Fullerton: just rub it in that you're in Fort Wilderness.
The Gunnels Gang! Thank you for the AMAZING note!
Now for Challenge #368: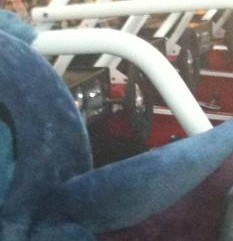 And here's the answer: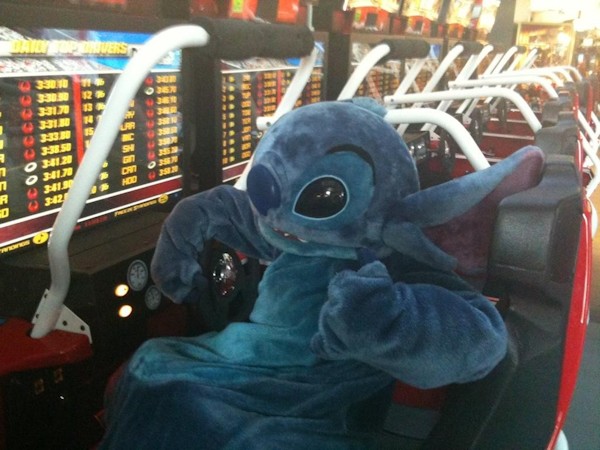 Copyright © Erin Blackwell
It's Stitch! He having fun at the Tomorrowland Arcade! I adore Stitch, he's one of my favorites! And I laugh whenever I think of my friends who saw the preview at the Animation Studios and swore no one would like the movie. 🙂
Kudos to The States Family for getting the location too!
The Sands Family was the first to send in the correct answer! Congratulations to The Sands Family and to all our winners this week! Jim & Lorie Sonnen, The Kertes Family, Jennifer Rowell, Mary Beth Tarbet, Diane Tredore, Bruce Jones, Carol Ney, Linda Ranatza, Sharon Powell, Johansen Family, Annette Nuenke, Pat Morin, Virginia Pierce, The Modecki's, Team Hill, Lorine Landon, Claire Gregory, Betsy , Sandie Albrecht, Starr Cookson, Theresa Shenefiel, Kathy Legg, Lori Rienhardt, Kelsi, Deborah Hileman, Susan Doucette, Sam Wooster, Cindy Pink, Janet Spiess, Cheryl Mcgovern , Greg Clark, Niki , Vanessa Stjohn, Matthew Jadro, Lyn Johnson, Julia Wickware, The Otts Family, Lori Lofgren, Terri Vicknair, Candice Grimes, Carol Lyons, Murr Family, Krista Serpi, Tinkerbell Wells, James Price, Linda Scrivano, Kevin Williams, Brittany, Chris Horne, Deb Ragno, Steve Porter, Leigh Robillard, Pat Schwier, Amy Frank, Judy Simonsen, Jean Marie Marten, Pollyanna Buff, Sandy Weiss, Erica, Ruth Senecal, Elaine Kleinhenz, Ellen Sullivan, Daniel Record, The Rider Family, Kye Layton, Karen Schlumpf, Ken Savage, Eric Johnson, Carol Palmer , Amanda Sage , John Bickers, Anastasia Macneil, Melissa Gundrum, Jodi Cook, Dee Dee Kenney, Ed Suscreba, Andrea Sanders, Tracy Ludwig, The Gunnels Gang, Jennifer Harmon, Bob Ruer, Karen Spreitzer, Kristen, Maryann Eckenrode, Vera And Izzy Williams, K Beasley, Nan Amor, Kyra C., Sharynne Smith, Eric Enli, Olszak Family, Monica, Linda College, Paul Dickson, Jen Bueno, Joseph Biancaniello, Robert Hildebrandt , The Tisdale Family, The Double Family, Barbara Ajak, Todd & Angela Johns, Gabriella, Terry And Matthieu, Liz & Dave Fullerton, Melissa , Rich Esker, Kris Nixon, Carla C, The Parker Family, Kelly Labrecque, Jim Poplawski, Renee Hardiman, Jeff Schoeling, Lee Anastasi, Jeremy Hardy, Kim Pidermann , Antoinette Leblanc, Laura Pontier, Mike O'brien, Shannon Murray, Kathy And Brooke And Kennedy, Janet T Thorn, Jessica Clark, Linda Dezern, Evald Olson, Michael Mclucas And Jackie Mclucas, Allison P., Kara Jones, Ruben O'meara, Mary Dieuliis, Maureen Handy, The States Family, Kerri Coggins, Dusty, The Yorks!, Tom Koval, Belicia Cullen, Scott Cullen, Michelle Stanciu, Susan Higginbotham, Amy Hayes, Phyllis, Chris, Gretchen, And Katie Barnes, Chris Watson, Dave Freemyer, Kristyn Scibienski, Bill Mckim, Chris Kelly, Christin Shirazi, The Long Family, Larry Sprenkle, Sarah Thomas , Josh Weiss, Mike Malampy, Duskin Henard, Maryann Romagnano, Annie Snodgrass, Rob Blundin, Walter Luberto , Mickey Eckert, Carolyn Como, Jessica Gruhlke, Andrew Carrieri, Pam Lorenz, Deborah Wolfe, Hunter Armstrong, Gloria Martin, Lauren Thomas, Mailin, Ben, Joseph M. Zafia, Diane Curfman, Les Stewart, Doug Olson Family, Regina Bosca, Kathy Davies, Jeff Blank, Shannon, Jacy Golden, Debbie Hewitt, Cheryl Costello, John, Marie Brown, Matt Holley, Angel, Sarah And Chris, Paul Ignudo, Jr., Kim Hamilton , Alison Rosenberger, The Foley Family, Jason Hocker, Jeremy Reichelt, Jennifer Toto , Mel Odonnell, Clay Anthony, Tricia Noble, Will Gates, Karen Aguiar, Ken Rhinehart, Tricia Petty, Karrie Duffey, V Shearman, Karen Bellamy, Bruce Hinterleitner, Shannon , Vicki Britt, Team Meeker, Leach Family, Erin Hammer, Brian Richmond, Dave Carriere, Brian Mcwithey, Megan Krainski, Sandra Edwards, Mary Virginia Clause, Donna Frank, Katherine Blowsky, Matt Ciccone, Lizanne Fisk, Patti Mccaffrey, Alan Mize, Kristi Strembicki, Ken Maikowski, Heidi Goodhue, Sherry Everett, Caroline Burmester, Smitty, Wendy Barney, Kathryn Broyles, Nancy J., Theresa Maradei, Matt Pettt, Russ Morgan, Vicki Edwards, Shelly Borella, Gallagher Family, Darrell Shortt, Rebecca Keenan, Julia Marsh, John Foggo, Ruth Cookson, Jackie Graebel, Matt Cofone, David Ballard, Aleen Eller, Barclay Bakkum, Karen Taylor, Jennifer Bogdan, Eileen Miller, George Mundy Jr, Thomas Higbee, The Holmes Family, Ron Harper, Jean Bussell, Sam Moyer, Diane Ramos, Denise Finkle, Mark Franklin, Kristan Bertelmann, John Warner, Ronald Delorey , Ryan Filiater, Jane Johnson, Pam Gallagher, Pam Gallagher, Olga Vorontsova, Nancy Edwards, Mike Haeberle, Kelly Smith, Carri Marotto, Sheila And Kelly Barnes, Matt Earl, Schuyler Etheridge, Doug Zimmerman, Arlene Vicek, and Melissa Littman!
__________________________________ _____________________
Challenge #369 Where in the world is this?
You see these all over the Walt Disney World resort, so just tell me what it is. You don't have to say where it is.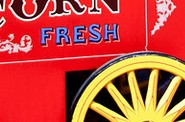 Do you know? Do you have a guess? Please send in your answer, before the end of the day on Thursday, February 19th, by clicking on the blue box below. Please do not post answers using the Feedback Form link at the bottom of this post.
See you soon, Players!


_______________________________________________________________________
Everyone who sends in a correct answer to a Where in the World Challenge this month will be entered in a drawing at the end of the month for some special AllEars® goodies!