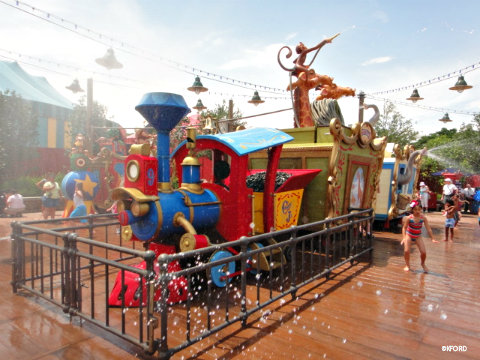 Casey Jr. Splash 'N' Soak Station in the Storybook Circus section of Fantasyland opened Friday (June 15) to little fanfare, but families have a lot to be excited about. This new water play area in the Magic Kingdom offers a great respite from the Florida heat, and its design is a welcome improvement on the old Donald's Boat.
Casey Jr. is the steam engine that brings the circus to town in the movie "Dumbo," and that theming continues at Walt Disney World. The engine and tender appear to have pulled onto the turntable with four boxcars, each carrying a different animal — giraffes, elephants (of course!), monkeys and camels. Guests will notice the subtle evidence of train tracks between the water play area and the nearby bathrooms, which are located in a building modeled after a roundhouse.
The soaking station brings the circus to life with its many sounds and the bustling activity of the water jets coming from the moving animals (and other sources). My kids are certain that the elephants shoot more water than the other animals because their trunks have multiple streams — or so they say. About every 10 minutes, Casey Jr. begins his stationary journey, and guests will notice the locomotive sounds and the misting from the engine increase as he reaches his destination.
As we've come to expect with The Walt Disney Co., there is an incredible attention to detail in Casey Jr. Splash 'N' Soak Station. Casey Jr. opens and closes his eyes. One of the monkeys is wearing a hat that is actually a white Mickey Mouse glove. The elephant car has baskets of lettuce and bananas attaching for feedings. The detached boxcars even have aged chains trailing from the bottom, presumably where the cars would have been attached to one another. There is a lot to appreciate about this next step in the Fantasyland expansion project.
The most important thing to know about this attraction: You WILL get wet. And I do not mean just the kids frolicking in the splash pad. Parents sitting around the perimeter might be surprised to find themselves doused by a stream of water or mist blowing in the wind. Certainly, parents who are chasing after toddlers can expect to be just as wet as the little ones are because of the water shooting from so many angles and locations.
So, my best advice is to plan ahead and bring swimsuits and towels or an extra change of clothes for anyone who might be venturing near Casey Jr. Splash 'N' Soak Station. Also, be sure to pack sunscreen because there is not a lot of shade near the attraction. For those who find they don't have everything their little ones need, a nearby merchandise cart sells towels, water shoes, hats, sunscreen and more.
After spending more than an hour in the water, my almost-8-year-old daughter proclaimed that we have to visit Casey Jr. every time we go into the Magic Kingdom.