KID *FRIENDLY* RESTAURANTS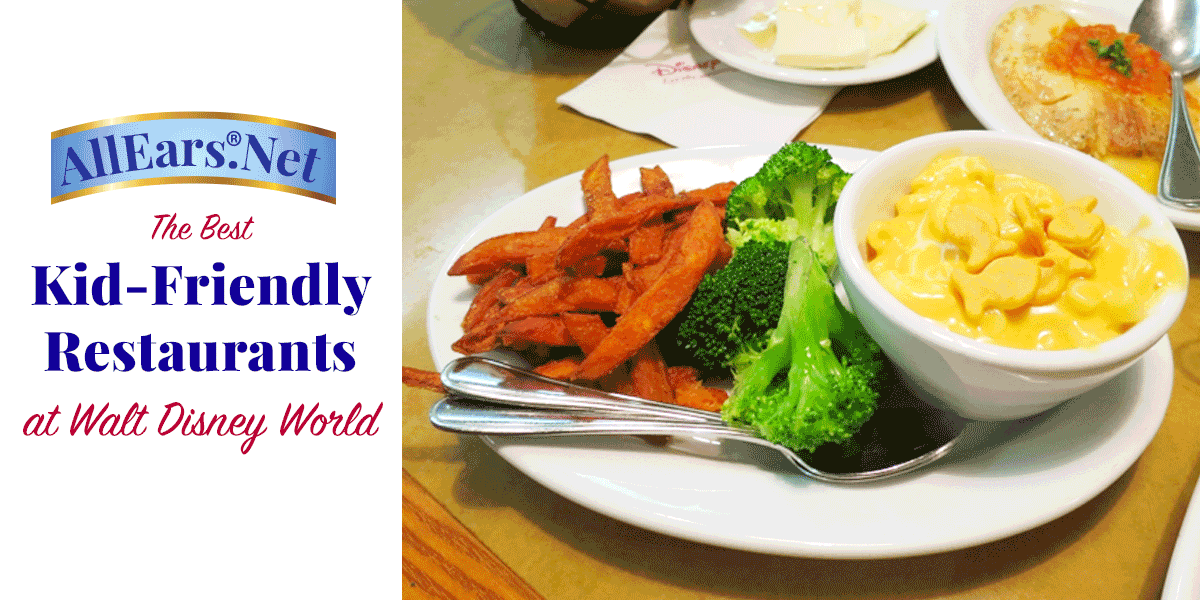 Walt Disney World is, naturally, a very child-friendly place and you will find that children are welcome at all of the restaurants with one exception – Victoria and Albert's in the Grand Floridian Resort.
There are, however, some restaurants that are particularly good choices for families with children. It is always wise to do your homework and look at the menus of the restaurants you are thinking about eating. Some places are much better "winging" it with what your child may like and others will stick to the kids' menu!
Over the last few years, Disney has made a concerted effort to offer healthier choices for kids and will designate those with a "Mickey Check" symbol
on the menu! You can read more about that HERE.
This list is for parents with children of any age, but is focuses primarily on kids under 10. You know your own children best so use this list as a guideline when planning your WDW vacation.
A Note For Parents of Picky Eaters: Most WDW restaurants can accommodate even the fussiest eaters. Meals can be prepared without sauces if your child prefers them that way and spaghetti and peanut butter and jelly sandwiches, while not on the menu, are often available if you just ask. Buffet-style restaurants are also good bets for picky eaters as they are able to take just the things they like in amounts as large as they would like. A number of the buffets have special "kids" buffet sections, too.
MAIN STREET U.S.A.
Casey's Corner – The main draw here is hot dogs. They come in a variety of styles (chili, cheese, foot long, etc.), corn dog nuggets and desserts and beverages are also offered. Best to eat lunch before 11:30 a.m. or after 2 p.m., before 5 p.m. for dinner.
The Crystal Palace – Located at the castle, end of Main Street, on your left, just off the pathway to Adventureland, this restaurant offers three buffet-style character meals per day. The Characters-in-Residence are Pooh, Tigger, Piglet and Eeyore. These characters can take a long time to make their rounds so be patient.
Plaza Restaurant – Tucked away on the path that leads up to Tomorrowland Terrace, this is a popular spot for kids and adults. Children love the sandwiches, burgers and chicken, but will return for the ice cream sodas, malts and sundaes. It is one of the smallest locations so reservations are a must!
FANTASYLAND
Be Our Guest – One of the most popular restaurants in the park. Reservations for dinner (full service) are hard to come by. The wait line for lunch (quick service) can get very long. There are three themed ballrooms to dine in. The main ballroom holds the most tables, the West Wing is quite dark and may not be the best for very small children, the Music Box room is small and cozy. The menu is not particularly child-friendly, however grilled cheese is available for lunch and baked macaroni and cheese at dinner.
Cinderella's Royal Table – located on the second floor of Cinderella Castle. Cinderella herself is on hand to greet guests in the Grand Hall. Food is pre-plated, but is all-you-care-to-eat. The other characters will come around during your meal.
Pinocchio's Village Haus – Another fast-food spot, this restaurant is located in Fantasyland to the right of the entrance to "it's a small world." Pizza, PB & J, chicken nuggets and mac and cheese — all kids' favorites — are available. Bonus — you can peer down into "it's a small world" from some of the seating.
FRONTIERLAND
Pecos Bill Tall Tale Inn and Cafe – This large fast-food spot is located in Frontierland, very close to Splash Mountain. It offers burgers, tacos and other standard fast-food fare.
LIBERTY SQUARE
Liberty Tree Tavern -Dinner is served family-style and special kid-friendly items like macaroni and cheese are offered.
TOMORROWLAND
Cosmic Ray's Starlight Cafe – One of the largest fast-food spots at the Magic Kingdom, Cosmic Ray's offers spit-roasted chicken, burgers, salads, soups and more. It is located across the path from the Speedway in Tomorrowland. One of the best toppings bars in the Magic Kingdom. Entertainment in the big room is Sonny Eclipse's lounge show.
Electric Umbrella – Counter service spot serving up standard burgers, chicken sandwiches, salads, with ample seating both indoors and out.
Sunshine Seasons – This food-court dining area, located in the Land pavilion in Future World, is open from 9 a.m. to 9 p.m.! Features an open kitchen, five stations and a centralized cashier (think Pepper Market or All Stars/Pop Century Food Court). The wood-fired grill features rotisserie items including Ancho-rubbed beef, Moroccan chicken and grilled Atlantic salmon. The Soup and Salad station features the freshest herbs and vegetables from The Land greenhouse. The Asian Wok Shop offers noodle bowls and stir fry including a Mongolian barbecue and wok station. Each station offers vegetarian and children's items as well as grab-and-go foods.
The Garden Grill – This restaurant is also located in the Land pavilion. It is a full-service restaurant that offers dinner character meals with Farmer Mickey and Chip and Dale. Food is pre-plated. Kids have their own foods to enjoy including chicken tenders, macaroni and cheese and more.
The Coral Reef – The big draw at this restaurant is the view of the aquarium through several floor-to ceiling windows. Children seem to be mesmerized by this view and parents often manage to get a quiet and relaxed meal while their kids are otherwise occupied. Make sure you request a table near the windows when you arrive.
Each of the countries in World Showcase has its own restaurant or restaurants. All of them welcome children, but some are more appropriate than others, particularly if your kids don't like to sit still for too long.
Biergarten – The Alpine dinner-show with an "oompah band" that's presented here is very festive and children seem to love it. Unless your party is large you may share a table with others. A buffet is offered at both lunch and dinner (note that while some entertainment is offered at lunch the show is only presented at dinner). Sausages, German pot roast, noodles and chicken are offered and even a picky child can usually find enough to his/her liking.
Norway's Akershus Royal Banquet Hall in Epcot offers three Princess Character meals a day. Breakfast is American fare and lunch and dinner offer Norwegian cuisine for adults and American style for kids. All meals are served family style at the table.
Teppan Edo – This restaurant, located in the Japan pavilion, is very similar in style to the Benihana chain. Diners are seated at large tables (unless your party is large you will share a table with others) and Japanese chefs prepare meals at grills built right into the table. Children, in particular, seem to love the chefs' antics.
Via Napoli – best pizza at Walt Disney World, order individual size or large for the whole family.
50's Prime Time Cafe – Waiters and waitresses at this restaurant play "Brother" and "Sister" to diners while "Mom" cooks in the kitchen. Diners who want dessert without having finished their meal will be appropriately (and humorously) chastised and it is not unusual to see servers and diners engaging in a game of "Airplane" before dessert is granted. Kids seem to get a big kick out of seeing Mom and Dad being reprimanded for various infractions (mine did!) and many kid-friendly foods are offered. Oh, and if you are asked to go wash your hands before you eat make sure you notice the color of the soap!
ABC Commissary – located along Commissary Lane, to the left of the Chinese Theater. Good spot for quick lunch or "fast-casual" dinner. TV show clips are shown on large TVs.
PizzeRizzo – Muppet themed fast-food restaurant is the best place for pizza at the Studios, with lots of seating indoors and out.
Sci-Fi Dine In Diner – Guests are seated at tables shaped like vintage cars and are entertained by a series of movie trailers from B-grade science fiction films shown on a large drive-in type screen. This restaurant tends to be dark (and shows some old "scary monster" type clips) so if your children have trouble with this it might not be the place for you.
Flame Tree Barbecue – a counter service restaurant with lots of outdoor places to sit and take a break.
Pizzafari – Great place for kid-friendly meals.
Rainforest Cafe – located at the entrance to the Animal Kingdom, or there's an entrance just inside the turnstiles to the left. The audio-animatronic animals located throughout this restaurant are enough to keep a child entertained for hours. There is even a tropical thunderstorm every 20 minutes. (If your kids are afraid of thunder this might not be the place for you, however.) Reservations are not accepted here and the wait often gets very long. If you want to avoid a wait your best bet is to get there before 11:30 or between 3-5 p.m. Works well as an end of the day meal.
Restaurantosaurus – burgers, hot dogs, chicken and corn dog nuggets make it a great place for many families. Also offer lots of indoor (air conditioned) seating.
Tusker House – if you are looking for a more substantial meal, Tusker House offers a character buffet at breakfast, lunch and dinner.
RESORTS
Boma – Many parents shy away, fearing the authentic African cuisine will not be enjoyed by the kids, however Boma offers lots of "American" options (like macaroni and cheese). Before or after your meal, head outside to see the animals on the savanna. Often Cast Members are at the viewing areas to educate and answer questions.
Beaches & Cream – Modeled after an old-fashioned ice cream shop this restaurant offers burgers, hot dogs and ice cream and is a good choice for a quick meal. Be sure to make a reservation!
Cape May Cafe – A character buffet is served here every morning. Currently it is themed to Minnie's Beach Bash. At dinner (no characters) an all-you-care-to-eat clambake is served buffet-style and a separate child-sized buffet is also offered.
Bon Voyage Adventure Breakfast – Trattoria al forno – Join Prince Eric and Ariel from the Little Mermaid and Flynn Rider and Rapunzel from Tangled for a character breakfast.
Chef Mickey's – One of the best places to meet the Fab 5 Disney Characters. Located on the 4th floor Concourse, this buffet-style restaurant features carved meats, a variety of salads, a special kids' buffet and a make-your-own-sundae and dessert bar that is not to be believed. Dine here for breakfast or dinner.
Hoop-Dee-Doo Revue – This dinner show offers a wild-west themed vaudeville show with a troupe of six singers and dancers along with banjo and piano players. Dinner consists of all-you-care-to-eat ribs, chicken, corn, beans, salad, bread and strawberry shortcake. All seating offers good views and cast tries to include the balcony in on some fun.
Mickey's Backyard Barbecue – Another fun dinner show with a twist. They offer a barbecue spread with live entertainment and characters. This is one of the few places you can dance with Mickey and Minnie to your heart's delight. No autographs are given but it's lots of fun. There is a live band and a master rope-twirler too.
Trail's End – Located in the Pioneer Hall complex this restaurant offers breakfast and dinner buffet-style meals. There are no characters here, but the buffets are extensive and offer many kid-friendly items.
1900 Park Fare – This restaurant is a little more low-key (well, at least when the organ is not playing). Breakfast and dinner buffets are offered, complete with separate kids' buffets. At breakfast characters include Mary Poppins, Alice, the Mad Hatter and some Pooh Friends. Dinner is Cinderella's Happily Ever After Feast hosted by Cinderella and Prince Charming, with the Evil Stepsisters.
Olivia's Cafe – only full service dining at Old Key West.
'Ohana – 'Ohana means family and that is the focus of this large restaurant. Breakfast features a character all-you-can-eat meal with Lilo and Stitch. Dinner is an all-you-care-to-eat affair with various meats (turkey, chicken, beef tenderloin, shrimp, sausage and ribs) served from 3-foot long skewers. There is a Hawaiian singer on hand to entertain and a variety of games are played throughout the evening involving both kids and adults. Come hungry! These meals are served family style, there is no buffet. Characters are only at breakfast, not dinner.
Disney's Spirit of Aloha – This luau-type show celebrates the "spirit of aloha", as well as the sights, sounds and tastes of timeless Polynesia. Enjoy traditional Polynesian music as well as the Hawaiian Roller Coaster Ride from Lilo and Stitch in an open-air theater. Recommend families purchase Main Floor 1 seating for the children to be as close as possible to the live entertainment.
Boatwright's – This is the only full-service restaurant at Riverside. It offers a variety of entrees and is very family-friendly. Boatwright's serves dinner only.
Whispering Canyon Cafe – This large restaurant is located just off the lobby of the resort. Dinner is served family style in large cast iron skillets and includes ribs, chicken, turkey, beans, corn-on-the cob, salads, breads and more. The lunch menu offers a similar feast or you can choose a la cart from the menu. Breakfast has a wide variety of options. The main draw here, however, is the hijinks of the servers. Pretend gunfights often break out, stick pony races are organized and children often find themselves deputized before the night is out. It's a lot of fun!
In addition to the above noted restaurants each WDW resort also offers a snack bar. A variety of fast foods are available at each. Picabu, on the first floor of the Dolphin, is open 24 hours.
Blaze Fast-Fire'd Pizza – build your own custom pizza for a set price under $10. Gluten-free pizza dough available.
Food Trucks – Disney has added food trucks to the area and it offers families a quick, but fun way to stop for a bite to eat. Each one offers something different.
Homecomin' – Offers down-home cooking most will enjoy including fried chicken and mac and cheese.
Rainforest Cafe – The audio-animatronic animals located throughout this restaurant are enough to keep a child entertained for hours. There is even a tropical thunder storm every 20 minutes. (If your kids are afraid of thunder this might not be the place for you, however.) Reservations are not accepted here and the wait often gets very long. If you want to avoid a wait your best bet is to get there before 11:30 or between 3-5pm.
T-Rex – Owned by the same company that does Rainforest Cafe, so this restaurant is very similar, except with a dinosaur theme. Beware the large dinosaurs may frighten small children.
ESPN Wide World of Sports Grill – location is perfect for sports-loving guests that don't want to miss any action. Seven large HDTVs in the area and the menu is typical "tailgate" fare. Children can get grilled cheese and uncrustables.