Boulder Ridge Villas at Wilderness Lodge Fact Sheet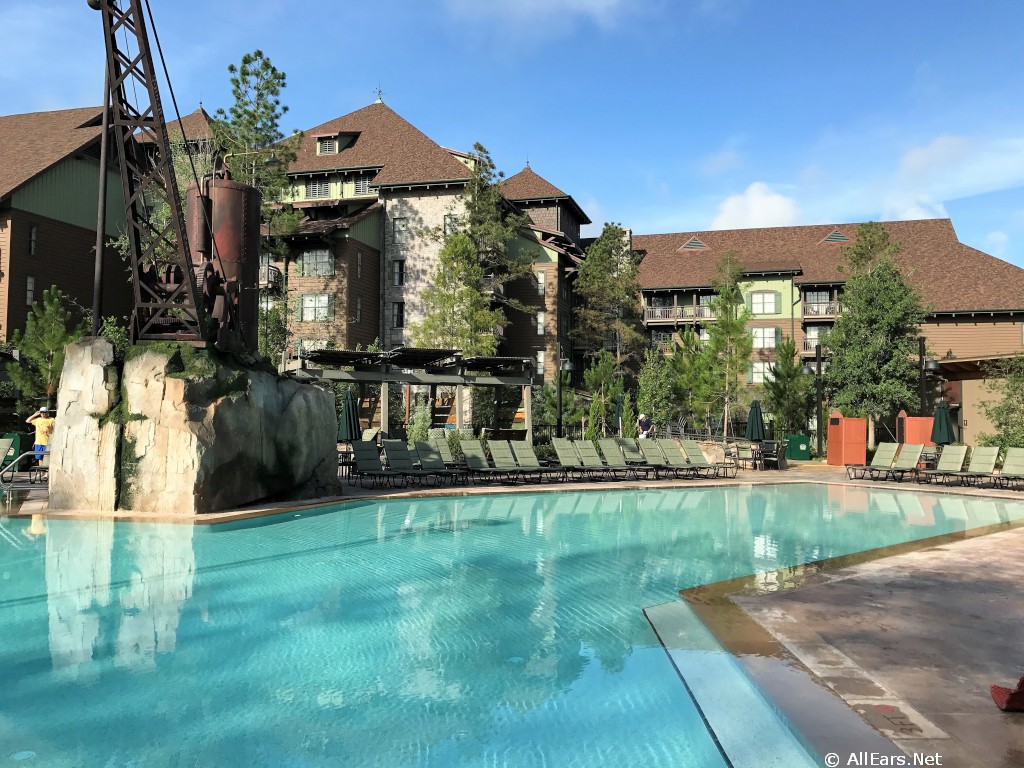 Boulder Ridge Villas Highlights:
Rustic setting with deluxe resort luxury and amenities
Villa style accommodations
Conveniently a boat ride away from the Magic Kingdom
What are the Boulder Ridge Villas at the Wilderness Lodge?
The Boulder Ridge Villas at the Wilderness Lodge are Disney Vacation Club accommodations at the resort. They are separate from the main Wilderness Lodge, but those staying at Boulder Ridge have access to Wilderness Lodge's restaurants, shopping, and amenities.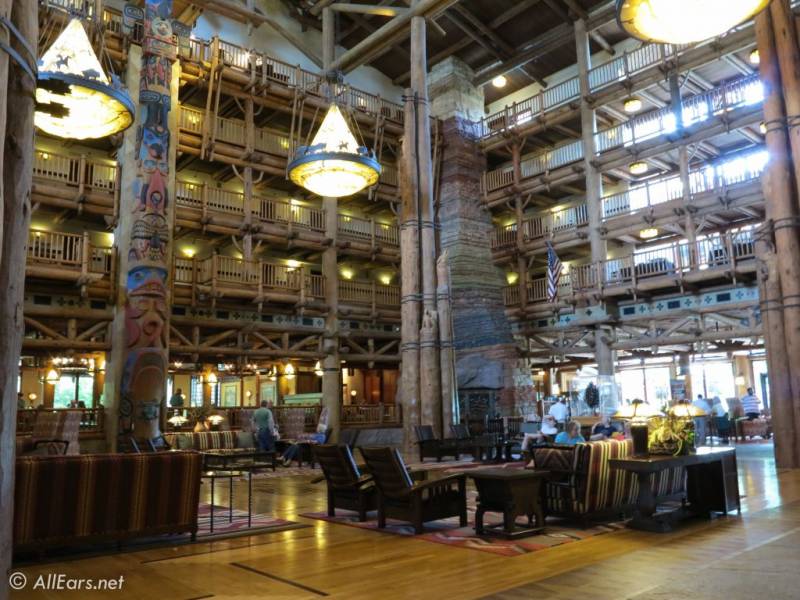 There is a second Disney Vacation Club location as the Wilderness Lodge: the Copper Creek Villas and Cabins.
WAIT – I AM NOT A DVC MEMBER. CAN I STAY HERE?
Yes! Anyone can stay at a DVC Resort as long as there is space available. You can book it like any other Disney hotel room — either on Disney's website, calling Disney's Reservation Line, or with a travel agent.
What's the difference between the Boulder Ridge Villas at Disney's Wilderness Lodge and the Wilderness Lodge?
Boulder Ridge Villas at Disney's Wilderness Lodge is a timeshare resort that belongs to the Disney Vacation Club. Villas have kitchenette or kitchen facilities, along with regular rooms. Disney's Wilderness Lodge is a Disney hotel in the "Deluxe Resort" category.
Is there a fee to park at the Boulder Ridge Villas?
Disney Vacation Club Members – will not be charged for standard overnight self-parking when staying at a DVC Deluxe Villa, regardless of whether they use vacation points or another form of payment. Members also will not be charged to park when using vacation points to stay at a Walt Disney World Resort hotel.
Click HERE for current pricing and other parking-related information.
Where are the Boulder Ridge Villas at Disney's Wilderness Lodge located?
The Boulder Ridge Villas at Disney's Wilderness Lodge are located in the Magic Kingdom resort area adjacent to the Wilderness Lodge.
What are the different room options?
There are 136 Villas that include Studios, 1 and 2 Bedroom Villas.
Studio Villas:
Sleep up to 5 adults

One Queen Bed
One Full Sleeper Sofa
One Single Pulldown Bed
One Bathroom

Living area includes small dining table and two chairs and TV.

Kitchenette includes a microwave, coffee maker, under the counter refrigerator, ceiling fan, wet bar

Hair dryer, iron, ironing board and vacuum cleaner in room as well as a highchair and playpen.

There is also a private porch/balcony.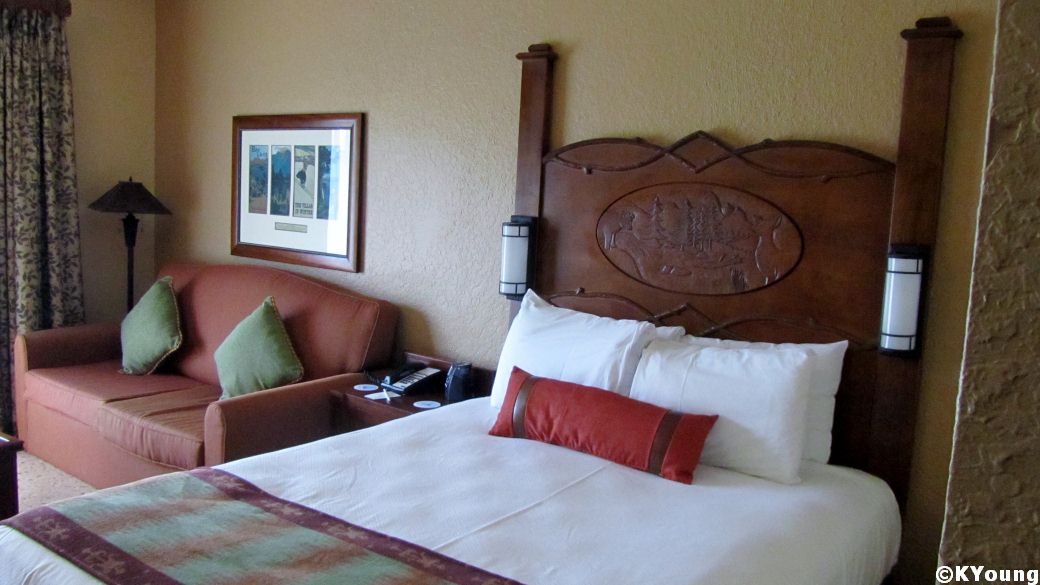 For more photos of Boulder Ridge Studios, visit our photo gallery!
One-Bedroom Villas:
Sleep up to 4 adults

One bedroom with a

king-sized bed

and its own whirlpool tub and sink/vanity room

A queen-sized sleeper sofa in the living room

One full bathroom

A

fully equipped kitchen which includes a refrigerator, stove/oven, microwave

Dining area which includes table and four chairs

In room laundry with stacked washer and dryer

A private balcony or patio which includes two chairs and a small table.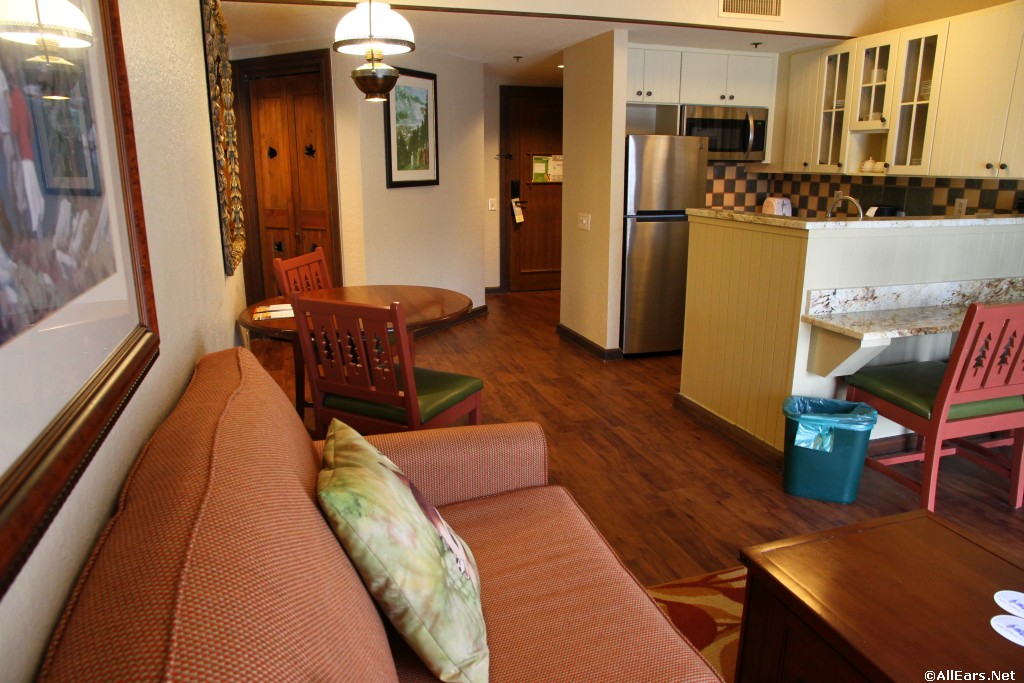 For more photos of Boulder Ridge One Bedroom Villas, visit our photo gallery!
Two-Bedroom Villas:
Sleeps up to 8 adults

Master Bedroom with King Bed
Additional Bedroom with Two Queen Beds
Two Full bathrooms including a whirlpool tub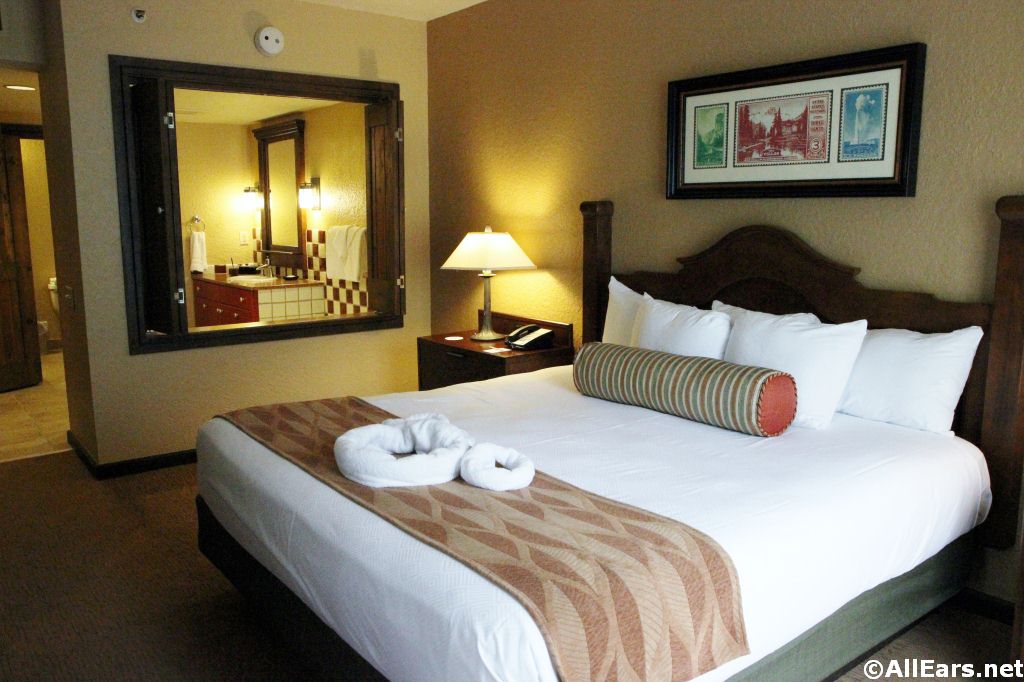 For more photos of Boulder Ridge Two Bedroom Villas, visit our photo gallery!
What are the room prices?
The Boulder Ridge Villas at Disney's Wilderness Lodge is a Disney Vacation Club Resort. While DVC Members can book with points, you can also rent the villas for "cash". These are regular rate prices and do not include the Florida Sales Tax nor the county resort tax.
Walt Disney World Resort rates vary by season (there are nine seasons now), and also by day of the week. The holiday season is the most expensive time of the year. It runs from mid-December to early January as well as during Easter Week.
The rates for a:
— Deluxe Studio range from $459 – $716
— 1 Bedroom Villa range from $642 – $958
— 2 Bedroom Villa Room range from $1034 – $1902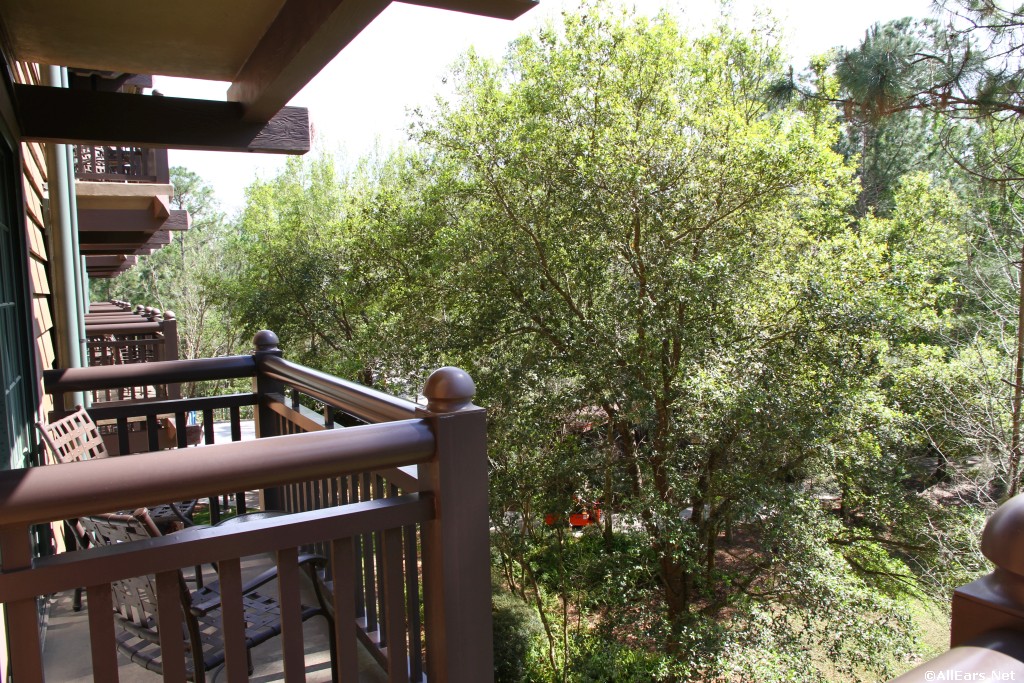 Are there smoking and nonsmoking rooms?
Where do I check in?
Check-in for the villas is the main Wilderness Lodge front desk. Guest services can also be found in the Wilderness Lodge lobby.
Online Check-in is available 10 days prior to your stay through MyDisneyExperience online. Look for the special Online Check-in line at the resort's front desk.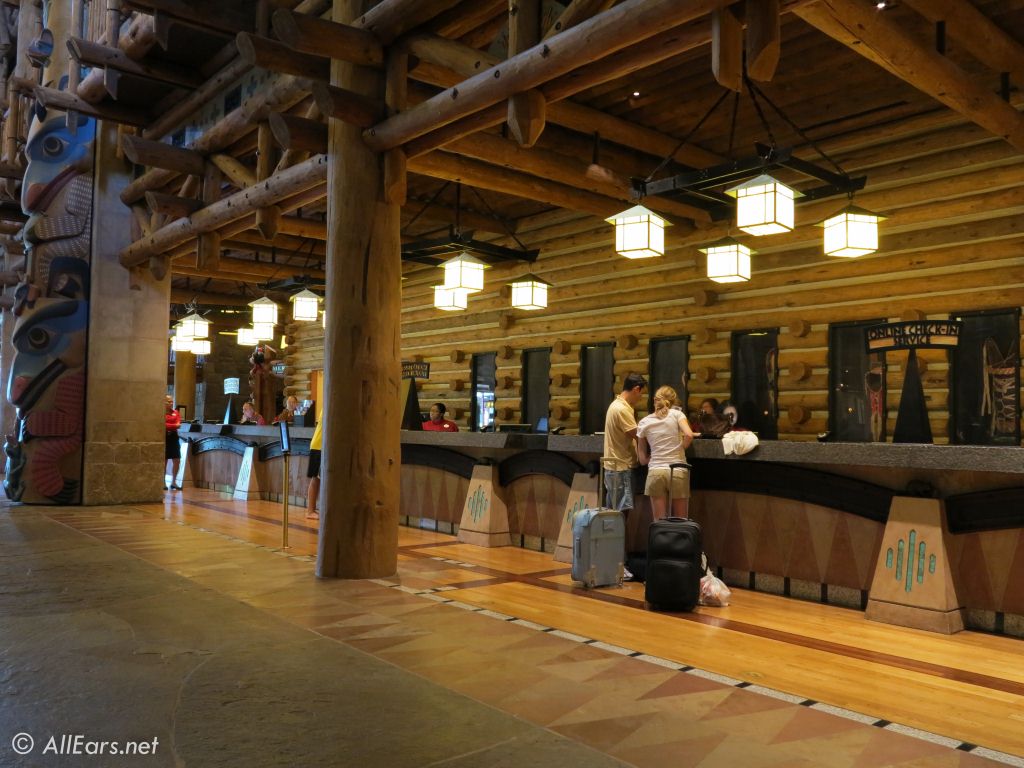 What time is Check-In/Check-Out?
Online Check-in is available through the My Disney Experience App. Look for the special Online Check-in line at the resort's front desk.
Check-in is at 4pm. Upon arrival head to the front desk to check-in. Rooms are not guaranteed to be available until 4pm, but you can request Early Check-in when you do Online Check-in.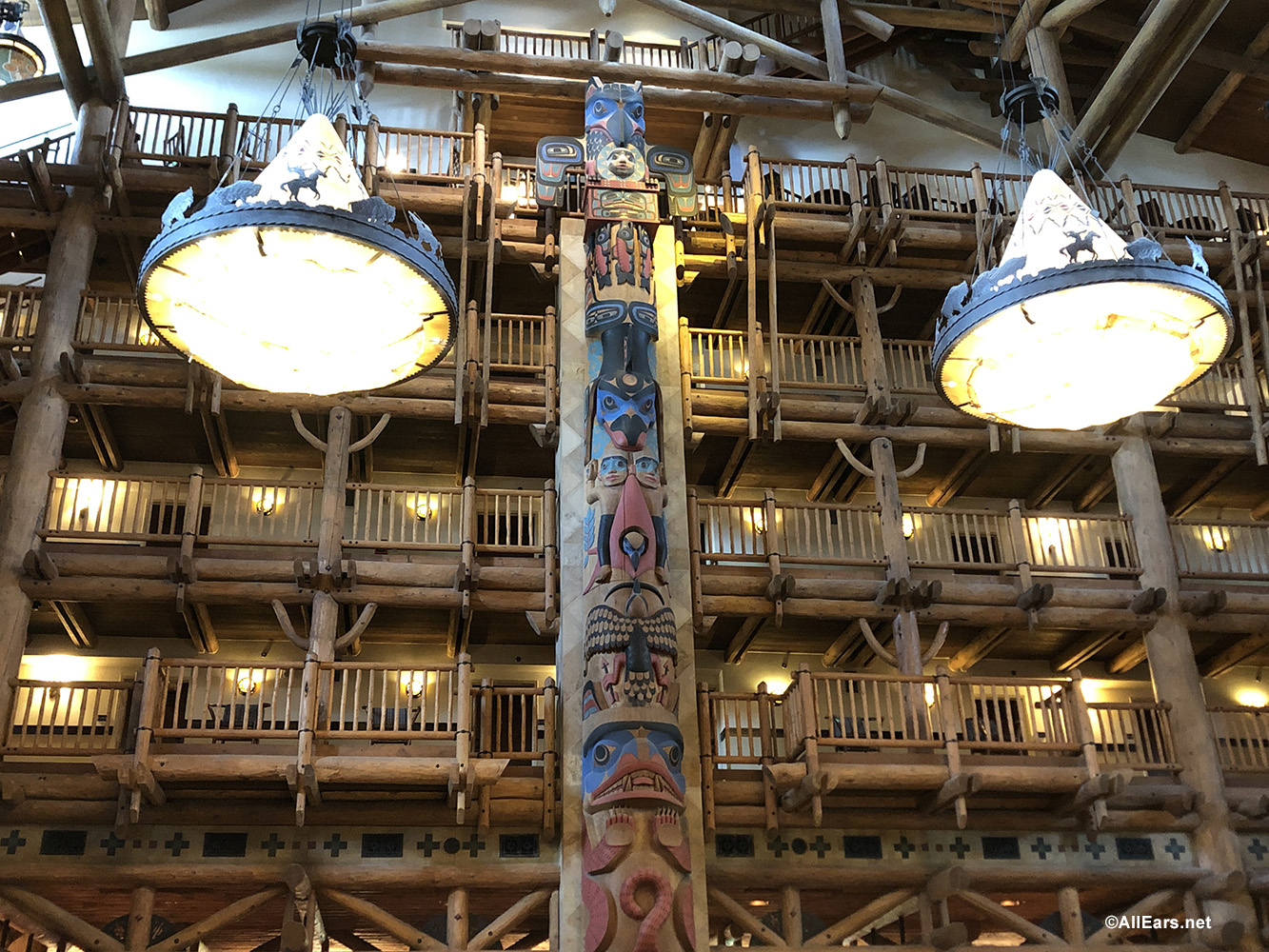 Early check-in allows you to leave luggage with bell services, get your Magic Bands (if you don't already have them) and head off to the parks or relax around the resort. You will be get a notification on My Disney Experience when you Room is ready. You will then be given your room number and your Magic Band will open your door! You can also use the app on your phone to open your door.
Check-out time is 11am. Express Check-out is available to all guests paying with a credit card, arrange for this service at check-in. A detailed hotel bill is delivered to your door by 7am. If the bill is correct you simply leave. Your Magic Band serves as a Disney souvenir. Late Check-out of noon can be requested without additional cost (very limited availability). If you need Late Check-out, request it at Check-In and as soon as possible the morning of check out (the number of eligible rooms are limited).
Resort Airline Check-In Service at your Disney resort is only available if you are flying domestically (includes Puerto Rico) on specific airlines It is a complimentary (free) service and allows you to check your luggage.
I hear that there are no more room key cards at Disney resort hotels. How do I get into my room?
Walt Disney World has converted their room keys and admission tickets from plastic cards to MagicBands, flexible plastic wristbands, resembling a watch or bracelet, that use Radio Frequency (RF) technology. Your MagicBand is linked to your My Disney Experience (MDE) account and acts as your Disney resort room key. Simply touch the Mickey symbol on your MagicBand to the RFID reader near your room door to gain entry. Read about using MagicBands for park admission, FastPass+ and more HERE.
How do I Get to…
All Boulder Ridge Villas at Disney's Wilderness Lodge transportation is via the main Wilderness Lodge system.
Magic Kingdom: — There are two options.
1) Take the Red Flag Boat available at the Dock, located past the Wilderness Lodge's main pool.
2) You can also take a bus directly to the Magic Kingdom. The bus depot is located outside the Wilderness Lodge's Main Lobby.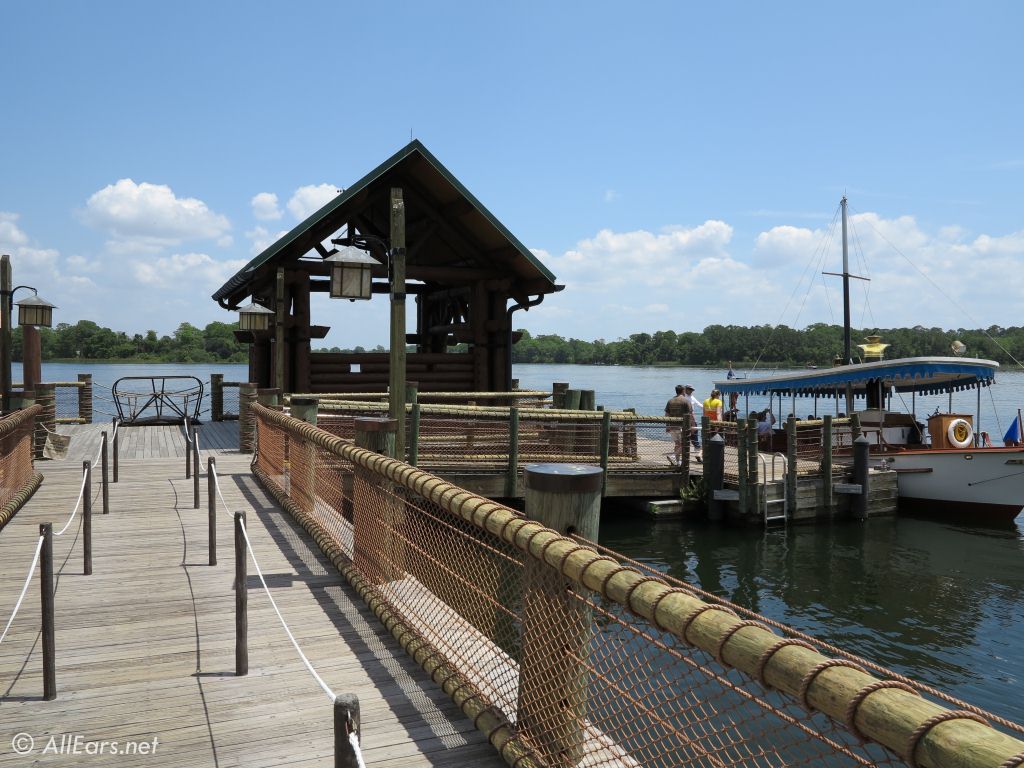 All other theme parks (Epcot, Hollywood Studios, Animal Kingdom), water parks, and Disney Springs are accessible by bus.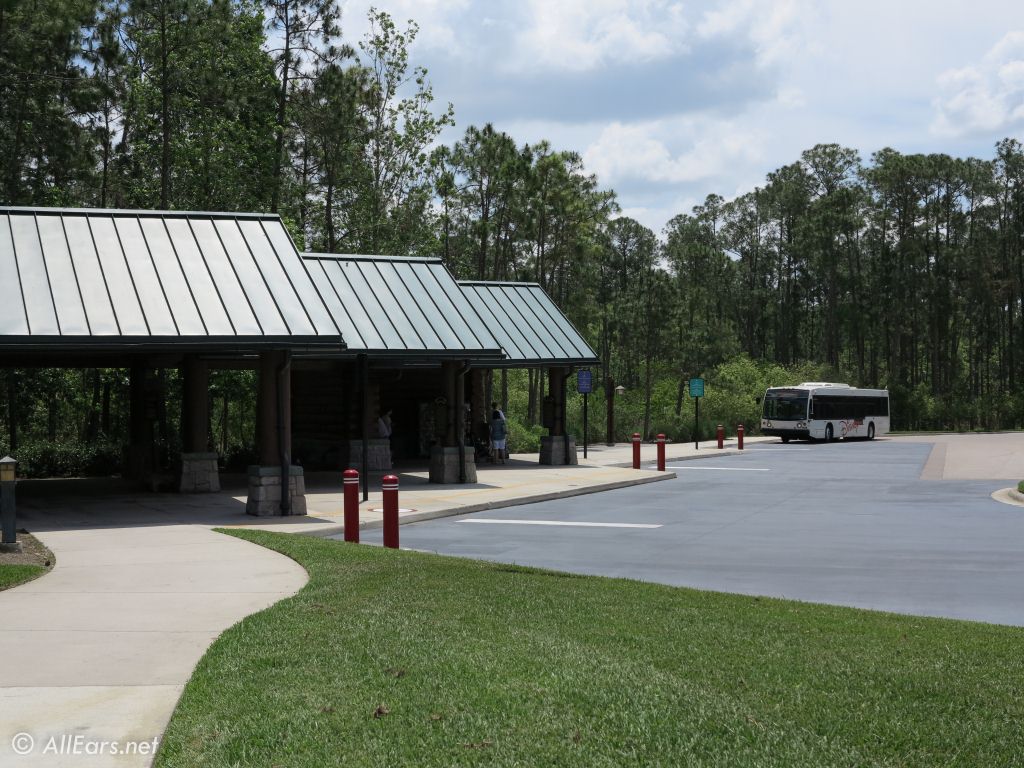 Note: During slower times of the day, the Wilderness Lodge buses may make stops to pick up or drop off guests at the Contemporary Resort.
Fort Wilderness and Contemporary Resorts are also accessible by boat. To visit any other resort directly, you'll need to drive or take a Ride Share vehicle, such as a Minnie Van or Uber.
Is there a gift shop?
The Wilderness Lodge Mercantile shop is located in the main Wilderness Lodge. It has a variety of northwestern and Wilderness Lodge specific "themed" merchandise, Disney plush and sundries. Food items are also available geared towards those staying in the Villas, such as full size boxes of name brand snacks, and select frozen and grocery items.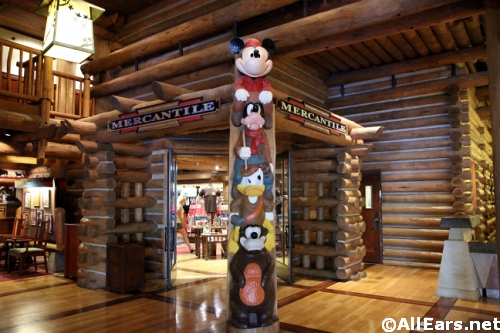 Where can I get morning coffee?
The villas come equipped with coffee makers and coffee, so you can brew your own. If you prefer, walk over to Roaring Fork on the first floor of the Lodge near the pool entrance.
What are Rapid Fill Mugs?
The Rapid Fill beverage program allows Disney Resort guests to buy (or receive as part of the Disney Dining Plan) a resort mug that can be refilled for a certain period of time as designated at time of purchase. These mugs are enhanced by an RFID bar code that enables the mug to deactivate when the designated time is complete. For complete details the Rapid Fill Mugs page.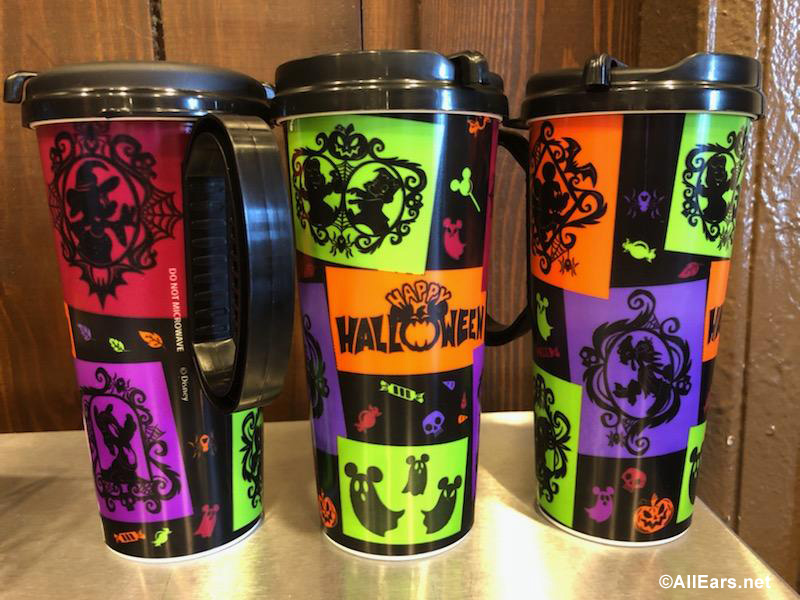 What are the restaurants at Wilderness Lodge like?
Artist Point – a full-service restaurant located in the main lodge. It's open for dinner when it hosts Storybook Dining with Snow White, a character dining experience. Reservations are highly recommended.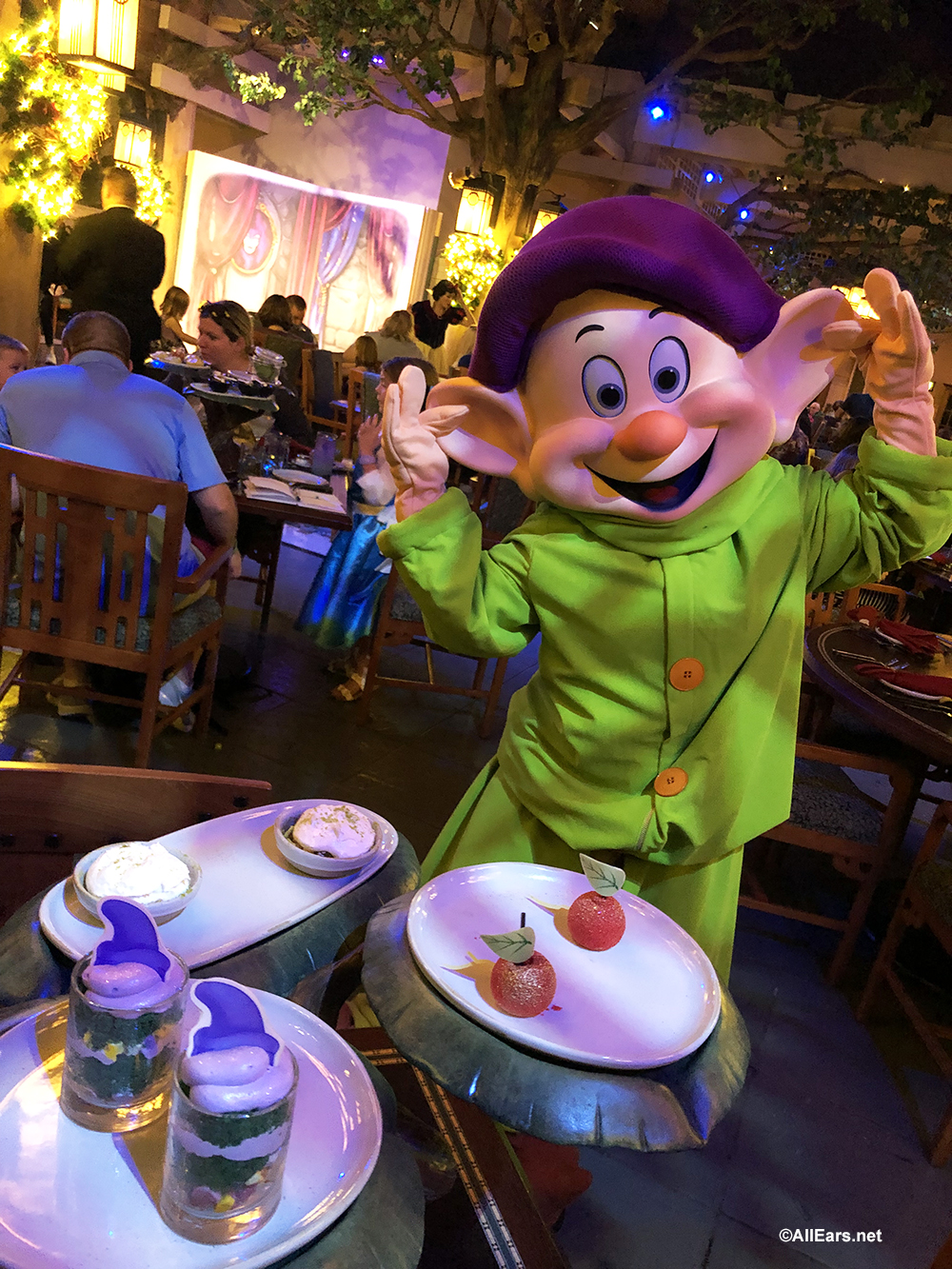 Whispering Canyon Cafe located off the main lobby, this full service restaurant serves breakfast, lunch, and dinner. Whispering Canyon is known for their all-you-can-eat skillets and rowdy servers.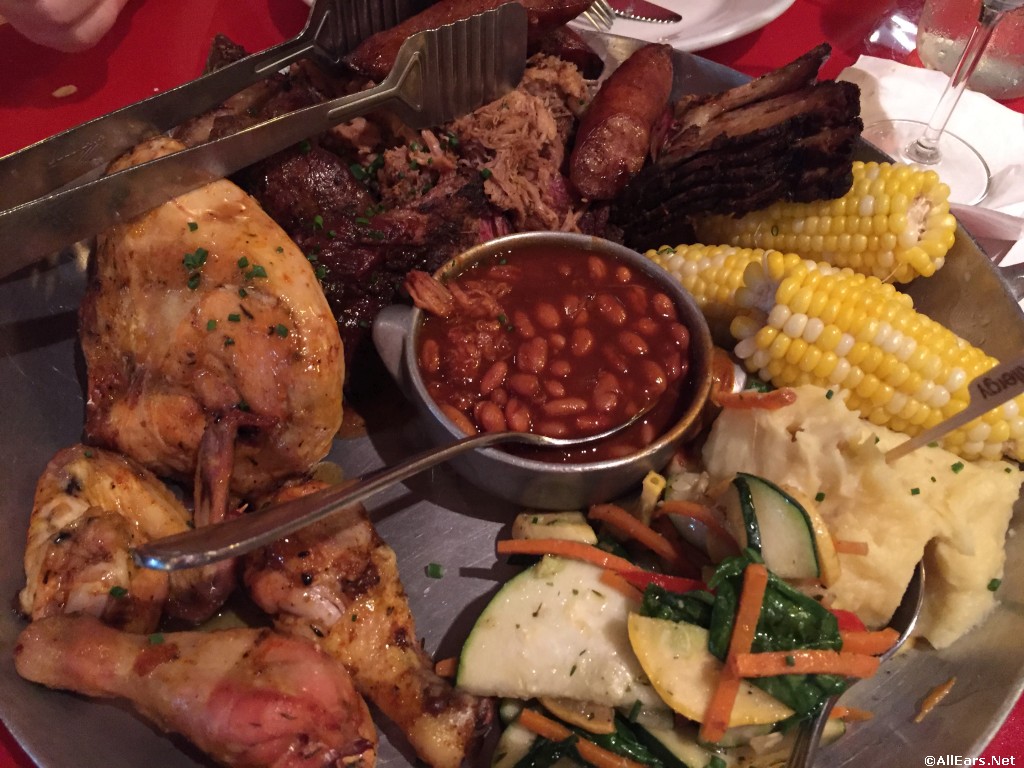 Territory Lounge is near Artist Point and is a relaxing lounge that serves a cocktails, wine, and beer, as well as espresso and cappuccino. Appetizers and light snacks are available from in the evenings.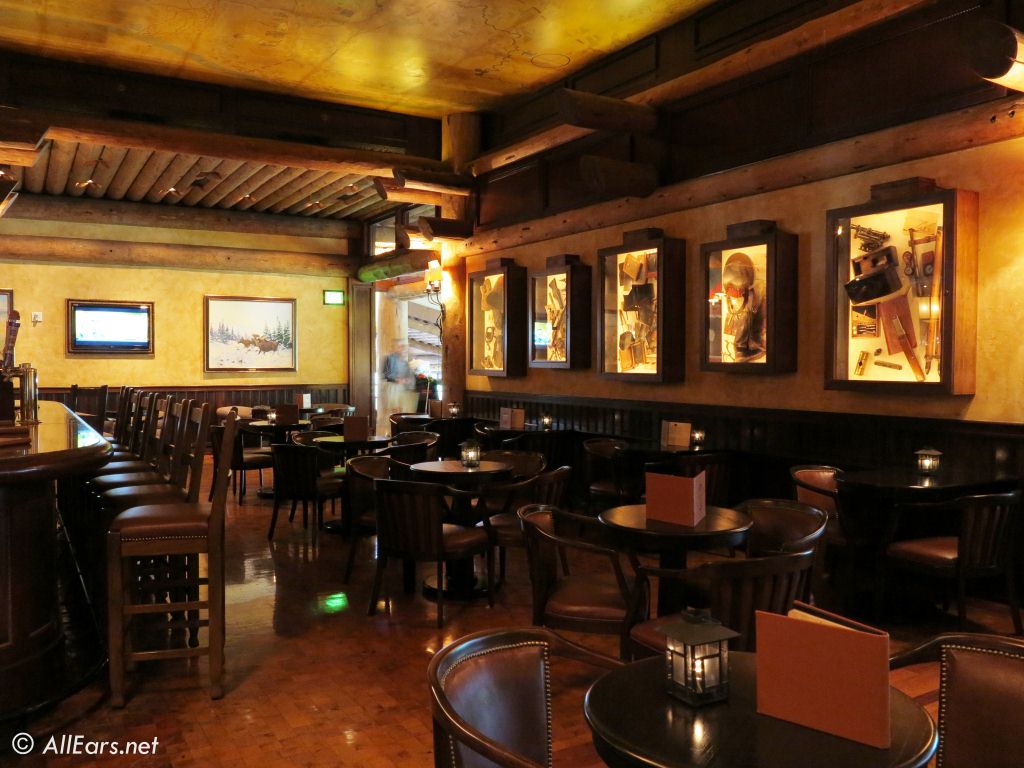 Roaring Fork – Roaring Fork is located on the ground floor near the pool entrance of the main Lodge. It's a quick service restaurant serving breakfast, lunch, and dinner, as well as a large grab n' go section. There is a seating area where you can dine or wait for your grilled items to be ready and take them to your room or the pool.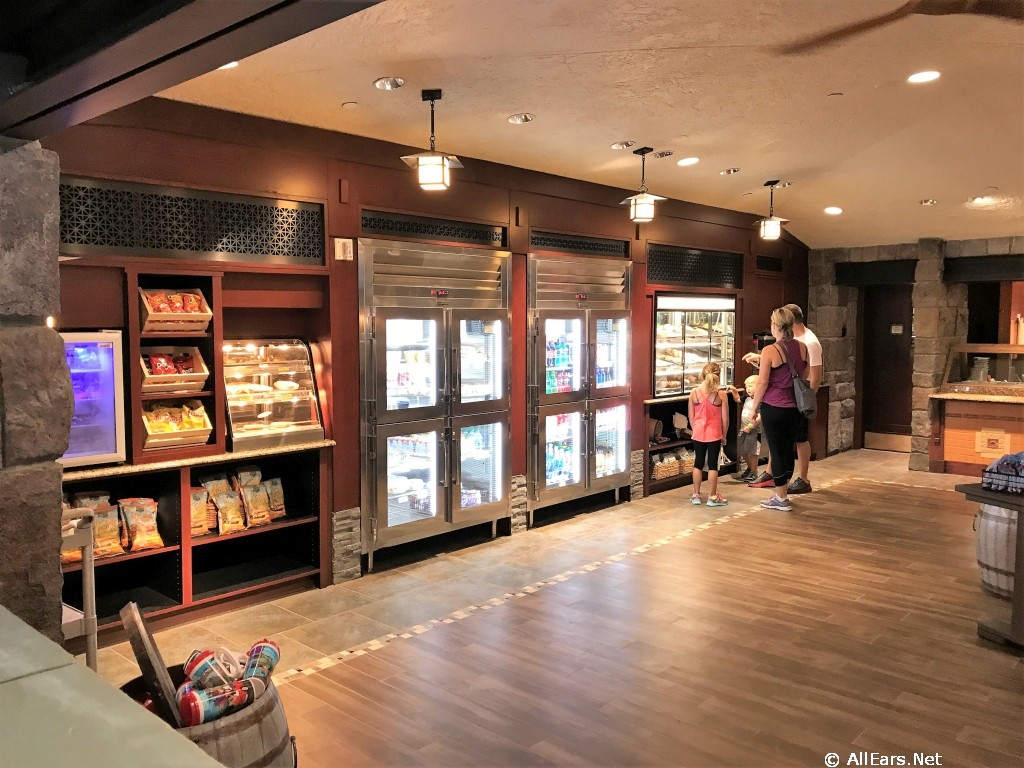 Geyser Point Bar and Grill – a lakeside setting that offers lunch and dinner, and serves as a lounge, too. They have great grill offerings such as burgers, and comfy chairs for enjoying a waterside cocktail.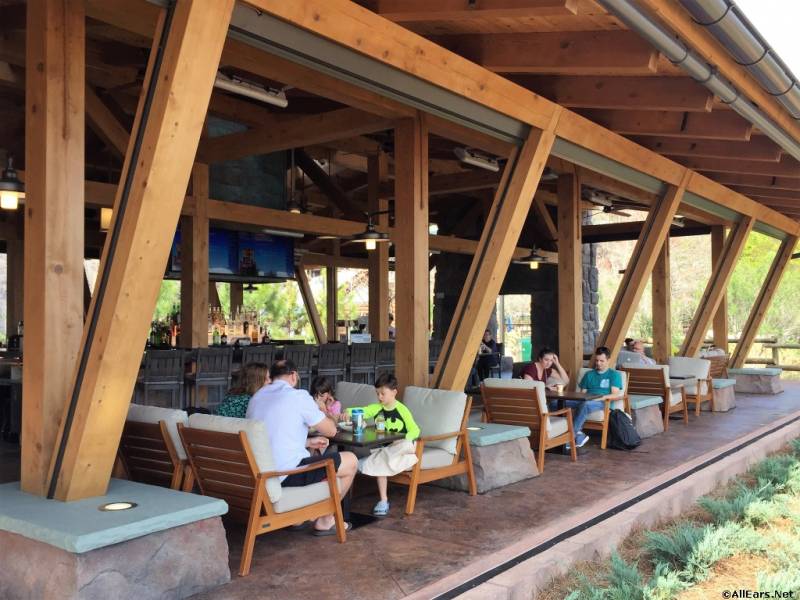 Room Service – Miss Jenny's In-room dining is available for breakfast (7-11 a.m.) and dinner (4 p.m.-midnight)
What is the pool like?
The pool that was at the Boulder Ridge Villas at Disney's Wilderness Lodge, Hidden Springs, has been totally renovated. It is now known as the Boulder Ridge Cove Pool.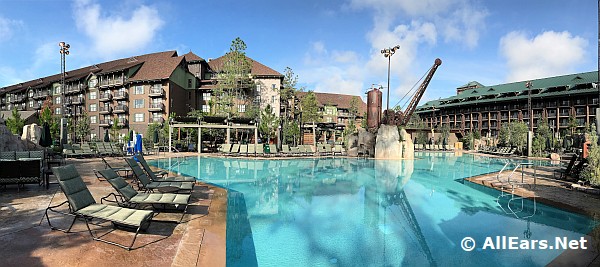 It's a quiet pool with lounge chairs.
Guests can also visit the main pool at Wilderness Lodge. This is the family pool that has a water slide and recreational activities.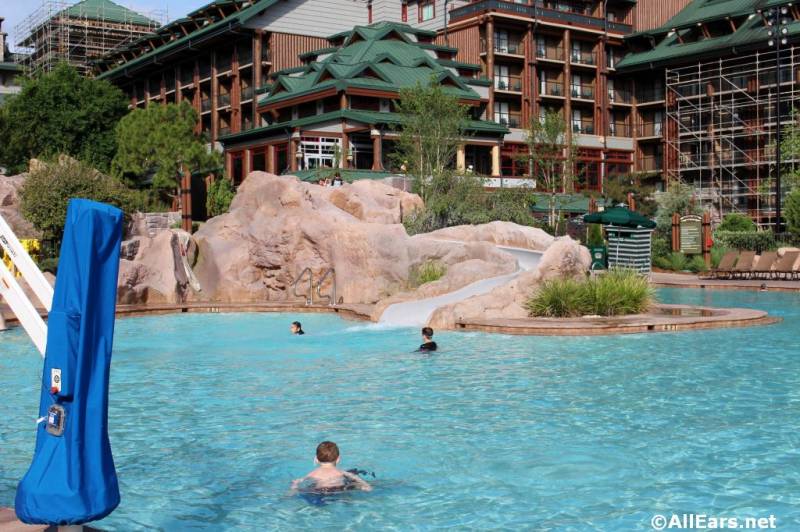 What types of recreational options do I have?
You can swim in the pool or sunbathe on the sunny beach of Bay Lake. There is a 3/4-mile wooded path for walking, jogging or biking from WL to Fort Wilderness.
Teton Boat and Bike Rental — Bike rental is usually available from 9am to dusk. Boat rentals are typically available from 11 a.m. to 5 p.m. Lockers are available at the Marina for a small fee. Disney Vacation Club Members, be sure to show your ID for a 10% discount. Other discounts may be available for Annual Passholders — just ask.
Fireworks Cruises set sail from Teton Boat and Bike rental nightly.
When you check in, you'll be given an Activities Calendar for the week.
Arcade is located near the Mercantile store.
At all DVC resorts, there is a Community Hall where activities such as arts and crafts happen at scheduled times, and you can also board games and movies for your room.
Can I work out while I'm there?
Sure! Just head to the Sturdy Branches Health Club.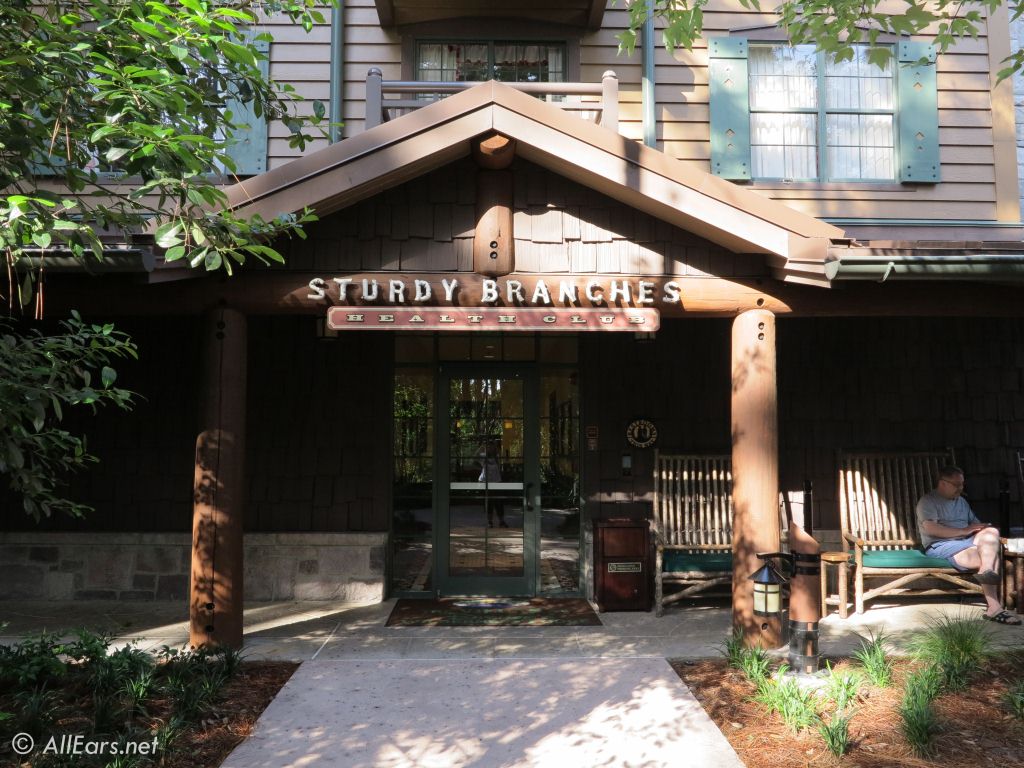 What type of child care options are available?
There is no longer a child care club at Wilderness Lodge. To check on available child care options at Walt Disney World, visit our Child Care FAQ.
What special tours and programs are offered at the WLodge?
"Wonders of the Lodge" tour is offered at on certain mornings. This one-hour free tour is about the architecture and how the Lodge was built. It takes you outside, talks about landscaping, and then goes back inside and talks about the artwork like the metal work and the Totem Poles and the paintings. Check with the Front Desk for times during your visit.
Are Any Special Cruises Available from the Wilderness Lodge Boat Dock?
Yes, several specialty cruises are available from the boat dock. Visit our Specialty Cruises page for details.
Anything else special about the Boulder Ridge Villas?
There are lots of wonderful rocking chairs inside and outside the villas atrium.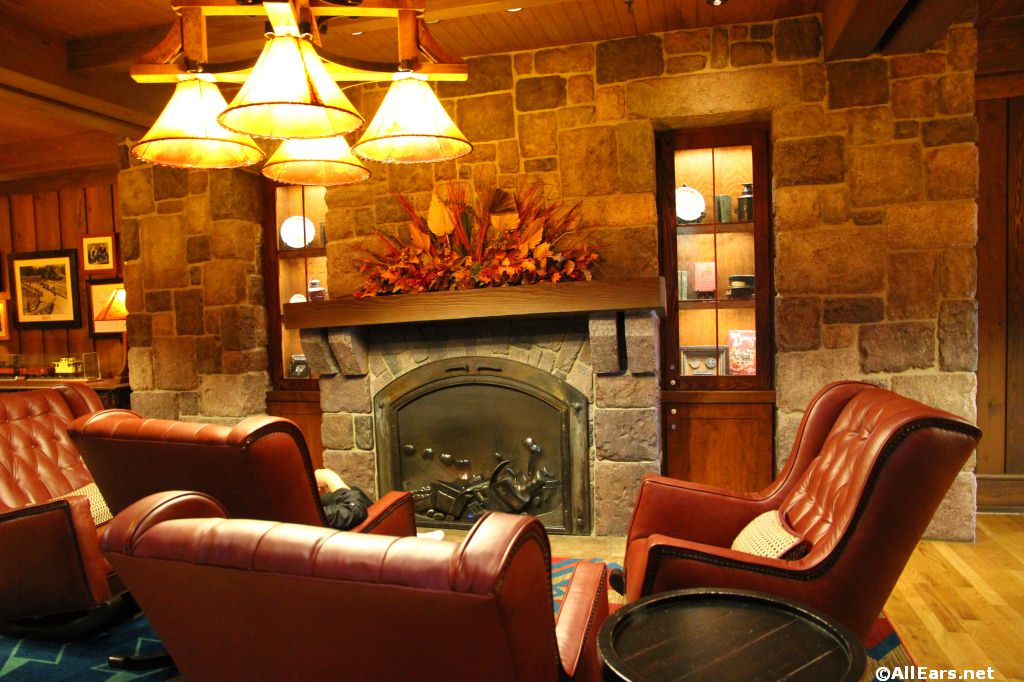 If you like trains and/or Walt Disney History, the Carolwood Pacific Room is loaded with photographs, replicas and information. Take a few moments to visit!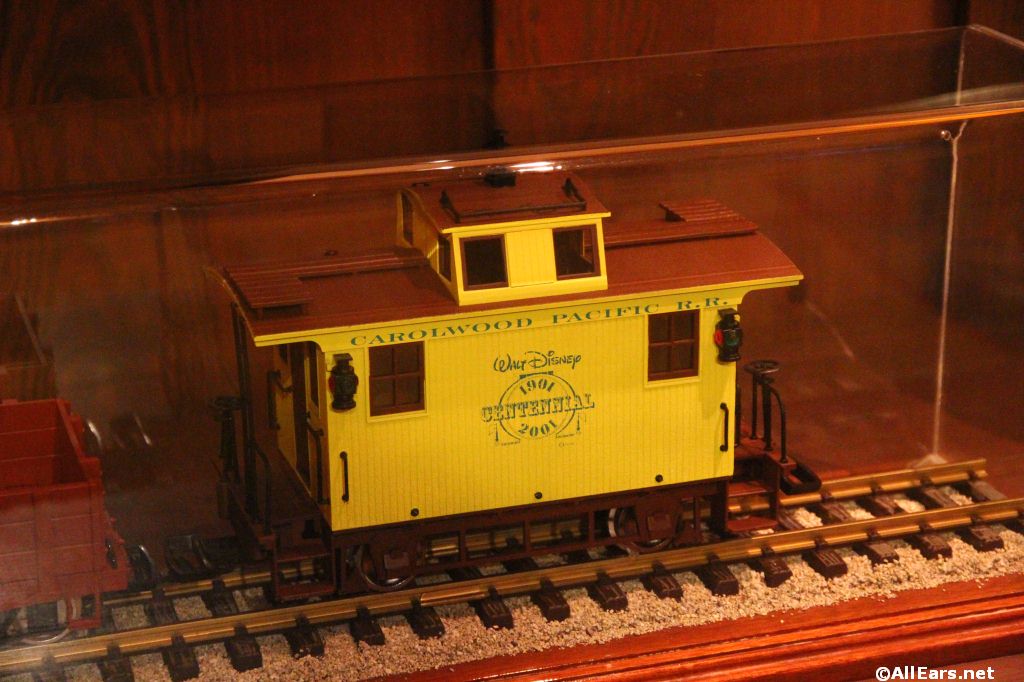 There are game tables in the Carolwood Pacific Room, located off the lobby.
A game Arcade, featuring pinball, video and air hockey games, is located in the Wilderness Lodge on the left as you walk from the Villas.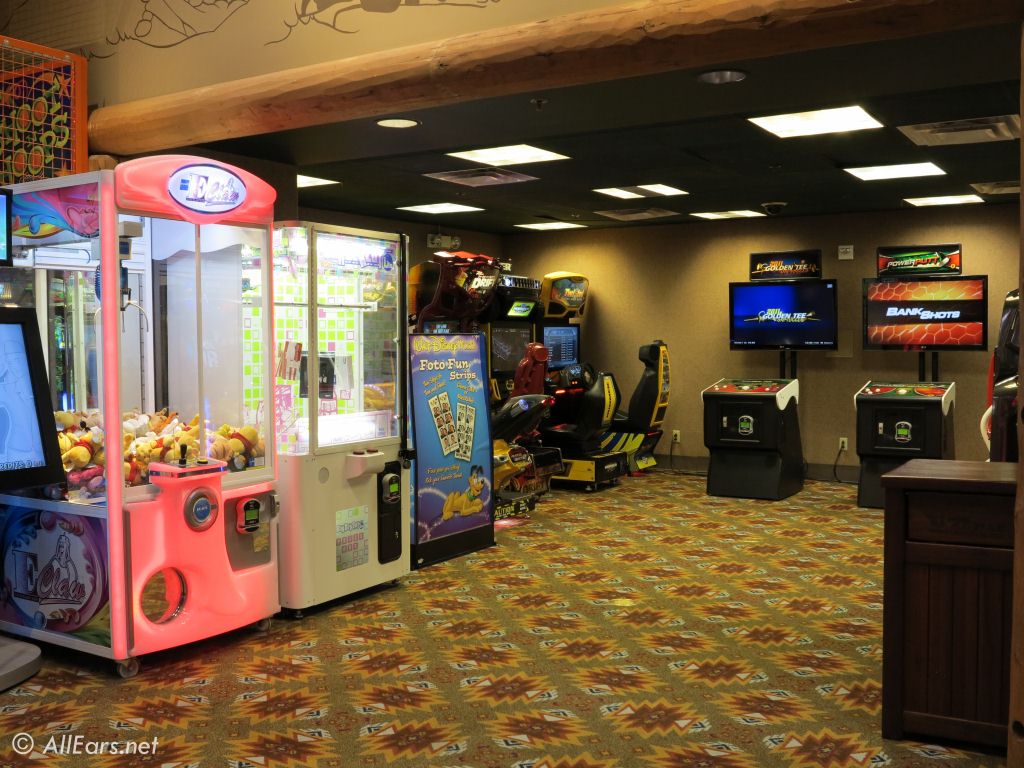 Electrical Water Pageant – Go to the boat dock in the evening at approximately 9:35 p.m. (check with Guest Services for exact times). You'll be treated to the delightful Electrical Water Pageant, which makes its way across Bay Lake nightly. This whimsical light and music show will entertain you and your family for about 10 minutes. It's worth seeing at least once! (The ELP visits all the Bay Lake resorts nightly.) The ELP may be canceled due to inclement weather.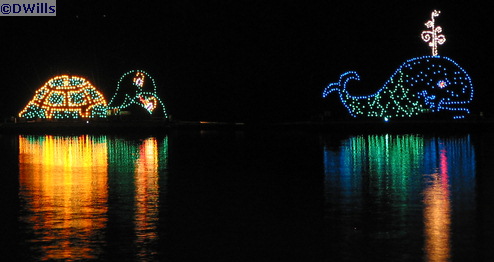 If you want to learn more about the Wilderness Lodge, check out this AllEars TV Video!
The WL is located at 901 Timberline Dr. Lake Buena Vista, FLA 32830. The phone number is 407-824-3200 and the fax is 407-824-3232. The WL is a AAA 4 Diamond hotel.
Overview
Phone: 407 824-3200
Address: 901 Timberline Drive, Lake Buena Vista, Florida 32830
Transportation Options (2)
Activities & Recreation (9)
Boat Rental
Kid's Club
Playground
Arcade
Running Trail
Poolside Movies
Tennis Courts
Gym
Health Spa
Room Options (3)
Deluxe Studio
1 Bedroom Villa
2 Bedroom Villa