GRAND MARSHALS Magic Kingdom
October 1999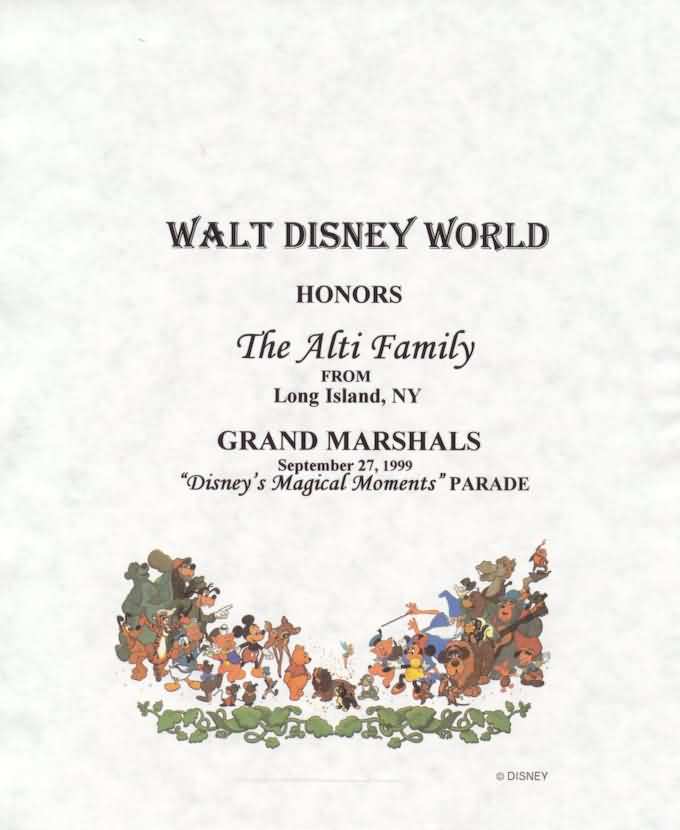 by Karen Alti and Family
I have often dreamed about how magical it would be to be chosen as the Grand Marshal of the MK parade. On Sept 27th my dream finally came true!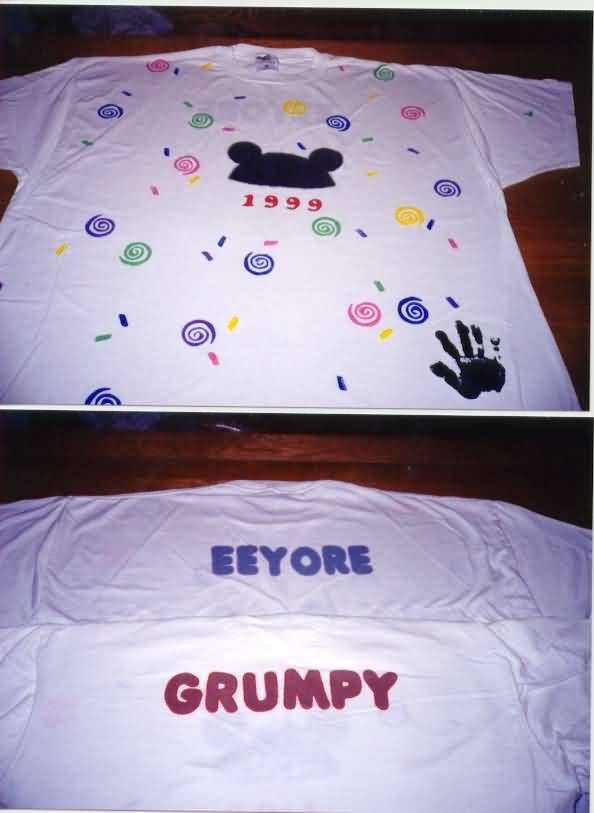 Before our trip I had made matching T-shirts for the gang of us. They are a bit corny but it makes a fun Main Street photo and apparently helps to get you noticed.
We entered the MK around 8:30, took care of the stroller rental and tracked down the Main Street photographer. Next stop we thought, Splash Mt. Around 8:45 we started up the right side of Main street. There were 7 of us in total but my husband Paul, sister-in-law Carol and I were lagging a little behind the rest.
About halfway up Main Street a cast member named Ray stopped me. He was looking at my hat that had several pins on it and asked if I knew about the pin trading that was going on during the millennium celebration. The next thing I know he gives me 2 CM only pins! One was a small cruise line emblem and the other was a space Mt. with FedEx next to it. Ray asked about the shirts, how many people were in our group, and other chit-chat to get to know us a bit. Then he asked the BIG question….. How would we like to be the grand marshals of today's parade?!
THE GRAND MARSHALS: Karen Alti, Paul Alti, Georgiana Ottersen (Mom) Carol Otteren (sister-in-law) and Ralph Ottersen (my brother) Kids are my nephews Mark Ottersen (the little one) and Chris Ottersen!
I felt my knees turn to jello. Did I hear him right? Was I dreaming? "YES! YES! WE WOULD LOVE TO". We got the rest of the group together and gave Ray our names and hometown info. We were told to meet him at 2:30 over by Pecos Bills where the parade starts. I think we were extra lucky that day because Ray told us that he had picked another person before us but they had 23 people with them, way to many for the car.
I thought 2:30 would never get there! We had had showers in the afternoon the previous 2 days and we all just kept out fingers crossed that it would hold out today. Several of the rides we had been on this trip had technical difficulties so I didn't want to ride anything after lunch just in case it got stuck. Last year we were stuck on the Pirates of the Caribbean for 45 min. and I had visions of me stuck on the skyway yelling… " Help me! The parade can't start without me… I'm the grand marshal".
We made it to the gate and waited for Ray. When he arrived he escorted us back just far enough so we couldn't be seen from the street to where the car was parked with our driver Roy. We were each handed a pair of ears with our names on the back and each family (Mom, my Brother Ralph and his family, and Me and Paul) got a certificate saying we had been the grand marshal of the MK parade.
We put our ears on and attached them with bobby pins that Ray provided (they think of everything!) and boarded the old time car. The train was approaching so Ray suggested we practice our wave, and wave we did!! It was time. They opened the gate and we moved forward. Ray then said the only complaint he wanted to hear was that our arms hurt from all the waving.
We could see the crowd lining the street ahead, and over the loud speaker they began to announce the welcoming of today's grand marshals… " Please welcome the Ottersen's from Long Island New York and Paul and Karen Alti from Long Island New York"
WOW! What a thrill runs through you at that moment! (I think they did that 3 times along the parade route). Now let the waving begin! People had no idea who we were but they were waving back at us, some were even video taping us! There were several groups along the way that cheered for New York which was fun. The only thing that was weird was we were alone, the band wasn't marching today and it was 10 min. before the actual parade.
When we got to the hub in front of the castle Roy stopped the car and Ray got out and took pictures of us with our cameras, even some video of us and a pan of the crowd. It would have been nice to have a shot done by a Disney photographer here (even if we had to pay for it). I almost cried when I got home and developed my pictures and that shot was crooked and off center. It was a once in a life time experience and I wanted a good picture to frame. Yeah! Ray had better luck with my brother's camera.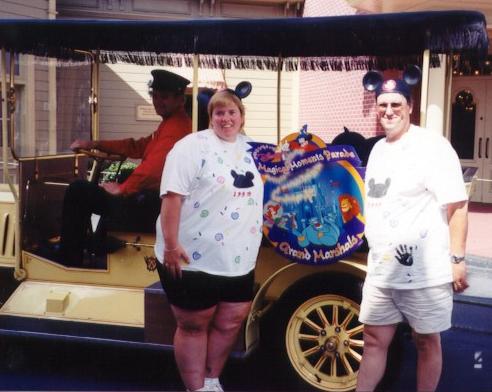 When we arrived at the end of the parade route Ray had us pose for pictures in front of the grand marshal sign on the side of the car. We then said good-bye to Ray and he drove off backstage after doing a great job! We had some time to kill before the parade caught up to us and when it did Ray let us stand right in front of the barn! The floats would come real close to us and then make the tight left turn.
I don't think it can get any better than that! I can't say enough about Ray! He was so nice and helped to make it such a special experience. We will never forget that day! We also have a new respect for the grand marshal's and the next time we saw the parade we made sure to give them a big wave back!
So remember, get to the MK early, don't have to large a group and have fun (corny shirts can't hurt either)! With a little luck you too can get picked to be the grand marshal!