Epcot's Transformation: How Dividing the Park into Four Neighborhoods will Unite Epcot More Than Ever
by
Sarah Fournier, AE Staff
Feature Article
This article appeared in the November 19, 2019 (#1052) edition of ALL EARS®
Editor's Note: This story/information was accurate when it was published. Please be sure to confirm all current rates, information and other details before planning your trip.
It's no secret Epcot is in the middle of a multi-year transformation that will change forever the way guests enjoy the Park. The transformation was the highlight of the Disney Parks panel presentation at this summer's D23 Expo. In addition to re-imagined areas, new attractions, new restaurants, and new pavilions, there was another announcement that may unite the Park more than ever even though it's all about dividing it into pieces.
As part of its transformation, Epcot will no longer have "two parts" — World Showcase and Future World. Instead, it will have four distinct but interconnected neighborhoods.
D23 tells us that in the 70s there were plans — including architectural models — of two parks: a Future World Park and a World Showcase Park. At the time the sustainability of two additional parks was not realistic given the economic climate. At some point in their brainstorming of what to do with these two parks, the Imagineers pushed the two models together to make one park, and Epcot was born.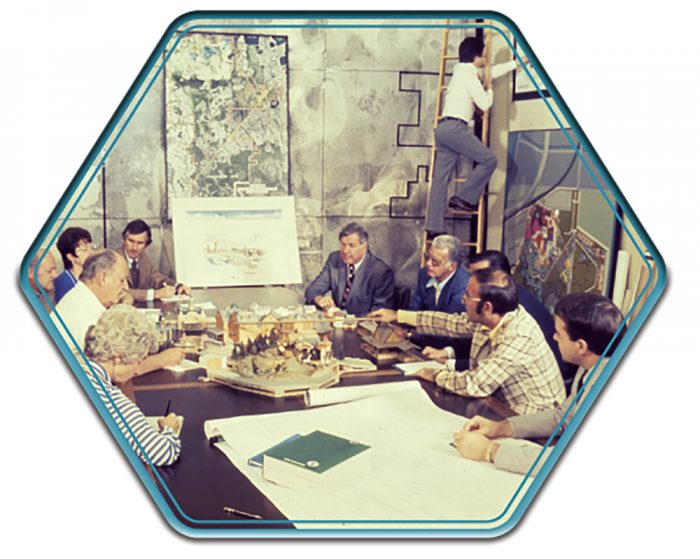 As a result, the Park has always felt like two disparate ideas pushed together. Very little in each section relates to the other section — if they share anything at all.  On top of that, with the passing of time, Future World, like Magic Kingdom's Tomorrowland, has started to feel like Yesterday World.
With Epcot's transformation fully underway, the Park will be divided into four neighborhoods: World Discovery, World Celebration, World Nature, and World Showcase.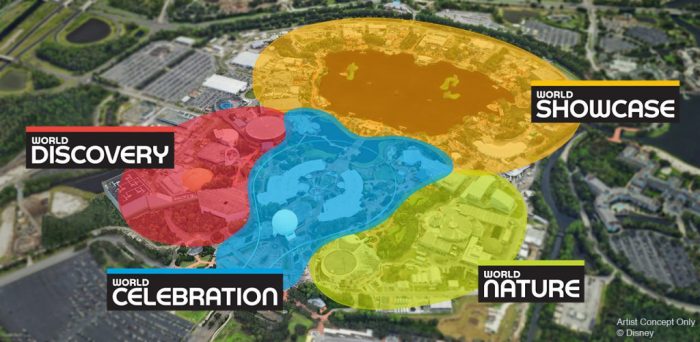 These new neighborhoods — despite partitioning the Park's footprint more than ever — will actually unite the Park more than ever before — and not just because the word "World" is in each neighborhood's name.
The new approach to Epcot is one of the interconnectedness of humanity — how our experiences, though singular, are all united in the human story. World Discovery with its focus on play and exploration; World Nature with its concentration on our relationship to the natural environment; World Celebration with its centering on the energy and vitality of our shared history; and World Showcase with its depiction of cultural diversity are all part of that story, and no neighborhood or aspect of the human experience can be extricated from the others.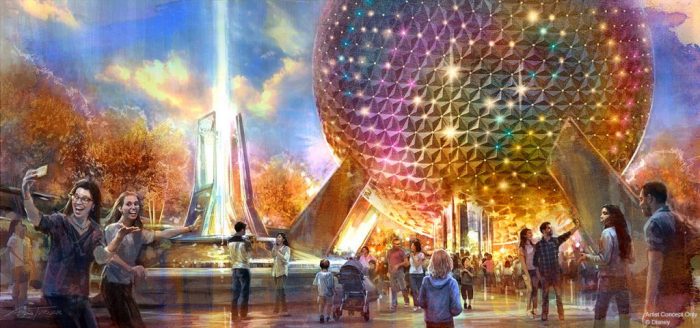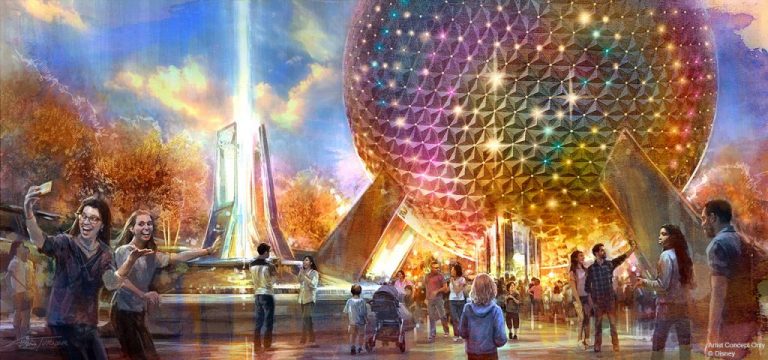 Each neighborhood will consist of unique Park experiences — from a re-imagined Spaceship Earth and a new Festival center pavilion in World Celebration to interactive dancing water in World Nature, new opportunities for play and adventure in World Discovery, and new dining and attractions in World Showcase —  that allow guests to explore their world and all of its many facets.
Time will tell if these plans to create a more seamless, connected experience will fully come to fruition, but we are hopeful for Epcot's more unified future, one that recognizes the interconnectedness of all aspects of the human condition.