Journey into the Jungle Book Animal Kingdom Archives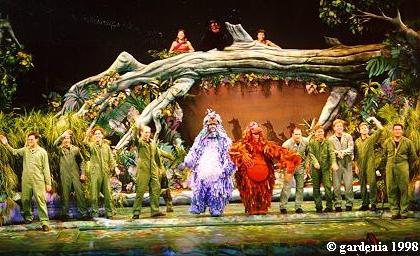 Journey to the Jungle Book was one of the opening attractions in Animal Kingdom in April 1998. It closed in April 1999 and was later replaced by Tarzan Rocks.
The text below is from a WDW Press Release. All photos copyright gardenia 1998-1999.
Rudyard Kipling's The Jungle Book, one of the world's most read works of fiction and Walt Disney ís best-loved animated film about animals, is the inspiration for this hilarious and unusual stage production. The new Journey into Jungle Book employs a new breed of humanimals, highly mobile costumed characters combining human performers and innovative puppetry. The result: animals of fantasy that convey life-like realism and emotion.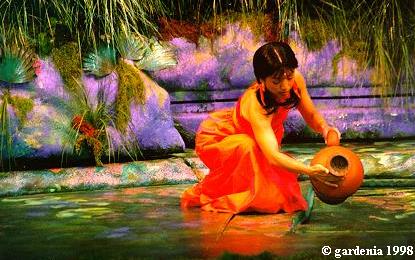 The music and characters from the film step right out of what appears to be a giant, multi-plane picture book on stage. The show follows the story as the man-child, Mowgli, is raised among wolf cubs in the heart of an Indian jungle. He is befriended by Baloo the bear and Bagheera the panther, threatened by wily snake Kha, and the fierce Bengal tiger, Shere Kahn, as he reluctantly makes his way back to the ìman village.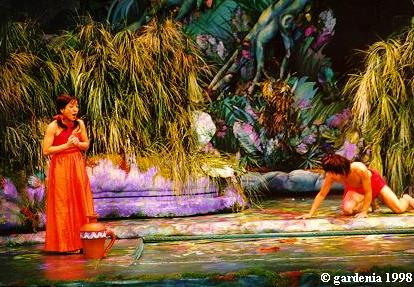 Lighter moments delight guests with Colonel Hathi and his herd of six elephants, King Louie and his hep-cat monkeys and, of course, the boisterous Baloo, with his unforgettable bouncing rendition of Bare Necessities. Other musical highlights include I Want to be Like You, the sneaky Trust in Me, and the romantic, My Own Home.
Many of the new costumes do double duty, allowing performers to appear as bushes or trees, then suddenly reveal themselves as dancing animals. Some of the costumes contain two or more performers. Some have human front and puppet rear sections.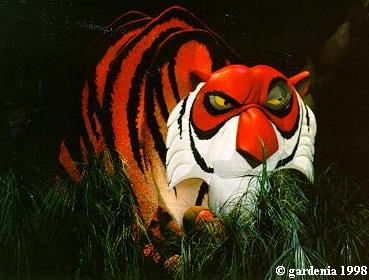 The 30-minute show was staged 10 times daily at the Theater in the Wild, a 1,500-seat amphitheater overlooking Discovery River near DinoLand U.S.A.