Do you hear that? Could it be? Is that? We think it is! We hear jingle bells!
Ready or not, here come the holidays — as far as Disney is concerned anyway. We're certainly not complaining, either, since we're ready to cozy up with cocoa on the couch with our favorite Disney movie. And soon, we might even have some new threads and decor to match, too, because new Christmas and Hanukkah merchandise has landed online!
DISCLOSURE: This post may contain affiliate links, which means when you click a link and make a purchase, we receive a commission.
Oh, shopDisney, we love ya. New Christmas and Hanukkah items have landed on the site and we're sharing our favorites!
Of course, we're starting with a Loungefly backpack, you know how much we love them! The Disney Classics Christmas Glow-in-the-Dark Loungefly Mini Backpack is amazing!
It features many classic Disney characters like Mickey, Minnie, Goofy, Dumbo, Peter Pan, and many others. The coolest part of this backpack is that in the dark, you can see how Tinker Bell has added a bit of magic to their holiday!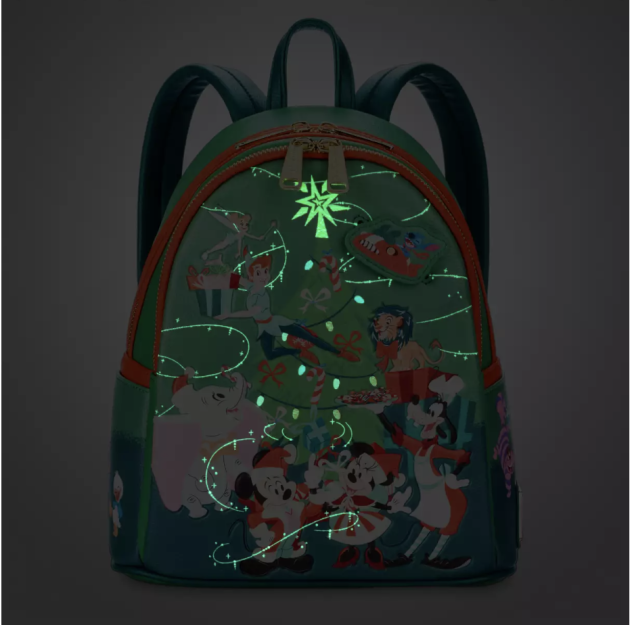 You can see more characters all around the backpack, on the sides and back!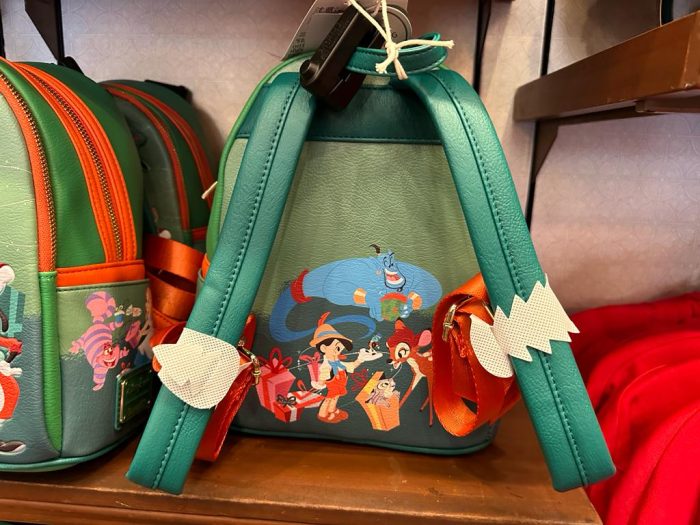 This is a fun bag that is sure to add some Christmas spirit to your outings!
We have several Loungefly items on our list including this Mickey and Minnie Mouse Loungefly Glow-in-the-Dark Holiday Ear Headband.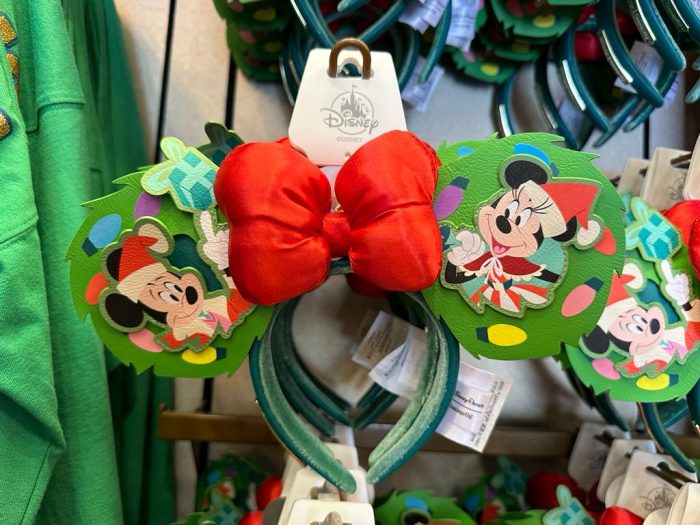 We love how Loungefly is adding the glow-in-the-dark feature to their items now! This brings added fun in the parks once it gets dark!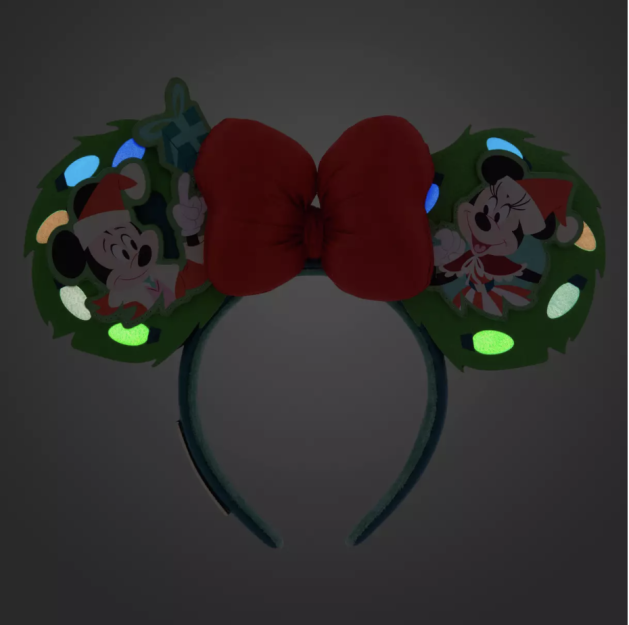 Don't take the chance of them selling out in the parks, buy them online ahead of your Christmas trip!
There's also a new Disney Classics Christmas Holiday Spirit Jersey!
The front features characters like Alice in Wonderland, Peter Pan, Cheshire Cat, Tinker Bell, and others, while the back has Mickey and friends. All of them celebrate the holiday.
We love this festive spirit jersey!
If you like to match your shoes and your top, then you'll certainly want to get these new Mickey Mouse and Friends Holiday Crocs to match your spirit jersey!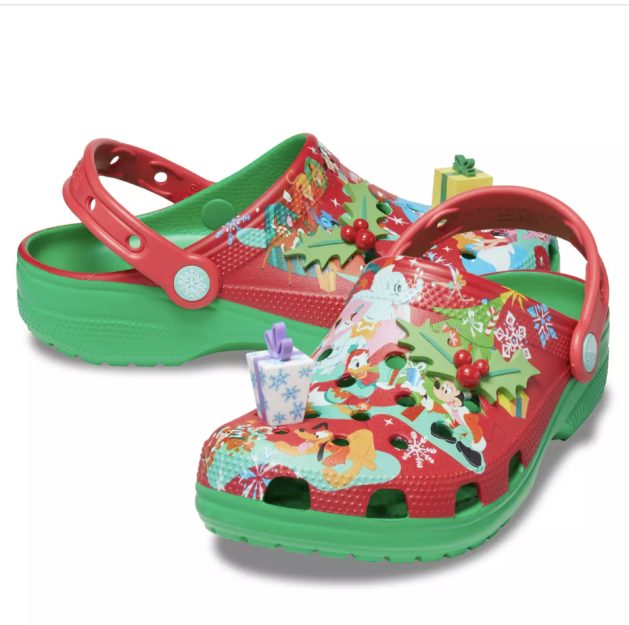 These bright green and red Crocs feature many beloved Disney characters and some fun holiday charms!
You can pre-order the Mickey and Minnie Mouse Holiday Ear Headband and be some of the first to get them!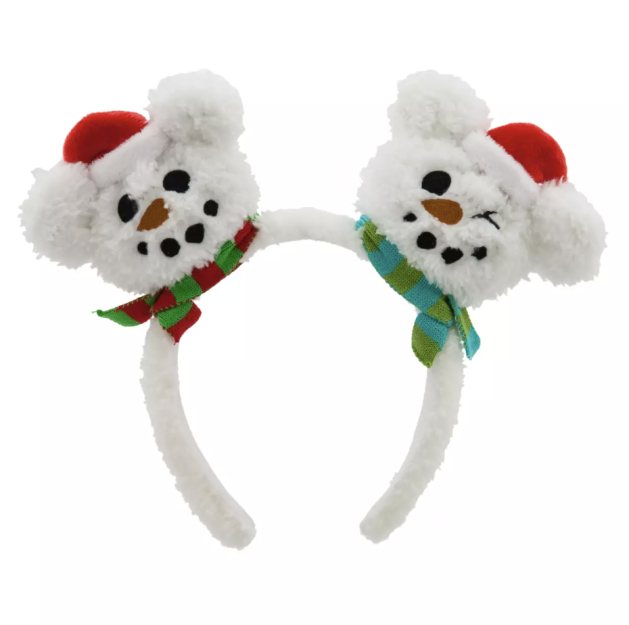 These are two adorable snowmen versions of Mickey and Minnie on a fluffy white headband! They're complete with scarves, hats, and carrot noses.
These are super cute!
Men, we found your new holiday sweater! You'll be so cozy in the new Stitch Holiday Sweater.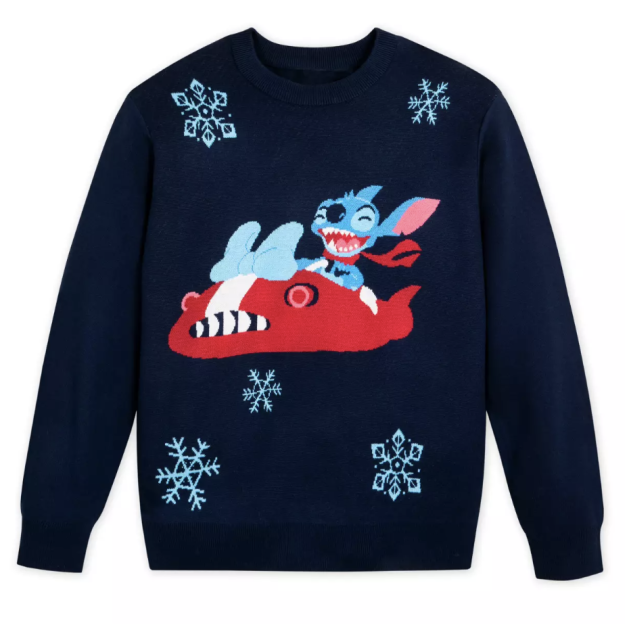 Cruise off to your next holiday gathering with Stitch in his rocket!
Mickey Mouse always looks cute as a snowman! It's no different for this Mickey Mouse Snowman Cookie Jar.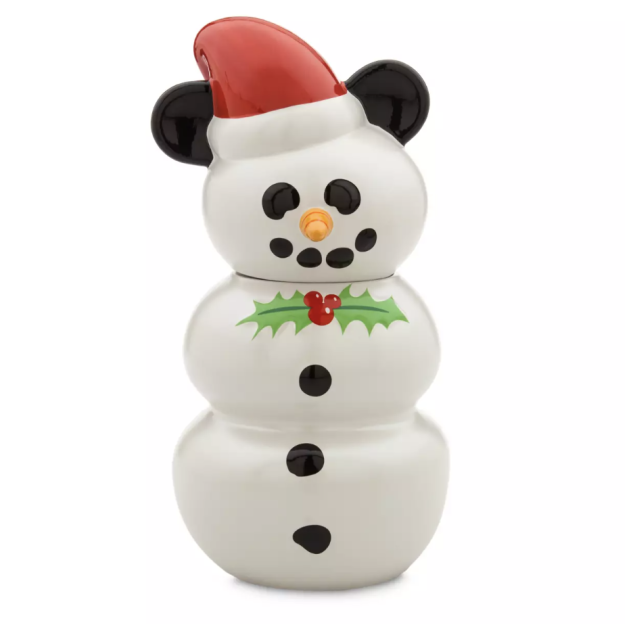 Who wouldn't want to dig their hand into this cookie jar?! Just remove the top so you can grab your favorite holiday cookie.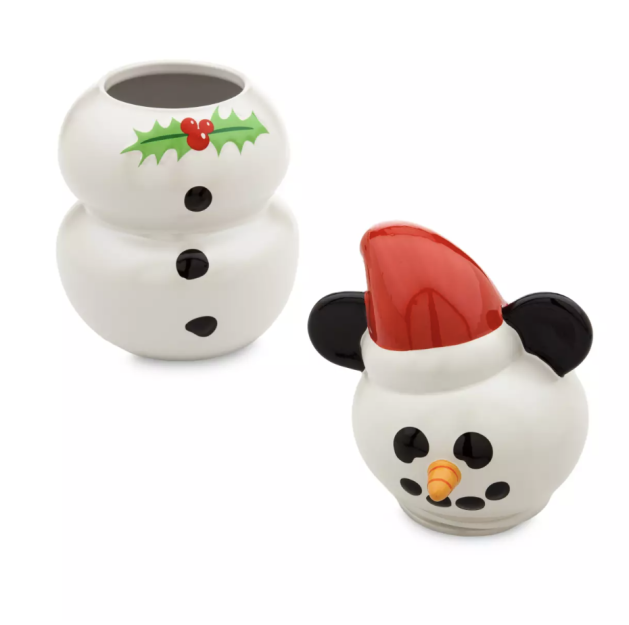 He'll make a great addition to your holiday decor!
These new Mickey and Minnie Mouse Holiday Ceramic Measuring Cups are so cute and have a cool design!
Yep, this adorable holiday tree doubles as decor and functional measuring cups! It's a really neat design idea.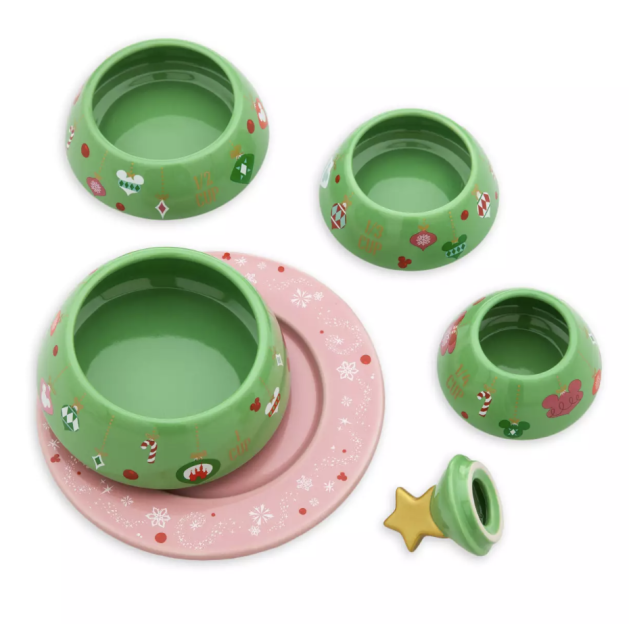 We're all about cute and functional!
This new Disney Classics Table Runner we found is reversible!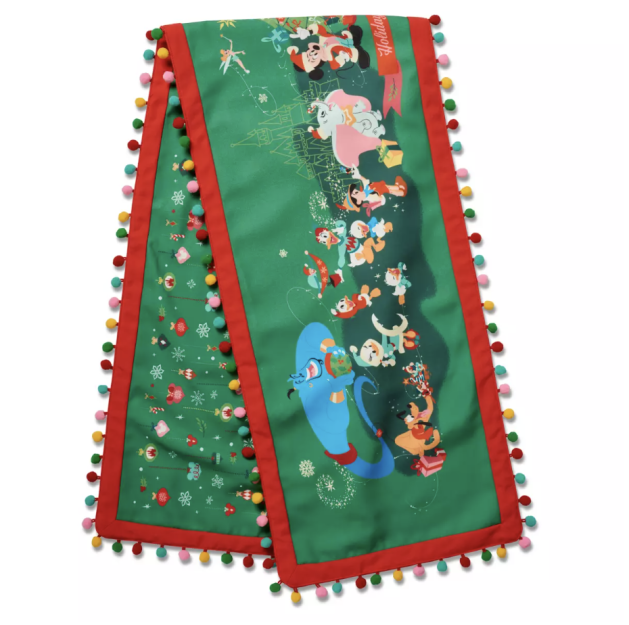 It has so many classic Disney characters! You can add some fun holiday decor featuring the most beloved characters. And on the other side, you can have some more traditional holiday decor with ornaments (shaped like Mickey and Minnie of course) and candy canes.
If you'll be hosting any holiday parties, you'll definitely want this new Mickey Mouse and Friends Holiday Plate Set!
Serving your guests will be so fun on these colorful, holiday plates!
Don't worry, we found MORE Loungefly! You can grab this Mickey and Minnie Mouse Hannukkah Light-up Loungefly Backpack.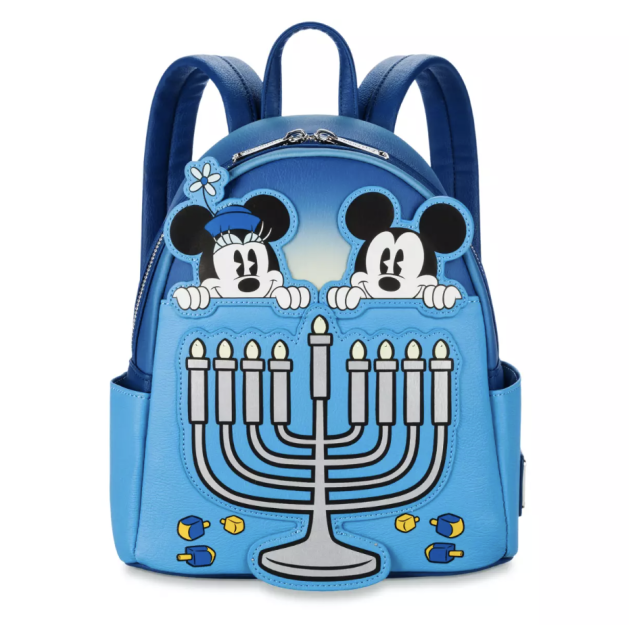 This is not glow-in-the-dark, instead, the menorah actually lights up!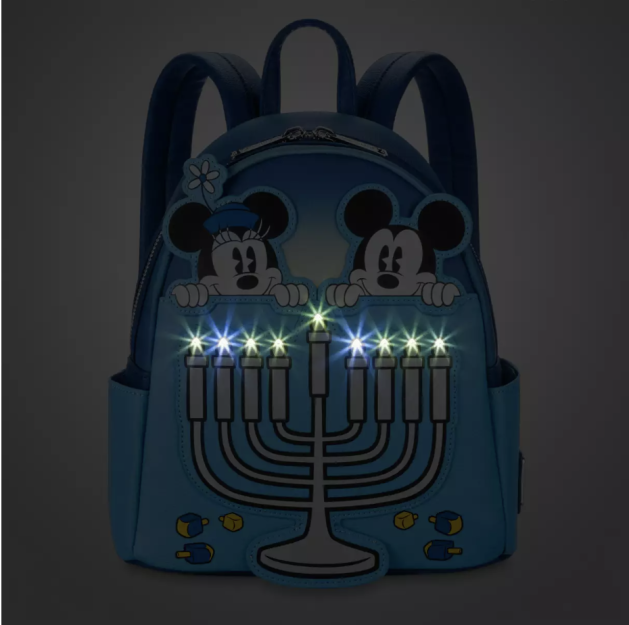 We love the details put into this backpack. It showcases so many cute designs like the Mickey and Minnie scene on the back!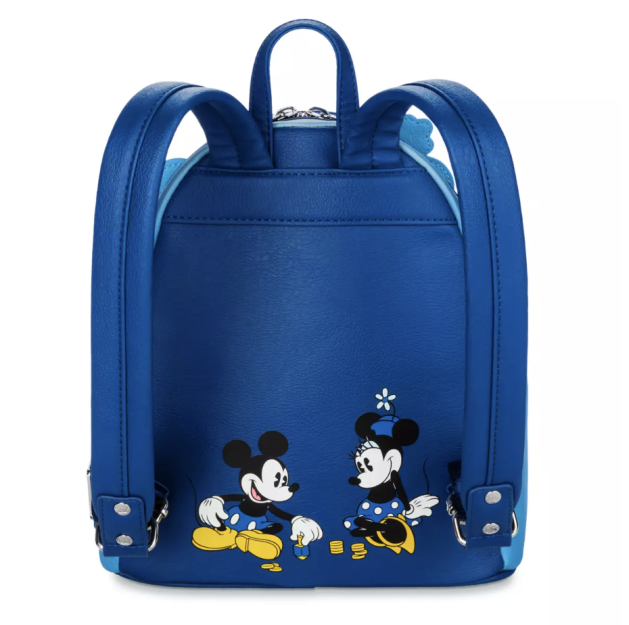 This would be a fun backpack to add to your collection.
Another option for serving your guests at holiday parties are these Mickey Mouse Hannukkah Salad Plates!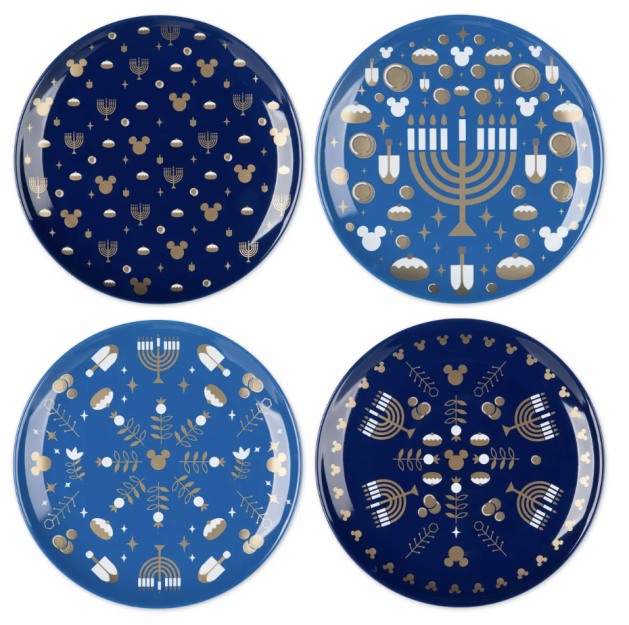 The blues, golds, and designs are so beautiful. They're sure to catch your guests' eyes!
To complete the table, you can use this Mickey Mouse Hanukkah Serving Platter.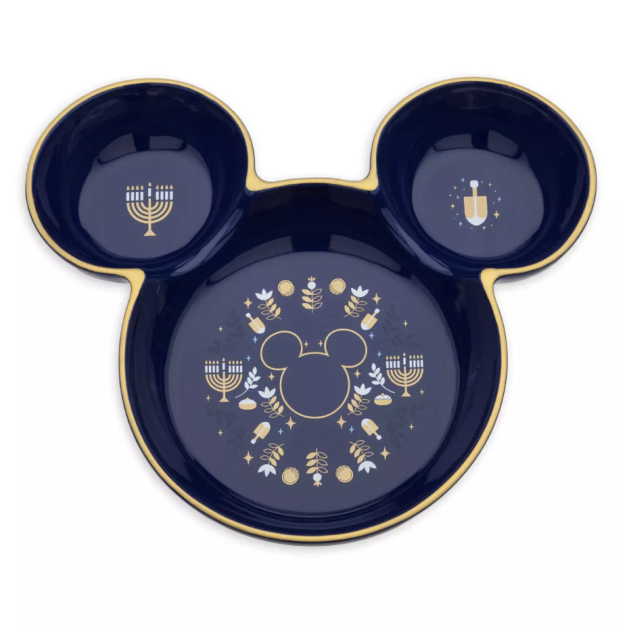 The blue is so deep and beautifully accented with gold. We love the design details Disney added to this collection.
There will likely be plenty more where that came from, so be sure to stay tuned to AllEars for more Christmas and Hanukkah Disney merch!
Which of these will you be adding to your holiday shopping list? Let us know in the comments!