We're taking you under the sea with one of our favorite moderate resorts in Disney World — Disney's Caribbean Beach Resort!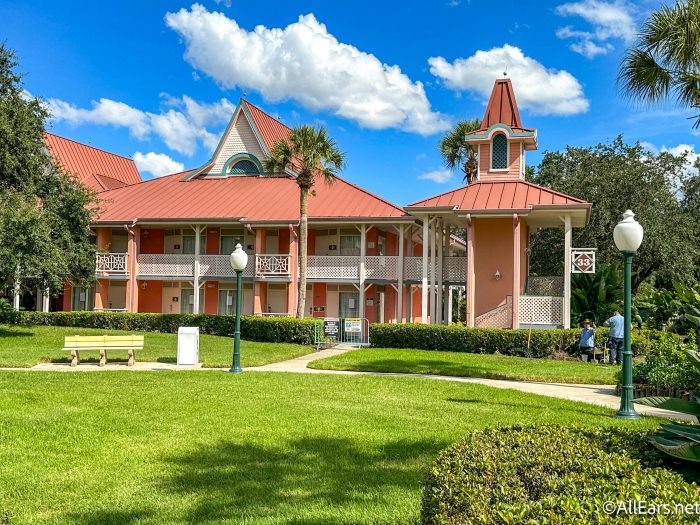 This resort just underwent a lengthy refurbishment, renovating the main buildings and dining, and adding The Little Mermaid theme to hotel rooms. Now, let's dive in for a look at these updated rooms so you see them before you book your next stay.
Imagine you've just opened the door to your Under The Sea hotel room and you're standing in the doorway. Follow our lead, and we'll do the rest!
When you step into your room, you're immediately brought into the main living space. You're also met with shades of pastel blue and green accented with the yellow and pink hues that help give those under the sea vibes right from the jump.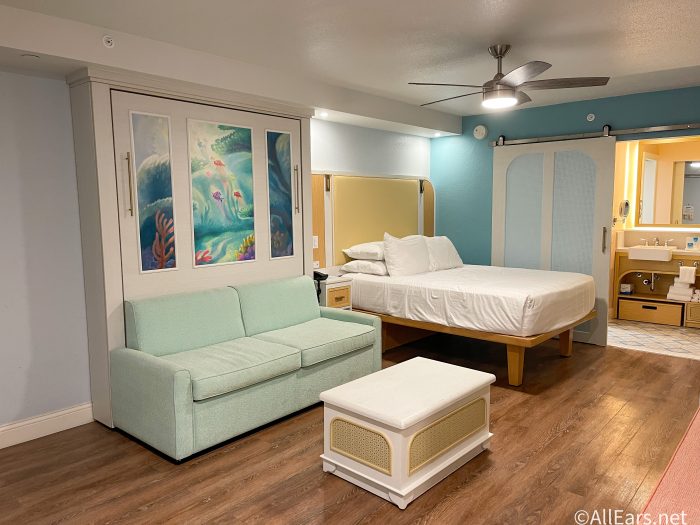 Panning to the left side, you'll find the upright Murphy bed. This bed is cleverly hidden to maximize the space in the room when you don't have a use for it right then.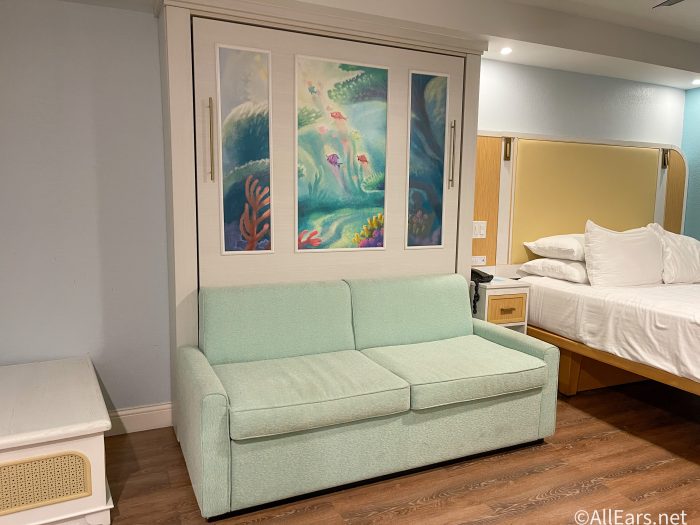 Underneath the bed, you'll find a loveseat couch that's upholstered in a seafoam shade of green. This conveniently folds into itself when the bed is folded out.
The outside mural helps disguise it and is a beautiful multipiece picture that features swimming fish swimming through the sea. There are two handles on each side of the picture to help pull down the bed that's framed in the clean white wood.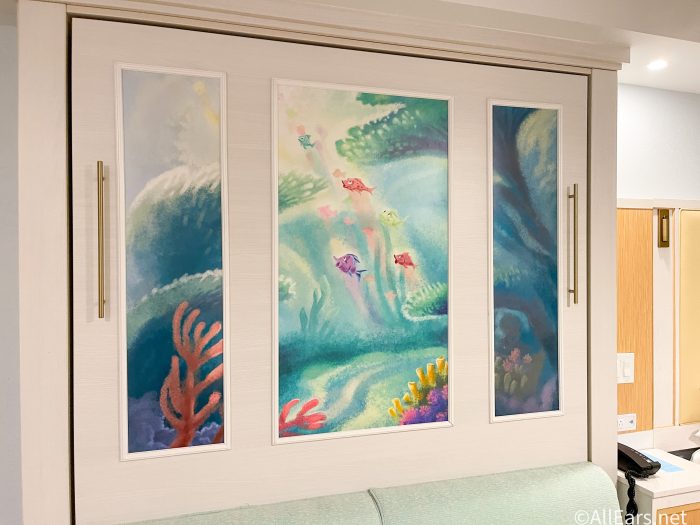 As you fold the wall out and down to reveal the bed, you'll find that it's covered in clean white linens. (extra blankets  and pillows for this bed) can be found in the closet — don't worry, we're getting there!
At the top of the bed, you'll see another painting that features our favorite fishy pal, Flounder! There's also a light switch located on the inside of the framed artwork and a few shelves with USB outlets to plug in your electronic devices.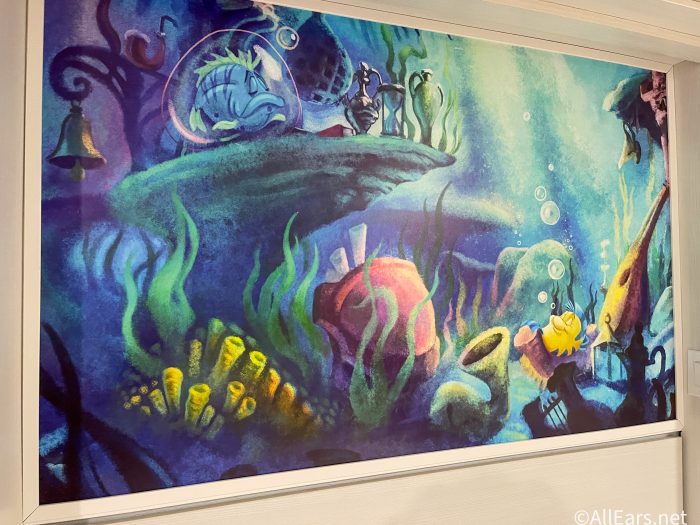 We had to move it out of the way to fold down the Murphy bed but there is a small coffee table in a rectangular shape which you might find odd at first, but…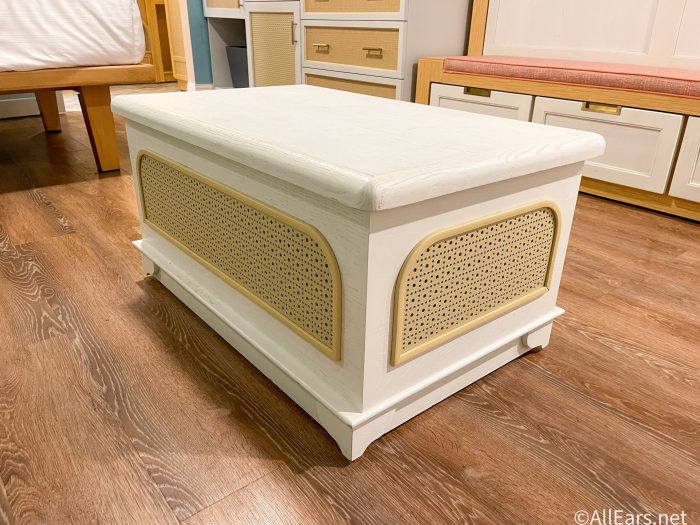 … it's made that way so that the top can be lifted up for extra storage to stow away your belongings and double as a tabletop that could be used for a multitude of things.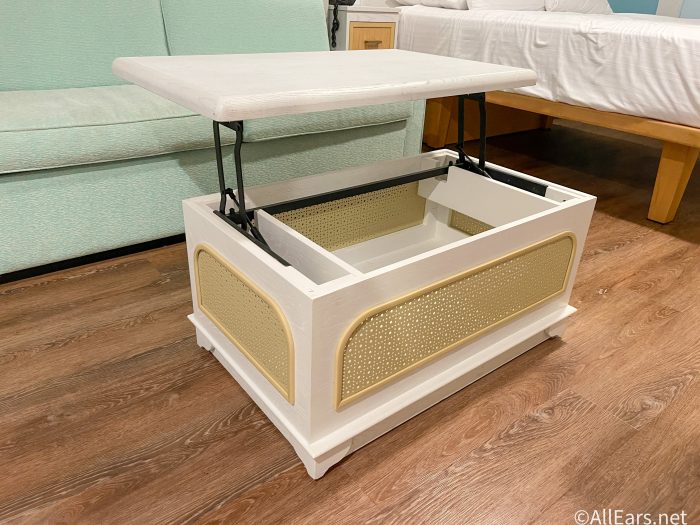 Immediately beside the bed and dividing the Murphy bed from the stand-alone bed, you'll find a single drawer nightstand.
The drawer in the nightstand is fairly deep.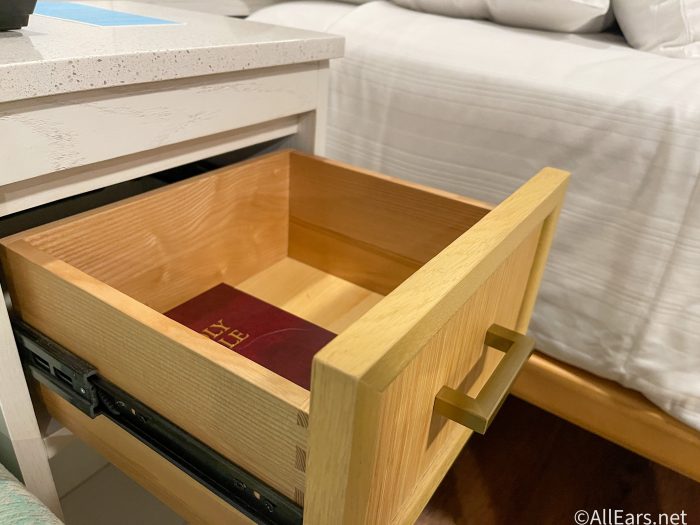 Above the nightstand, you'll find a few light switches and outlets. The nightstand should have your room's telephone stationed on top and the resort information numbers nearby.
The bed on the opposite side of the nightstand is a stand-alone queen-sized bed. This bed is minimally dressed with only crisp, white linens.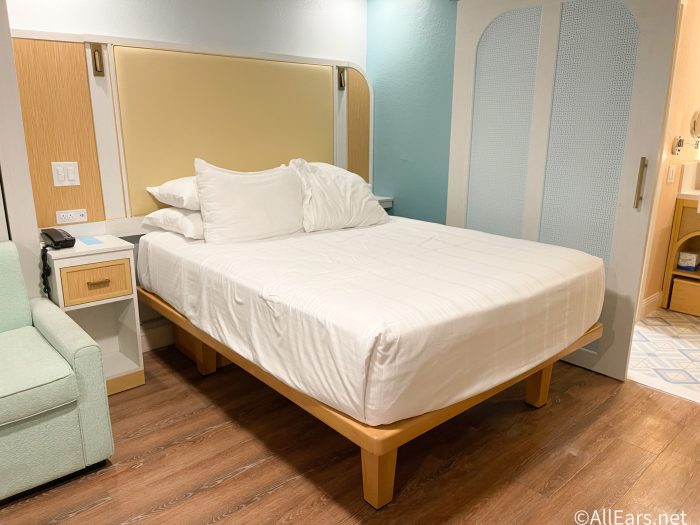 A hidden feature we want to point out is that both sides of the headboard house a single reading light that turns on when pulled out…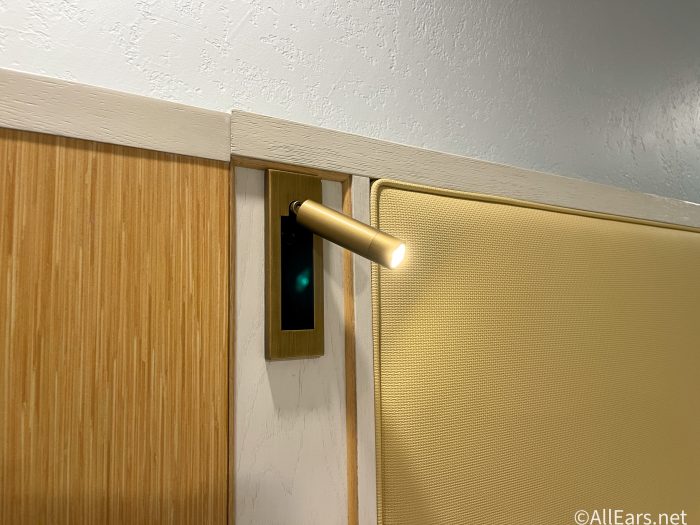 …. and off when pushed back in.
This is also a raised bedframe allowing you extra space to store your luggage and items you've brought along for your vacation… or maybe extra room to hide all those souvenirs you're bringing back home with you.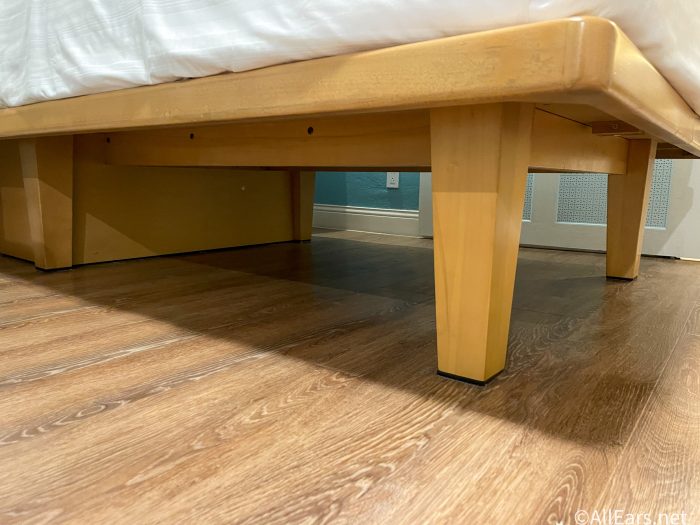 There are plenty of pillows on these beds so you won't have to worry, but should you want more, housekeeping is just a quick call away.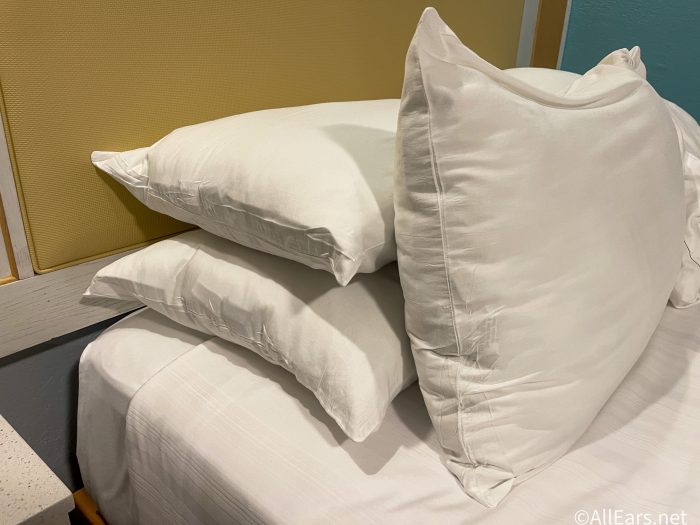 Your room's thermostat is located on this wall on the opposite side of the bed next to the coffee nook.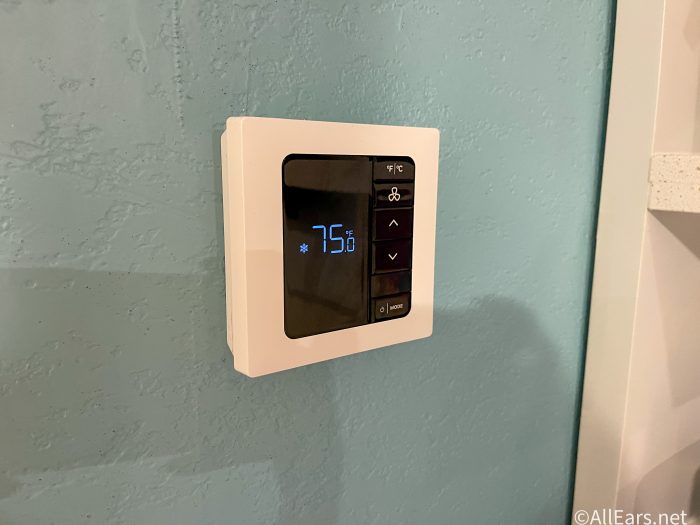 Directly down this wall towards the foot of the bed, you'll see the opening for the bathroom. This is hidden by a single, barn-style door when you're needed a little extra privacy.
As you walk into the bathroom you'll notice the mirror, and vanity counter complete with double sinks, and a washcloth holder…
… a few amenities like facial soap, body lotion, and tissues…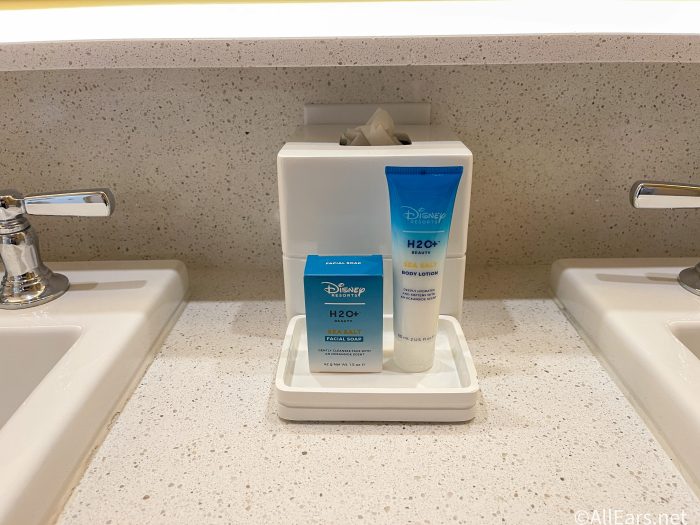 …and ample storage space underneath with an overstock of room amenities like extra washcloths and towels.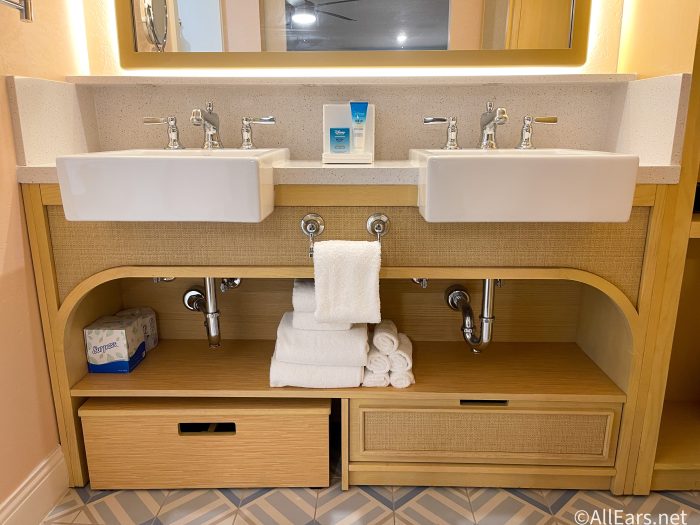 There is also a drawer that can be pulled out under this space to store your extra items…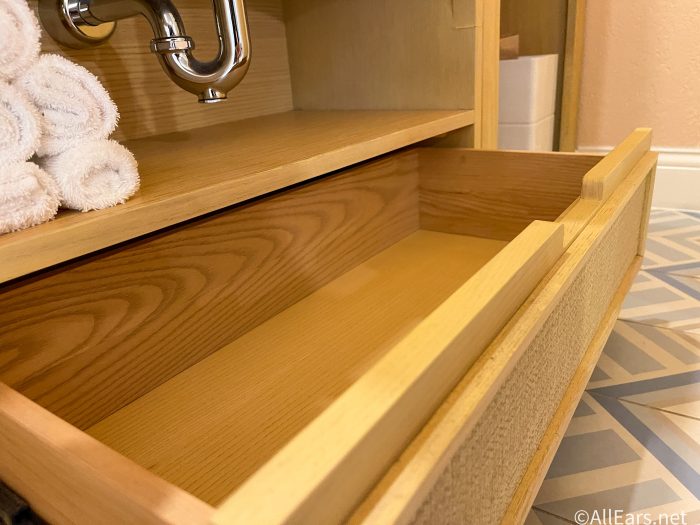 … and one side pulls out to reveal a stepping stool.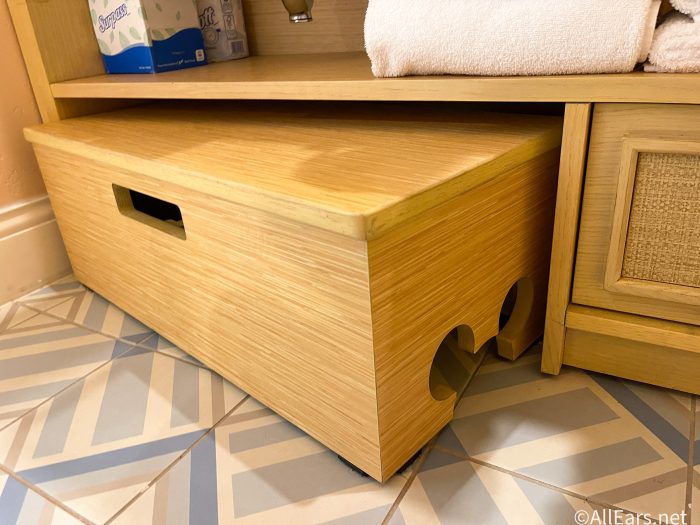 One side of the wall will house your light-up, magnifying mirror, and a light switch with a few outlets that operate one of the lights in the vanity area.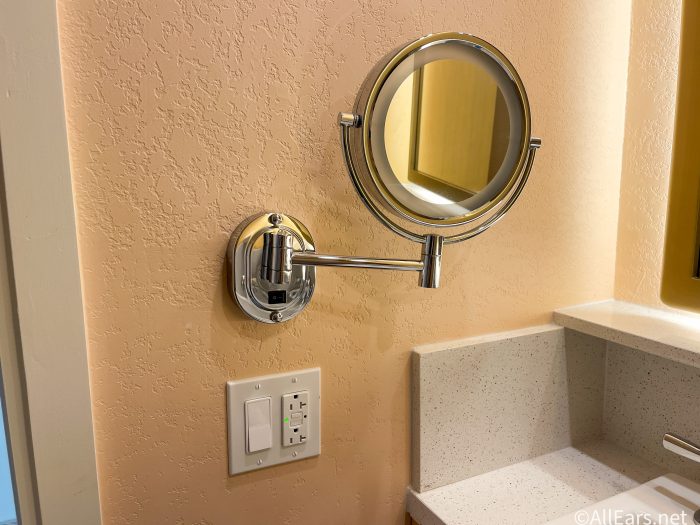 As you turn towards the door to the bathroom you're greeted with a standard toilet…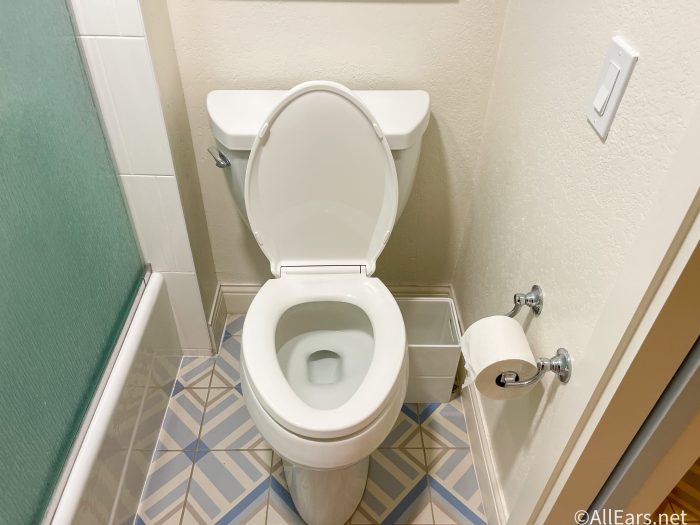 … shower and tub combo…
… and lots of towel holders that are anchored to the wall.
The shower has a  beveled glass sliding door and tub. There's a small square shelf built into the tiled wall.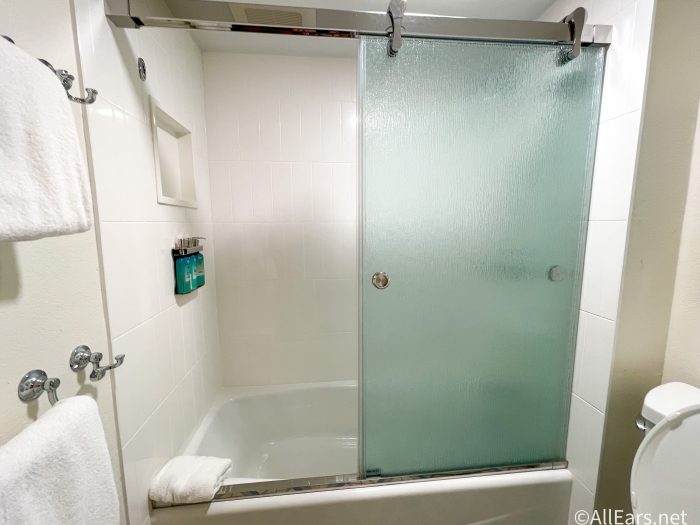 The shampoo, body wash, and conditioner are all anchored to the wall.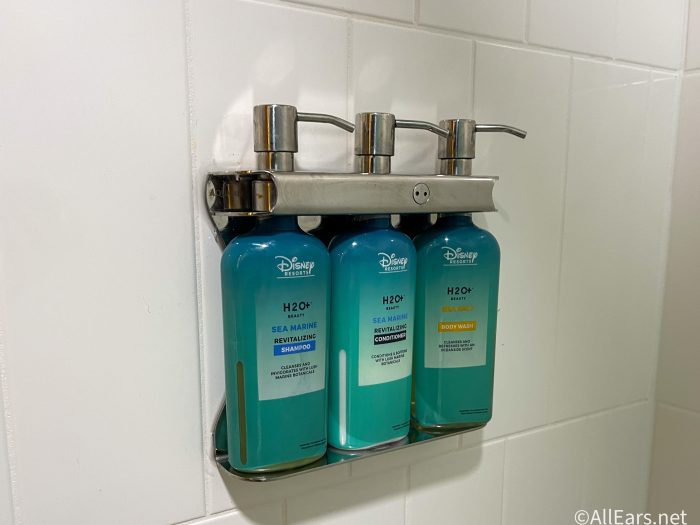 Coming out of this section of the bathroom directly across from you you'll see the closet area. This has a section that is covered with a full-length door and another side that just includes cubby sections.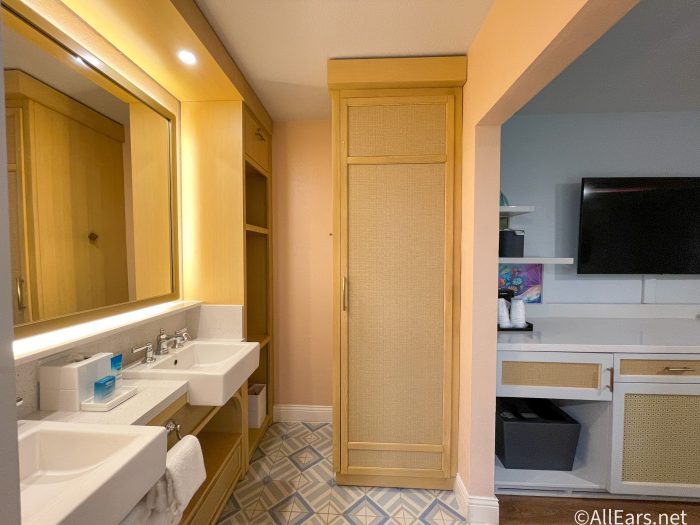 Opening the door to the closet reveals the extra blankets and pillows we mentioned before and clothes hangers…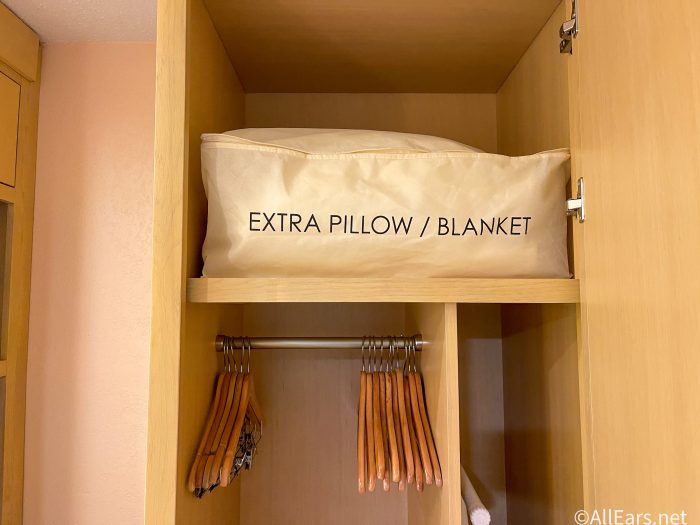 … as well as your ironing board, luggage rack, and iron in a zippered case.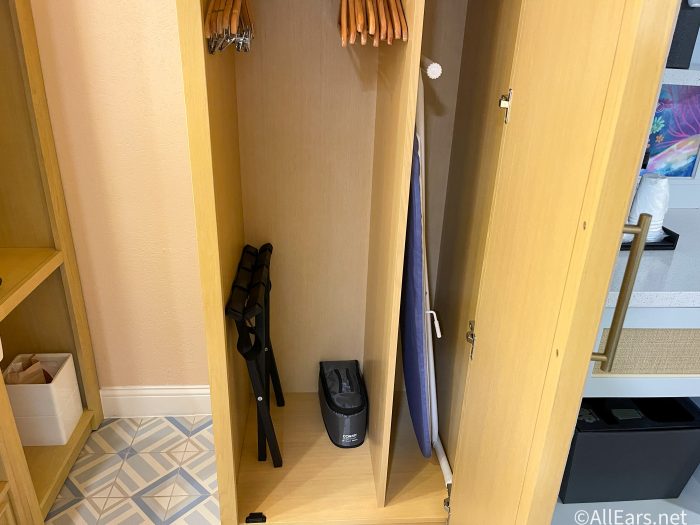 The cubbies hold the hair dryer, extra storage, and a small trash can.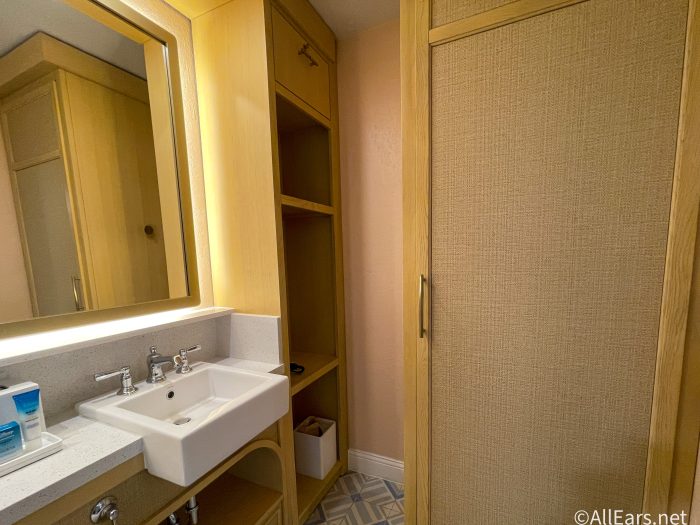 Coming out of the bathroom you'll be greeted by the coffee nook sitting on the top corner of the dresser just underneath the TV. This place has a few colorful shelves and an ice bucket.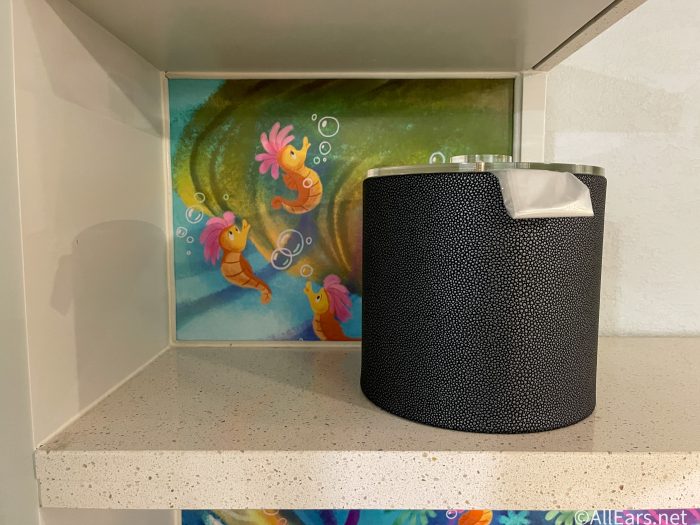 Directly underneath sits your single-server coffee maker, condiments, cups, and essentials.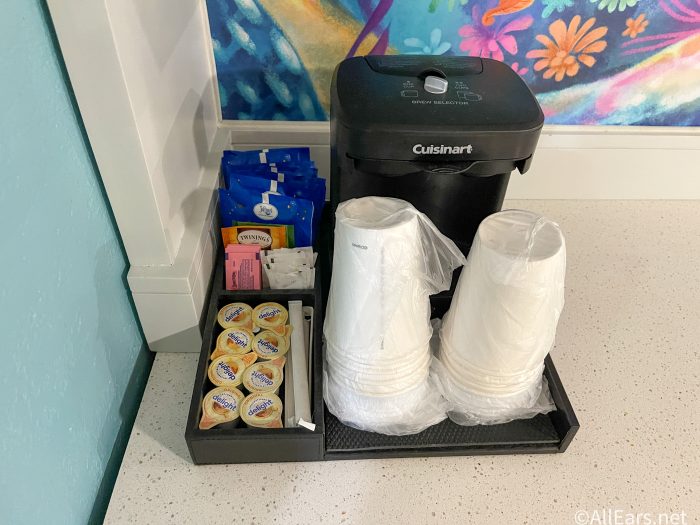 The dresser under the TV is quite wide with several drawers and a mini-fridge.
The left side of the dresser has a few wider and deeper drawers with the mini-fridge fixed beside them and the drawer above the mini-fridge is a bit more shallow but longer. The right side houses the main garbage and recycle cans along with your room safe.
Directly to the side of the dresser and t.v. is what looks like a mud room bench with a few outlets for charging at the top but…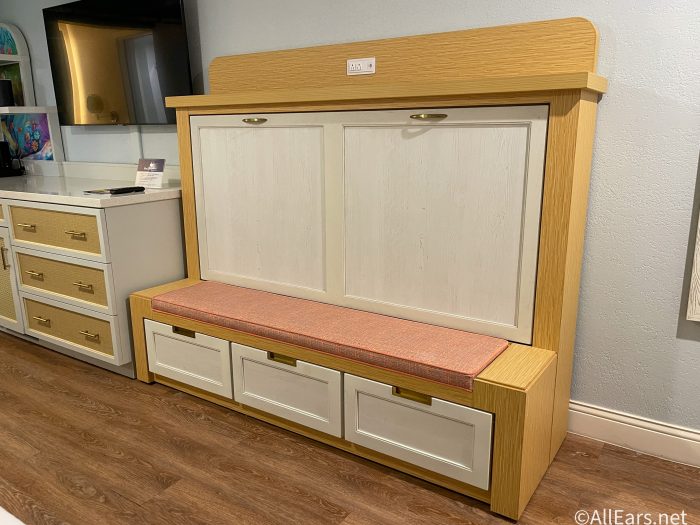 … it's actually a fold-down single sleeper! This bed also has a colorful portrait that is present once it's pulled down.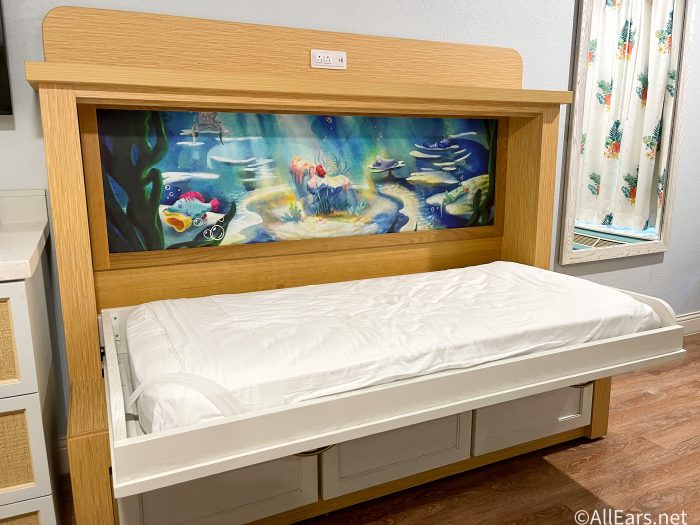 Underneath there's a set of three drawers that just add to the ample storage around the room.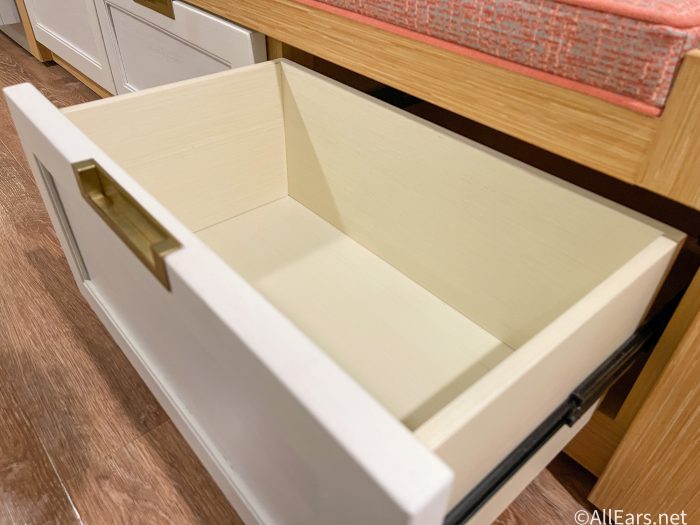 The single window to the room is situated right by the one and only door to your room and has some colorful curtains with bubbles, bright flowers, and starfish.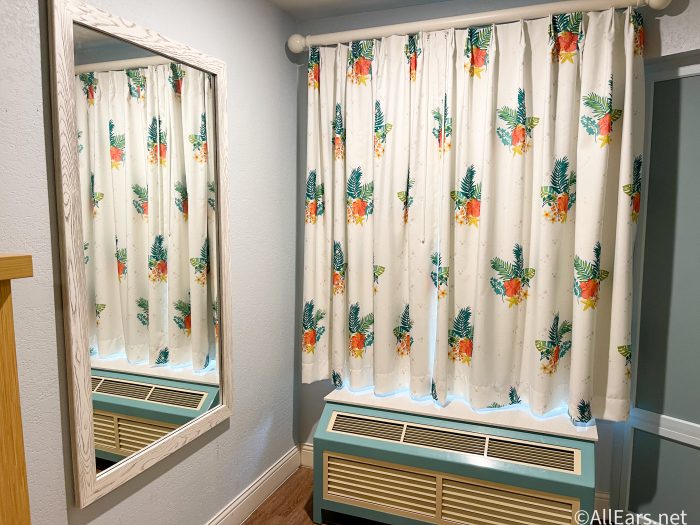 Just look at that beautiful print!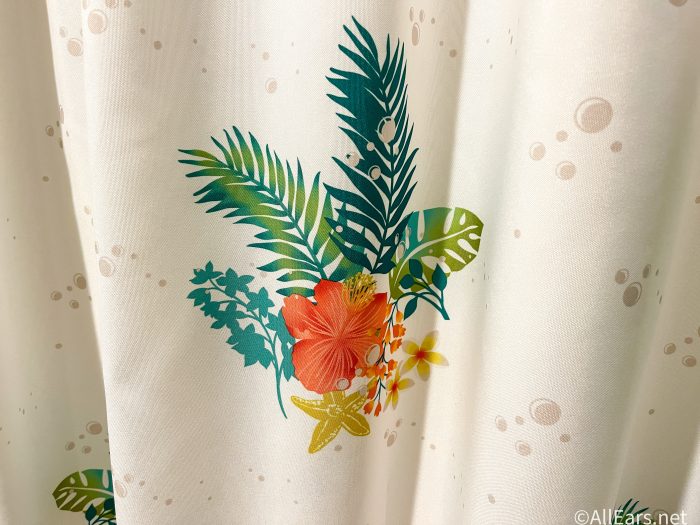 And that's the complete tour of the Under The Sea rooms at Disney's Caribbean Beach Resort! If you're a big fan of the film, we think this is a great choice to stay at, especially if you're looking for a few extra amenities and don't mind a larger resort with so much to offer between multiple pools, ample dining options, and want to be just a walk away to the Disney Skyliner.
Quincy has stayed at every single Disney World resort, and you can check out her latest video on Caribbean Beach right here.
As always, stay tuned to AllEars for all the latest Disney World news and hotel tours!
Need a vacation from planning your vacation?
Feeling overwhelmed planning your dream Disney vacation? Our friends at MouseFanTravel.com have got you covered! They'll wait on hold for HOURS to get discounts you haven't even read about yet. Plus, they'll help you create an itinerary that's absolutely perfect for you, because they're agents are Disney pros and know ALL the inside tips. I mean they are friends with us after-all.
The best part? They take all the stress off your shoulders, so you can kick back and truly enjoy your vacation. Their services are 100% free, so what are you waiting for? Get a quote from their amazing team today!
Join the AllEars.net Newsletter to stay on top of ALL the breaking Disney News! You'll also get access to AllEars tips, reviews, trivia, and MORE! Click here to Subscribe!