Though Bob Iger might be a returning CEO at Disney, the company he came back to was not the same as the one he left.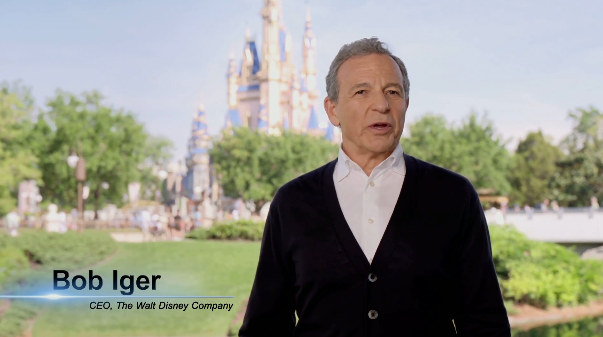 Iger has faced a number of challenges since returning to Disney, including battles with Florida Governor Ron DeSantis over the Reedy Creek Improvement District, a streaming service with declining subscriptions and big losses, and more. Now, after announcing a major company restructuring, thousands of job cuts, and a cut in spending, Iger is tackling another issue.
Disney's "Woke Agenda"
Disney held its 2023 Shareholder Meeting on April 3rd, and during that meeting, we got a number of updates. And shareholders were invited to share their criticisms and concerns. One individual (whose name appeared to be William Russel from New York based on what we heard in the call) asked to address the "elephant in the room." He stated that in his opinion, Disney has transformed from a place of magic to an "ideological company serving LGBTQIA+…lobbies to groom children."
He continued by arguing that Disney's films and entertainment are "increasingly promoting the woke agenda."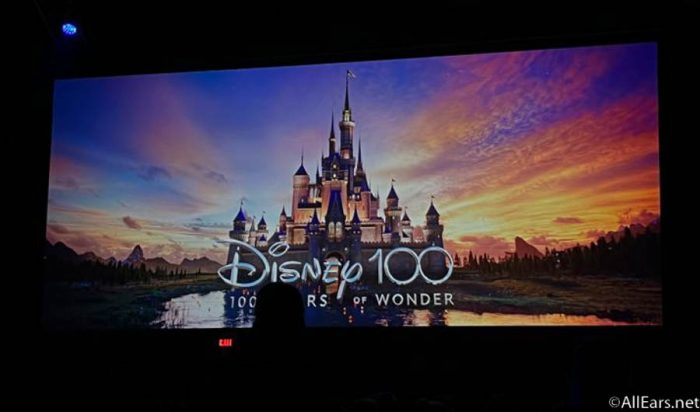 He asked Iger, "How can you explain to parents worldwide that you recently celebrated 100 years of history by collaborating with the San Francisco Gay Men's Chorus, to produce an LGBTIA+-themed Disney musical? This is a group who have explicitly stated that they want to indoctrinate children. They literally sang a concert and they sang the words 'we will convert your children, quietly and subtly. And you will barely notice it.' Disney chose to collaborate with these predators to sing to children."
He continued, "parents have simply had it up to here."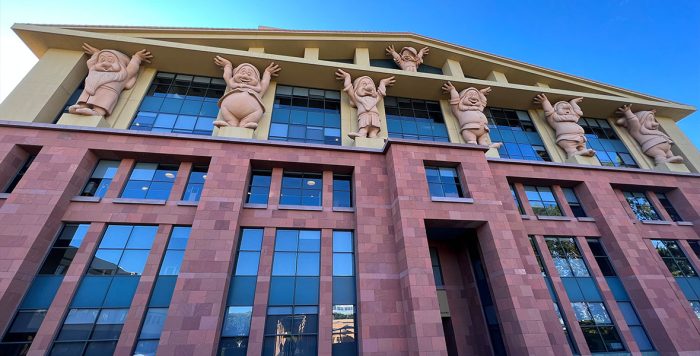 He concluded his question/comments by asking, "Would it not be beneficial for the Company to ditch the LGBTQIA+ and gender ideology for good?" He advised Iger to "turn Disney back to the a-political fun place that it used to be and I bet that you'll win back both the trust of families and the stock market."
What Iger Had to Say
Iger responded to these comments and questions by first addressing some of the experiences mentioned. Iger said that Disney prides itself on being "accessible to all people."
When it comes to content and storytelling, Iger said, "We've been telling stories for 100 years aimed at entertaining and inspiring families from all over the world. And we're extremely proud of the positive impact we've had on billions of people over that 100-year period of time. For generations, the stories that we've told have touched people's hearts, because they've been infused with right values."
Iger described Disney's films by saying, "They've celebrated heroes, emphasized the value of family and friendship, they've instilled a steady faith in the belief that good triumphs over evil, that tomorrow is always brighter than today. And I think those stories have had an amazingly positive impact on the world, a world that always loves and needs great stories, and…great entertainment, particularly in today's world."
Iger then acknowledged, "We've recently gotten criticism…for what some perceive to be agenda-driven content. And I'm sensitive to that, actually. Our primary mission needs to be to entertain. And then through our entertainment to continue to have a positive impact on the world."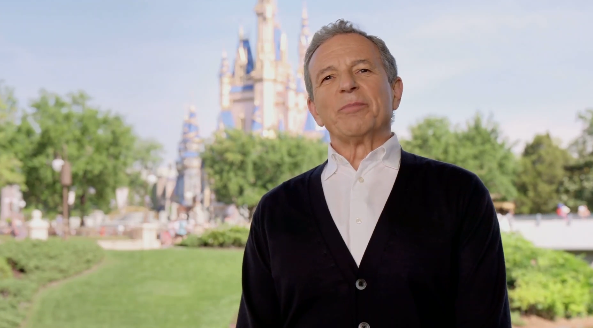 He continued, "I'm very serious about that. It should not be agenda driven. It should be entertainment-driven. That should be the goal in all of our stories."
Iger noted that they likely won't be able to please all people all of the time. He also said, "We should be sensitive to the fact that parents have different levels of comfort with the content that is delivered to their children. I want parents to be able to trust the content that we're creating for their children."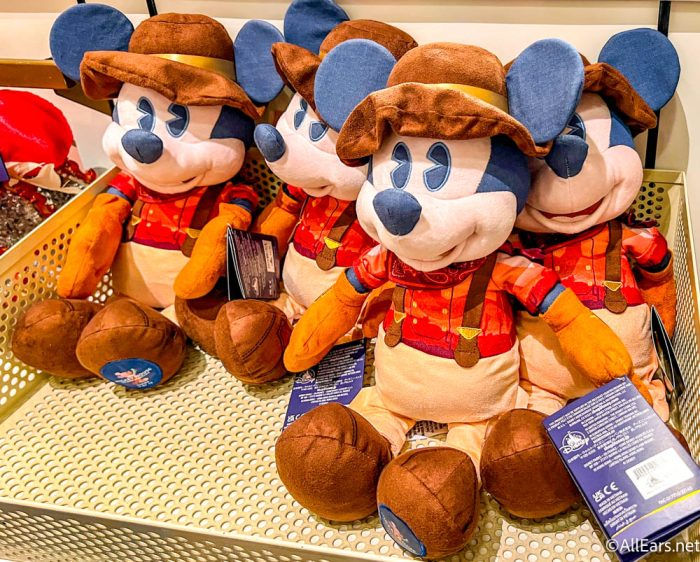 Iger continued by saying that Disney is "committed to delivering age-appropriate content for family audiences while also telling stories that reflect the world around us and that foster greater understanding, greater perspective, greater acceptance of all people."
He shared, it's "my hope that Disney continues to be a source of hope and optimism for the world. And we're honored to actually carry forth Walt's legacy of inspiring joy and wonder for everyone."
If some of the things Mr. Russel discussed in his question were things that were unfamiliar to you and you're wondering where some of these criticisms are coming from, let's go through the background.
A Bit of Background
Concerts
First, let's tackle the comments about Disney collaborating with "the San Francisco Gay Men's Chorus, to produce an LGBTIA+-themed Disney musical." Russel noted that this same group had "explicitly stated that they want to indoctrinate children."
This all seems to come from a 2021 video released by the San Francisco Gay Men's Chorus. According to Fox News, the video was the subject of a lot of criticism at the time. In the video, the Men's Chorus sang about "indoctrinating children into being more concerned about 'fairness' and 'justice.'"
The song in the video included phrases like "We'll convert your children. Happens bit by bit. Quietly and subtly. And you will barely notice it.W e'll make them tolerant and fair." The song lyrics also included the phrases "We'll convert your children. Someone's gotta teach them not to hate," and "Your children will care about…fairness and justice for others."
The group defended the video by saying that the lyrics had been taken out of context and that it was all just "tongue-in-cheek humor."
An Important Message to the Chorus Family. ❤️ pic.twitter.com/XBpSY6r4j7

— SF Gay Men's Chorus (@SFGMC) July 8, 2021
So that seems to be the issue the commenter raised with the San Francisco Gay Men's Chorus. But what does that have to do with Disney? Disney was not involved in that original video from what it seems. Instead, Russel was asking why Disney reportedly collaborated with that same Chorus to "produce an LGBTIA+-themed Disney musical?" It seems what Russel is discussing is
"Disney Pride in Concert."
This is a special concert series that travels to different locations and has been offered (or will be offered) by various gay men's choirs in a few different states in the U.S. The San Francisco version was offered on March 16th and 17th, 2023.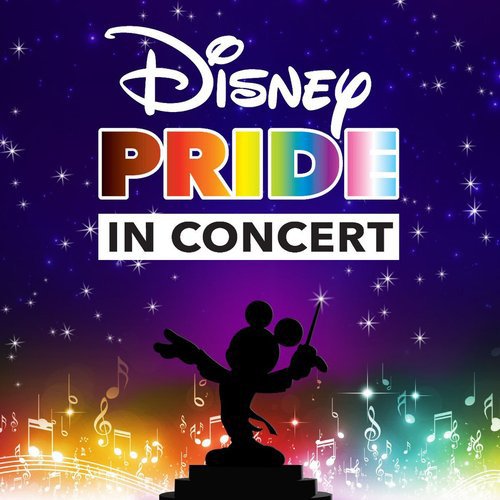 The website for the chorus says that it is a celebration of hit songs from Disney films. They "perform Disney's iconic songs alongside a 30-piece orchestra, celebrating themes including love, LGBTQ+ pride, and family ties. As well as showcasing Disney's globally acclaimed musical legacy, this program will also serve as a vehicle for our chorus members to share their personal journeys, and how this music has shaped their lives."
They go on to note, "You don't have to be a Disney fan to find something to love. No matter your age, background, or sexual orientation, the selection of songs will touch your heart."
But this concert isn't exclusive to this group. It has been performed (or will be performed) by the Heartland Men's Chorus in Kansas City, the Portland Gay Men's Chorus in Oregon, the Seattle Men's Chorus in Seattle, Washington, and more.
Pride Parades
What about the "highly sexualized gay pride parades" the questioner mentioned? Well, it's not totally clear what the individual was referring to. In the United States, Disney has celebrated Pride Month with merchandise, food, photo ops, and more over the past few years — but there has not been a pride parade.
There are Gay Days that take place within the US Disney parks, but these are not coordinated by Disney (nor does Disney appear to directly sponsor or promote them, according to The New York Times' 2022 article).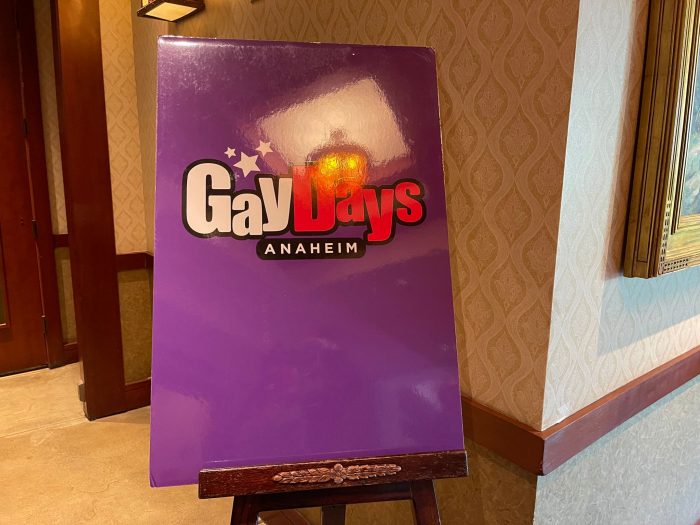 Instead, Gay Days is organized through a separate company (Gay Days, Inc.). They typically organize a whole weekend of activities during a specific period of time, and those activities often happen to include a visit to the Disney World theme parks. For example, in early June of 2023, there will be GayDays at Disney World's 4 theme parks.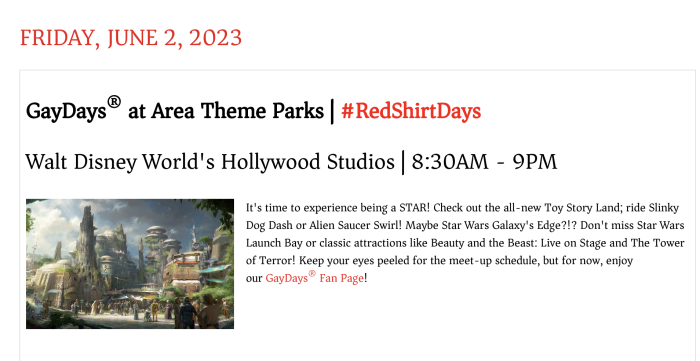 These events typically include a visit to the parks by the group, a group photo, and lots of the participants wearing similarly-colored t-shirts, but there generally is not a Disney parade.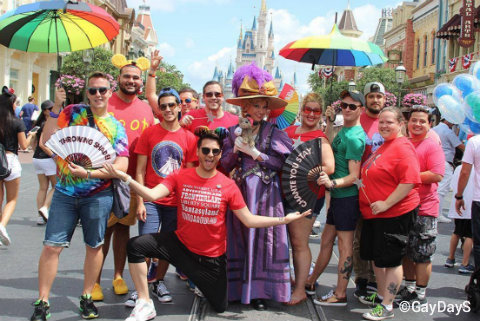 Disney has sometimes become a bit more involved in Gay Days out at Disneyland than Disney World, from what we've seen. In 2021, we saw a Welcome Center at Disney's Grand Californian Hotel for the event, a photo op from D23, and some Disney vendors at the Welcome Center.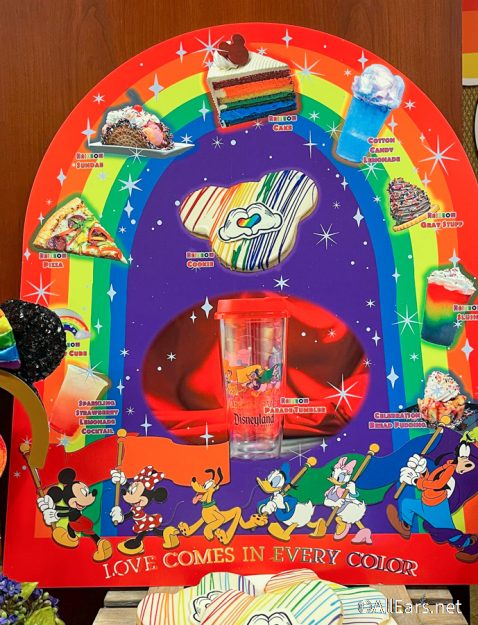 This is very different than the situation out at Disneyland Paris, where there is an official Pride event organized BY Disney. That event does include a Pride Parade but Disney describes it as one where you'll "Sing and dance to your heart's content as Disney Characters dressed in rainbow colours celebrate diversity in their magnificent sparkling vehicles."
Again, though that is different than the US where Disney generally does not coordinate GayDays or pride-specific parades in the Disney theme parks.
UPDATE: Since the original writing of this post, Disney has announced a Disneyland After Dark: Pride Nite Event. This is an officially Disney-sponsored/created/hosted event at Disneyland (in the US) that will celebrate the LGBTQIA+ community and allies. It will include a Pride Nite Cavalcade down Main Street, U.S.A. featuring Mickey Mouse, Minnie Mouse, Clarabelle, Donald, Daisy, and Goofy, all dressed in special outfits for the evening.
Disney has supported their Cast Members who choose to march in various City-sponsored Gay Pride Parades, such as this Orlando Come Out with Pride Parade. But these are not hosted by Disney.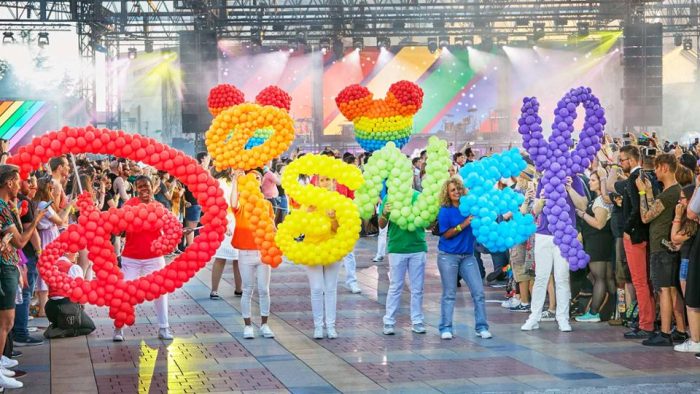 Disney World will be the site of a conference in September of this year related to LGBTQIA+ issues. The conference is organized at Out & Equal and is called the Out & Equal Workplace Summit. It will take place at Disney World and promotes lesbian, gay, bisexual, and transgender rights in the workplace.
Disney is a sponsor of Out & Equal. Some of the other companies that have sponsored the 2023 event include Apple, McDonald's, Uber, Walmart, Amazon, and Cracker Barrel. There will be booths at the event for the State Department and CIA, among others. The event website does not seem to mention anything about a parade for this.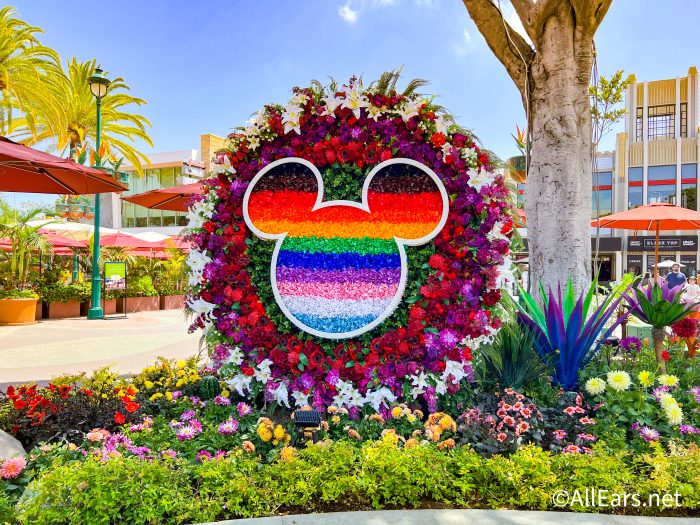 Instead, it seems the event will be focused on being a place to "network and share strategies that create inclusive workplaces."
"Woke Agenda"
In terms of being criticized for having a "woke agenda" when it comes to its content or being agenda-driven, this is a criticism that has come up in recent years related to some Disney films and shows. It most notably became a criticism when a video was reportedly leaked from Disney's "all-hands meeting" about the Florida Parental Rights in Education Bill.
According to Fox Business, in one video, executive producer Latoya Raveneau said she had a "not-at-all-secret gay agenda." In another video, Disney corporate president Karey Burke discussed how there are many queer characters in their stories but not enough leads and narratives where gay characters just get to be characters, "and not have to be about gay stories."
Disney also encountered issues with the release of some movies in China and other countries, like when Pixar's Lightyear was banned from being released in several countries' movie theaters due to a same-sex kiss being shown in the movie.
What Now?
Well, Iger's comments make it seem that he is aware of some of these accusations about Disney having agenda-driven content, but is also dedicated to "telling stories that reflect the world around us and that foster greater understanding, greater perspective, greater acceptance of all people."
Iger did speak up against the Parental Rights in Education Bill earlier than Disney did and has argued that Companies need to speak up on certain issues as some of them are not really political but just a matter of right and wrong.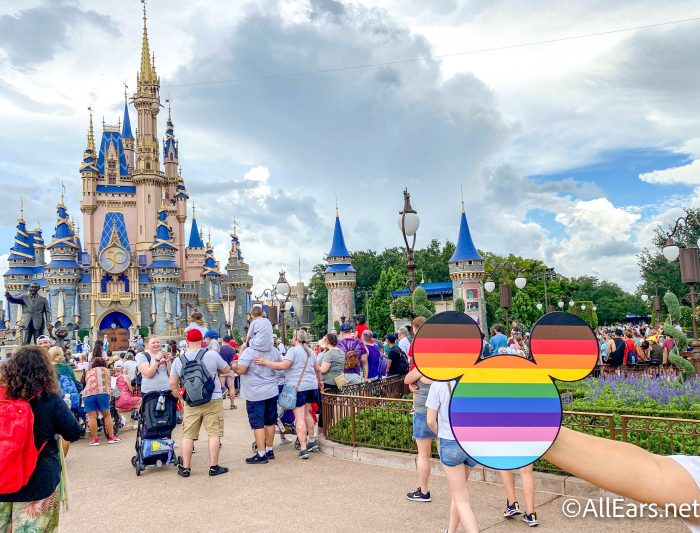 During the 2023 shareholder meeting, Iger noted that they shouldn't necessarily speak up on every issue, but should be allowed to determine "whether, when, or how to weigh in on an issue, whether it's private or public." He went on to discuss the importance of companies speaking up about issues and how it impacted the Civil Rights Era or World War 2 "when those who stood in silence in some ways still carry the stain of indifference."
He concluded by saying, "As long as I'm in the job, I'm gonna continue to [be] guided by a sense of decency and respect and trust our instincts that when we do weigh in, we weigh in because the issue is truly relevant to our business and to the people who work for us."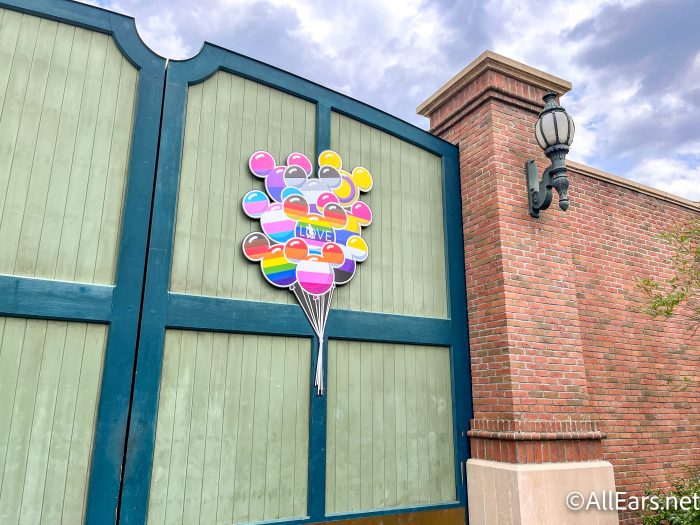 We'll keep watching for more updates from Iger and see how Disney moves forward on these matters.
For more Bob Iger news, see our posts below.
Join the AllEars.net Newsletter to stay on top of ALL the breaking Disney News! You'll also get access to AllEars tips, reviews, trivia, and MORE! Click here to Subscribe!