DISCLOSURE: This post may contain affiliate links, which means when you click a link and make a purchase, we receive a commission.
You might think it's too late to be purchasing any ornaments, but we are here to open your eyes and expand your horizons!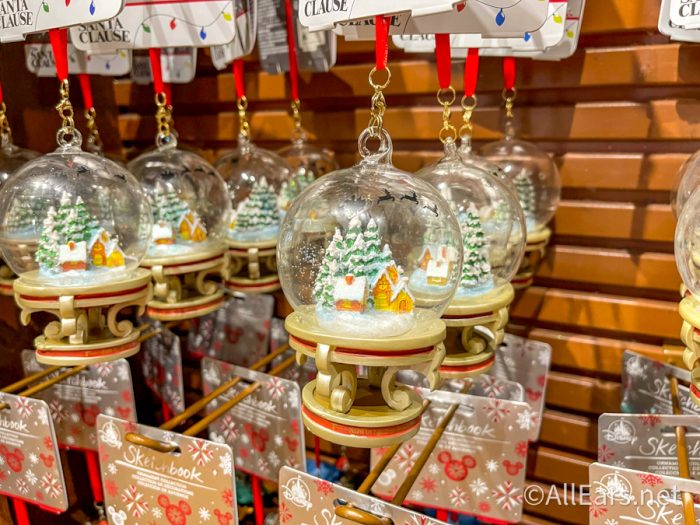 Not only is now a great time to get them on sale, but they actually can be a wonderful present for your friends and family.
If you're shopping for a Disney fan, an ornament is an easy and thoughtful way to treat them to a new piece of Disney merchandise that they can display at home. It's also a great gift because instead of adding to any clutter in their home, it only is taken out once a year, when they'll rediscover it and be reminded of you! Here are a ton of different options that will suit any taste.
We're starting off strong with an ornament that might not be for everyone, but for the people who love The Haunted Mansion or prefer to keep their holiday season a bit more on the spooky side. This ornament also doubles as a figurine and can be displayed on your mantle or any other surface!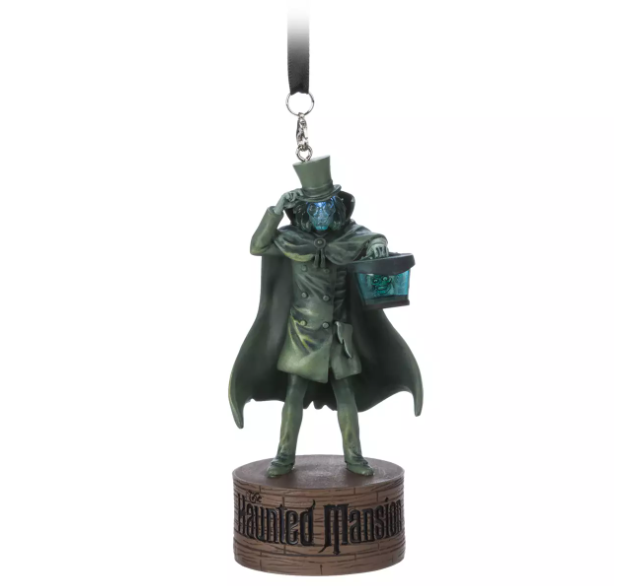 This ornament features the iconic Hatbox Ghost, and both his faces glow! He stands on a sturdy base stamped with the logo of The Haunted Mansion. Snag this eerie ornament for $24.99.
This next ornament has consistently been a best seller amongst our readers! This gorgeous castle ornament from Lenox is extremely detailed, with towering spires dotted with windows, all rendered in shining silver and gold.
The two-tone metal makes this an excellent gift because it means the ornament will fit right in on their tree, regardless of color scheme. This stunning piece is on sale for $29.99, marked down from $60!
Another glitzy option, this pumpkin coach ornament would look magical on any Christmas tree. The shiny metal contrasts well against dark colors, and the inlaid crystals refract light and will glint with any Christmas lights.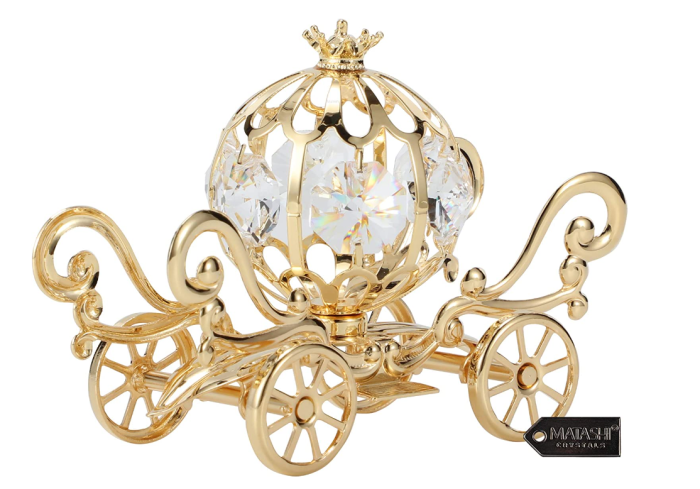 You can almost imagine seeing Cinderella running down the steps to hop into this carriage to rush home before midnight! We think this would be the perfect gift for one of your fancier friends. This ornament is available for $26.99.
For something less mature and more fun, check out this set of ornaments! Mickey, Minnie, and plenty of their friends are reimagined here as gingerbread cookies. Every ornament is made to look like perfectly decorated cookies, with the "frosting" and "candies" making up the characters' festive outfits.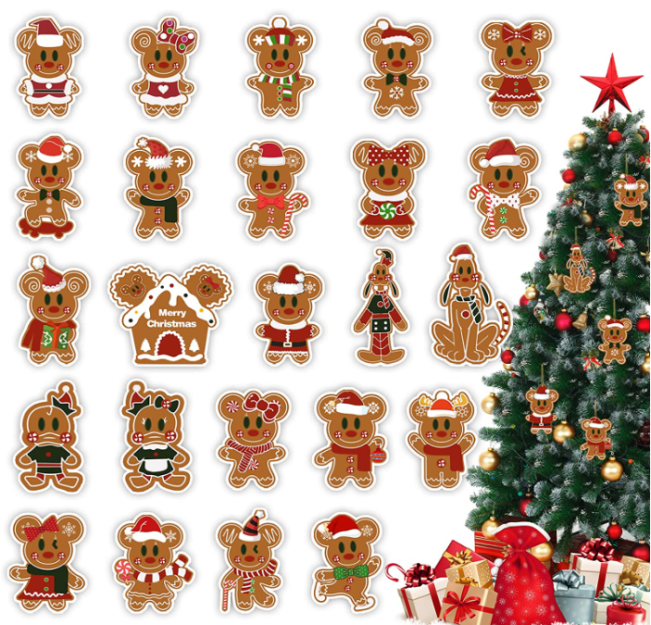 A group of ornaments would be a good gift for someone who has moved into a new home or is just starting off on their own. Then you're helping them start up their own ornament collection! This set of ornaments is on sale for $10.39, originally $14.99.
Speaking of sets, here we have an assortment of Disney princesses. Each princess is designed in a cute, chibi style, all part of an advent calendar by Hallmark.
Each ornament has a hook and loop on the tops of their adorably large heads so they can make a home on the tree! Smaller than usual ornaments, these would be great for a tabletop tree. These cuties are on sale for $11.94 so you can save a bit off of the normal price of $12.99.
If you want to surprise someone with an upcoming Disney trip, say it with an ornament! This Mickey and Minnie Mouse Light-Up Ornament has the year 2023 featured prominently and would be an exciting way to unveil next year's plans.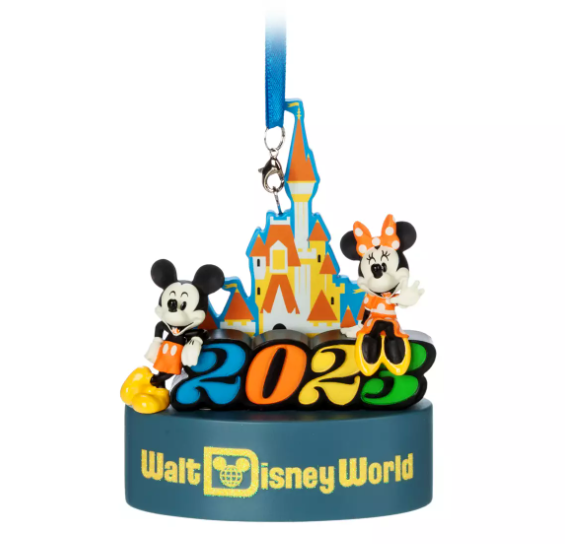 Mickey and Minnie are hanging out on this ornament that also shows Cinderella Castle and the Walt Disney World logo. When switched on, this ornament glows from inside the numbers! You can get this keepsake for $26.99 on shopDisney.
There are just too many good Haunted Mansion ornaments to only feature one! The Doom Buggy Light-Up Living Magic Sketchbook Ornament shows one of the ride's classic vehicles as its being taken over by a trio of haunts.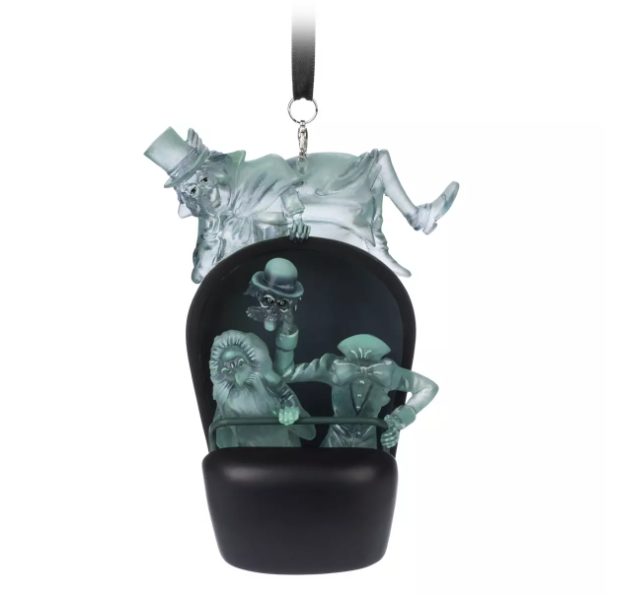 Ornaments in Disney's Sketchbook line are first designed by Disney artists before production. If that wasn't cool enough, this ornament also lights up to give it a ghostly glow! Add this ornament to your collection for $24.99.
In the same vein, finish off their haunted Christmas tree with this Jack Skellington ornament! Whether or not you believe The Nightmare Before Christmas is a Christmas movie or Halloween movie, if you throw a Santa hat on something, it can fit in with Christmas decor.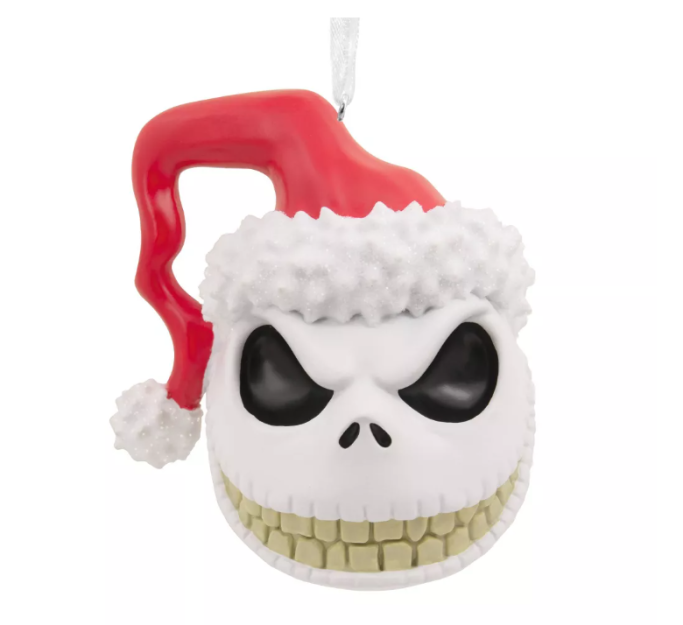 Jack's slightly menacing grin might be able to balance out some more saccharine pieces on the tree (or it might scare the angel at the top!). The faux fur on the Santa has is dusted in glitter for a little extra sparkle. Target has this ornament for $8.48 online.
If you didn't know it already, brothers Chip and Dale are pretty mischievous.  This is perfectly demonstrated on this ornament! This Chip 'n' Dale Ornament shows both of them with a candy cane — are they using it to climb up somewhere forbidden, or are they stealing it away for themselves?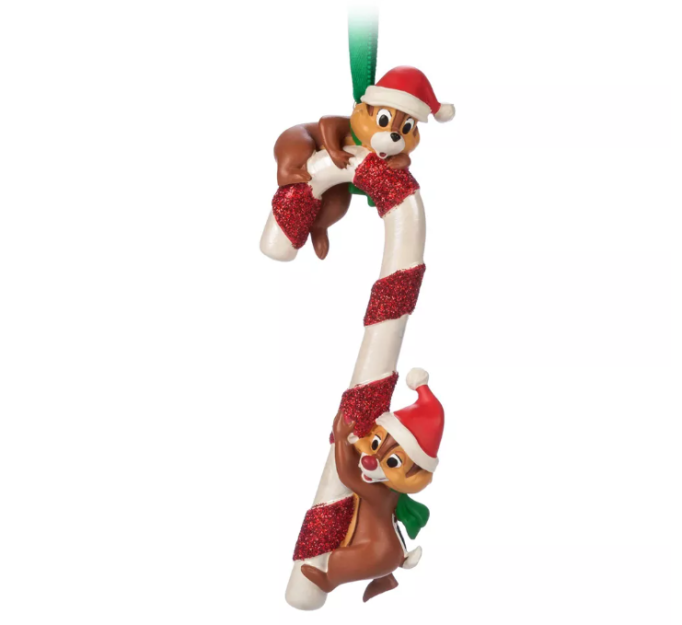 If you're shopping for a fan of classic Disney animation, they'll surely appreciate this ornament. Besides the characters looking totally adorable, there are some fun glitter accents on this piece! Grab this cute ornament for $22.99.
Okay, so we know this isn't technically an ornament, we just couldn't pass up showing these to you! Instead of using traditional Christmas lights, these Star Wars Lightsaber Christmas Lights give a Christmas tree the power of the Force!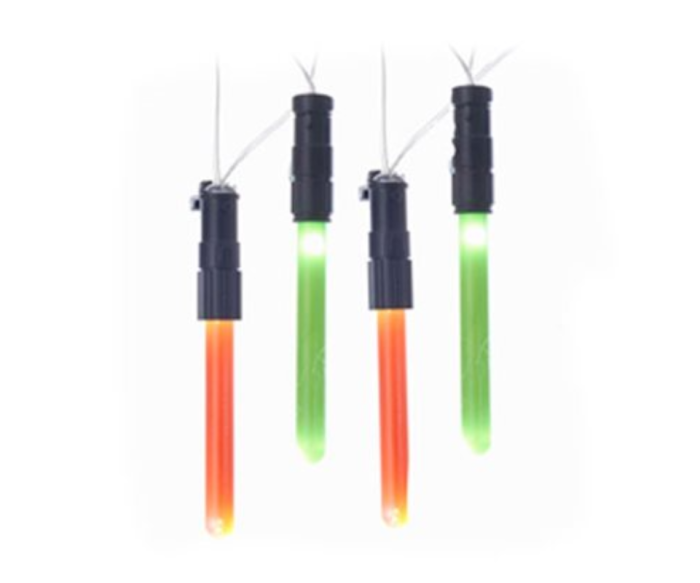 Star Wars fans are sure to appreciate this unique take on a classic decor item. The strand is lined with tiny little lightsabers in orange and green and would look great on a Star Wars-themed tree. This brand new item is available from Entertainment Earth for $49.99.
Disney has released a whole line of vintage-inspired items this holiday season. One of our favorite pieces is this Mickey Mouse and Friends Ceramic Ball Ornament. There's something about how all the elements come together that give us that perfect Christmas feeling!
This classic round ornament has a painted illustration of Mickey and Minnie trimming the tree in muted vintage tones. The top of this ornament is given an upgrade with the bow and holly, which we think is a nice touch! $22.99 will get you this classic ornament.
Another item from Disney's Sketchbook line, the Walt Disney World Key Sketchbook Ornament is a fully-silver ornament with white gemstones inlaid across its key shape. It reminds me of the collectible keys they've been releasing lately too!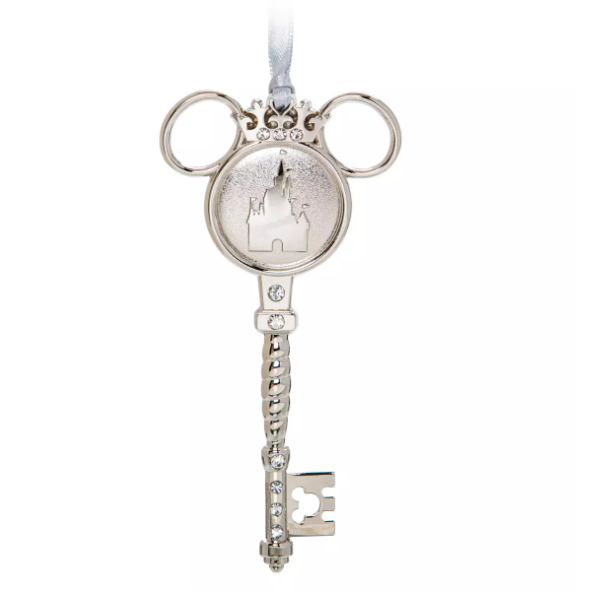 If someone you know can't get enough of Disney World, they definitely need this ornament. It's beautiful, delicate, and a collector's item they'll cherish for years to come. Add this to your collection of Disney ornaments for $19.99.
If the person you're shopping for loves a good ole fashioned Christmas, this is the ornament for them! Mickey is popping out of a white bell, trimmed with red bunting and tiny wreaths. The entire piece is topped off with a generous green velvet bow!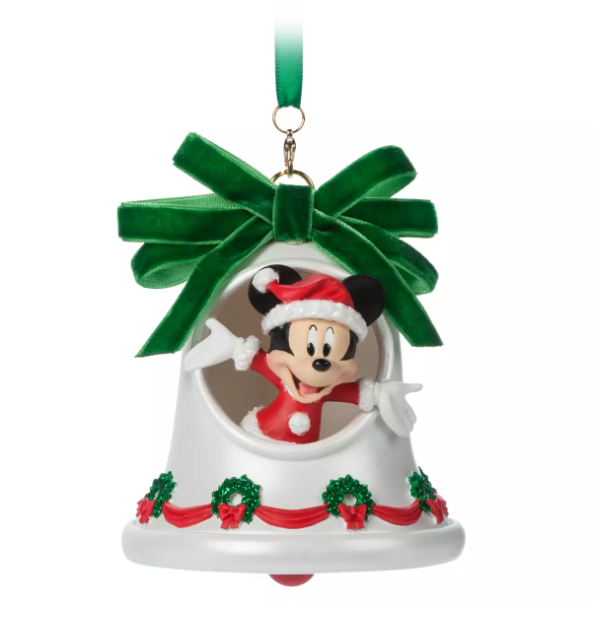 The red and green color scheme is quintessential Christmas vibes. Also, how can you not be excited for Christmas when you look at this ornament? Mickey can be the new addition to your tree for $22.99.
Marvel fans, we didn't forget about you! Similar to the other Hallmark ornament set, this set includes a variety of Marvel characters in totally adorable designs. Favorites like Iron Man, Scarlet Witch, and many others are included.
While you might think ornaments are mostly for adults, we think these would be a great gift for any kid who loves superheroes. You can get them their own tiny tree and let them decorate it with their favorite characters! These Hallmark ornaments are on sale for $28.62, originally priced at $29.99.
Lenox is a great brand for Disney ornaments. They make quality pieces and feature classic and iconic characters. This ornament features Minnie Mouse, all dolled up for the winter weather but looking as cute as ever!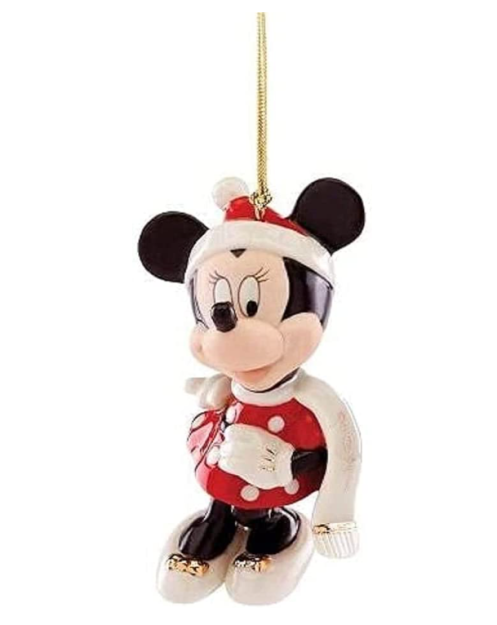 This piece is solid, with detailed painting on her fashion items. The entire ornament is then finished with a high-shine gloss! This Minnie ornament is 20% off the original price of $35.99, bringing the price down to $28.88.
Stitch has seen a revival as of late! It seems like no matter what site we're shopping on, the little blue alien is featured in one product or  another. For your friends or family who love Lilo & Stitch this is great news!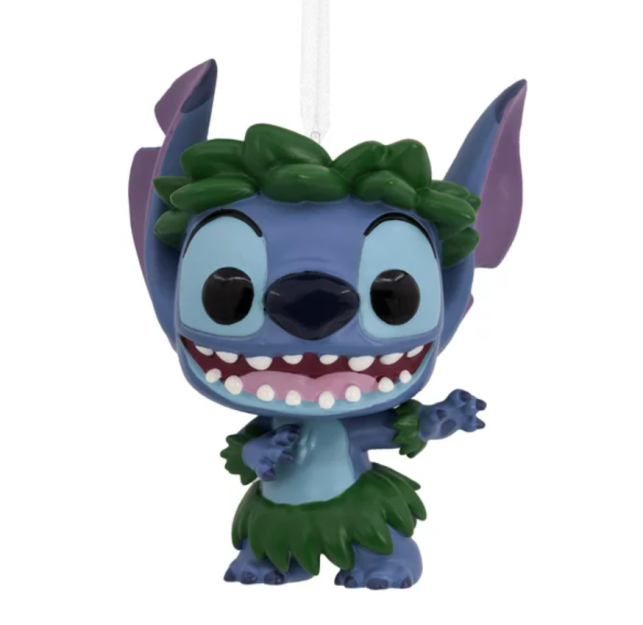 Take advantage of this trend and snag some Stitch merch for your loved one, including this ornament. Stitch is doing the hula and looking as happy as ever! Stitch can come home with you for just $9.98!
Ornament sets are one way to get more bang for your buck. You can gift the entire set to someone, or you can buy one set and split up the ornaments across several recipients. The Disney Mickey Mouse and Friends Set of 6 Ornaments comes with a variety of tin ornaments!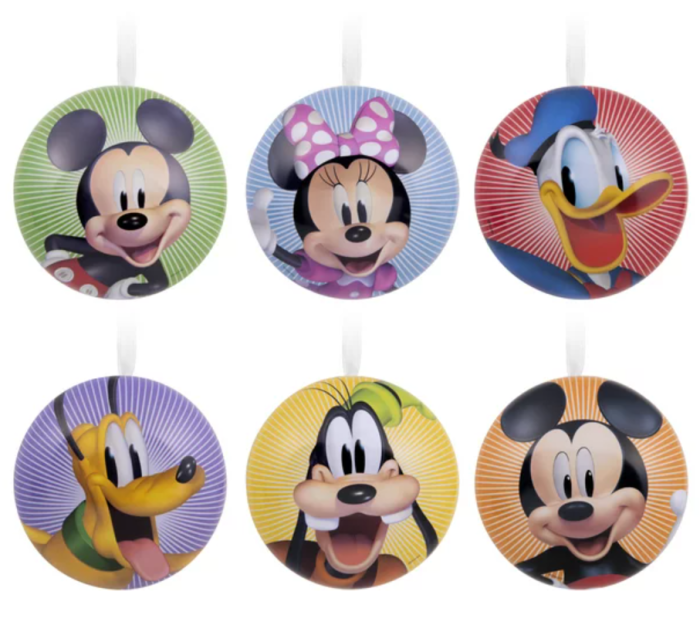 Each one of these ornaments features a 3D art-style character in front of a fun and vibrant background. This set is $13.32, making the ornaments just $2.22 each!
We've always wanted to create an entire princess-themed tree, and this could be the year we actually do it thanks to this Disney's Princess Deluxe Glitter Ornament Set. Classic princesses like Cinderella and Aurora are included alongside newer additions like Moana.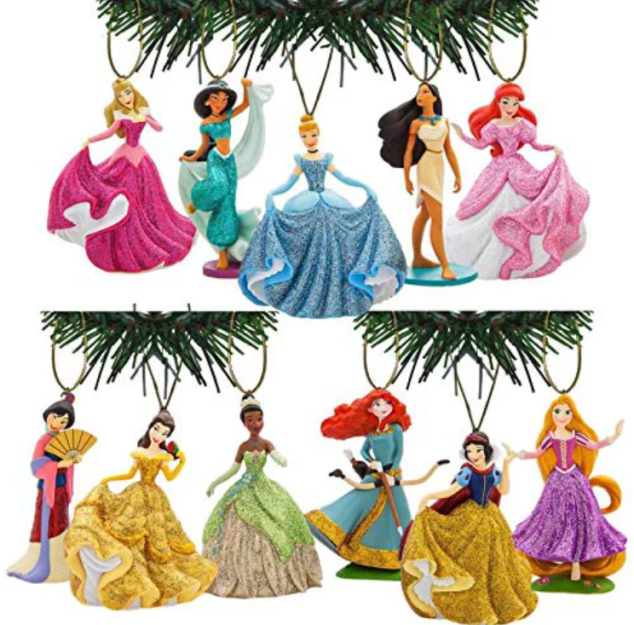 Each princess is rendered in exquisite detail, many seemingly in the middle of movement shown through the swish of their gowns and flowing hair. If that wasn't enough to sell you, all of their outfits are detailed with sparkling glitter for another layer of magic! This set of princesses is $75 at Walmart.
To go with the Haunted Manson and Jack Skellington ornaments, we also wanted to show you this Disney Sketchbook Hocus Pocus Light-Up and Sound Christmas Ornament. This is the Sanderson Sisters like you've never seen them before! Here they've seem to have been given a classic Disney animation makeover.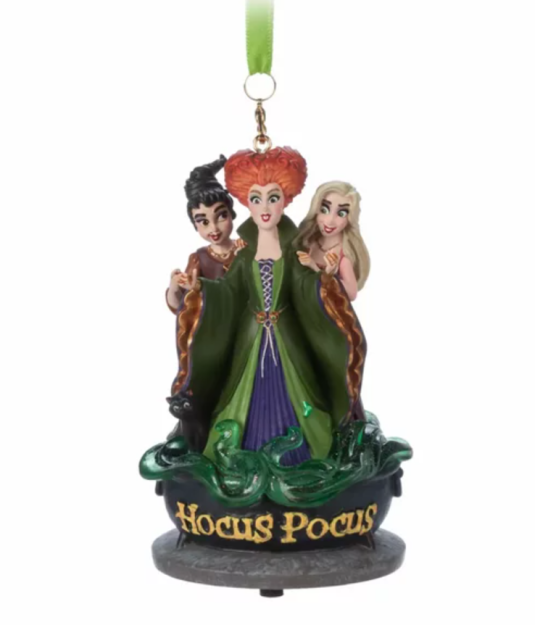 Sarah, Winifred, and Mary stand above a cauldron that is surely brewing something we want no part of. Their iconic outfits from the films are recreated on this ornament, and the logo for the film is carved out on the bottom. This collectible is priced at $43.19.
Surely you know someone who loves Winnie the Pooh and all his friends — we all tend to know at least one! Pooh Bear and Eeyore are all ready for Christmas with their holiday accessories, complete with presents!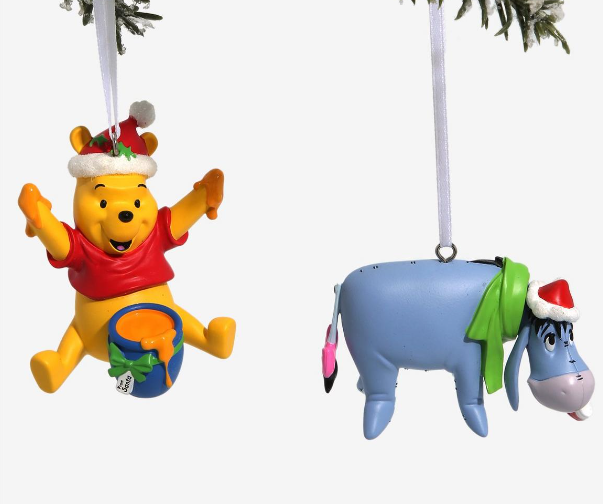 It seems like the spirit of the season hasn't managed to perk up old Eeyore, but that's to be expected. These ornaments are both amazing replicas of those classic characters, both covered in vibrant colors. Get this set of 2 ornaments for $12.53 during BoxLunch's 30% off sale!
For some more Marvel mayhem, check out this set of 2 ornaments featuring Thor and Loki. These brothers are always fighting, even at the holidays! Thor is looking strong and might with his hammer, while Loki is ready to do battle with his scepter.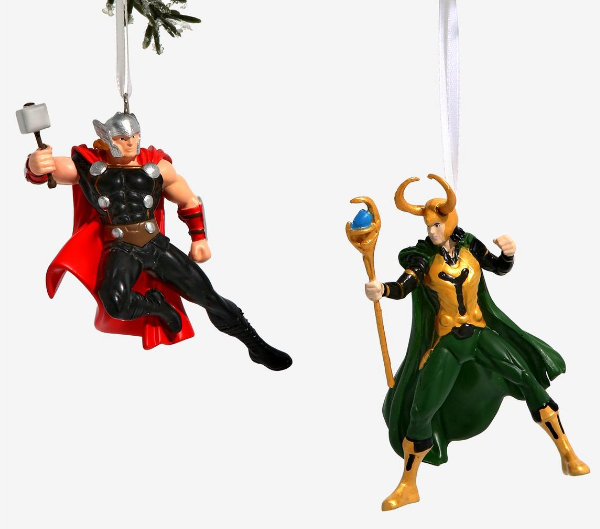 Their outfits are modeled after their costumes from their first Marvel film appearances, which are closer to the way they appeared in their original comics. Any true Marvel fan would be thrilled to receive these! This set is marked down to $12.53, originally priced at $17.90.
Looking for something more … fancy? The Bradford Exchange is the place to go! They have a lot of stunning Disney pieces, including this set of ornaments from their Disney Dazzling Dreams Illuminated Glass Ornament Collection.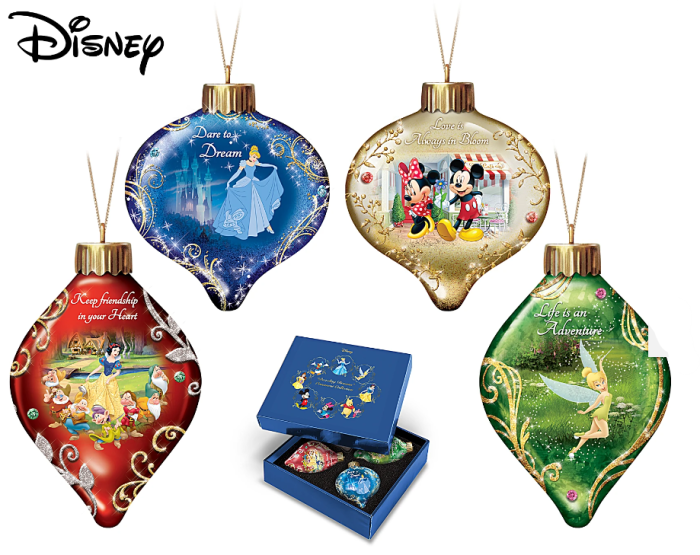 Each ornament features classic characters like Tinker Bell and Cinderella, and the designs are tailored to match their subject perfectly. These are really truly collector's items! To purchase these ornaments you will sign up for a subscription, with each issue priced at $79.99. It's like getting a series of presents!
Who doesn't love a personalized gift? Mark a special occasion or surprise new parents with a memento with one of these Mickey Mouse And Minnie Mouse Personalized Glass Ornaments. You can pick from either Mickey or Minnie, but each ornament still includes beautiful glitter finishing.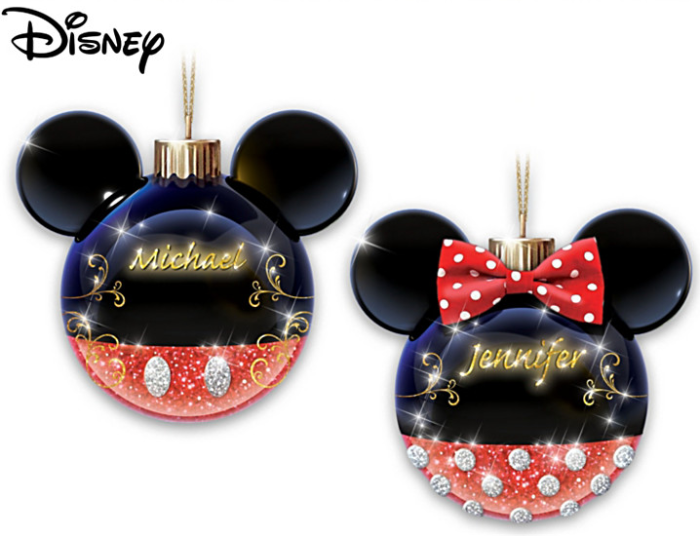 The top half of the ornaments are black, allowing for you to request a name to be added to the top in gold script. We also think these would be cute to design and purchase for your family. These ornaments are $49.99 each, with the personalization being free!
Do you know someone who loves Thomas Kinkade art? We sure are — their studio's Disney art pieces are spectacular. Gift them this ornament, a piece inspired by one of their portraits of Belle and The Beast!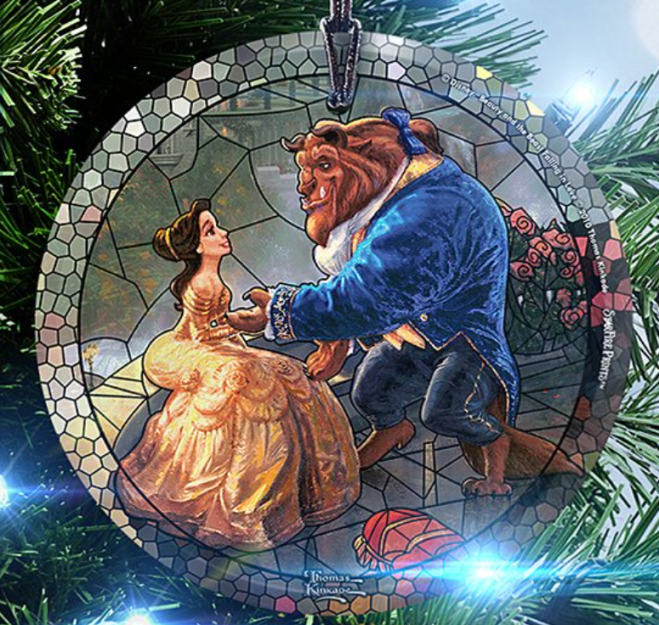 The background surrounding the figures is meant to look like stained glass, a reference to the stained glass theme that reoccurs in the film. The glass portion is semi-opaque, meaning the lights on the tree will shine through to create a stunning halo around the princess and prince. This stunning piece is available from Zulily for $15.98.
Last but certainly not least, we couldn't wrap up this post without adding one more Star Wars item! We also got a kick out of these ornaments, each designed after a different iconic helmet from the franchise.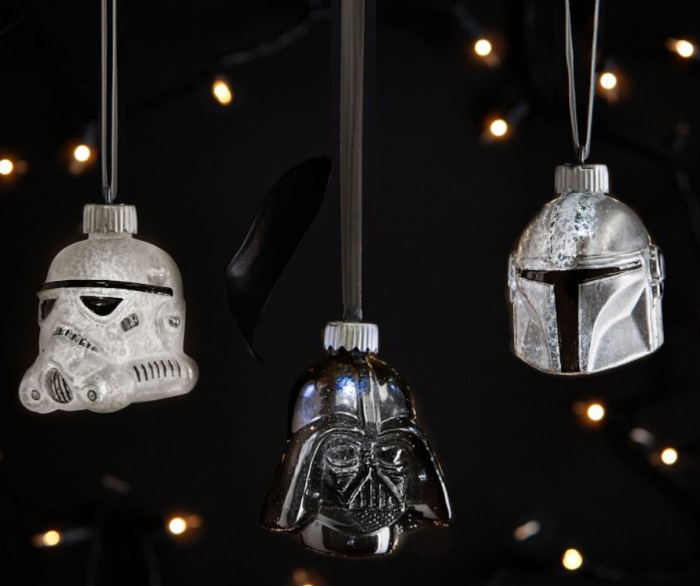 Darth Vader, Boba Fett, Stormtroopers — there are plenty of different helmet options to choose from. Each one is made out of sturdy (and stunning!) glass. You can purchase just one, or buy several! Definitely get these ornaments while they're on sale. Normally they would cost between $24.50 and $99, but right now they're marked down to $12-$49.
That may seem like a ton, but there are even MORE ornaments available online! We'll still be featuring more as well as other great holiday finds on our site, so keep checking in so you don't miss out!
Join the AllEars.net Newsletter to stay on top of ALL the breaking Disney News! You'll also get access to AllEars tips, reviews, trivia, and MORE! Click here to Subscribe!

What character, movie, or ride do you want Disney to make an ornament around next? Share your thoughts with us in the comment section!