In Disney World, seasonal food comes and goes all of the time.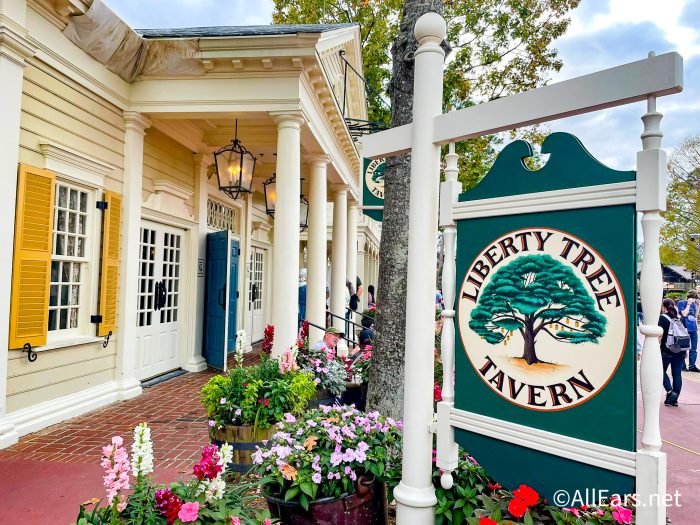 Whether that's food at EPCOT festival booths or festive holiday treats that are around for a few months, Disney menus are constantly changing!  But what if we told you there was a place in Disney World where you could have Thanksgiving dinner every single day? Well, it's true!
Picture this — it's Thanksgiving and you just made your plate full of turkey, mashed potatoes, stuffing, and mac and cheese. Now imagine that plate…but you're in Disney World! For this experience you'll want to head to Liberty Tree Tavern in Magic Kingdom.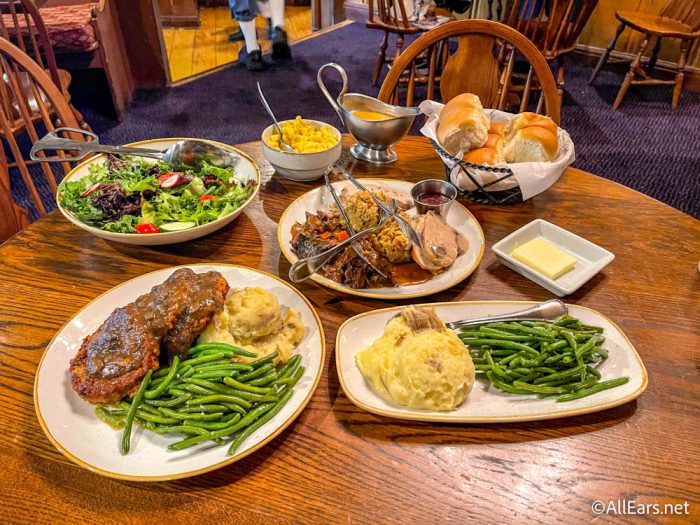 This restaurant is located in Liberty Square and it feels like you've stepped back in time. It's themed after a colonial-style inn from New England and they serve Thanksgiving-style meals 365 days per year!
Liberty Tree Tavern is at a set price and it's all-you-care-to-enjoy with adults at $39 per person and kids at $21 per person. So what all is included on the menu here?
First, you'll start with a Declaration Salad with mixed greens and house-made dressing. These are served family-style in one bowl for the table to share.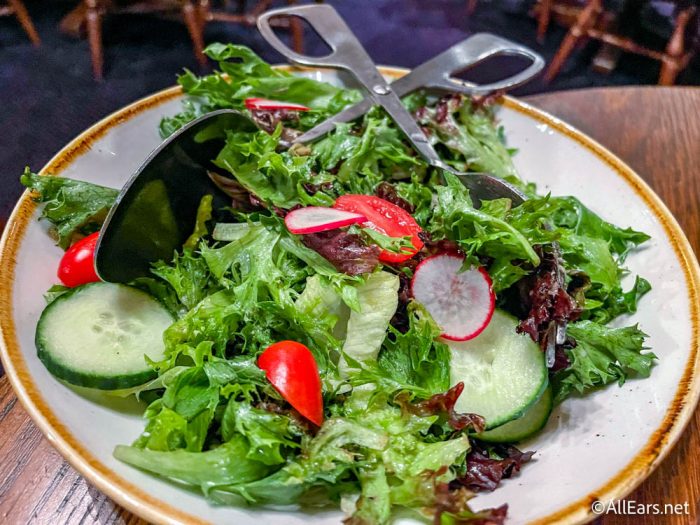 You'll also get a basket of delicious bread rolls.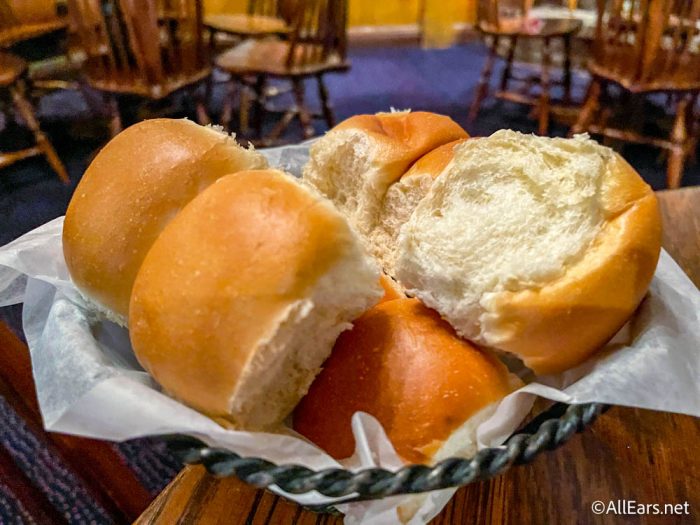 The main meal is called the Patriot's Platter and this is where all of the Thanksgiving favorites are! The platter comes with roasted turkey, Pennsylvania pot roast, oven-roasted pork, mashed potatoes, herb stuffing, seasonal vegetables, and macaroni and cheese. You'll also get some house-made gravy on the side.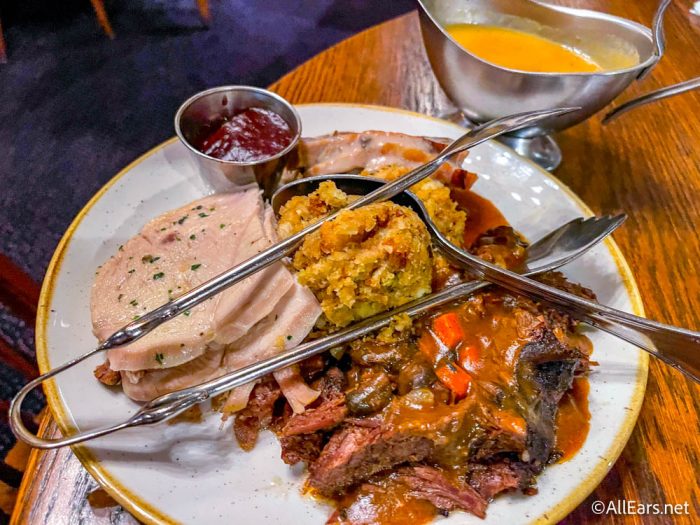 For dessert, you can have the iconic Oooey Gooey Toffee Cake which is made with vanilla toffee cake, chocolate sauce, and vanilla ice cream. This is one of our favorite desserts in all of Magic Kingdom!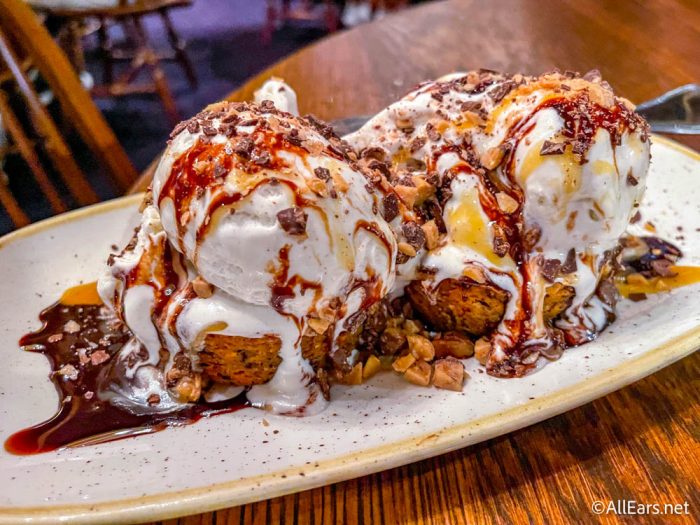 Liberty Tree Tavern dining reservations can fill up quickly, so if you can't snag a reservation there, the same menu is available at the Diamond Horseshoe! We have found it is easier to snag a reservation at Diamond Horseshoe, but you will get the exact same meal here — Oooey Gooey Toffee Cake and all!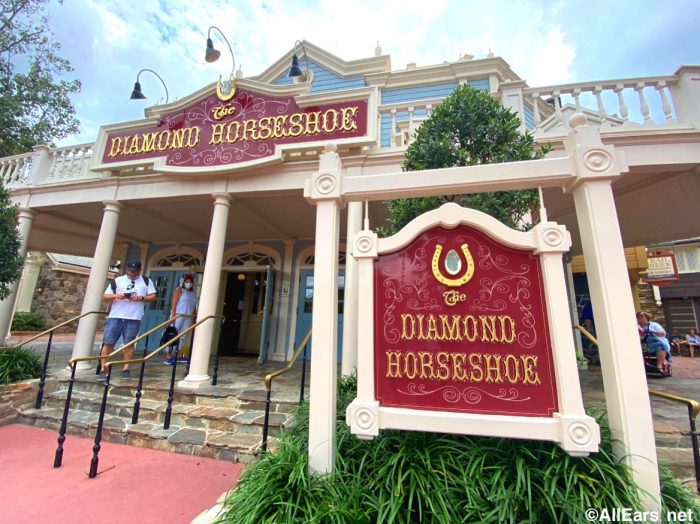 Reminder: you can make dining reservations 60 days before your trip and they typically open around 5:45AM EST. Set those alarms early for the best chance at grabbing the reservations you want!
So if you're ever in the mood for a Thanksgiving meal without doing any of the cooking, you know where to go!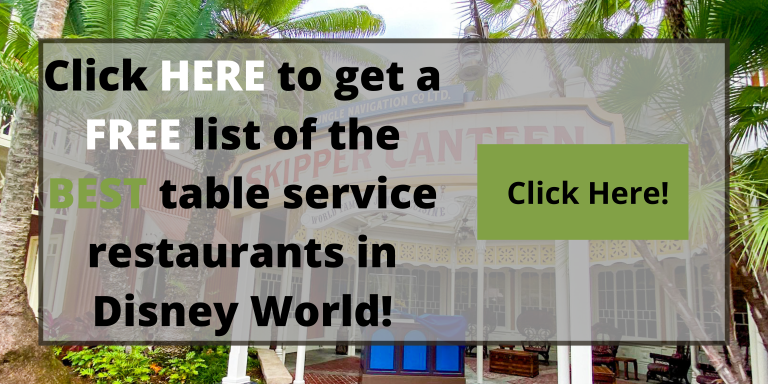 Have you ever dined at Liberty Tree Tavern? Let us know in the comments!