When you head into EPCOT, the food options can be a bit overwhelming!
There are just SO many places to eat, from signature table service restaurants to festival booths. But if you're not interested in festival eats and you don't have the time for a table service meal, a quick service restaurant is a great choice. Today, we're ranking all the quick service spots in EPCOT…and let's just say — it was HARD!
14. Refreshment Outpost
Sorry Refreshment Outpost, but someone had to be last place. This spot isn't anything particularly special, the menu typically consists of a hot dog and one or two somewhat-okay festival items.
In terms of seating, there are a few tables across the walkway, but they get snatched up pretty quickly. All things considered, Refreshment Outpost just barely crosses the line between snack stand and quick service restaurant, but it's a good stop if you're thirsty midway around the World Showcase or if you've got kiddos who want to blow off some steam by playing the instruments next to the pick-up window.
13. Katsura Grill
Among our team, Katsura Grill ranked fairly low. The menu features sushi and other "fast food" style Japanese cuisine, but it's definitely not the best food you'll find in that pavilion. (Plus, the restaurant is home to what's probably the WORST restroom in EPCOT.)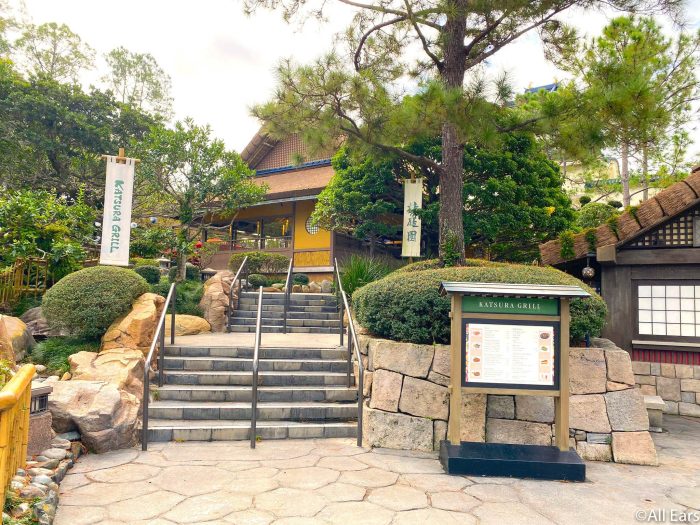 We do give it bonus points for the beautiful scenery around the restaurant, but that's not enough to really rank it any higher. (There are some AWESOME spots on this list!)
12. Sommerfest
We head to the Germany Pavilion for our next spot, which is Sommerfest! This restaurant is a little harder to find, located in the back of the pavilion next to Biergarten. The menu is pretty limited, and it changes from time to time, making it slightly inconsistent.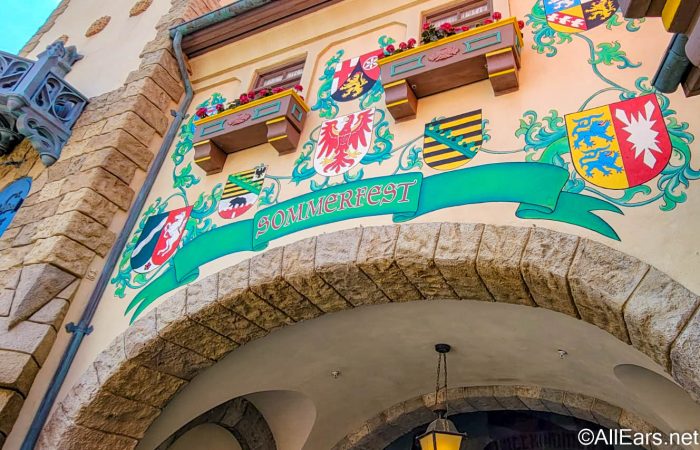 You can pretty much always count on a bratwurst to be available, and sometimes they'll get a dessert we really love (like that Pretzel Bread Pudding!). This is also a good place to pick up one of those jumbo pretzels!
11. Lotus Blossom Cafe
Do you love Chinese takeout? If so, Lotus Blossom may be a good stop for you. However, if you're looking for something outside the box or a step above what you order back home, you may want to eat elsewhere.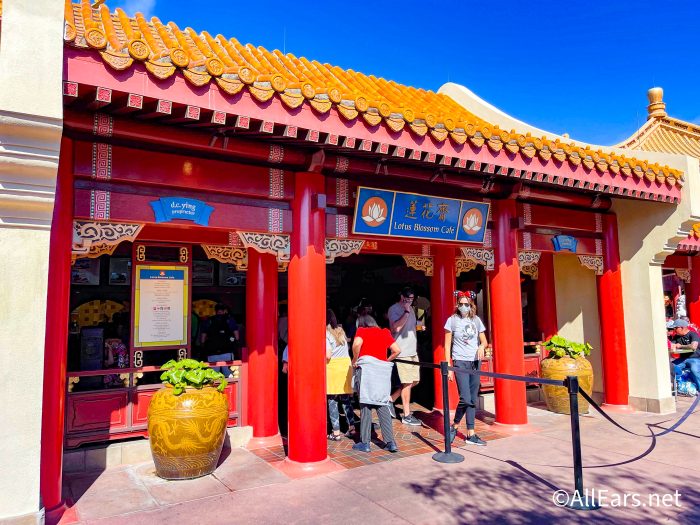 The food here is fairly good, but it's not anything that we're itching to eat over and over again. There's ample seating inside the restaurant though, so it would be a good stop to get out of that Florida weather.
10. Refreshment Port
Okay, hear us out — we really love the varying poutine options at Refreshment Port, and it's a must-stop if you love fries and cheese, but the menu isn't exactly extensive. When compared to other restaurants on this list, Refreshment Port is more of a recommendation for a snack spot instead of a full-blown meal.
Refreshment Port usually gets one or two offerings for each EPCOT festival, so it's worth a stop. However, the lack of seating nearby (unless you're sitting on a bench) loses it some points.
9. Crêpes a Emporter
A new spot ranking so low? Yeah, it surprised us too, but there are some big contenders on the top half of this list. We've thoroughly enjoyed our visits to the crêpe stand in France so far, but the limited menu, long lines, and limited seating mean that it's not one of our top choices.
If you're hoping to snag something sweet and you don't want to take the time to eat next door at La Crêperie de Paris, this is a great recommendation. However, the meal options aren't as diverse as some other places in EPCOT.
8. Regal Eagle Smokehouse: Craft Drafts & Barbecue
Another relatively new spot in EPCOT (opened within the past few years) is Regal Eagle Smokehouse. This barbecue joint in the American Adventure Pavilion was a big improvement from its predecessor, but the food fell a little flat with some members of our team.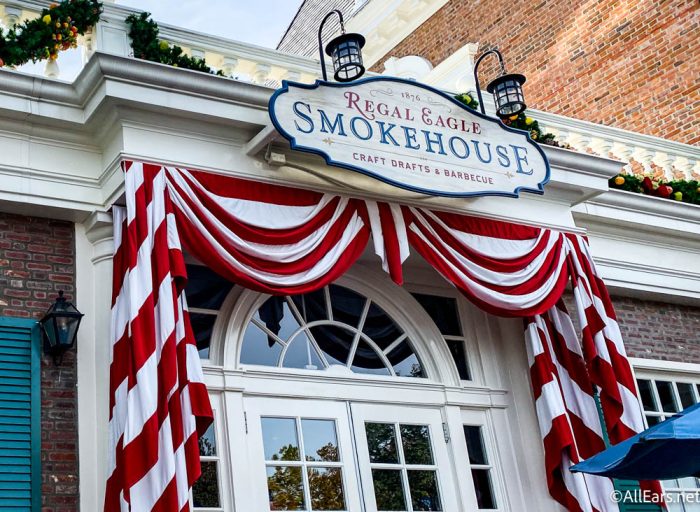 There's ample seating (both indoors and outdoors) and the menu is basic enough to appease picky eaters. Plus, we'll never complain about the Muppet theme! However, it's not the best barbecue we've eaten in Disney World.
7. Kringla Bakeri Og Kafe
As we got closer to the top of the list, it became increasingly challenging to rank these spots. Our team has had some pretty excellent experiences at Kringla in the past, and it's a must-try for breakfast if you're hitting up Frozen Ever After in the morning.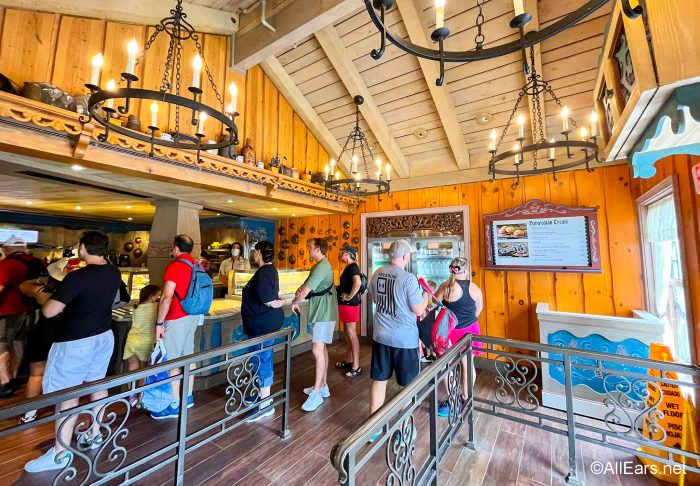 There's some seating outdoors behind the bakery, but not too many tables. The main reason it didn't rank higher is because the menu mostly consists of pastry items.
6. La Cantina de San Angel
At La Cantina de San Angel in the Mexico Pavilion, we've had consistently delicious meals for lunch and dinner. The menu has multiple different options, from nachos to tacos to empanadas.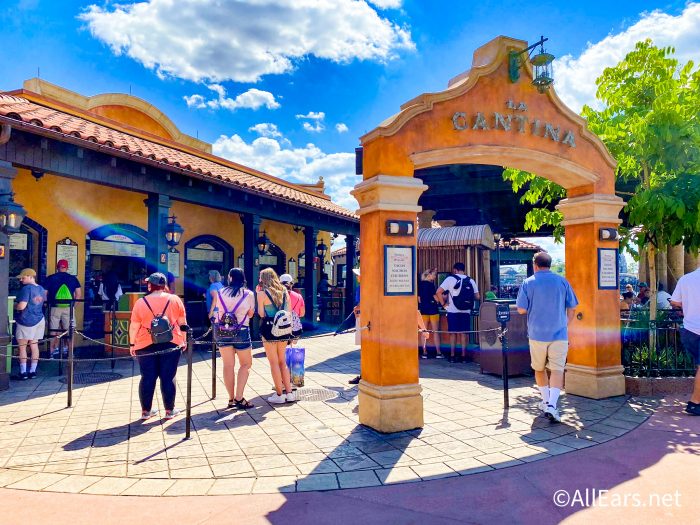 The downside is that because this place has some yummy options, it's also pretty popular. There's usually a long line to order, and seating fills up quickly during busy meal times. Plus, the waterside seating area is known to be home to some rather aggressive food-stealing birds. (You can't make this stuff up!)
5. Connections Eatery
Here we are at the top five! EPCOT's new Connections Eatery claims the next spot, with its large menu, huge seating area, and availability for Mobile Order. Plus, it's located right in the heart of the front of the park, so it's closer to the rides than other restaurants.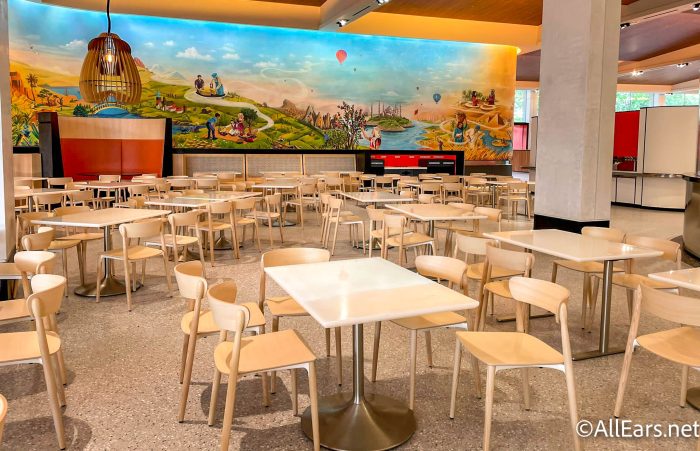 The unfortunate thing is that Connections Eatery is almost always very busy, especially during peak mealtimes. It can be very hard to find a seat in here, even though there is a plethora of tables. But if you do find a table, that air conditioning is *chefs kiss.*
4. Yorkshire County Fish Shop
Beating out Connections is an EPCOT classic, the Yorkshire County Fish Shop in the UK Pavillion. So many of our team ranked this as either their favorite or second favorite spot to eat that we just HAD to put it high on the list, even though it has a one-item menu.
If fish & chips are your jam, then you don't want to miss this place on your next visit. They're seriously super delicious. There's a fair amount of seating and it's all outdoors, but you'll have a stunning view of World Showcase Lagoon.
3. Sunshine Seasons
We're heading back to the front of the park for our #3 spot — Sunshine Seasons. Located inside The Land Pavilion, this restaurant has a big menu and LOTS of indoor seating, plus it's in the same building as two rides and a show. (A great stop when it's raining!)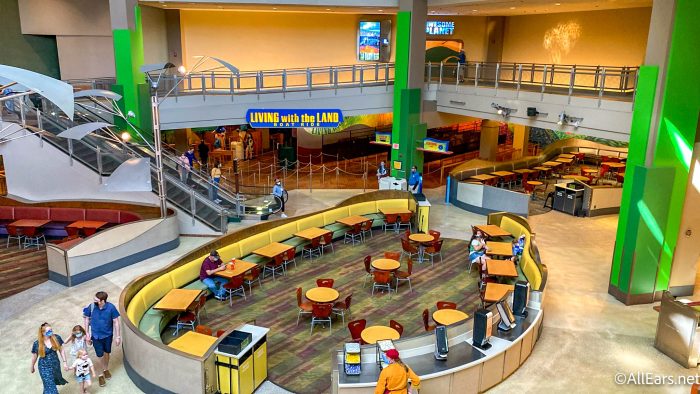 Our team member Breedlove also shared that he's a big fan of the vegan options on the menu here, so it's recommended as a good dining location for those with special diets. It's got a little bit of everything!
2. Tangierine Cafe: Flavors of the Medina
We were BIG fans of Tangierine Cafe pre-pandemic, but when it reopened, it wasn't the same. Now, instead of one year-round menu, it has varying menus with each EPCOT festival. However, we've still thoroughly enjoyed our experiences here since then!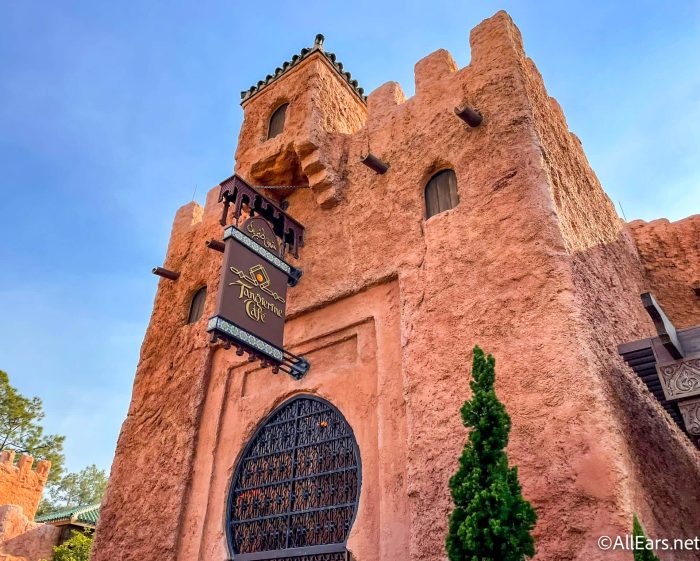 The food here is a bit more on the adventurous side, but it's definitely unique cuisine that you won't find many other places in Disney World. We highly recommend it!
1. Les Halles Boulangerie-Patisserie
And finally, we have our winner! Les Halles Boulangerie-Patisserie in the France Pavilion is a crowd-pleasing favorite, with everything from pastries to soups to sandwiches. And it's all AMAZING.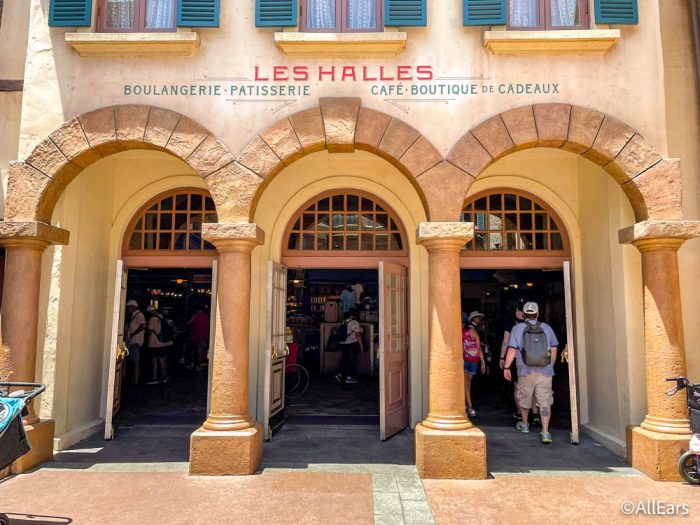 Whether you're looking for breakfast, lunch, dinner, or a sweet treat, this place has it all! Who DOESN'T want a pastry filled with chocolate or covered in cheese and bacon?! Seating is somewhat limited and the line can get pretty long at times, but trust us, it's WORTH it.
So that's our full ranking of EPCOT quick service spots! Stay tuned to AllEars for more tips on the best places to dine during your Disney World vacation, because we've visited ALL of them.
We've also got lots of advice on how to plan your upcoming vacations, whether you're planning Genie+ selections, making hotel reservations, or visiting for the holiday season. We'll keep you up-to-date!
Which restaurant on this list is your favorite? Tell us in the comments!