DISCLOSURE: This post may contain affiliate links, meaning when you click the links and make a purchase, we receive a commission.
It's time to get spooky, friends! Okay, well, Halloween is still a few months away, but there's one Disney attraction that keeps the spirit(s) alive all year long — the Haunted Mansion.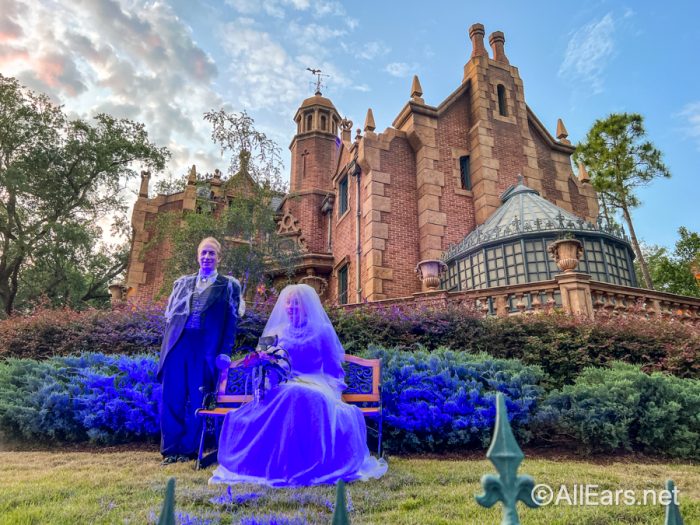 The fan favorite ride has the spooks and scares ready for us whenever we're in the parks, and we're here for it! Many people are BIG fans of this ride, and we don't blame them. Luckily for those fans, there's a bunch of NEW Haunted Mansion merchandise that just dropped online!
First up, we have this The Bride Mini Backpack! You may now kiss the bride…just watch out for that axe.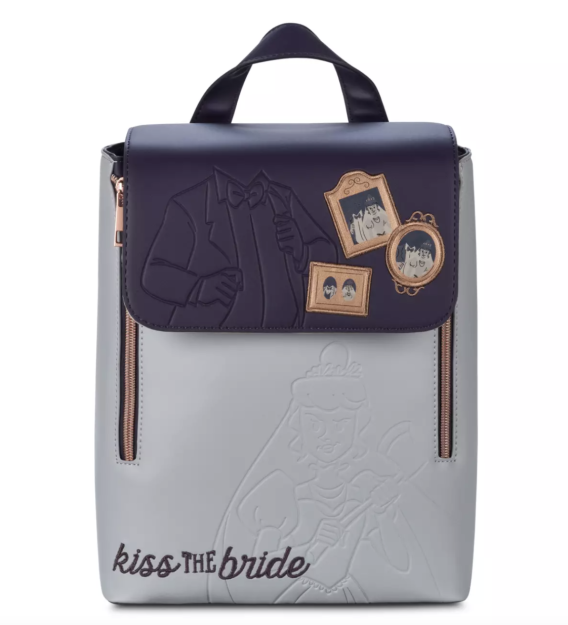 Get it for $44.99.
Next, there's a new handbag themed to the famous Stretching Portraits! You'll find that this bag has no windows and no doors — spooky!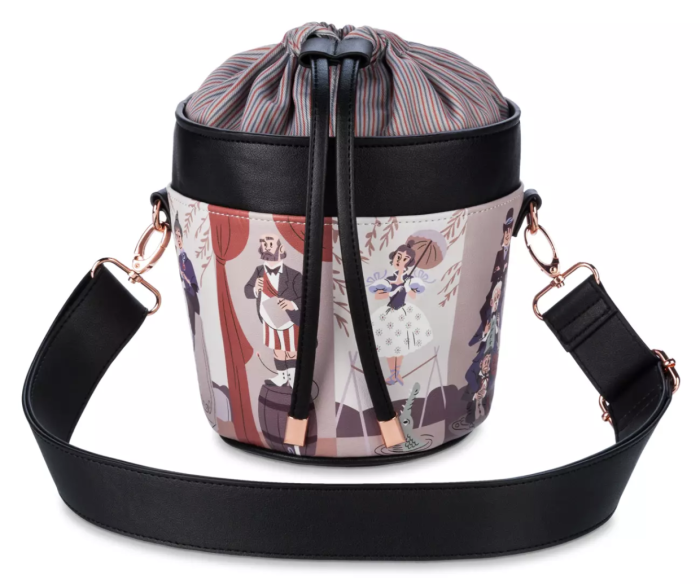 Get is for $39.99.
There is also a new Madame Leota Pink Baseball Cap for you to grab!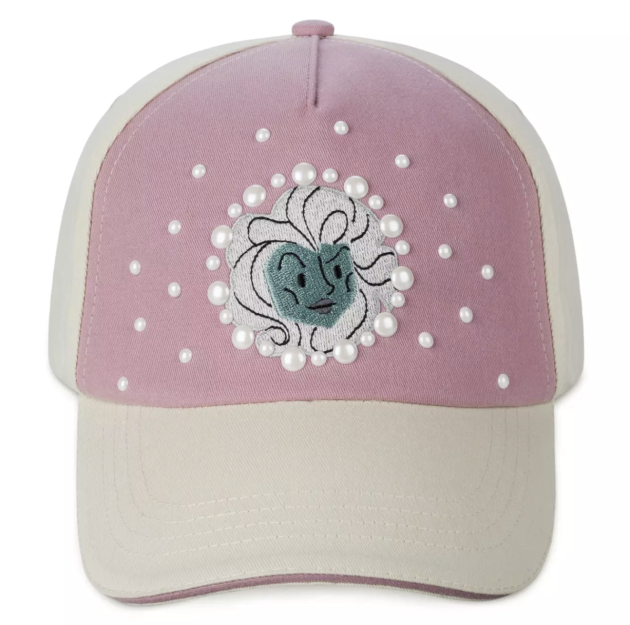 We love this fresh take on Leota. Get it for $27.99.
You can match your hat with this Madame Leota T-shirt as well!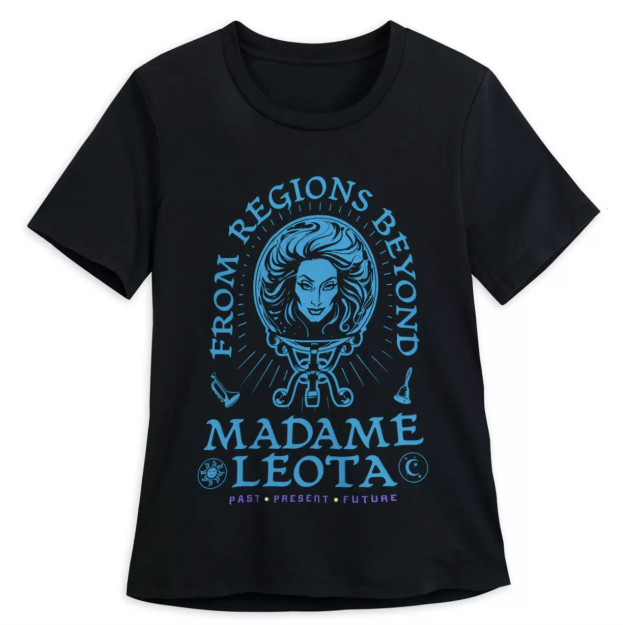 Get it for $29.99.
On top of that, there is a new pair of Haunted Mansion Joggers!
You can grab these for $49.99.
Finally, if you want to touch up your dinner at home with a little Haunted Mansion, you can grab the Haunted Mansion Porcelain Tray!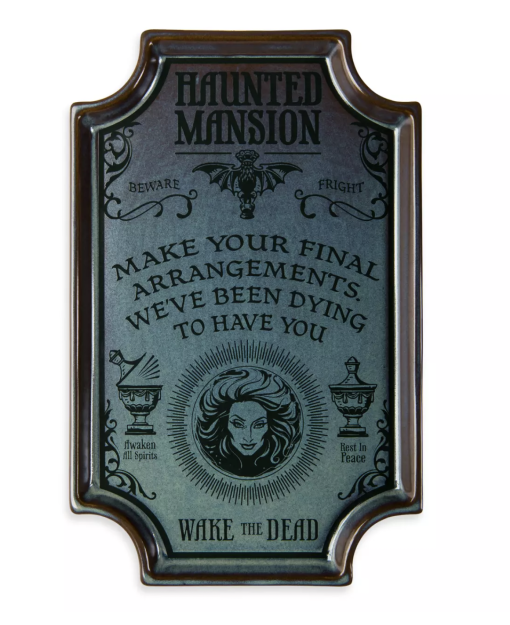 This is online now for $17.99.
We also spotted a new pair of Haunted Mansion Minnie Ears online! The headband is made to look like the iconic mansion maid uniform, and it even glows in the dark.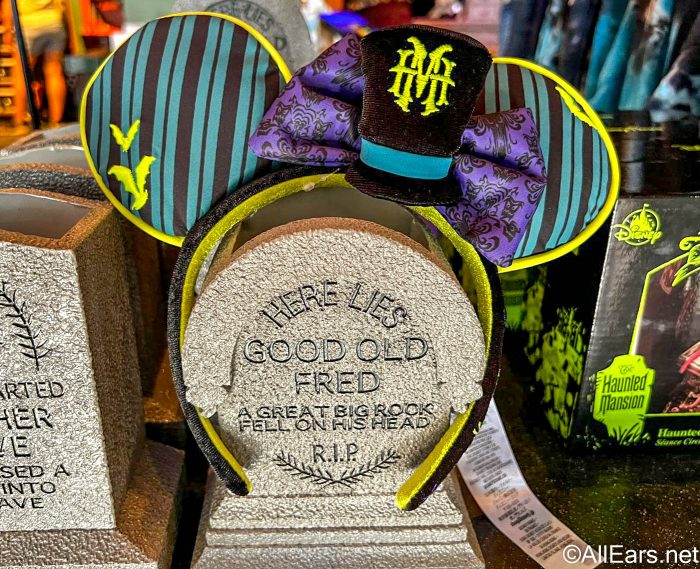 You can pick up a pair for $29.99 online now.
Pin collectors, you may want to hide your wallets! This Haunted Mansion Jumbo Pin is a limited release AND it glows in the dark.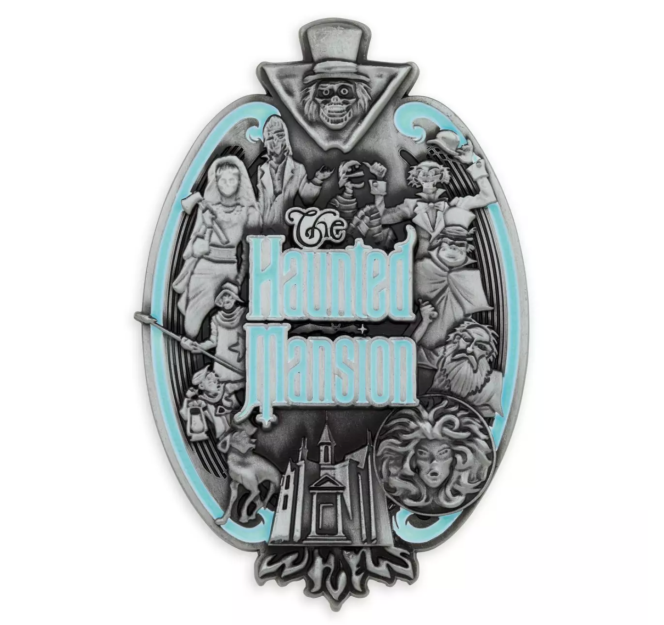 However, it's definitely not one of the cheapest pins around — it'll cost you $34.99.
If you're hoping to add some spooky touches to your home library, we're big fans of these new Haunted Mansion Gravestone Bookends.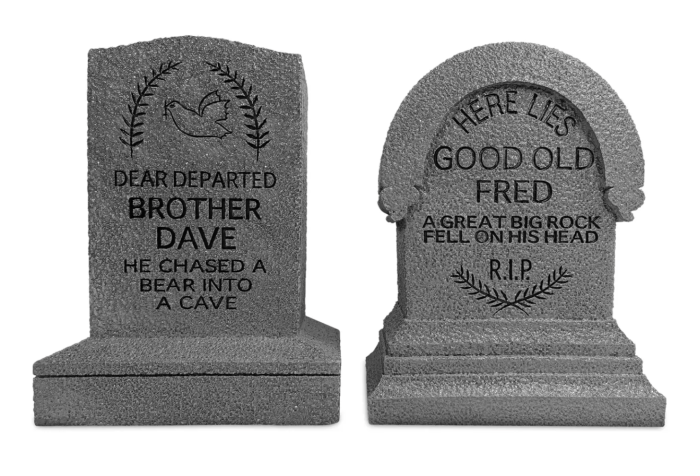 You get the set of two tombstones for $44.99 — they're made to look just like the ones from the queue!
Ready to pour some ghostly potions? Check out this Haunted Mansion Glass Carafe. 
The bottom edge has etched designs from the attraction, and the top has a stopper to seal the container. Get it online for $49.99.
For those looking to add some subtle spooky touches to their home through artwork, you'll definitely want to check out this Haunted Mansion "The Procession" Giclee by Michael Humphries.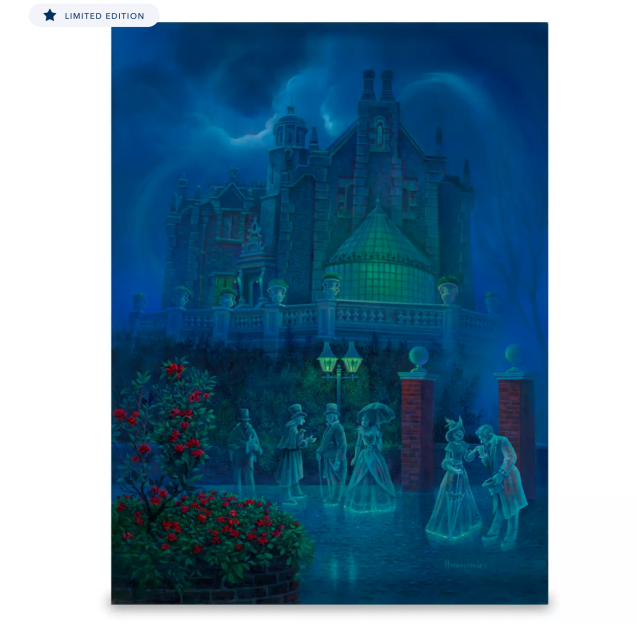 If you're interested, you can buy it for $149.99.
Need new phone accessories? We've got 'em! Say hello to The Haunted Mansion PopGrip Set by PopSockets.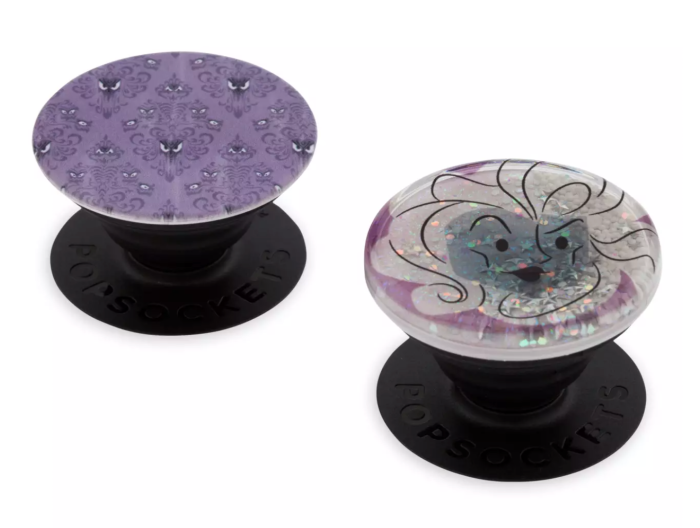 You'll get a set of two (with wallpaper and Madame Leota designs) for $29.99.
Even your pets can get in on the fun with this Singing Busts Chew Toy!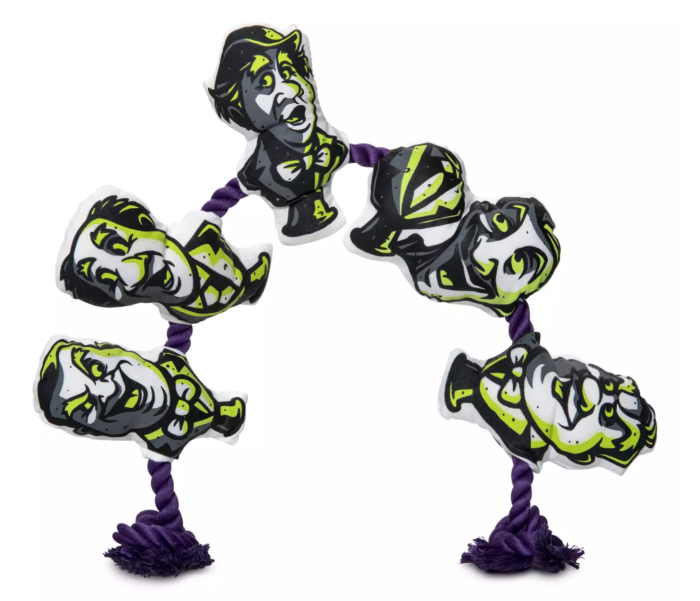 The whimsical design is made to look just like the busts from the graveyard scene, and you can get one for $19.99.
Want more artwork? You got it! We love this "Welcome to the Haunted Mansion" Giclee by Michael Provenza.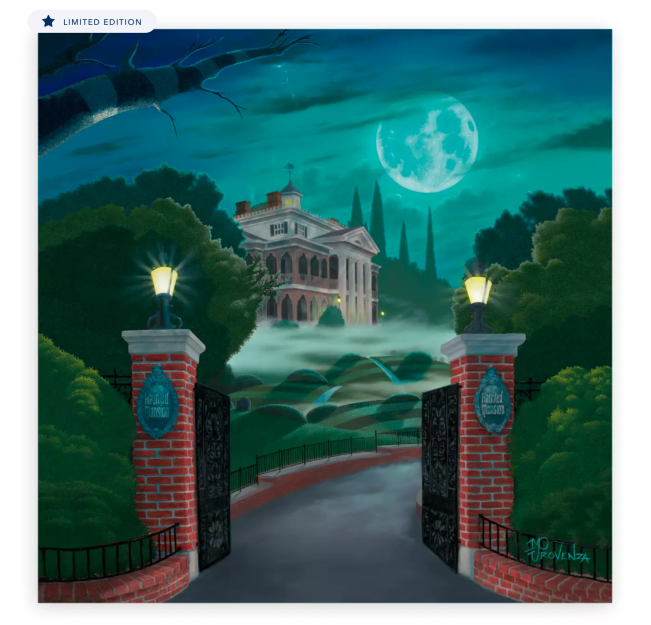 It's a limited edition, and like the other artwork, it's $149.99.
Madame Leota fans will love this piece, titled "A Message from Beyond." We want this hanging on our wall!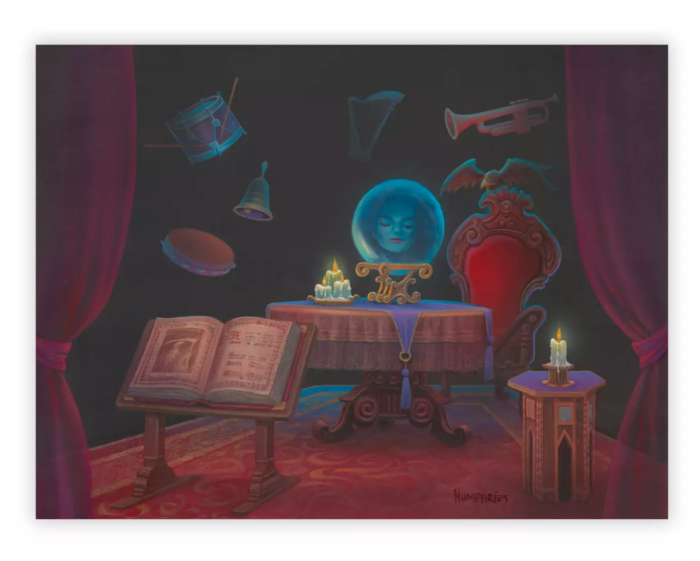 It was created by Michael Humpries and also priced at $149.99.
This next one is a little eerie! It's called "Hitchhiking Ghosts" and it's made by Tom Matousek.
It's 20 inches high and 10 inches wide, and you can order it for $149.99.
But that's not the only ghost-themed design! The second hitchhiking ghosts artwork is called "The Travelers" and it's made by Trevor Carlton.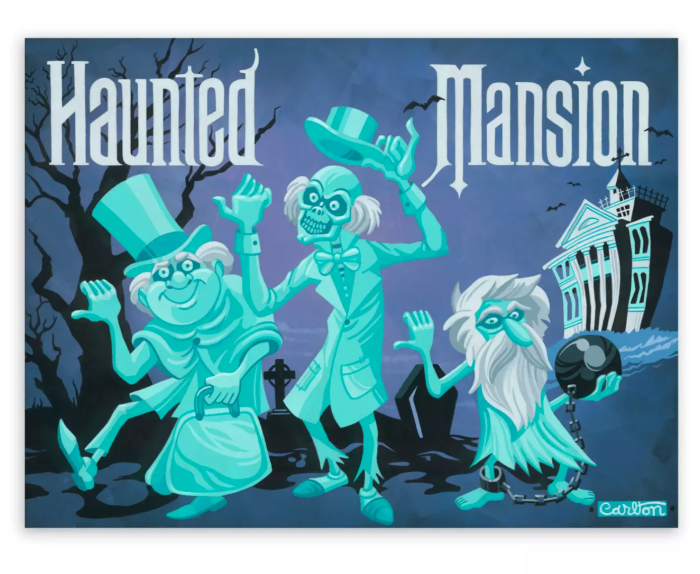 This one is a bit more on the fun side instead of the creepy side! You can get it for $149.99.
For those who want to accessorize their Haunted Mansion-themed look, we've got this Bangle from Alex & Ani for $49.99.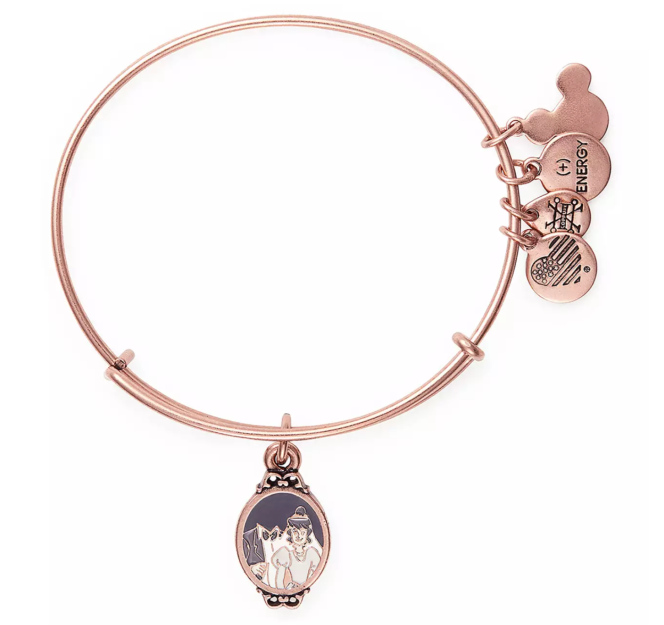 It's rose gold and features a charm of Constance Hatchaway and one of her beheaded husbands. How spooky!
And finally, there's the Haunted Mansion Woven Button-Up Shirt for Adults. It's the classic pinstripe pattern with a Haunted Mansion logo on the backside.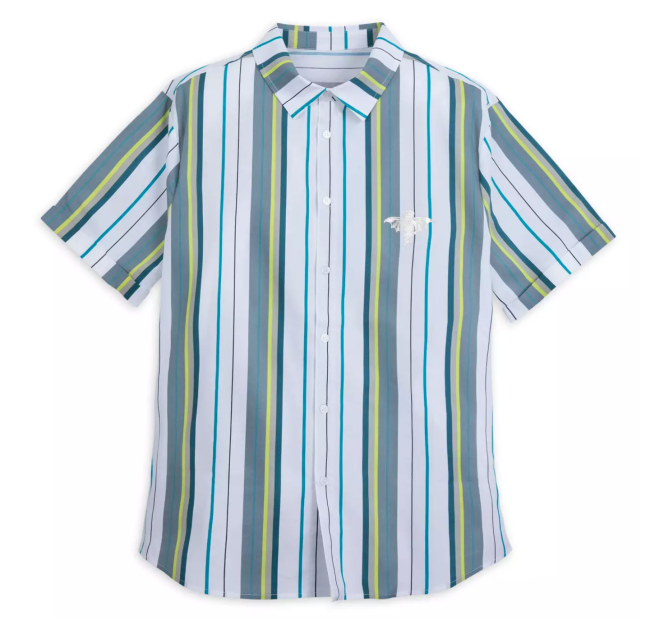 Grab the shirt for $59.99 today!
This Haunted Mansion pajama set is also on shopDisney! It's covered in stripes, and has the Haunted Mansion logo on one of the legs.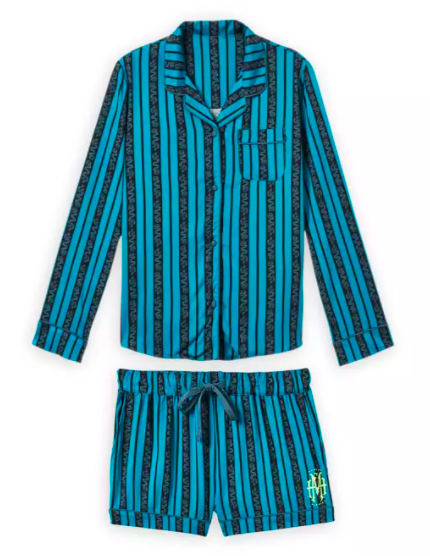 You can get this pajama set now for $49.99. 
If you have a furry friend that's also a fan of the happy haunts, then this Doom Buggy Dog Bed is perfect! It's shaped like the ride vehicles from the ride, and even has the hitchhiking ghosts inside.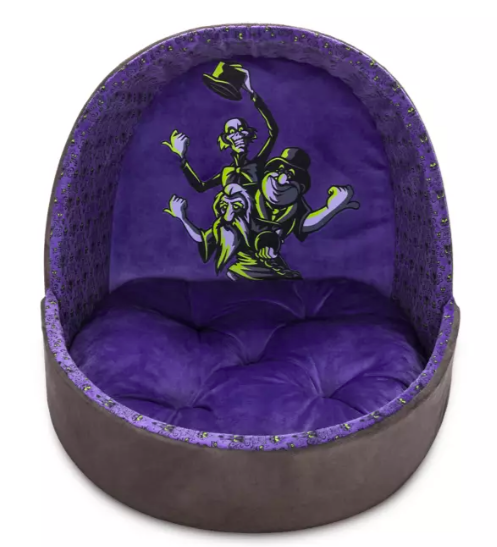 This is available now for $59.99! 
If you need some more Haunted Mansion decor, check out this porcelain cake tray! This is perfect for serving up all kinds of goodies, and it's available on shopDisney now.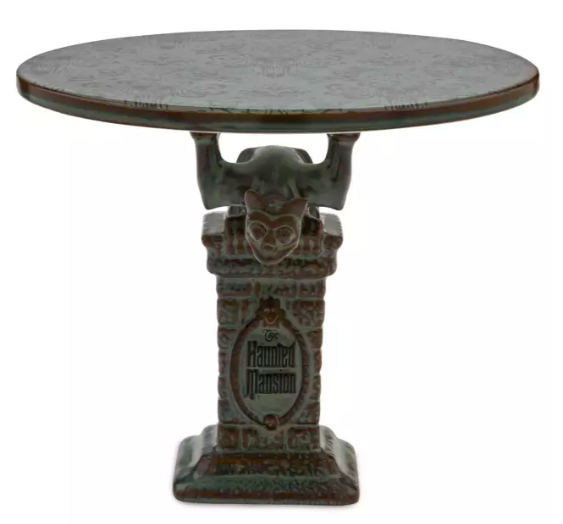 You can get this cake tray now for $44.99! 
Everyone needs something to drink out of, so why not drink out of these Haunted Mansion glasses featuring none other than the Hatbox Ghost and Constance!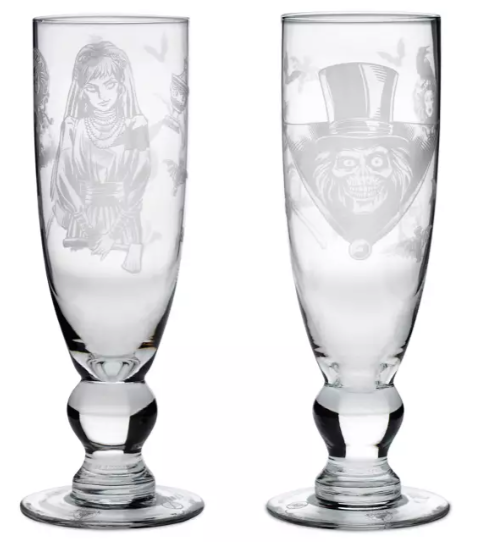 These are available now for $29.99! 
Want more new Disney merch? Check out the new Peter Pan collection that launched today, or take a look at some new Minnie ears that just dropped online!
If you want more on Haunted Mansion, you can click here to learn about the upcoming movie Disney is making, or you can click here to see when Haunted Mansion in Disneyland is getting a makeover!
Stay tuned to All Ears for more Disney merchandise news and updates!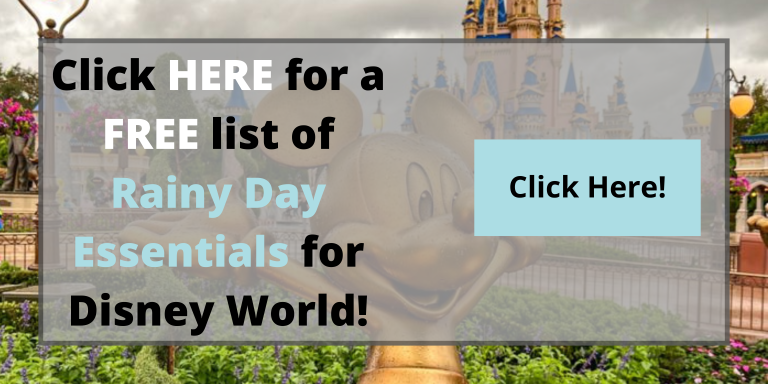 Which new Haunted Mansion item is your favorite? Tell us in the comments!