On Saturday, September 25th, we left the cozy confines of the Old Key West Resort on Walt Disney World property, bound for Port Canaveral and a four-night cruise aboard the Disney Fantasy.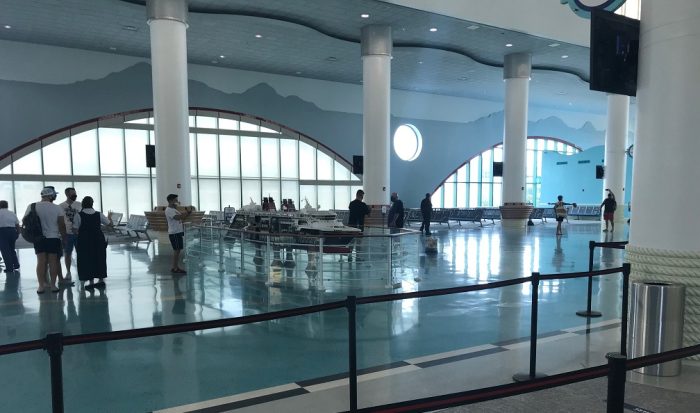 It should be noted that the original itinerary for this cruise was a seven-night excursion through the Caribbean. That seven-nighter was knocked down to four nights [a day at sea and two stops at Castaway Cay] as several of the original ports of call were still enforcing their cruise-ship ban because of the global COVID-19 pandemic.
Still, the idea of cruising again — even an abbreviated trip in the throes of a pandemic — was too enticing to pass up.
In the weeks leading up to the cruise, my wife Janet and I were required to provide Disney Cruise Line with proof of vaccination against the COVID-19 virus. Since we both had received the two doses of the Moderna vaccine in February and March, that was easy enough.
We were told that everyone sailing on the Fantasy would be vaccinated [save for children under 12 years of age] and that, in addition, all passengers would be tested for COVID prior to boarding the ship and that masks would be required in all of the ship's indoor spaces, save for your cabin.
After we arrived at the terminal and dropped off our luggage, we were directed to an area across the street from the terminal, where large tents had been set up to test every one of the 1,200 passengers expected on the cruise. [Normally, the ship accommodates about 4,000 guests.]
We entered the first tent, where we were given a COVID-19 test kit. As a health care professional looked on, we wrote our names onto a small piece of adhesive-backed paper, affixed it to a small plastic vial, swabbed the inside of each of our nostrils, then carefully placed the swabs into our vials.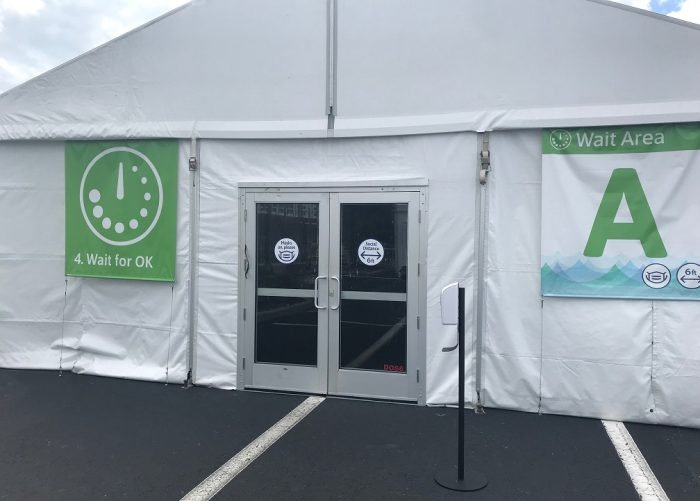 We then were directed to another tent, where we joined a few dozen other guests to wait for the results. [Our friends Leslie and Rich, who arrived by car, were tested in their vehicle in the cruise terminal parking garage.]
We were told it would take between 30 to 40 minutes to receive the results. For many folks in the tent, anxiety levels ran high.
As we sat in our socially distanced folding chairs in the air-conditioned tent, all eyes were fixed on a small TV monitor, where the test results were posted and updated every few minutes. Most passengers received the all-clear to proceed to the terminal, while about 1 out of every 30 were asked to go to an area for a consultation.
We passed the test and made our way to DCL's eerily near-empty main terminal for check-in. Once on board the ship, safety protocols abounded.
The usual "muster drill," where guests on past cruises jammed into crowded spaces to receive safety instructions, was replaced by a virtual drill: All you were required to do was snap a photo of your outdoor muster station on your smartphone, then watch a safety demonstration on your room's TV.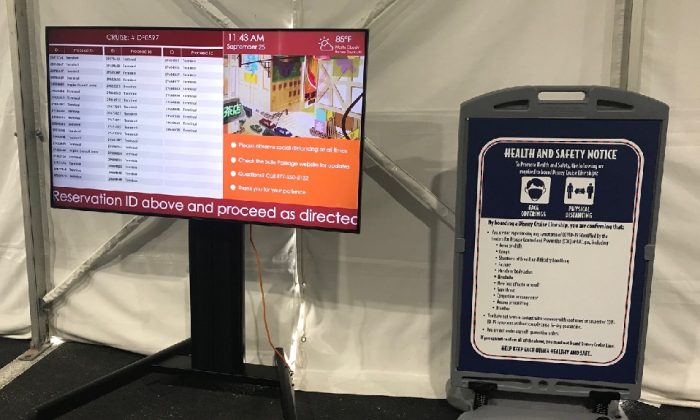 Every guest was required to wear a facial covering indoors. Since the vast majority of activities take place inside the ship, that meant masks had to be worn most of the time. About the only place where masks weren't required were around the pools, the outside pool decks, while eating or drinking, and in your stateroom.
The elevators even had signage that asked guests to limit capacity to two individual guests or one party.
HANDWASHING STATIONS OUTSIDE OF CABANAS
At the entryways outside of Cabanas, the dining area on Deck 11, handwashing stations – complete with soap, water and paper towels – had been installed, with crew members strongly advising each and every guest to scrub up before entering the buffet dining facility.
Outside the Fantasy's three main dining rooms [Animator's Palate, Royal Palace and Enchanted Garden], sanitizing stations were set up, with guests required to wipe their hands with cleansing cloths before entering.
Speaking of food service, at Cabanas and at the beverage stations located near the pools, guests were no longer allowed to serve themselves: Crew members poured coffee and soda for you; even ketchup and mustard was distributed by the crew.
Also, the Personal Navigator is a thing of the past. Shipboard information — from show times to movie schedules to onboard activities to dinner menus —  could be accessed via the DCL app on your smartphone.
In the Walt Disney Theatre, as well as in the Fantasy's movie theater, every other row was blocked off and guests were told to sit at least three seats away from anyone not in their party.
Even during the ship's two stops at Castaway Cay, safety protocols were in place. For instance, guests were required to wear masks as they waited on the buffet lines at Cookie's Barbecue.
On the ship itself, a Halloween theme permeated the main atrium and younger guests, of which were far fewer than usual, could pose for photos with Disney characters.
These safety protocols put in place by DCL were part of a well-thought-out strategy that was in the making for months.
In early September, the Disney Fantasy went out on a "test cruise" before it was given the go-ahead to carry regular guests. On board were Disney cast members, as well as members of the Centers for Disease Control [CDC], who checked out all of the safety protocols Disney Cruise Line had put in place.
It was a joy being back on the open waters, the scent of saltwater punctuating the air. It also was nice to be on a ship where smiling crew members couldn't do enough for you … to hear guests screaming with delight on the AquaDuck water coaster … to relax and watch a show, even in a socially-distanced theater.
Our cruise ended on Wednesday morning, September 29th. The Fantasy stayed in port until Saturday, October 2nd, when it embarked on another four-night cruise.
During the three days in port, crew members who were "earning their ears" received additional training, and the ship itself was sanitized from forward to aft.
Chuck Schmidt is an award-winning journalist who has covered all things Disney since 1984 in both print and on-line. He has authored or co-authored seven books on Disney, including his most recent, The Beat Goes On, for Theme Park Press. He also has written a twice-monthly blog for AllEars.Net, called Still Goofy About Disney, since 2015.