"Aim at nothing.  Hit nothing."  —Shang-Chi and the Legend of the Ten Rings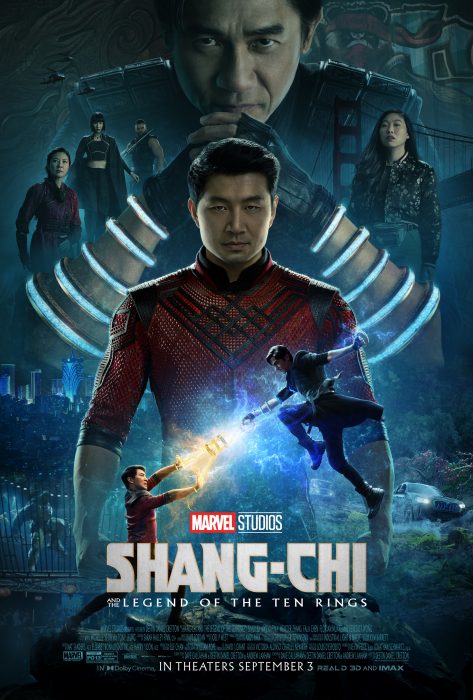 This week, Marvel Studios returns to the theaters and its Phase 4 timeline with Shang-Chi and the Legend of the Ten Rings.
Shang-Chi starts off following our hero (Simu Liu) throughout his unauspicious life of parking cars in the daytime and singing karaoke through the nighttime with his BFF Katy (Awkwafina.)  Their happy, if unambitious, times come to an abrupt end when a bunch of thugs attack Shang-Chi on a bus for his green pendant and his incredible fighting skills come to light.  This sets off a chain of events in which Shang-Chi travels around the world to finally confront the father who drove him away, the sister he left behind, and the memory of the mother whose loss fragmented all of them.
Because Shang-Chi is the first MCU Asian superhero, the heavy burden of representation rests on it similarly as it did with Black Panther.  Thankfully, also like Black Panther, it escapes the fate of taking itself too seriously and becoming weighed down with significance.  Alternately and entertainingly touching and goofy in turns, it doesn't dwell on the contemporary Asian Experience so much as show us brief scenes that feel grounded and authentic before taking off to martial arts fortresses and mystical jungle villages.
[Having spent four years in San Francisco, I can say that nothing looked more authentic than the tiny, dark apartment Shang-Chi inhabits there, and nothing less than the conveniently empty 1 California bus he fights on later.  I never rode that bus without there being so many people on it, the oxygen would literally get squished out of you.]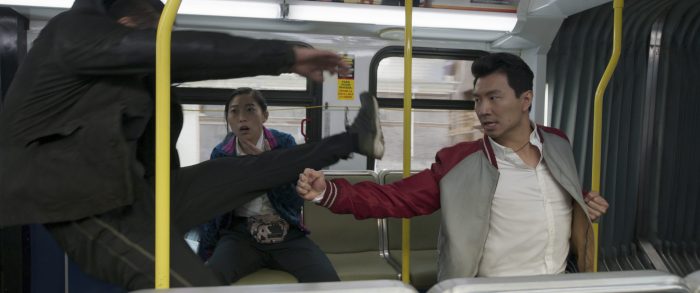 Simu Liu gives a great performance as the complicated Shang-Chi, showing range from impressive comedic chops to the capacity for quiet despair and inner conflict.  Whether playing Shang-Chi as an unremarkable valet or an unbeatable martial artist or a tortured son or a ring-wielding superhero, he always manages to make him feel sympathetic and real.  His character development is aided by Awkwafina who always shines in roles similar to the ones Whoopi Goldberg used to have back in the 80s-90s–the sassy observer smart enough to appreciate how ridiculous a situation is, but with too much heart to abandon it, all the same.  The two have a nice, familiar chemistry as they bicker and get along like an old married couple without ever crossing over the line from their comfortable platonic relationship.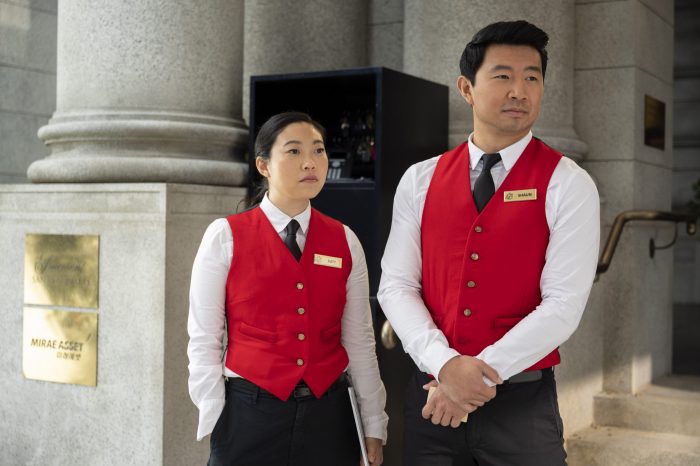 The film really belongs to Tony Leung, however.  As Shang-Chi's dad, he plays the 1,000-year-old Xu Wenwu with an almost operatic strength, showing the passion he had for his wife and family, and the rage and despair he feels at their loss like waves that break and crash over everyone around him.  That we don't get more time to resolve his conflicts is one of the film's few missed opportunities.  Michelle Yeoh also gives a quiet, yet powerful performance as the aunt that shows Shang-Chi all the qualities his mother had…and that perhaps he has, too.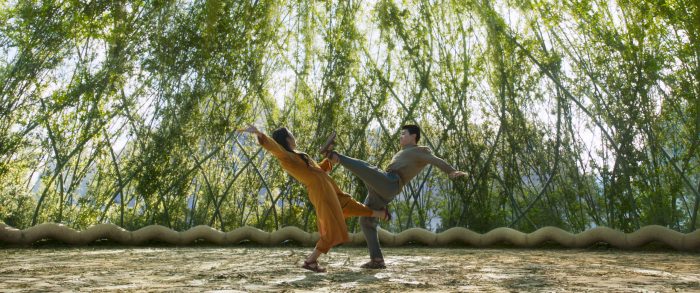 The fight scenes throughout the film are many and varied and all executed with the usual Marvel panache.  Many different types of martial arts are on display with particular attention paid to how the fighting style reflects the character.  Wenwu uses his powerful rings to whip and blast opponents in a linear fashion, rendering him unstoppable to everyone except Ying Li, whose balletic and circular moves circumvent his attacks and win his heart.  As Shang-Chi moves through the film towards healing the gap his parents have left in him, his inward reconciliation is matched with his outward incorporation of both fighting techniques.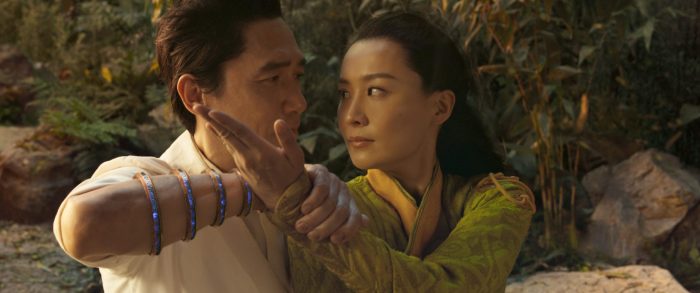 If Shang-Chi is similar to Black Panther in another way, it is that the characters themselves are so interesting, it seems a pity when the film switches focus away from them to the big climactic CG battle at the end.  Even if there is some overreliance on CG at times, for the most part it is used effectively and beautifully, particularly at Wenwu's compound where a magical flood of water brings insight and direction.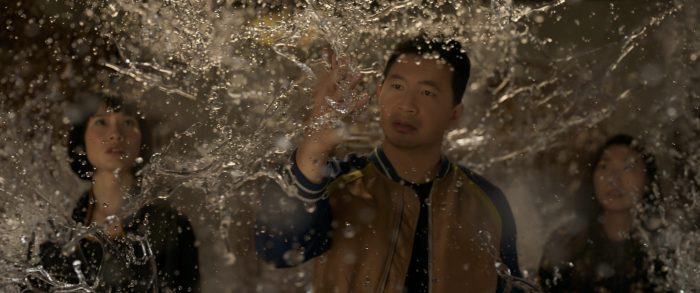 There will be a lot of talk about the issue of Asian representation here, with all the usual opinions represented.  While no expert on the subject, as an Asian-American, it is a huge relief to see a film where an Asian character can be a superhero and a star and not just "the first person who gets killed off before the opening credits" as is the case in so many, many films.  If there's one kid out there who gets to see someone who looks like them up on the screen doing good and being powerful and making a difference, then this film has served its purpose well.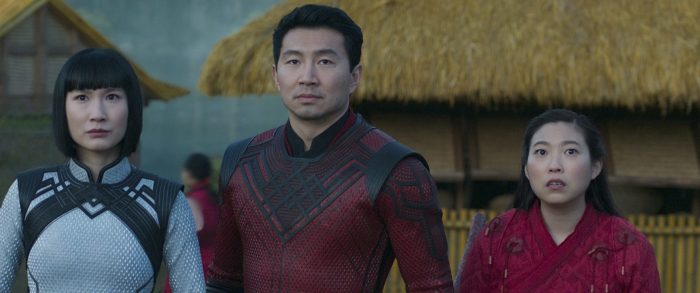 But the reason to see Shang-Chi isn't because of some dry concerns of ethnic importance.  The reason is that it's fun and beautiful and entertaining with gorgeous martial arts scenes that are really worth seeing on the big screen if you feel safe enough at this point to do so.  If you prefer to err on the side of caution in these COVID-ridden times, Shang-Chi and the Legend of the Ten Rings should move from being exclusively in theaters to Disney+ after 45 days, no masks or rings required.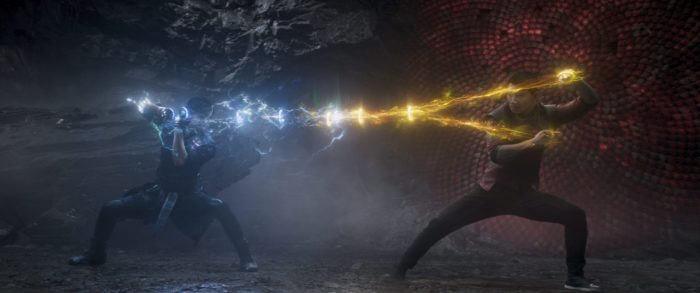 Shang-Chi and the Legend of the Ten Rings is presented by Marvel Studios. Rated PG-13, it stars Simu Liu, Awkwafina, Meng'er Zhang, Fala Chen, Florian Munteanu, Benedict Wong, Yuen Wah, Ronny Chieng, Zach Cherry, Dallas Liu, with Michelle Yeoh, and Tony Leung
*Always stay to the end of the credits. Especially for a Marvel film.
Directed by Destin Daniel Cretton and produced by Kevin Feige and Jonathan Schwartz, with Louis D'Esposito, Victoria Alonso and Charles Newirth serving as executive producers.  Dave Callaham & Destin Daniel Cretton & Andrew Lanham wrote the screenplay for the film and the screen story is by Dave Callaham & Destin Daniel Cretton.
The film enters general release today, September 3rd, 2021, and is distributed by Walt Disney Studios Motion Pictures.
In case you missed it, here's the trailer for Shang-Chi and the Legend of the Ten Rings:
Shang-Chi and the Legend of the Ten Rings opens in theaters on Friday, September 3rd.
Questions?  Comments?  Suggestions?  Drop us a line below.
Be sure to follow @allearsnet on Facebook, Instagram and Twitter!
Check out our YouTube Channel for reviews, news, information and more!
Click below to subscribe to the AllEars® newsletter so you don't miss any of the latest Disney news!