Debuting on Disney+ today is the latest installment of tales from the Star Wars universe, Star Wars:  Visions.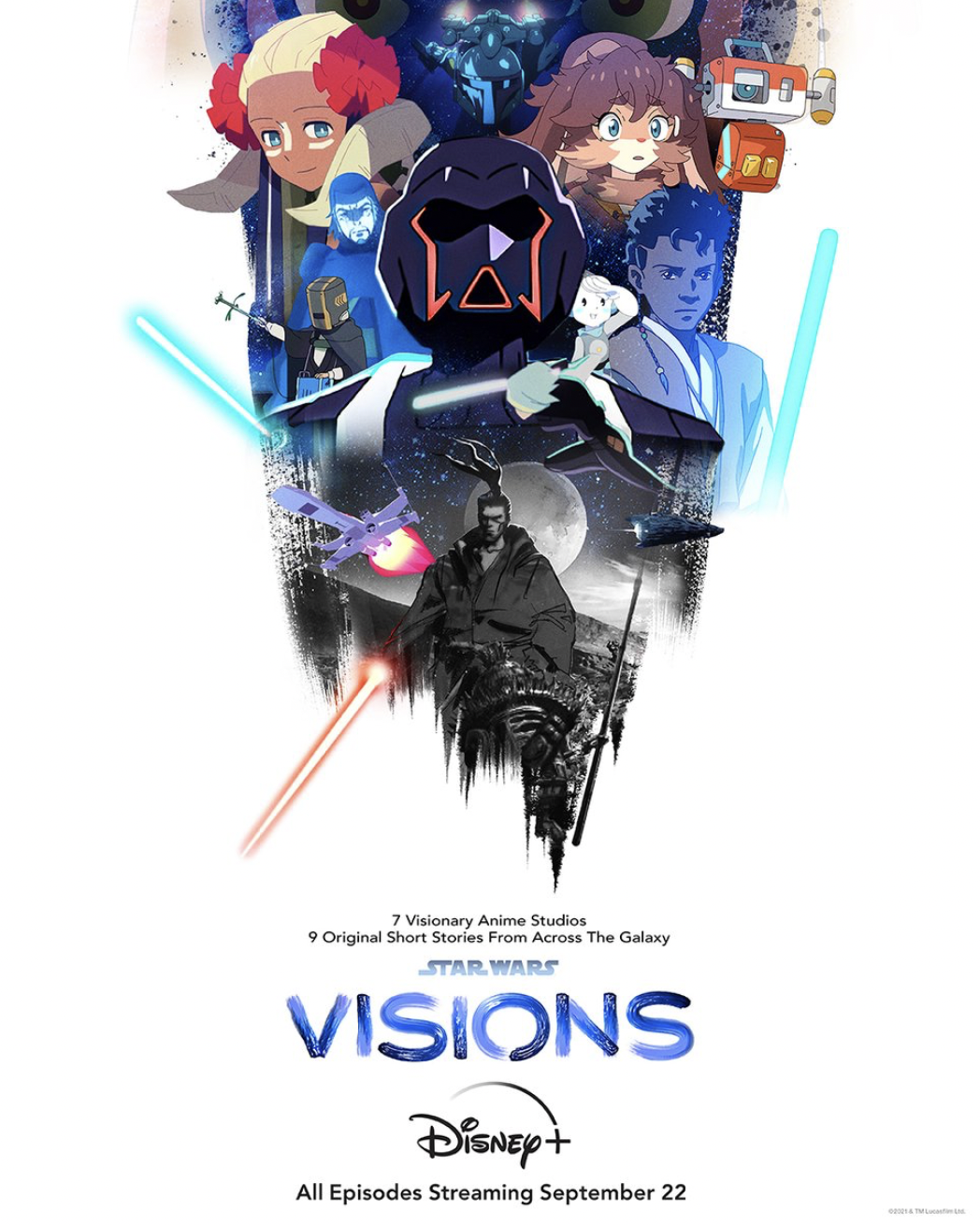 The nine-episode anthology series is made up of animated shorts each created by one of seven different prominent animation studios in Japan (studios TRIGGER and Science Saru did two each.)
The blend makes up a gorgeous assortment of different designs and styles that still manage to be quintessential Star Wars in a manner we haven't seen before.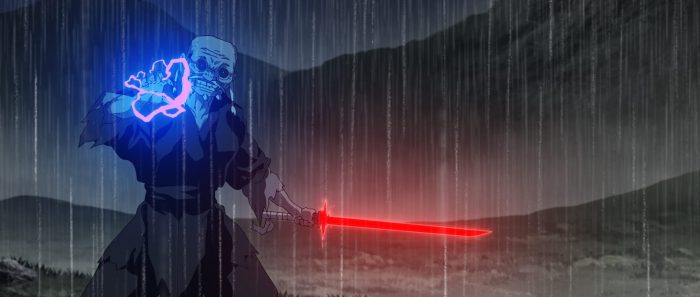 While the storytelling and animation are distinctly Japanese, the stories all cut to the core issues Star Wars has always held close:  Following your dreams; selfishness vs selflessness; and Found Family.  In just thirteen to twenty-two minutes, the shorts manage to deliver both well-rounded stories and characters and situations that beg for further development.  Some protagonists surmount their challenges to become the best versions of themselves at the end, and consistent with both Star Wars and much of Japanese animation, some end up following a considerably darker path.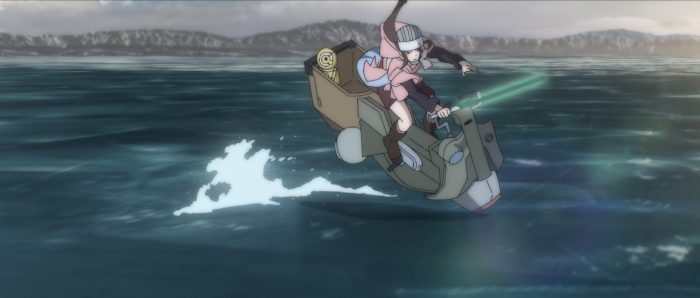 The longest of the shorts, "The Ninth Jedi" by Production I.G. gives us a glimpse into the craft of lightsaber smithing, which some fortunates may have witnessed for themselves at Savi's Workshop in Batuu.  Set in the time period where Jedi are myths and legends, it shows us a brave girl who is tasked with delivering a shipment of lightsabers to a meeting of Jedi against considerable resistance.  That the lightsabers change color depending on the disposition of the wielder is fascinating and revelatory.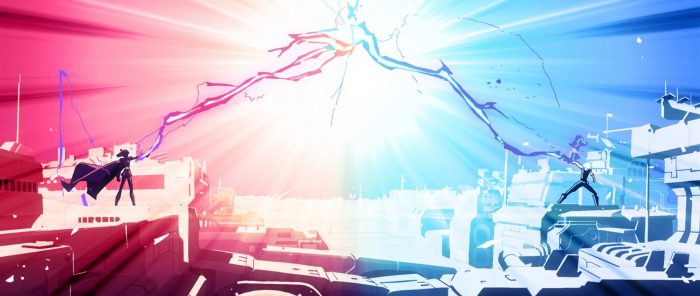 Am (voiced by Ryoko Shiraishi and Alison Brie in the English dub) and Karre (voiced by Junya Enoki in Japanese and Neil Patrick Harris in the English dub) duel atop Star Destroyers in a scene from "STAR WARS: VISIONS" short, "THE TWINS", exclusively on Disney+. © 2021 Lucasfilm Ltd. & ™. All Rights Reserved.
The look of each short is dramatically different and often characteristic of a given studio's work.  TRIGGER's "The Twins" has an over-stylized quality reminiscent of their recent hit Promare which is wildly different from their other Star Wars: Visions offering, "The Elder."  As much attention was clearly paid to the voice acting as the art, given their roster of notable English and Japanese seiyuu.  Voices familiar to the Disney fan include Bobby Moynihan (DuckTales,)  Neil Patrick Harris (California Screamin',) Simu Liu (Shang-Chi and the Legend of the Ten Rings,) Masi Oka (Spies in Disguise,) Jamie Chung (Big Hero 6,) and the legendary and ubiquitous George Takei and James Hong (Mulan.)  While I enjoyed watching all the episodes with the original Japanese voices and subtitles, I wouldn't hesitate to rewatch the dubbed versions with this cast.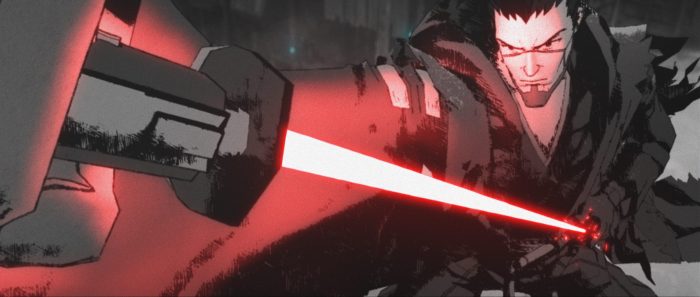 Probably my favorite installment was the first episode "The Duel," which was animated to resemble an old Kurosawa film complete with projector lint and traditional Japanese music.  It looks amazing, and its story of the wandering samurai Jedi is so rich in unexplored history it has sparked a spin-off book Star Wars Visions: Ronin by Emma Mieko Candon, coming October 12th.
While the stories are not continuous and can be watched in any order, I would recommend watching in the order they're numbered.  It gives a nice mix of heavy and light episodes and ends with Science Saru's "Akakiri" which tells a story about a princess and a Jedi that is as different as it is hauntingly familiar.  While some segments definitely hit home for me more than others, I would say that this is my favorite Star Wars creation of recent times and I can only hope there are more seasons in store for us in the future.
[Be sure also to watch the nine Star Wars: Visions Filmmaker Focus bonus featurettes that will be available to stream at the same time as the series to get a deeper look at the filmmaker's craft and inspirations.]
In case you missed it, here's the dubbed version of the Star Wars: Vision trailer:
Star Wars: Visions will premiere on Disney+ today, September 22, 2021. 
Be sure to follow @allearsnet on Facebook, Instagram and Twitter!
Check out our YouTube Channel for reviews, news, information and more!
Click below to subscribe to the AllEars® newsletter so you don't miss any of the latest Disney news!