This week, Marvel Studios brings us the next installment of MCU's Phase IV:  Shang-Chi and the Legend of the Ten Rings.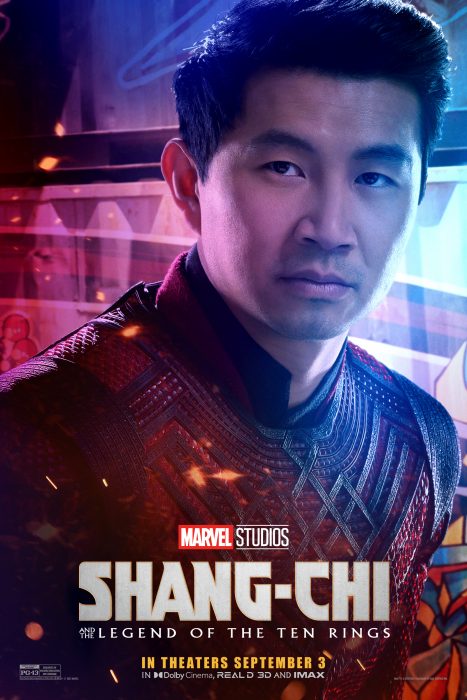 In Shang-Chi and the Legend of the Ten Rings, we follow Simu Liu as the titular character who has been trying to escape a dysfunctional family situation for years but must now confront the father whose superpowerful ten rings and superviolent tendencies drove him away as a teen.
Ultimately, Shang-Chi must discover who he is and fulfill his potential if he wants to save the world…and what remains of his family as well.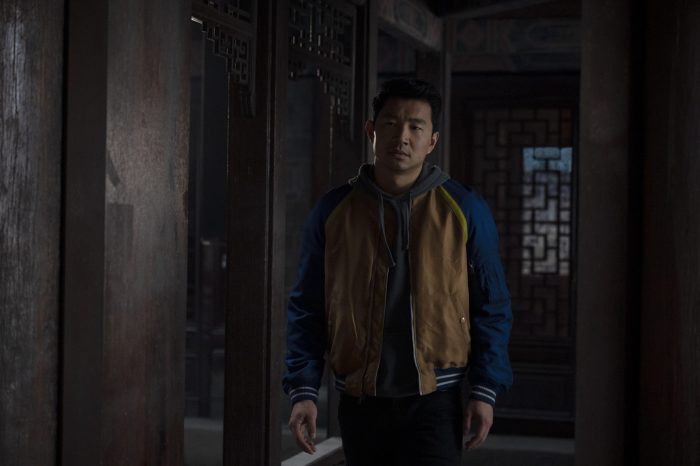 To discuss the making of Shang-Chi and the Legend of the Ten Rings, some of the filmmakers met for a virtual press conference to talk about Asian representation, building the MCU, and speaking Mandarin.  Simu Liu ("Shang-Chi,") Awkwafina ("Katy,") Meng'er Zhang ("Xialing,") Destin Daniel Cretton (Director,)  Ben Kingsley ("Trevor,") and Kevin Feige (Producer) were in attendance, with Ronny Chieng ("Jon Jon") moderating.
Press Conference highlights: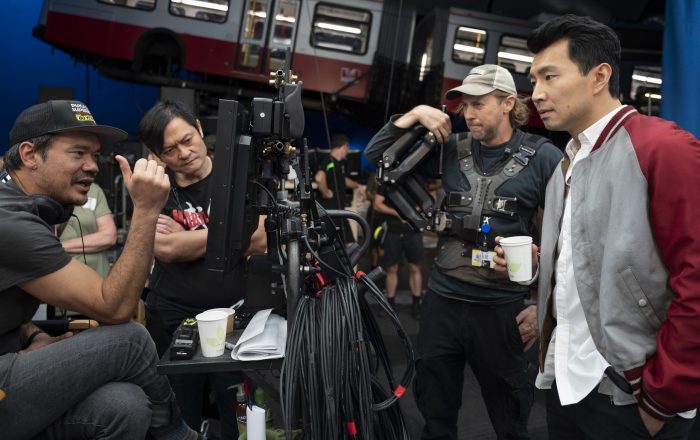 Cretton on what drew him to Shang-Chi:  "I really, personally connect with Shang-Chi's journey.  I love that this is a superhero that doesn't get splashed with chemicals to get his superpower.  That it is a journey of self-discovery, of growing up, of learning how to finally deal with pain that he's been running away from his entire life.  And that when he is finally able to look inside into his past and embrace good, bad, the joy, the pain, and accept it all as a part of himself, that's when he finally steps into his big boy shoes…I think that's kind of what we're all doing as humans in some way or another.  So I really connect with that."
On depicting the Marvel Universe versus the Asian experience:
Feige:  "…It was always about both.  My producing partner on this film, Jonathan Schwartz, who for some reason is hiding in the background here today, has worked on this movie for a long time.  We wanted to do it for both of those reasons–to bring this specific character into the MCU, but just as important to bring representation of another kind to this film.  That was really what Destin brought in his pitch, which was yeah, action, cool, Marvel, but it was really the story of this father and son…"
Cretton:  "I think what is extra relevant to the culture is that this is a Marvel film, and if we were not putting Shang-Chi shoulder to shoulder with all the amazing other Marvel superheroes that we've come to love in the past, that would be, to me, a big disservice to the culture and the character.  So, both, I think, are equally important."
Feige on the biggest risk he took building the MCU:  "…I do think still the biggest risk, which seems outrageous to say now, was casting Robert Downey, Jr.  It was both the biggest risk and the most important thing in the founding of the Marvel Cinematic Universe.  Without Robert…We wouldn't be sitting here today.  I really believe that.  He was an amazing actor–everybody knew he was an amazing actor–but he hadn't been an action star.  He wasn't a marquis star necessarily and we quickly realized the risk, I've said this before, was not casting him.  And Jon Favreau really had that vision for that movie and for Robert in that role, and that decision and the success of that decision, I think, empowered us with further risks and further choices."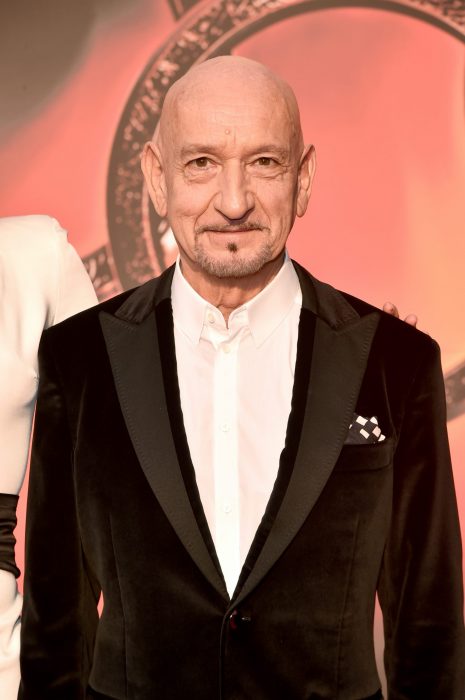 Kingsley on portraying minorities and their culture on film:  "Well, I think when you hear Destin, you know that the motives behind telling this story are pure–crystal clear, lucid, pure motives.  They are life-enhancing and they're not patronizing because they do introduce in a beautiful way, memory, ancestry, loss, and families torn apart and reunited and reconfigured.  All this is from Destin's heart and Kevin's heart and the writer's heart, and if your motives are pure as a storyteller, the angels will come to assist you with that story.
"To quote a great author whom I admire greatly, 'to tell a story is to heal' and I think that this story, because it's so beautifully told and so rich, will ultimately be healing because it's not propaganda.  It's just a really beautiful story.  Trevor, of course, is a Shakespearean actor and he finds himself transported into a completely exotic environment, but he survives…I have done 17 out of Shakespeare's whole canon of plays, so, I'm sort of a Shakespearean actor, but as soon as I arrived on set, the fact that my colleagues were from a different culture was immaterial.  Completely immaterial and irrelevant.  We are actors together.  We live on empathy and transformation and this is our currency.  All the rest is irrelevant.
"If we can demonstrate that energy, I think it will ultimately be soothing and healing and people will realize there's very little difference in storytelling and very little difference in our hearts."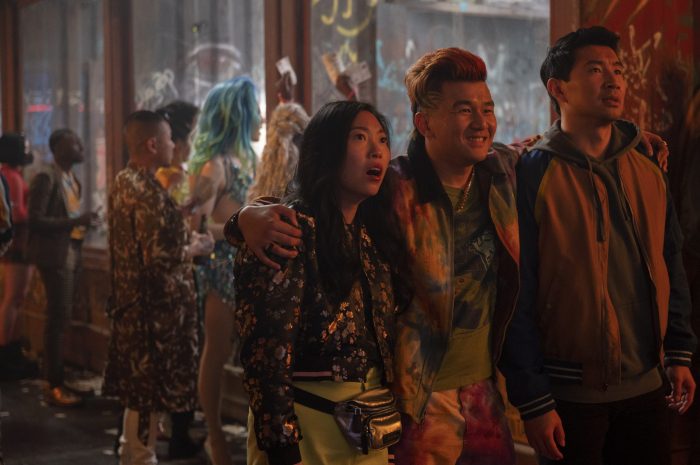 On speaking Mandarin in a Marvel film:
Cretton:  "The conversation behind which language should be speaking was always rooted in just the logic of the characters and who would naturally be speaking what language.  So that conversation started in the writer's room and then once our actors came in it was always a dialog–these are all bilingual, trilingual, quadrilingual characters who could speak whatever made sense at the time.  So, we were constantly having the discussion of what made sense for the scene."
Liu:  "What I really loved is that moment where, I don't think it's a spoiler, but where your character is talking to Awkwafina's character…and she's like 'oh, no, my Chinese isn't good.'  And you're like 'no worries, I speak ABC.'  I mean it just…"
Awkwafina:  "That was really a big moment…like culturally, you just never see that.  You never see that refer to it."
Liu:  "I mean, they called it out and 'ABC,' of course, means American-Born Chinese, but it's the first time that you really see in a movie someone just calling out, you know, a lived experience."
Chieng:  "Oh, is that what it meant?  I literally thought it meant like…"
Liu:  "Oh, the ABCs, like the alphabet?!"
Chieng:  "Yeah.  English, yeah."
Liu:  "No, you didn't."
Cretton:  "You right now just realized that?"
On Shang-Chi and Katy's platonic relationship:
Cretton:  "When one of our co-writers, Dave Callahan, and I were creating this relationship…we actually have a lot of friends who are not the same gender as us, and it is strictly platonic but also very intimate, caring, and we haven't seen a lot of that on screen, and we're really excited to create that relationship between Shang-Chi and Katy.  It also just naturally felt like the only way to go with this movie because Shang-Chi is so deep in his own inner struggle, I don't think there's emotional space for anything else."
Awkwafina:  "Yeah, I don't think he has room in his life…I think he has so much going on for, like, a neurotic girlfriend."
Liu:  "'I just have a lot going on right now.  I'm just not really emotionally available right now.'"
Awkwafina:  "It's like, 'uh, should we go to couple's therapy here where we are in Talo?'"
Liu:  "'It's just not the right time for us.'"
Awkwafina:  "'Like, is there a couple's therapist because you've been distant, and I don't understand.'"
Liu:  "'It's not you, it's me.'"
Awkwafina:  "'That's exactly what it is.'"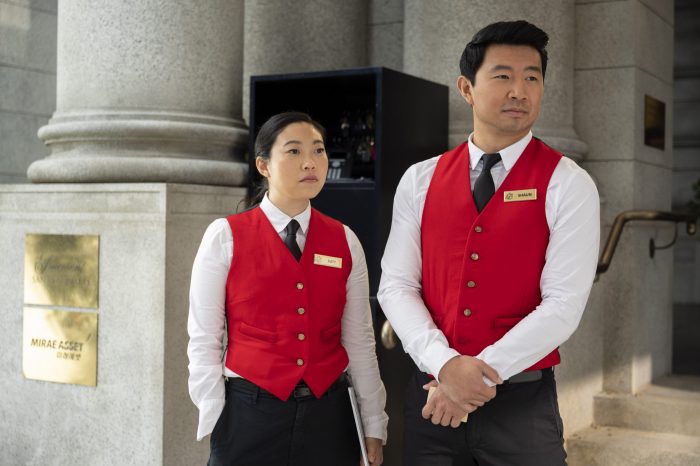 In case you missed it, here's the trailer for Shang-Chi and the Legend of the Ten Rings:
Shang-Chi and the Legend of the Ten Rings opens in theaters on Friday, September 3rd.
Questions?  Comments?  Suggestions?  Drop us a line below.
Be sure to follow @allearsnet on Facebook, Instagram and Twitter!
Check out our YouTube Channel for reviews, news, information and more!
Click below to subscribe to the AllEars® newsletter so you don't miss any of the latest Disney news!