Enjoy high-speed thrills and want to go on the fastest rides you can? Walt Disney World offers many awesome thrill rides at each of its four parks. But do you know which ones are the fastest (in ride speed, not lines unfortunately)?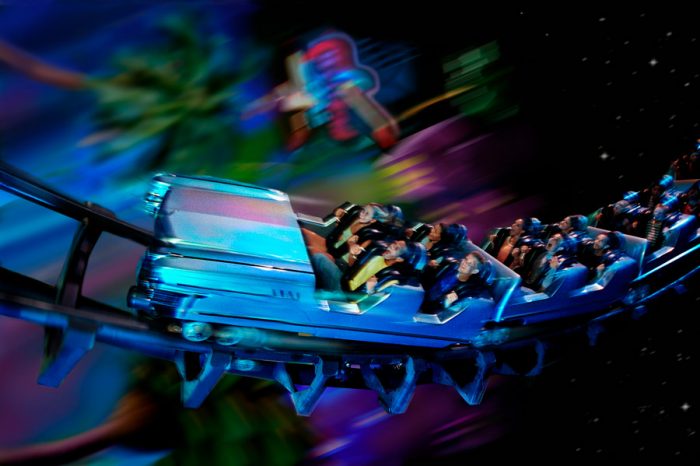 Today, we're going to explore the different parks – from Magic Kingdom to Animal Kingdom – and find out for ourselves which rides reach the top speeds.
Let's see which ride is the fastest for its park!
Magic Kingdom – Splash Mountain (40MPH)
At first glance, there would seem to be a few different contenders for fast rides among Magic Kingdom's small number of thrill rides. Space Mountain reaches 28 miles per hour, while Big Thunder Mountain Railroad breaks 36 mph. However, neither of these roller coasters are as fast as the third mountain at Magic Kingdom: Splash Mountain in Frontierland at 40 mph. This is somewhat of a surprise, since for the most part Splash Mountain is a sedate dark ride. The log boats just calmly float along as guests watch Brer Rabbit outwit Brer Bear and Brer Fox.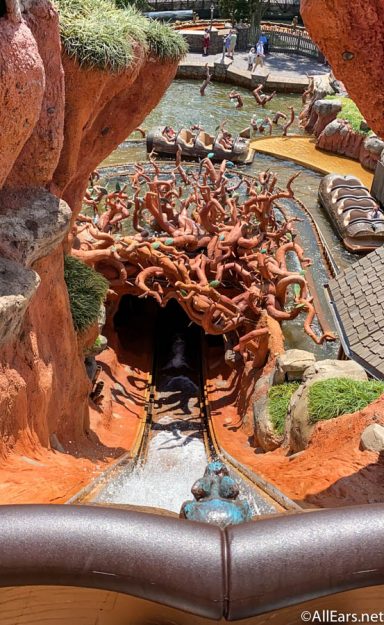 However, there is one point in Splash Mountain that justifies Splash Mountain holding top place for fastest ride at the park. At the climax of the ride, when Brer Fox captures Brer Rabbit, you slowly climb up the mountain…before following Brer Rabbit in a high-speed plummet down into the briar patch (and water) below. This sudden drop reaches the speed of 40 miles per hour, making it by far the fastest ride at Magic Kingdom. Other rides like Big Thunder Mountain Railroad may have you going fast for a longer period of time, but when the pace picks up at Splash Mountain, you're in for a thrill.
EPCOT – Test Track (65MPH)
EPCOT isn't particularly known for a prominence of thrill rides, but its current winner for fastest ride certainly picks up the pace, holding a top speed of 65 mph. Test Track puts riders in the hot seat as they take a literal crash course in testing out the design of a new car. You go through a wide range of tests, from braking to sudden turns to weather conditions. Things really kick off for the finale. Your car picks up speed as you burst out of the building and onto a coaster-like track outside. These final, exhilarating turns reach 0.6 g-force, making it an amazing thrill ride. Afterward, you can see how your virtual design choices affected your car's performance.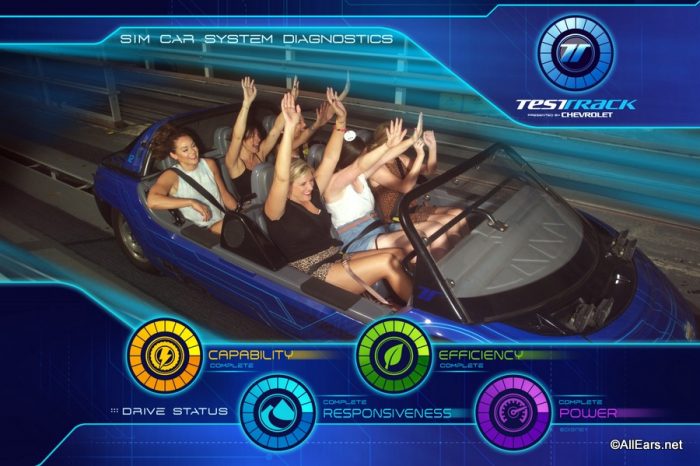 With its 65 mph record, Test Track is certainly the fastest ride at EPCOT – and the fastest across Disney World as a whole. The only close contender in the park is Mission: SPACE, but it only has a top speed of 35 mph. But how long will Test Track stay on top? Disney's latest roller coaster experience for EPCOT – Guardians of the Galaxy: Cosmic Rewind, is one of the longest enclosed roller coasters in the world. It's an intense, out-of-this-world thrill ride, but it doesn't surpass the speed of Test Track.
Hollywood Studios – Rock 'n' Roller Coaster Starring Aerosmith (57MPH)
Of the four parks, Hollywood Studios has the most thrill rides, with over a half-dozen different thrill rides. Recent additions like Toy Story Land and Star Wars: Galaxy's Edge have brought in lots of exciting attractions like Smuggler's Run and Slinky Dog Dash. And we can't forget the classic plummet at the Tower of Terror. However, the fastest ride at Hollywood Studios remains the Rock 'n' Roller Coaster Starring Aerosmith. The ride beats out Tower of Terror's 39 mph speed with a maximum speed of 57 mph.
Rock 'n' Roller Coaster hits riders with a deafening combo of intense rock-and-roll music and intense speeds. The ride starts off with a bang as your limo car launches off at a breakneck pace, reaching its top speed of 57 miles per hour in just 2.8 seconds. And the crazy adventure is just getting started. Before you make it to the end, you'll zip through sharp turns and loops – including two rollover loop-de-loops and a corkscrew. All the while, the attraction's state-of-the-art stereo system blasts you with classic rock tunes from Aerosmith, like "Back in the Saddle" and "Sweet Emotion."
Animal Kingdom – Expedition Everest (50MPH)
With its nature theme, Animal Kingdom has few thrill rides. However, Expedition Everest, the fastest ride in Animal Kingdom – is well worth it for thrill-seekers. Located in Asia, this ride reaches 50 mph. Until 2019, it held the record as the most expensive roller coaster worldwide, and it's one of the best attractions at the park. You start out on a peaceful train ride up into the Himalaya Mountains. However, things take an unexpected turn as the track leads to a dead end. Watch out for a fearsome yeti haunting the local caves, too.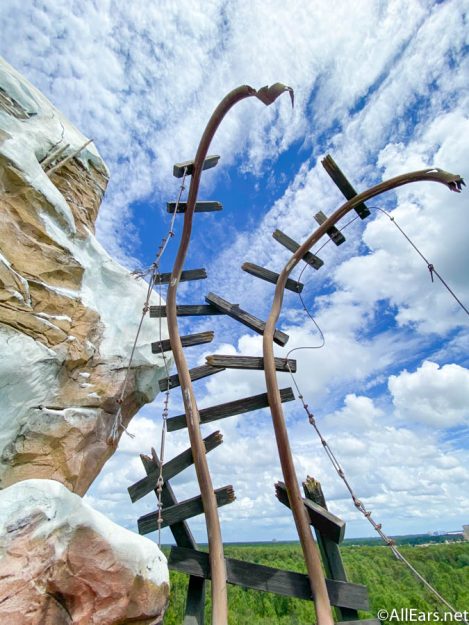 What's really cool about Expedition Everest is that the ride gives you the sensation of being on board a rickety old train track. That makes the high-speed turns all the more thrilling. Keep in mind that this is Disney's tallest roller coaster – not just as Animal Kingdom or Disney World, but across all the Disney parks. So when the train cars start to plummet backward down the mountain, hang on tight; you're in for a wild ride. Though Expedition Everest may not be the fastest ride at Disney World – Test Track has that honor; it does stand out as the tallest of Disney's mountains, making it a must-see ride for Disney and thrill ride fans.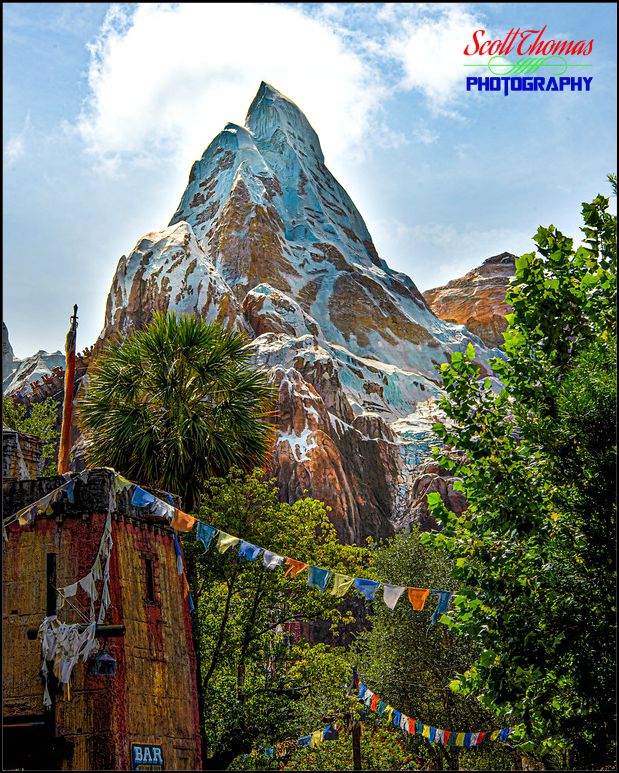 There you have it: the fastest ride for each park at Walt Disney World. But while the rides listed above have the top speeds, there are plenty of other exciting thrill rides to enjoy there, too. So if you want some high-speed thrills, make sure you visit the Disney parks.
Which thrill ride at Disney World is your favorite? You can share your top thrill rides in the comments.
Join the AllEars.net Newsletter to stay on top of ALL the breaking Disney News! You'll also get access to AllEars tips, reviews, trivia, and MORE! Click here to Subscribe!