WARNING: This article contains spoilers from the newest episode of WandaVision 
"It's not that kind of show." The latest episode of WandaVision was definitely an emotional roller coaster as we continue to learn more about Wanda, Vision, Agatha, the Hex, S.W.O.R.D.'s true motives…and much more!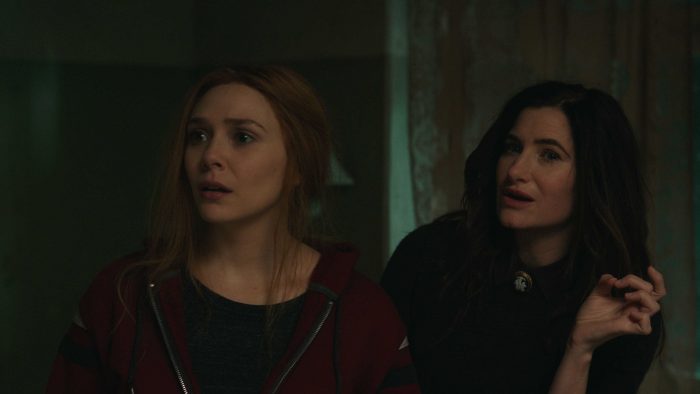 The eight episode (the longest thus far in the series) covered a LOT of ground, so there may have been a few important details you missed!
The Purple Marvel logo
The opening for this week's episode was very different than what we've seen in weeks past! After the opening Marvel sequence, the logo changed from red to purple, signaling that we were going to watch a good old Agatha Harkness backstory!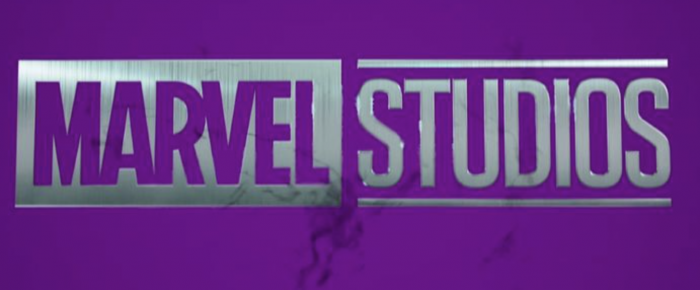 Connecting the dots
One of the biggest questions viewers had after the first few episodes of WandaVision was the seemingly random and bizarre choice to be so stylized like old sitcoms of the 1950's and 1960's.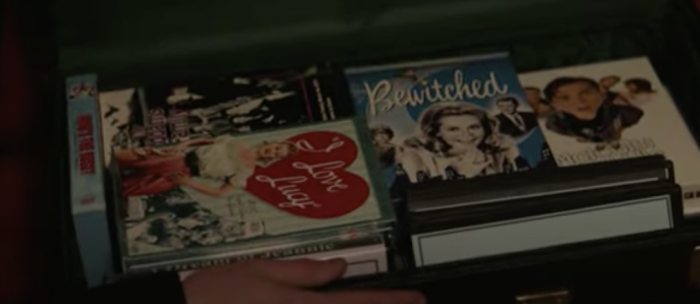 We learned this week that it was all inspired by Wanda's childhood, as she watched shows like The Dick Van Dyke Show, I Love Lucy, and Bewitched so her family could practice their English.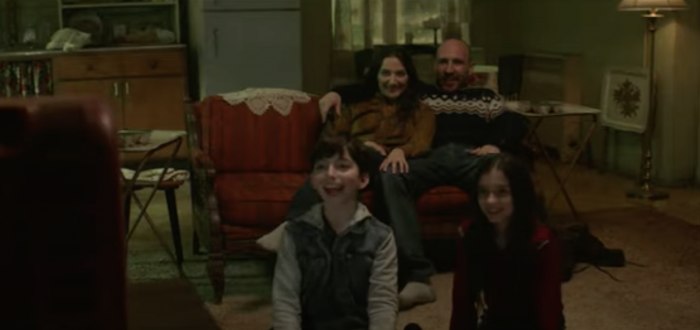 The source of Wanda's powers may have been retconned
When the Stark bomb landed over Wanda's apartment, a major reveal took place that seemed to go against everything we thought we knew about Wanda Maximoff. We learned that the young Wanda (before she was taken into Hydra custody) already had superpowers! If this is truly the case, then Wanda might be the first Mutant of the Marvel Cinematic Universe (the first superhero we know of to have been born with powers, rather than learn or gain them later in life).
So what happened during the Hydra experiments?
If Wanda was born with superpowers, then why did we spend so much time thinking she gained her powers during the Hydra experiments? As it turns out, Wanda's existing powers may have been strongly amplified through the Mind Stone, which was located within Loki's Scepter. If you blinked, you may have missed a Scarlet Witch silhouette that Wanda (and we) could see in that scene.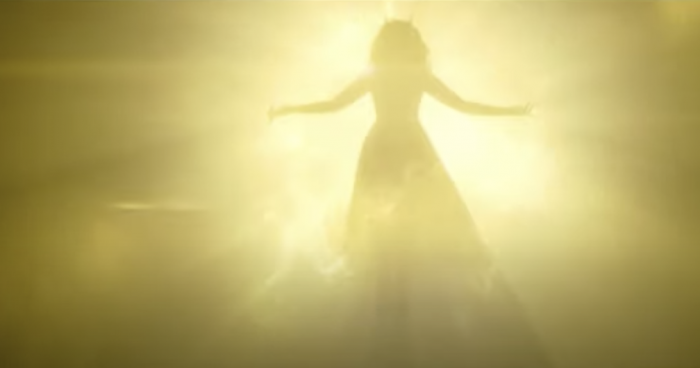 Wanda didn't actually steal Vision's body.
Another major reveal in this latest episode was that Wanda did not, in fact, steal Vision's body from S.W.O.R.D., as Hayward led us to believe in prior episodes. It turns out that the Vision we've watched inside the Hex was a "projection" of sorts created out of Wanda's grief (seriously, who else had a room full of cut up onions when we saw the deed to that house?). The exact identity and makeup of the Vision inside the Hex is still a bit of a mystery, but we at least know now what it's not!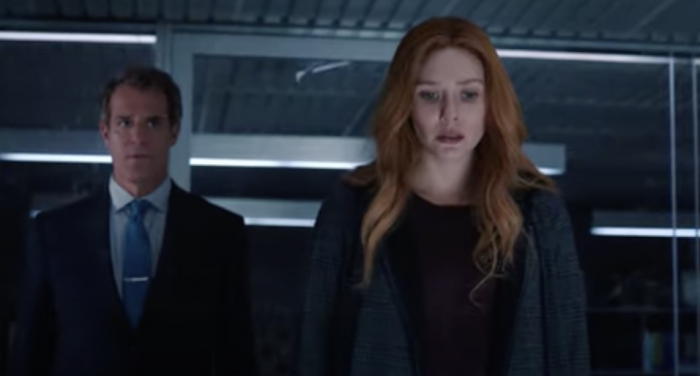 Grab your tissues.
There's no doubt that Marvel tugged at our heartstrings HARD in the eight episode of WandaVision. For those who remember Infinity War, Vision said to Wanda "I just feel you." In this latest episode as Wanda is visiting Vision's body, she mirrors that statement by saying "I can't feel you." It's okay, we'll let you pause here so you can grab a tissue.
What is S.W.O.R.D tracking, exactly?
If the Vision inside the Hex is an entity created by Wanda, and S.W.O.R.D. was in possession of Vision's body all along, then what were they tracking all this time from the outside? After all, Hayward mentioned that they were in possession of $3 billion worth of vibranium, so what could they have been using as a means of tracking Vision if they weren't tracking vibranium…that is, if they were even tracking Vision in the first place? It seems like S.W.O.R.D. may know more about Wanda's Hex and what it could contain than they led us to believe.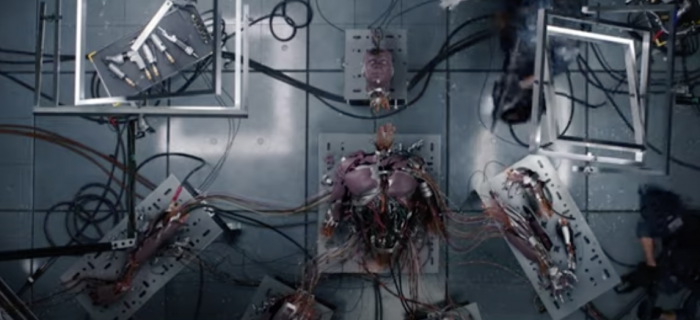 Westview store sign emphasizes "TV"
One of the interesting parts of the episode was that we got to see the real Westview, New Jersey before Wanda created her Hex. As Wanda drove around the town, you may have recognized some of the inhabitants! If you took a closer look at the signs around town, one of them emphasized "TV," alluding to the sitcom style of Wanda's imagination.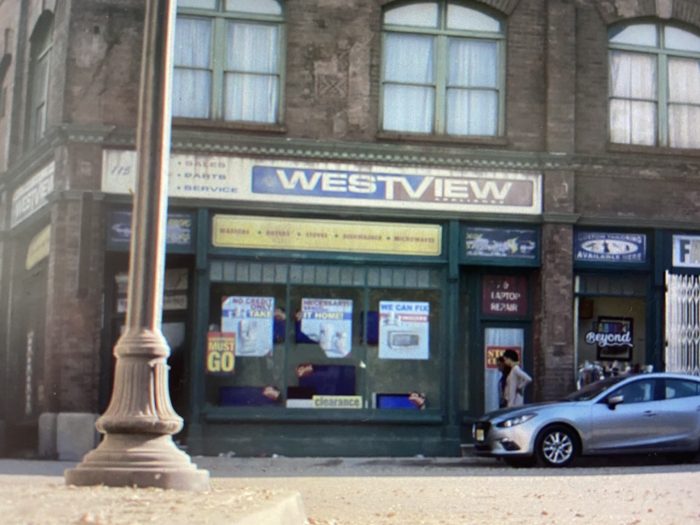 Wanda's alias is revealed for the first time.
While Marvel fans have long known about Wanda's superhero identity to be Scarlet Witch, she was never referred to as such in the Marvel Cinematic Universe…until now! At the end of the episode, Agatha points out that Wanda's Hex is a creation thanks to "Chaos magic," and that makes Wanda the "Scarlet Witch."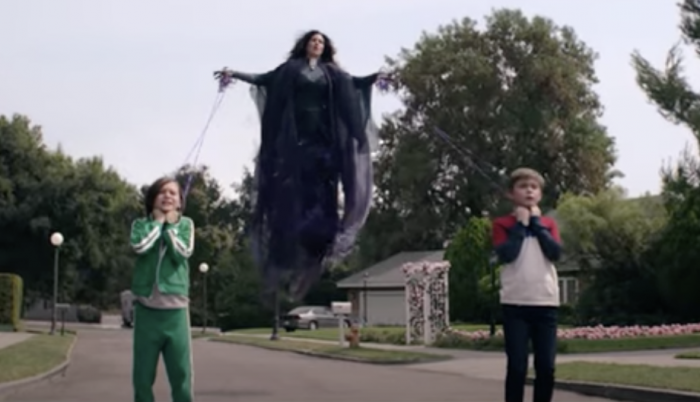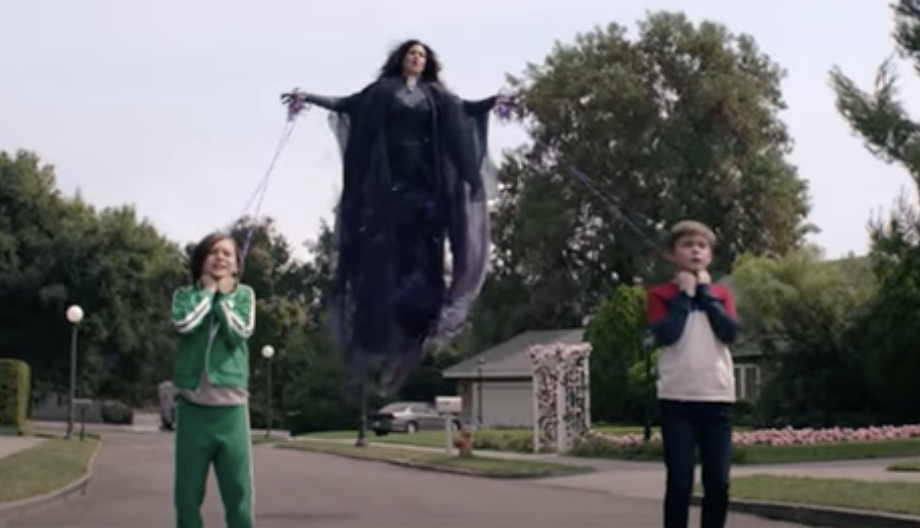 We didn't get a commercial break!
If you were a fan of those commercial breaks that took place in the middle of the episode, you may have been disappointed to see that there wasn't one to be found in this latest installment. Keep in mind that for the vast majority of the episode, we weren't watching events unfold inside Wanda's show. So, a commercial wouldn't really make sense!
We got another mid-credit scene!
This may have been the first episode without a "commercial," but it was also the second week in a row where we were gifted with a mid-credit scene (by the way…how's Monica doing?) We saw S.W.O.R.D. preparing to send White Vision into the hex. Who, or what, exactly is White Vision? It definitely doesn't look like the Vision we've come to know and love!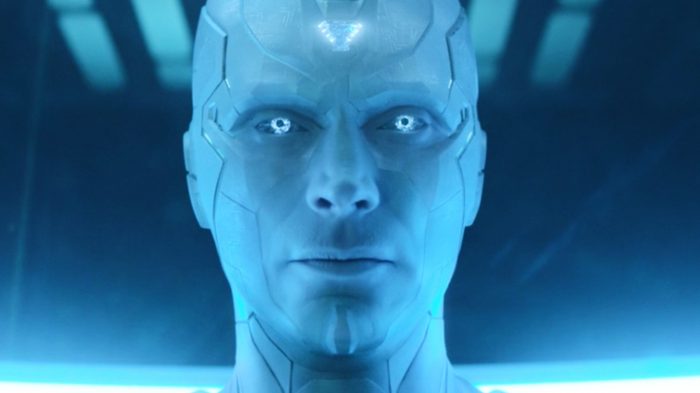 What big questions do you still have after watching the latest episode of WandaVision? Leave them in the comments below!
Join the AllEars.net Newsletter to stay on top of ALL the breaking Disney News! You'll also get access to AllEars tips, reviews, trivia, and MORE! Click here to Subscribe!