We're back with another round of Disney World menu updates, including a NEW spot in Disney Springs and New Year specials!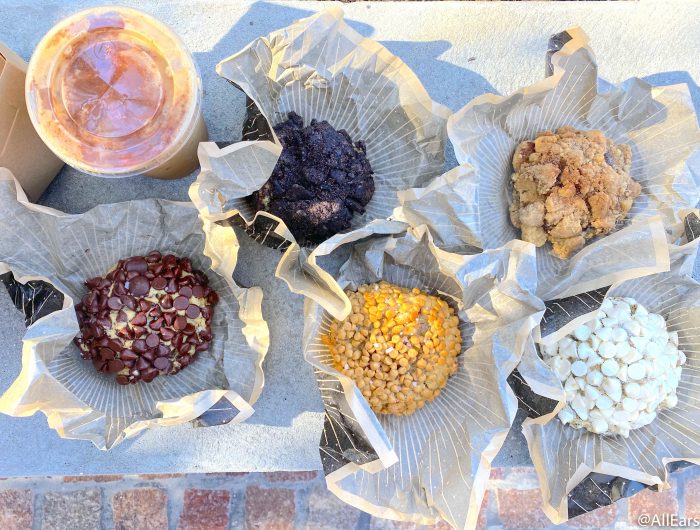 Check out all of the latest Disney menu updates here!
Menu Updates 12/27/2020
Magic Kingdom
Egg Roll Wagon
ADDED! Egg Roll Combo (pepperoni and cheeseburger currently)
Disney's Hollywood Studios
Ronto Roasters
Hollywood Brown Derby
REMOVED! Desserts: Chocolate Mousse and Mango-Passion Fruit Mousse
ADDED! Desserts: Peppermint Flourless Chocolate Cake and Eggnog Crème Brulee
Sci-Fi Dine-In
REMOVED! Appetizer: Shrimp and Crab Fondue
ADDED! Appetizer: Smoked Seafood Dip
ADDED! Seasonal Hard Cider
Hollywood Scoops
ADDED! Hot Cocoa Sea Salt Caramel Bread Pudding
EPCOT
Sunshine Seasons
 ADDED! New Years Cupcake (New Years Eve only)
Tokyo Dining
Open December 26th to January 4th, 2021
ADDED! Sushi: Bluefin Tuna, Seared Salmon
RE-ADDED! Shrimp Tempura Roll
Pizza al Taglio
Disney's Animal Kingdom
Joffrey's at Entrance
Trilo-Bites
Nomad Lounge
ADDED! Desserts: Holiday Trio, Cupcake Trio and Nomad Peppermint Chocolate Bark
Flame Tree Barbecue
ADDED! New Year's Eve Cupcake
Restaurantosaurus
ADDED! New Year's Eve Cupcake
Disney Springs
Gideon's Bakehouse
Raglan Road
Lunch:
ADDED! Appetizers: Dalkey Duo
REMOVED! Soups/Salads: Soup and Salad Combo, Go(at) Fig(ure)
REMOVED! Entrees: Pork Hash Tagged, The Anglo Irish, Hipsters Lament, Rack O' Ribs, Nut Burger City Limits
REMOVED! Sandwiches: Lobster Club, Boaring Burger, Join Our Club Sandwich, Worth the Wait Beef Sandwich
ADDED! Appetizers: Rack of Heaven, Whiskey BBQ Lollipop Chicken, Kiss Before Shrimp
ADDED! Gnocchi Sea Gnocchi Do, Braised Be Beef, Chicken Each Way, Serious Steak, Let there be no Rush Pork, Raglan Risotto, Drunk Mussels
Dinner:
REMOVED! Our Grand Roasted Chicken
Drunk Mussels changed from appetizer to entrée
ADDED! Entrée: Chicken Each Way
Sprinkles
ADDED! Kir Royale Cupcake (Available until January 3rd, 2021)
Enzo's Hideaway
REMOVED! Entrees: Branzino, Roasted Chicken Saltimbocca, Penne Trapanesi
ADDED! Entrees: Linguine Alle Vongole, Lemon-Oregano Roast Chicken and Pasta Della Nonna
Maria & Enzos
REMOVED! Entrees: Polpettine, Aragosta Fra Maria
ADDED! Appetizer: Roasted Chicken Soup
ADDED! Entrée: Costine de Manzo and Salmone Alla Griglia
Disney World Resort Hotels
Boardwalk Bakery
ADDED! Spinach & Feta Mickey Breakfast Frittata and Sausage & Cheddar Mickey Breakfast Frittata
ADDED! New Years 2021 cupcake
Good's To Go
Breakfast:
REMOVED! Ham & Cheese
ADDED! Harvest Breakfast Sandwich (plant-based) and Mickey-shaped Waffle
REMOVED! Kids entrees: Cereal with Milk
ADDED! Kids Egg Scramble (plant-based) and Mickey-shaped Waffle
ADDED! Side of Grits
Lunch/Dinner:
ADDED! Pesto Chicken Sandwich
Trattoria al Forno
Breakfast:
ADDED! Holiday Specials: Gingerbread French Toast and Mickey's Eggs-in-a-Basket
Dinner:
ADDED! Holiday Specials: Arancini, Oak Grilled Char-Crusted New York Strip, Veal Osso Bucco, Caper Butter Shrimp enhancement, Butter-poached Lobster Tail enhancement, Zuppa Inglese
Olivia's Café
Lunch:
REMOVED! Duval Burger and Seven Mile Sea Scallops
ADDED! Bacon Cheeseburger
Dinner:
REMOVED! Duval Burger, Grilled New York Strip, Conch Flats Club Sandwich, and Seven Mile Sea Scallops
ADDED! Bacon Cheeseburger
Wave Lounge
ADDED! Holiday Cocktails: The Chocolate Strawberry, Toast to the New Year and A Spicy Year
We update our Disney World menus very frequently, but if you're looking for the most recent changes there's an easy way to do just that. Click on "Click here to view recent changes" under the Last Updated date on the menu page and there you'll find the latest changes made to the page.
And don't forget, you can always read what others think of these Disney restaurants, or leave your own reviews in our Rate and Review section here.