If you've dreamt of visiting the Wizarding World of Harry Potter at Universal Orlando, chances are you've saved up some knuts and sickles to grab a magical take-home or two.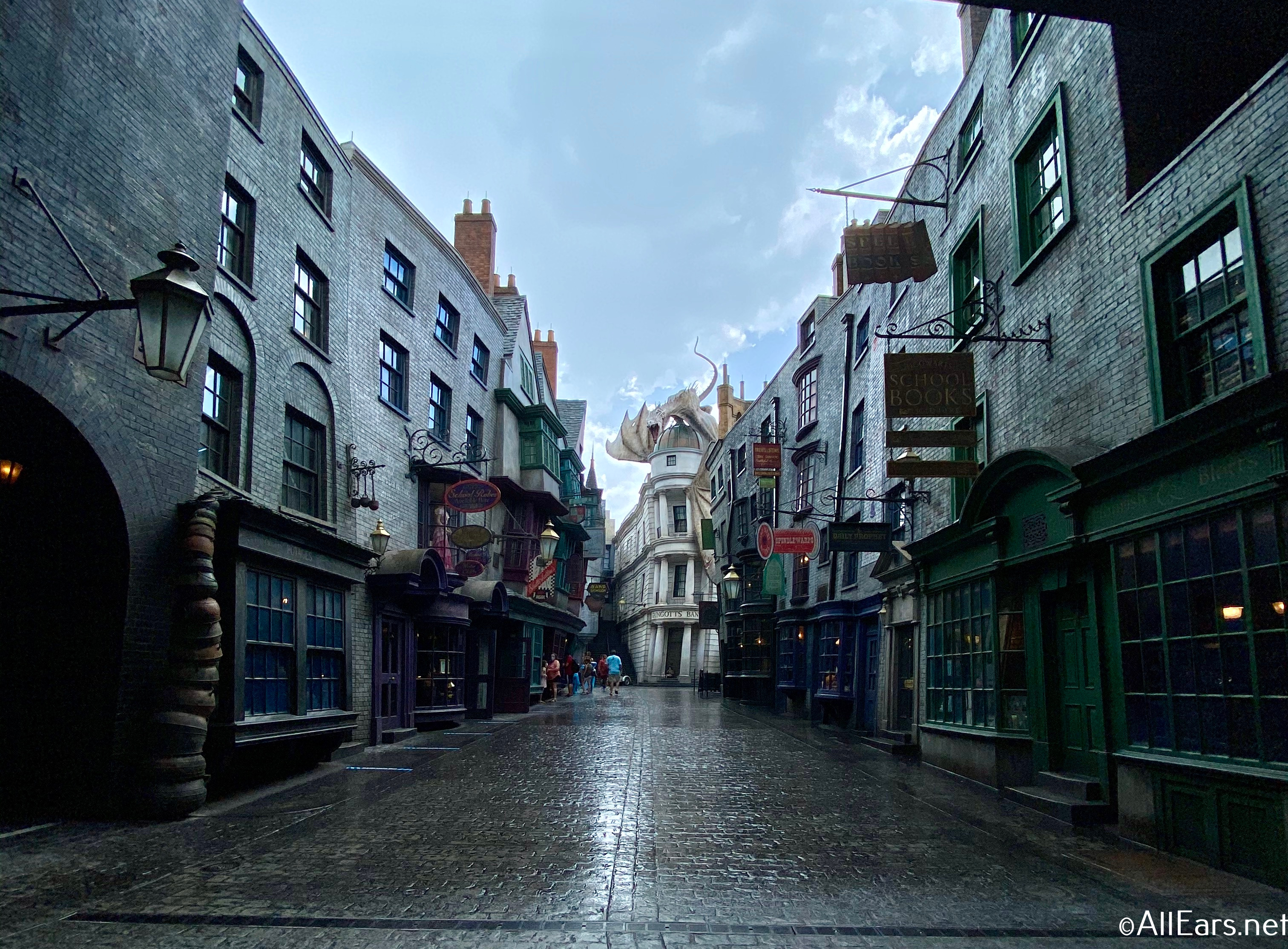 But what to choose?! As you peruse the shelves of Weasley's Wizard Wheezes, Quality Quidditch Supplies, and Honeydukes sweet shop, you'll be overwhelmed by the amount of Wizarding goodies you can find!
While you really can't go wrong, we've compiled a scroll of our favorites. From iconic take-homes to unique treasures, here are some of our picks to spend your Gringotts savings on!
Our Favorite Wizarding World of Harry Potter Merchandise
Interactive Wand
Getting a wand is a wizard rite of passage and the most iconic buy at the Wizarding World. Grab a wand at Ollivander's (or one of the carts), and make some magic around Hogsmeade or Diagon Alley!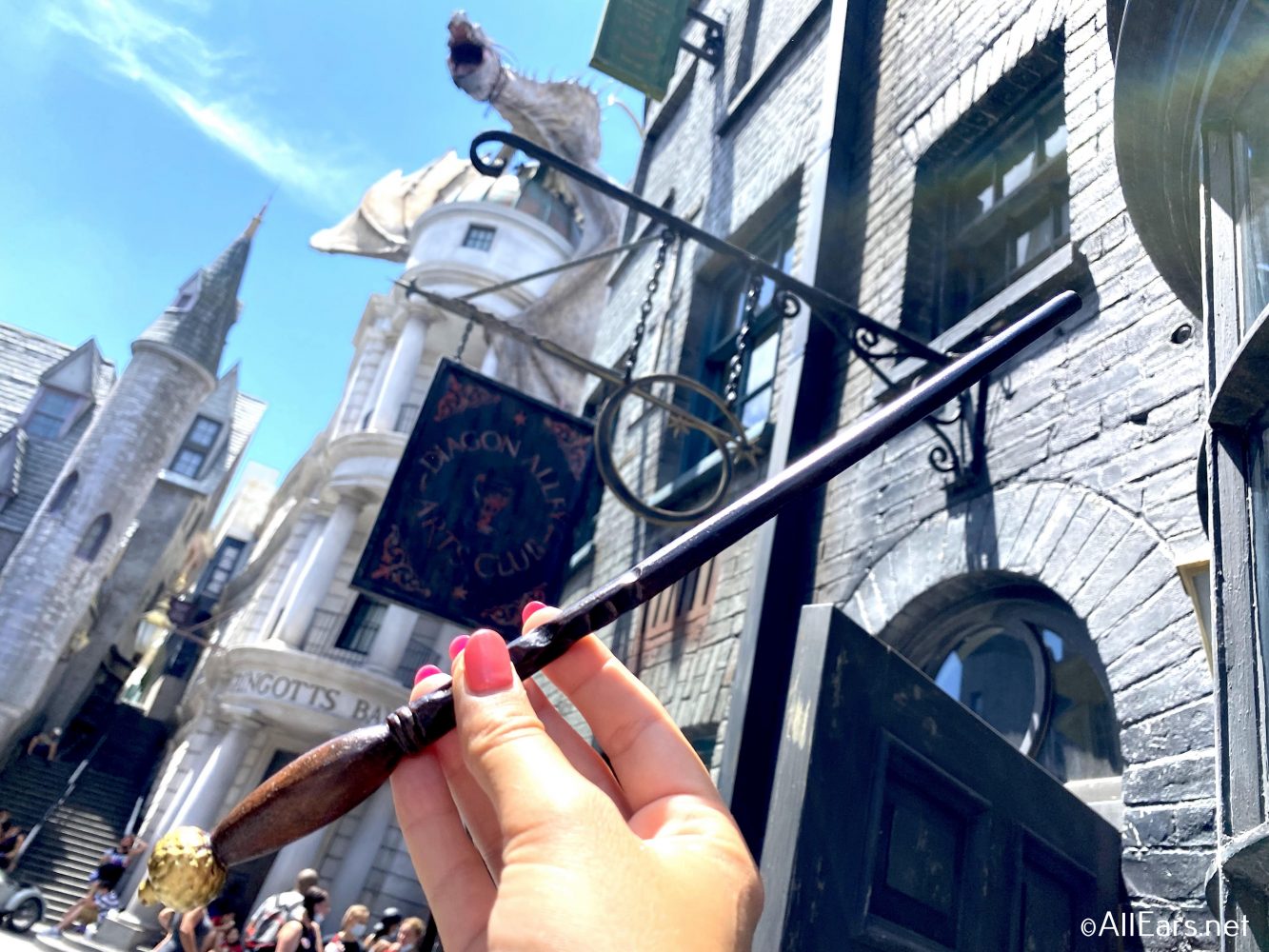 Interactive wands can be Ollivander's originals or replicas of famous wizards and witches, such as Harry, Ron, Hermione, Dumbledore, Voldemort, and more.
You can even do a special wand experience where a Wand Keeper helps the right wand choose you, like in Sorcerer's Stone!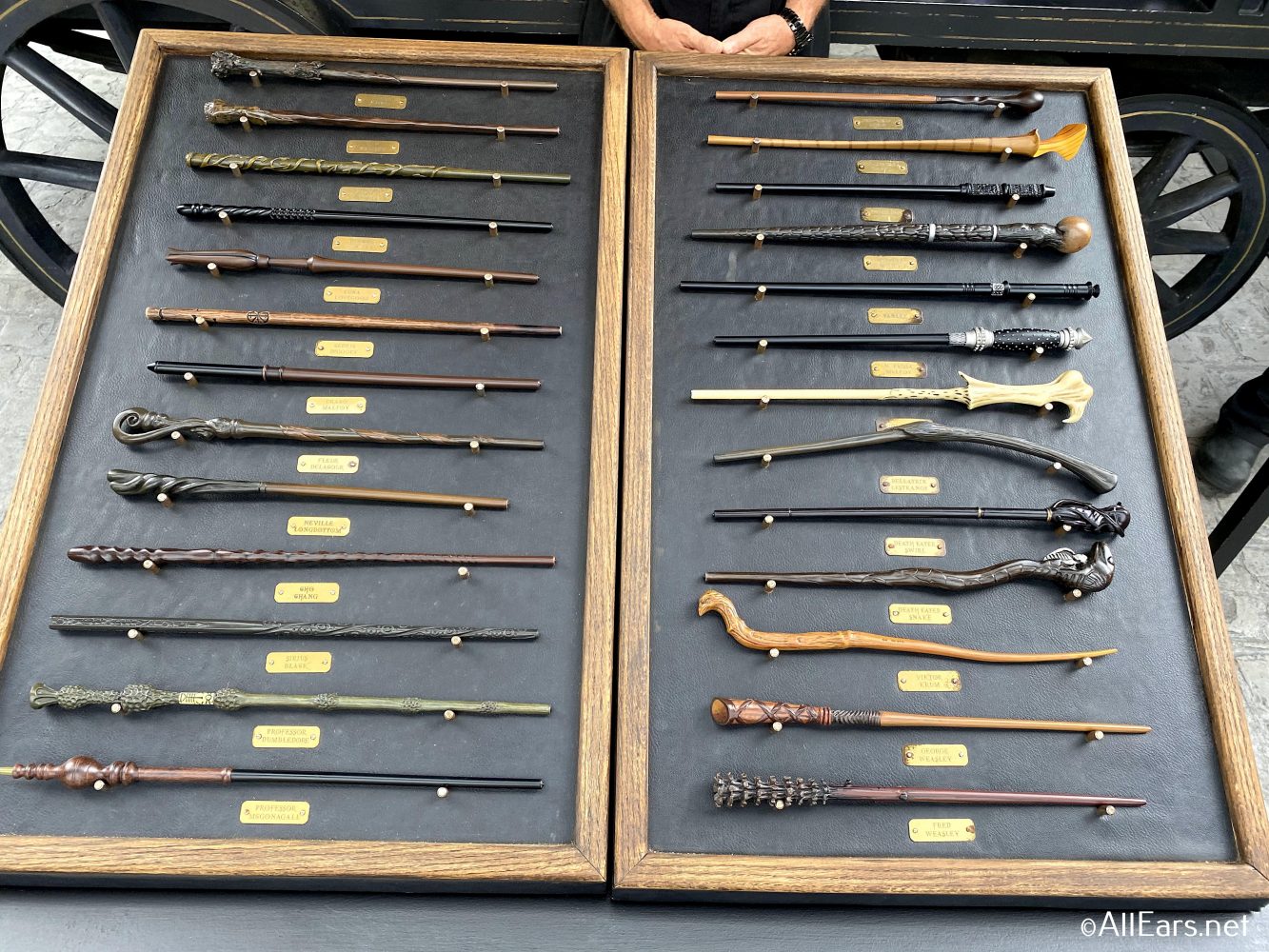 No matter what you choose, an interactive wand will set you back $55 muggle dollars.
Robes
If you want to FULLY COMMIT to the wizard role, then you gotta pick up some robes! Grab them at Madame Malkin's in Diagon Alley or Flourish and Blotts in Hogsmeade (or the big Universal stores at the front of both parks and CityWalk).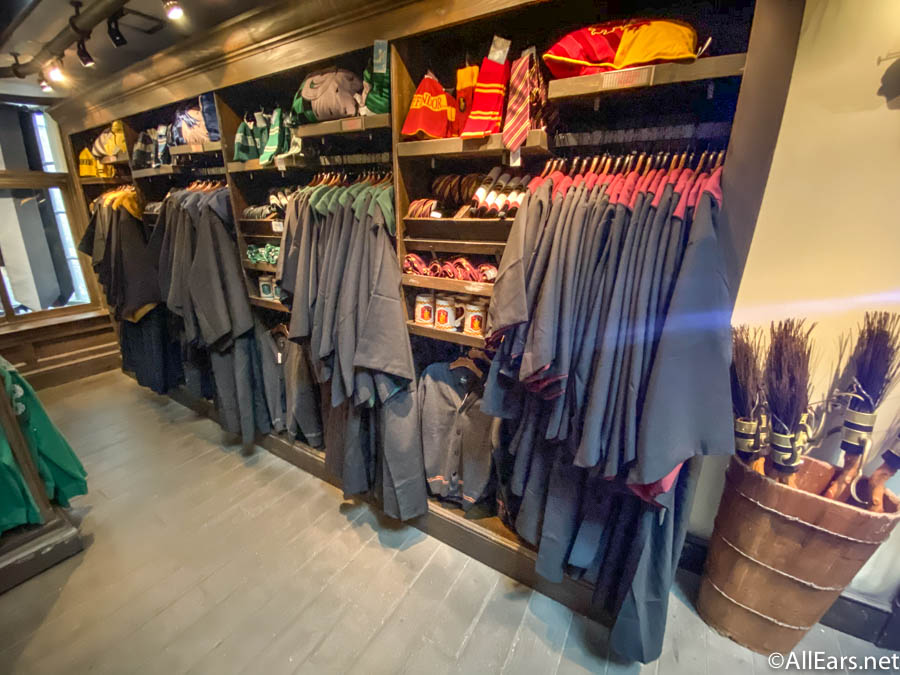 Robes come in a variety of sizes, and they're available for each of four Hogwarts Houses — Slytherin, Ravenclaw, Hufflepuff, and Gryffindor. They'll set you back $125, but, hey, you'll look great at the Halloween feast.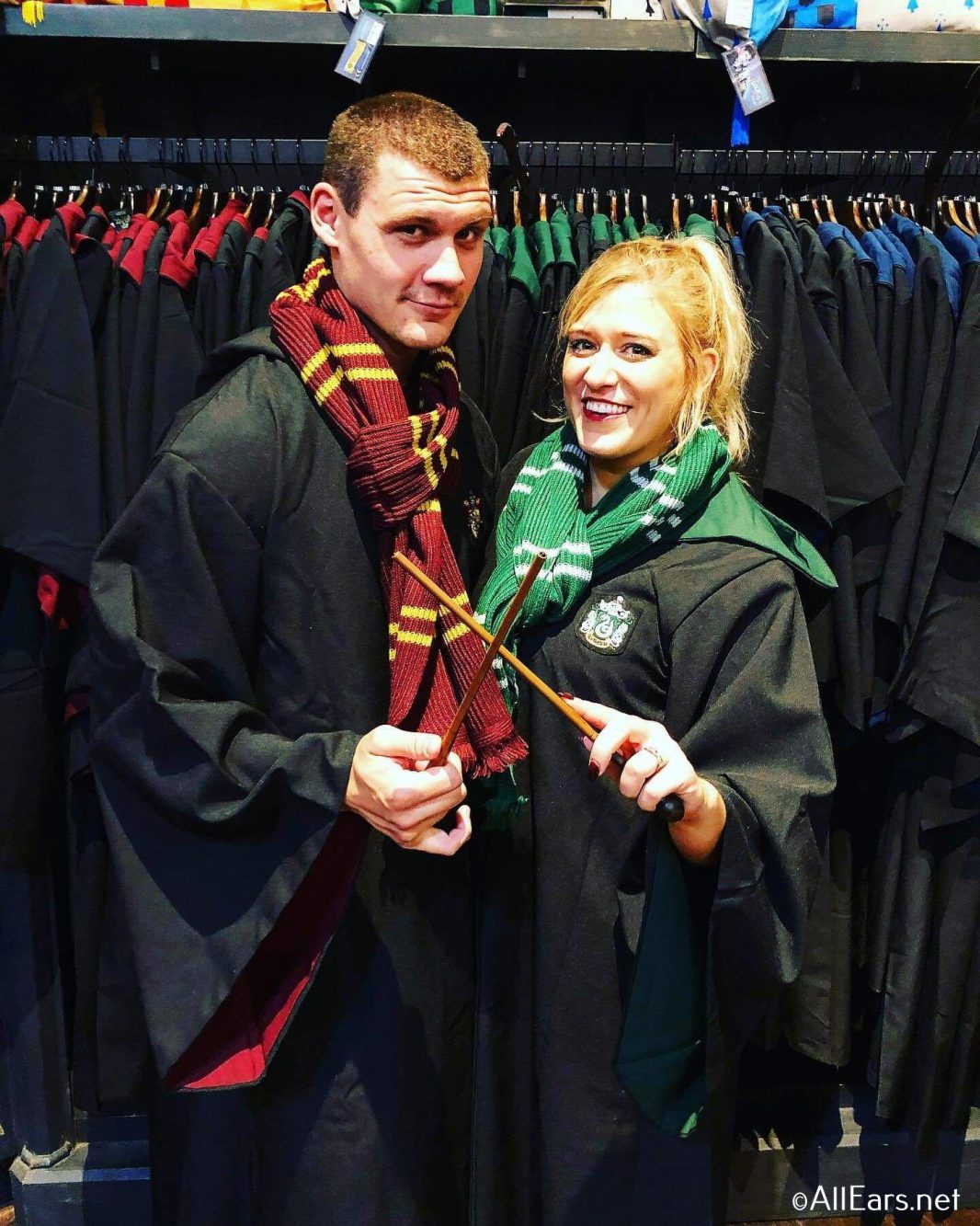 A Furry Friend from Magical Menagerie
Looking for something a little more…snuggly? Then head to the Magical Menagerie!
There are all kinds of plush magical critters to take home — from owls to phoenixes, and Fang to Fluffy. You can also grab a brightly colored pygmy puff, and ask a Wizard to help you name it!
Spellbook Notebooks
How cool are these?! We stumbled across these notebooks at Dervish and Banges in Hogsmeade, but you might also find them at the large Universal Stores and  Wiseacre's Wizarding Equipment in Diagon Alley.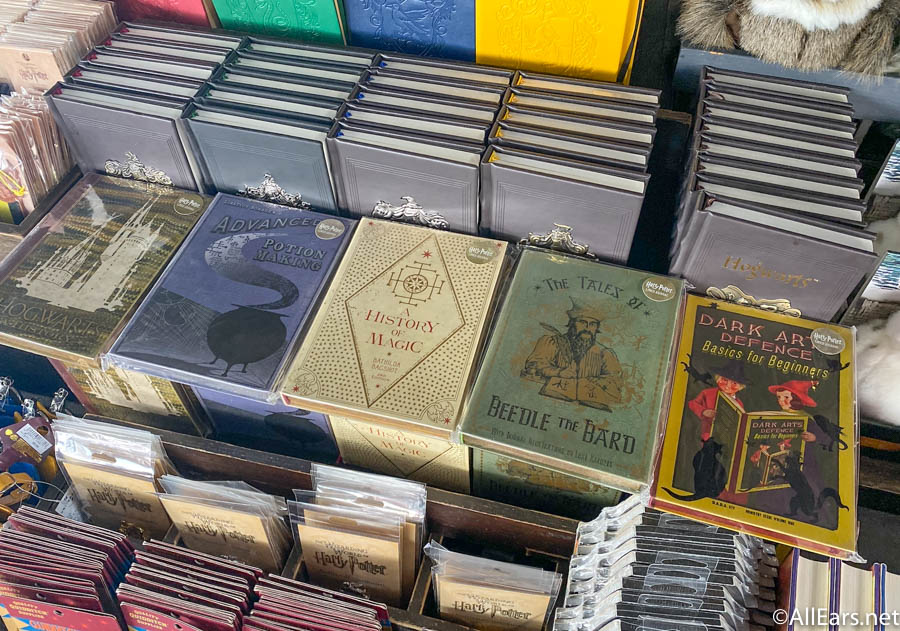 Each of the notebooks ($25) has an iconic book from the Harry Potter series (no, not Harry Potter). Choose from Advanced Potion Making (the spellbook once owned by the Half-Blood Prince), Hogwarts: A History, Dark Arts Defense: Basics for Beginners (the spellbook Umbridge assigns in Book 5), The Tales of Beedle the Bard, and A History of Magic by Bathilda Bagshot.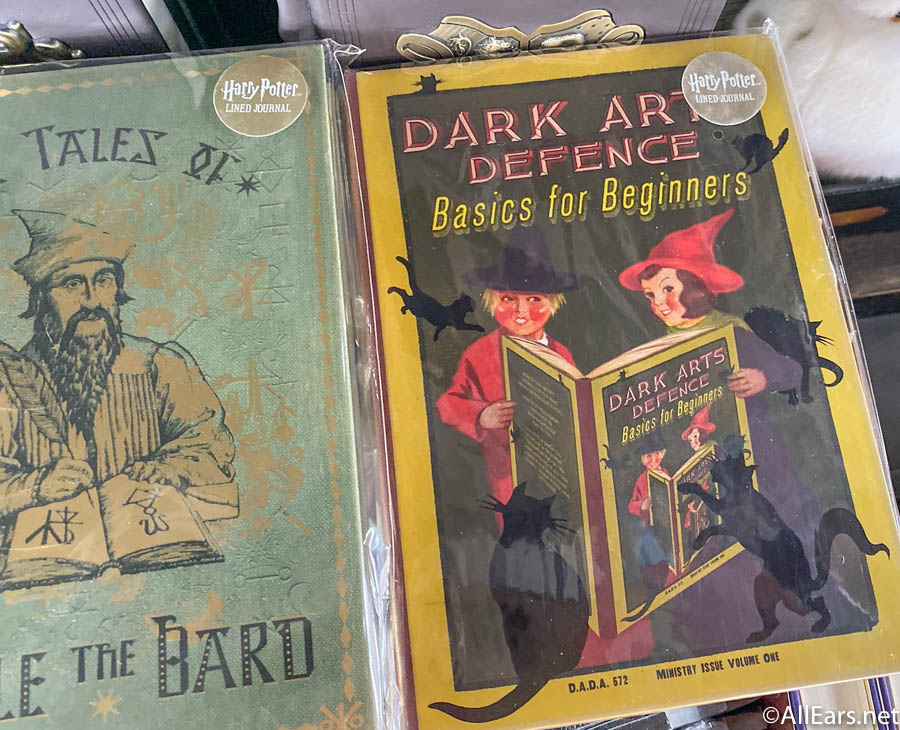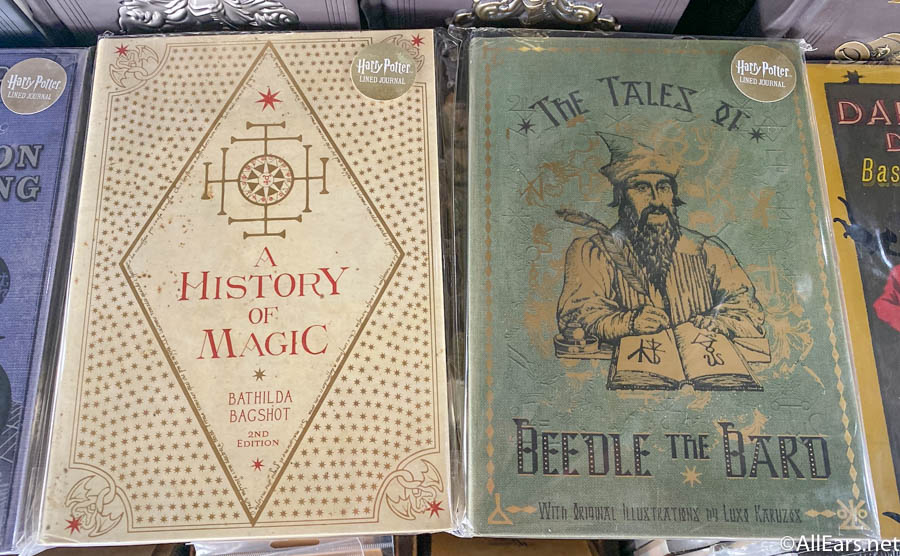 Personalized Quidditch Jersey
There are tons of cool apparel options in the Wizarding World, but why not snag one with YOUR name on it!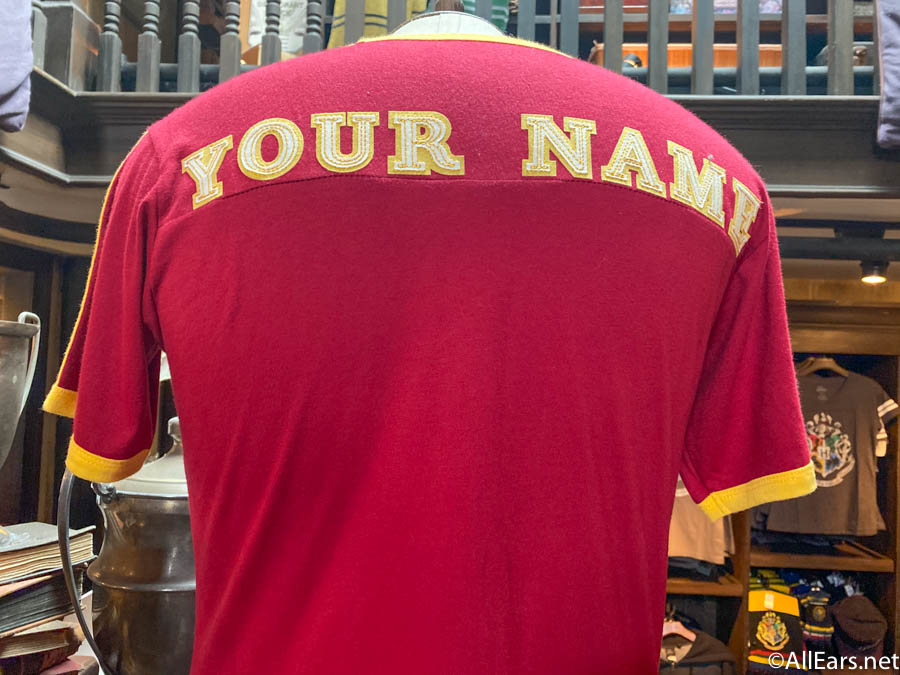 Grab one of these in your Hogwarts house colors, and have your name embroidered on the back — jersey style. Up to 11 letters fit on the back, and the personalization is $20 on top of the shirt ($40).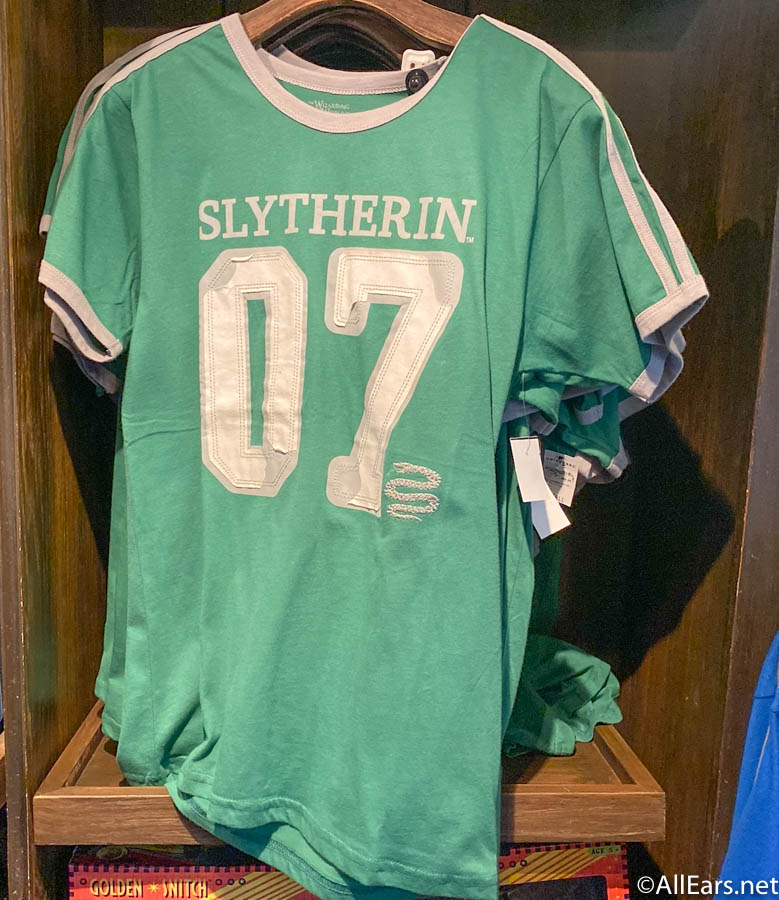 Oh, and if you're wondering why they all have 07 on them — that's the seeker's number!
Howler
This is one of our favorite finds at the Owl Post! Send someone your very own HOWLER, when you record your own message!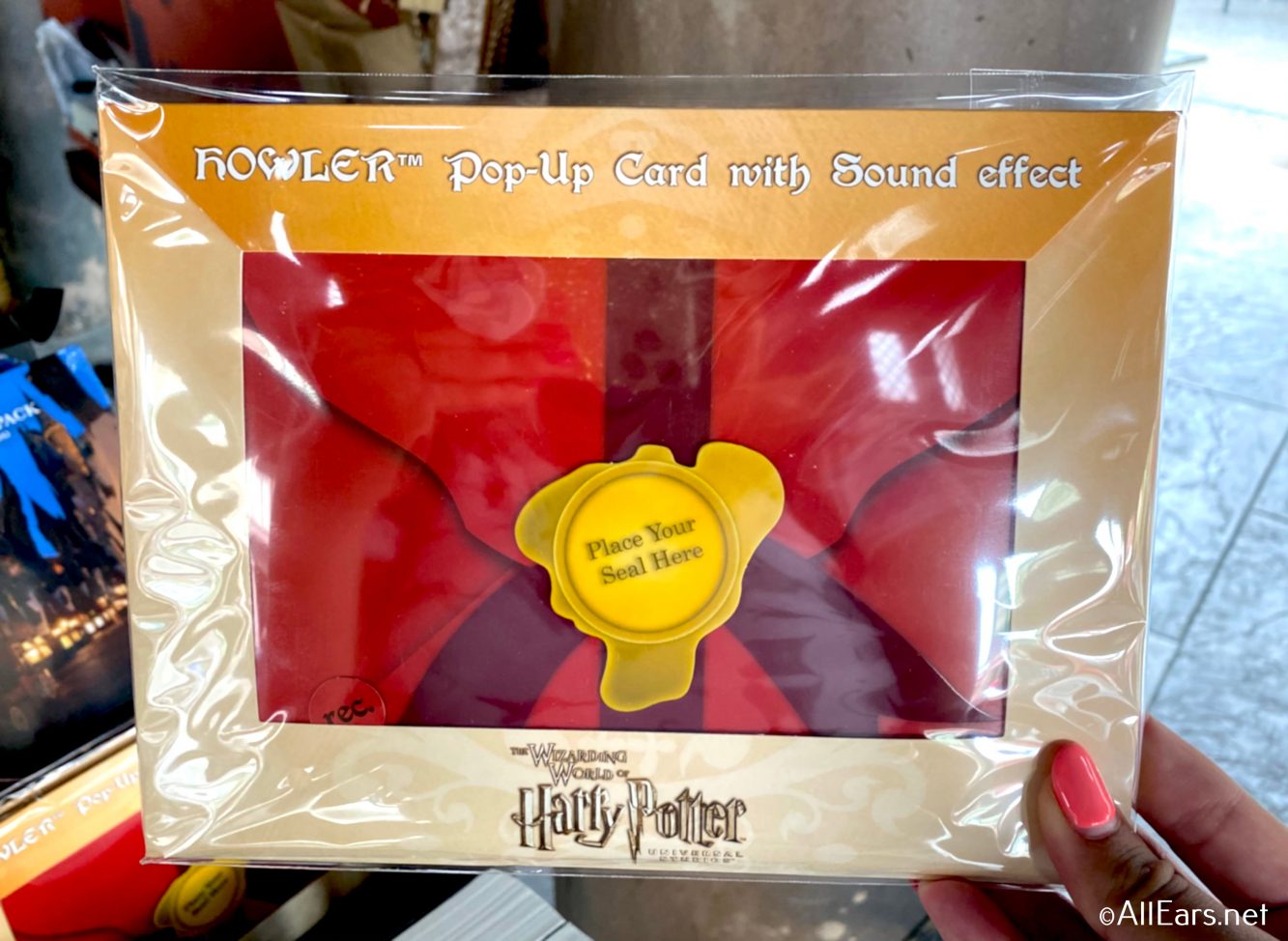 What a fun way to tell someone Happy Birthday! Or yell at them if they forget to take the trash out. Whatever works.
The Howler kit can be yours for $18.95.
Honeydukes Collectable Sweets
A trip to the Wizarding World isn't complete without a bunch of treats! And Honeydukes gets the House Cup when it comes to sweets.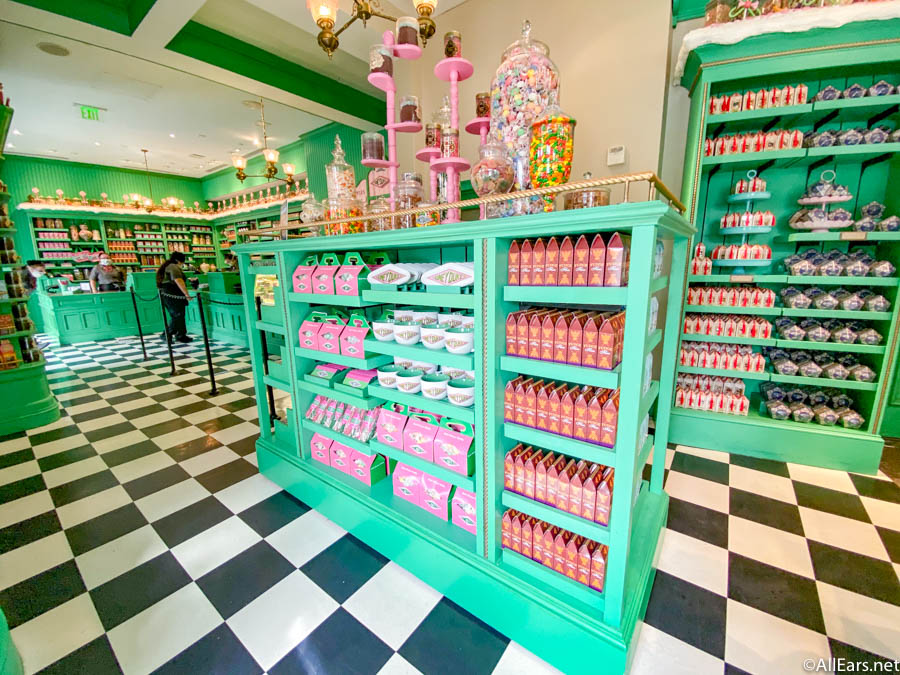 There are tons of tasty Wizard snacks to try, and what's better than a treat AND a take home?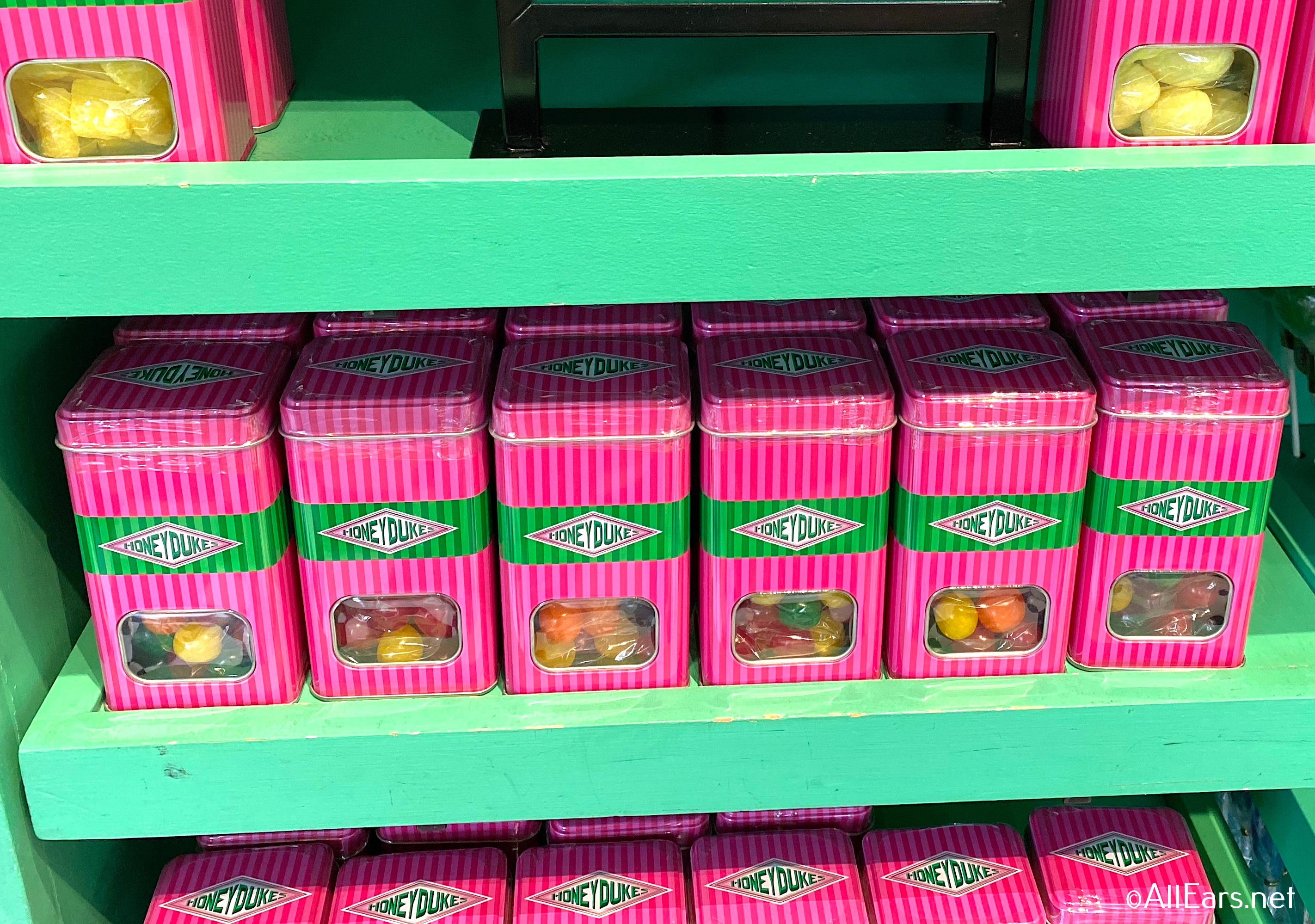 Several of the goodies, such as Sherbert Lemons, can come in souvenir tins — or in the case of Chocolate Frogs, they come with collectable cards just like the books!
Bags
With all your magical purchases, you're going to need something to haul them around! Good thing there are plenty of adorable bags around the Wizarding World.
We adore this Danielle Nicole mini-backpack that comes in each of the four houses for $68.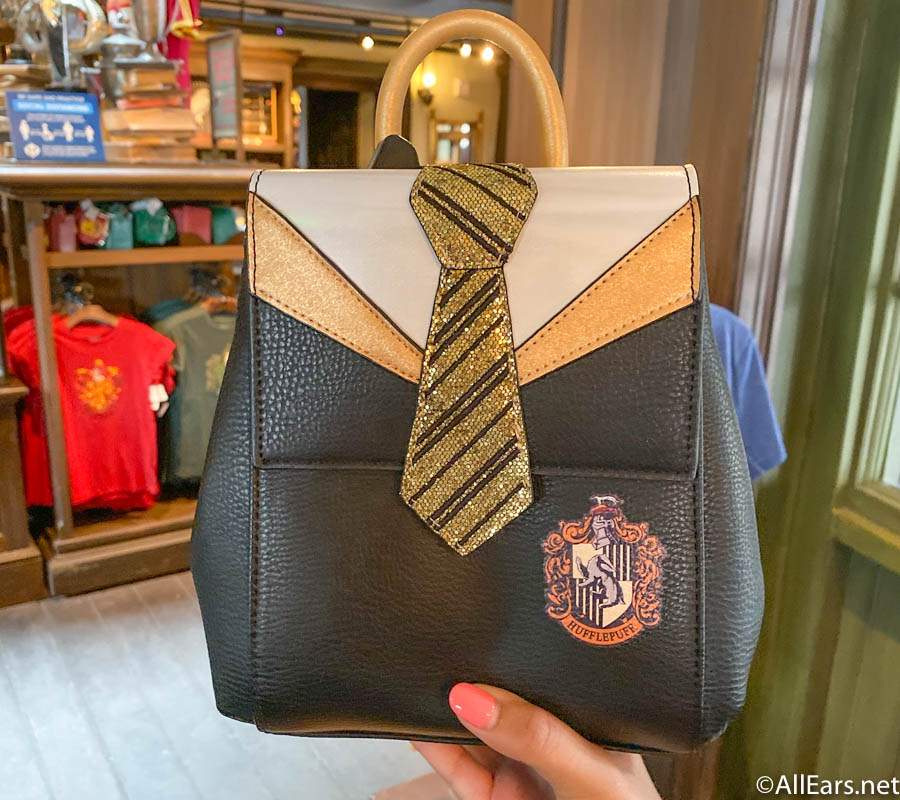 Need something a little bigger? Not to worry, these backpacks are perfect for carrying multiple wands, snacks, and more. (I might know from experience.) Choose from the Hogwarts Houses or black with the Hogwarts Crest. ($49.99)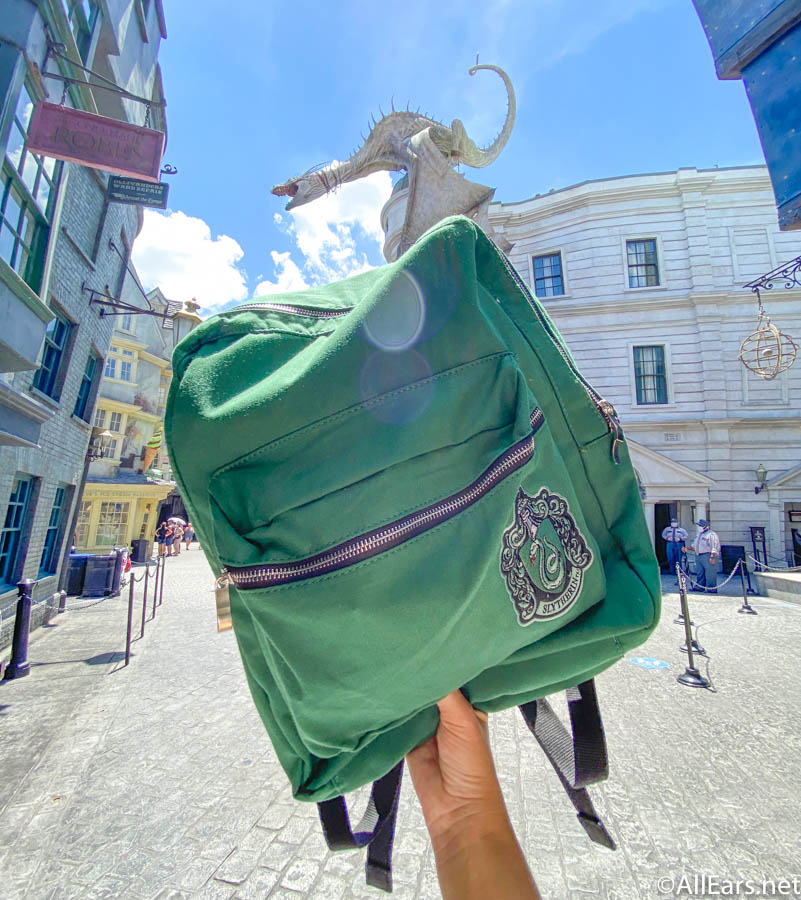 BONUS! Buy It in Wizard Money
No matter what you end up buying, it's way more fun to do it with Wizard Bank Notes!
You can swap muggle money (or use muggle plastic) for Wizard Bank Notes at the Money Exchange in Diagon Alley. Bank notes are in $10 or $20 and an even trade.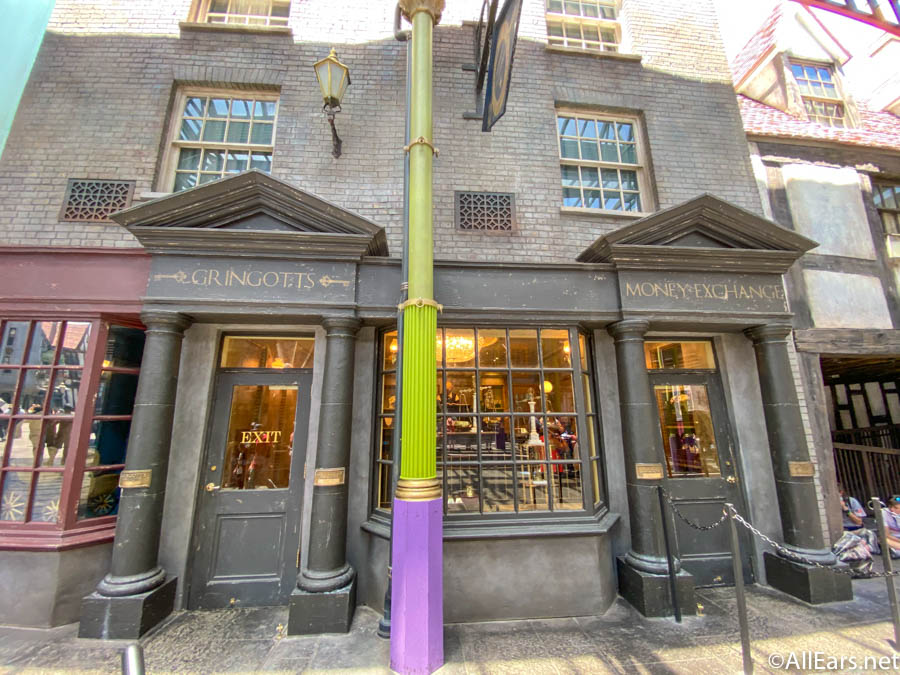 Inside the Money Exchange, you'll interact with a Gringotts goblin who will ask you questions and respond to yours as you swap your money!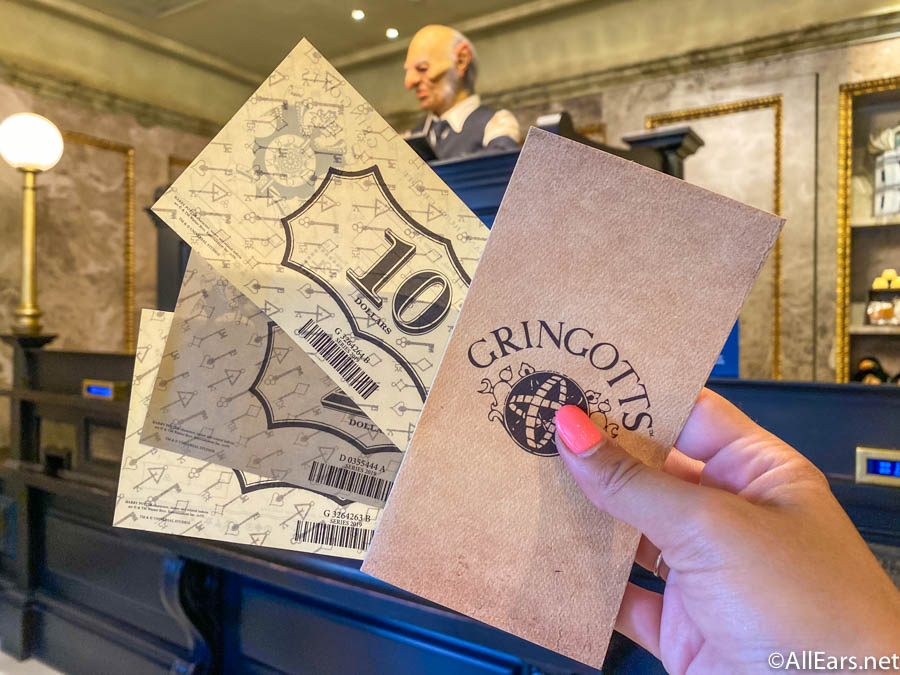 Wizard Money can be spent anywhere in Universal Orlando — but it's more fun to spend it throughout the Wizarding World Lands!
What is your favorite souvenir you've gotten at the Wizarding World of Harry Potter? Let us know in the comments!