Our love of Harry Potter is really quite riddikulus.
There's not much as lovely as settling into a Harry Potter Movie Marathon (except maybe a Harry Potter Reading Marathon). And while we love all eight films, there's gotta be a best and a worst, right?
(Not right, we're totally doing this to ourselves.)
After much (heated) debate, we've finally come to a conclusion. And keep in mind — we're looking at them as movies alone. So we're trying to ignore what we know from the books and just focus on the films (basically impossible).
Ranking the Harry Potter Movies from Worst to Best
8. Goblet of Fire
We get it — the Tri-Wizard tournament is REALLY fun. Who doesn't love the dramatic Durmstrang entrance or the awkward teen romance centering around the Yule Ball?
This movie is pivotal to the overarching plot with the whole "Voldemort comes back" thing as well. However, it also features bitter, whiny Ron and everyone needs a haircut. Plus…

…it barely makes sense. Removing what you know from the book from your brain (almost impossible), there are some major plot points missing from the film. The Barty Crouch / Barty Crouch Jr. / Mad-Eye Moody subplot is hardly explained, and without the knowledge from the books, it's pretty confusing and not very cohesive.
Also, don't get us started on angry Dumbledore.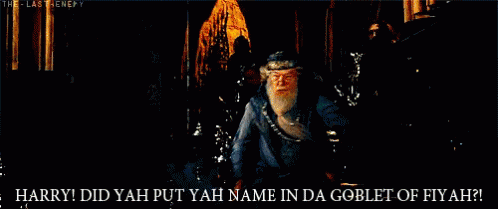 7. Chamber of Secrets
There's nothing really wrong with Chamber of Secrets, but there's not much right, either (except Kenneth Branagh's excellent performance of Gilderoy Lockhart).
Chamber does the least to move the plot forward, and honestly, it's a little, dare we say, boring (maybe because Hermione is outta commission for a big chunk of it?). We do love Dobby but…meh. This is a tough competition!
6. Deathly Hallows Part 1
The Tale of the Three Brothers slaps, but beyond that, this movie is a lot of camping and set up for Part 2.
We appreciate the cinematography, acting, and character development (except Ron is whiny again), but it's just not as exciting or re-watchable as others.
Also — Dobby and Hedwig die in the same movie?! It's too much for our hearts. (Maybe we're just still upset?)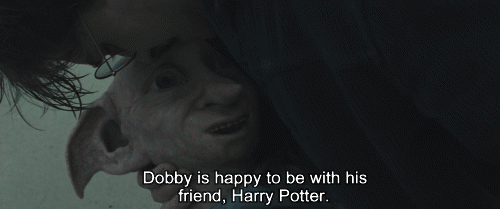 5. Sorcerer's Stone
We LOVE the original — it started the whole adventure! "Yer a wizard, Harry"? ICONIC.
But while Sorcerer's Stone is the OG, it still lands just shy of the top half for us. We love the introduction to the magical world, but the story falls a little flatter than others, and Quirrell is the least exciting Defense Against the Dark Arts Professor. (Seems impossible considering he's literally got the dark lord growing out of his head, but here we are.)
Plus, the acting and chemistry isn't quite up to par yet. (We realize these kids were babies, but, hey, this is tough.)
4. Deathly Hallows Part 2 
NOW WE'RE COOKING. The finale of the epic saga ties the eight films up with a beautiful, tear-soaked bow.
Unlike its much slower first half, Deathly Hallows Part 2 starts with a dragon escape and doesn't slow down!
Plus it gets big points for all the dramatic (and sob-worthy) moments – when the Order of the Phoenix shows up to fight, when McGonagall says "I always wanted to use that spell!," Fred, Snape, and Lupin's deaths, Neville defeating Nagini… I could go on, but I'm already crying.
Let's just pretend the "aging" makeup in the epilogue didn't happen ok?
3. Order of the Phoenix 
Can we start by saying that Umbridge is SUCH a good villain? There's not another character in this series we love to hate so much. And she is portrayed perfectly by Imelda Staunton.
We also adore the Dumbledore's Army moments, Fred and George's epic exit from Hogwarts, and the introduction of Luna Lovegood.
The movie loses points for us with the awkward, crying Harry-Cho romance, but it balances out with the excellent sass of Dumbledore when he vanishes from his office.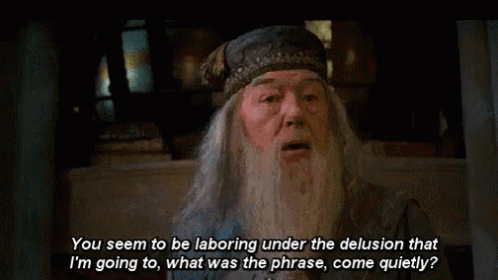 2. Prisoner of Azkaban
We LOVE Prisoner of Azkaban for two main reasons: Remus Lupin and Sirius Black.
These are two of our favorite characters for the rest of the series (well, kinda…), and we love the depth they bring to the story. They are the unlikely father figures Harry didn't know existed, and you'll never forget the first time you realized the big plot twist (spoiler: he's an animagus!).
Azkaban is also the introduction of key sub-characters such as Buckbeak, Dementors, and Peter Pettigrew (ugh) — not to mention, it's absolutely stunning. There's also a huge jump in the caliber of acting from Chamber of Secrets.
Now, for most of the team, Prisoner of Azkaban sits in their top spot — but I couldn't put it there for one reason and one reason only: the Marauders.
When removing the (useless amount of) book knowledge I have, this is a big plothotle. The Maurader's Map is presented by Messrs. Mooney, Wormtail, Padfoot, and Prongs, but it is NEVER explained who they are. That wouldn't matter except — remember when Lupin saves Harry from Snape, then yells at him for using the map when Sirius Black is on the loose? Lupin knows alllll about the map without any explanation from Harry, but it's also never explained that he's one of the creators, along with James Potter, Sirius Black, and Peter Pettigrew. (Along those same lines, it's also not explained why James and Harry's patronuses are a stag which is kinda iconic.)
Other movies cut out big book plot points (which is understandable or these movies would be 15 hours long each), but such a "half-cut" makes no sense, and thus, Azkaban cannot sit in the top spot in my eyes.
Which means, our movie Head Boy is…
1. Half-Blood Prince
Half-Blood Prince has great pacing, delightful music, an exciting plot, BIG highs and even LOWER lows, and somehow manages to be funny?!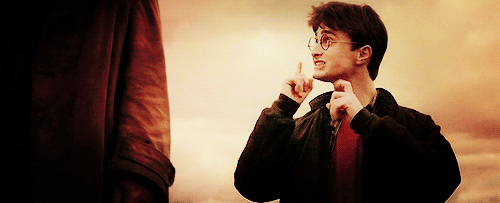 This is a big one for all the Snape and Draco fans out there too, as they finally get their moments in the sun (er, dark?) when they become full forces in the battle of good vs evil.
One of the biggest moments in the entire series is in this one as well. Dumbledore's death (11-year-old spoiler alert?), really sets up the finale, AND left us with one of the best cliffhangers ever: where does Snape's allegiance lie?
CHILLS.
This one's got it all — 10 points to Half-Blood Prince!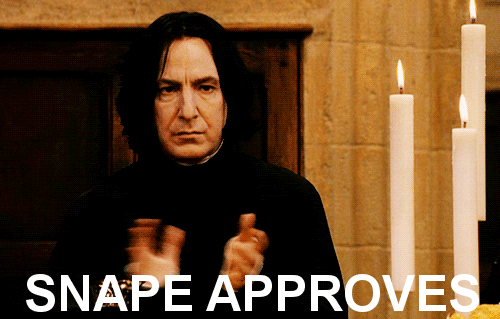 Well, that's it — our ranking of the Harry Potter films! It was harder than a Potions O.W.L., but we made it through. And, hey — this is just our list, one that we flip flopped on dozens of times. We thoroughly enjoy each of these movies, and any trip we get to take back to Hogwarts.
Mischief managed. 
What is your favorite Harry Potter film? Let us know in the comments!
Join the AllEars.net Newsletter to stay on top of ALL the breaking Disney News! You'll also get access to AllEars tips, reviews, trivia, and MORE! Click here to Subscribe!