But while this spacious Moderate Resort has a lot going for it, there are almost an equal number of reasons it's not a good fit for some guests.
Check out seven reasons why you should stay at Disney's Coronado Springs Resort — and four reasons you shouldn't!
Book Your Stay Because…
…Grand Destino Tower is fabulous!
While Disney's Coronado Springs Resort isn't new, Gran Destino Tower is a recent addition that opened in July of this year — and it is STUN-NING.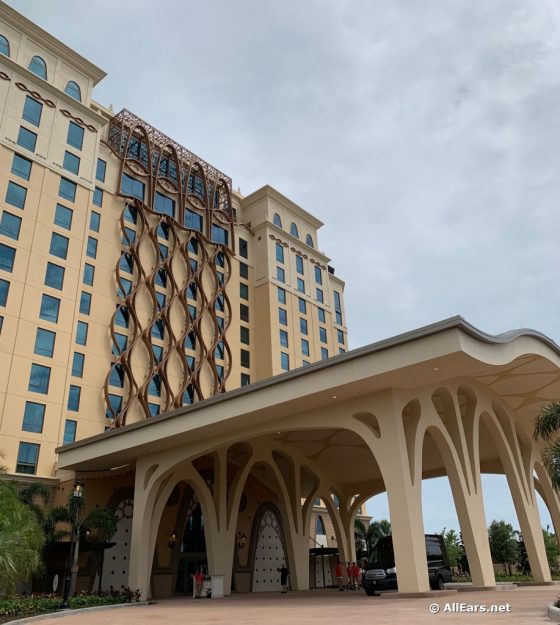 The Tower's exterior is tremendously chic and modern, while its interior spaces draw their main design influences from cosmopolitan Spanish architecture and a particularly stylish source: the Surrealist painter and friend of Walt Disney, Salvador Dalí!
Plus, the new Tower is home to 545 brand new rooms — 50 of which are beautiful and functional suites. Grand Destino Tower is also home to Toledo — Tapas, Steak, & Seafood (a rooftop restaurant), Dahlia Lounge (a rooftop bar), and Barcelona Lounge (a coffee and cocktail bar in the lower lobby). These are excellent places to relax and unwind with a meal, a small bite, or a cocktail.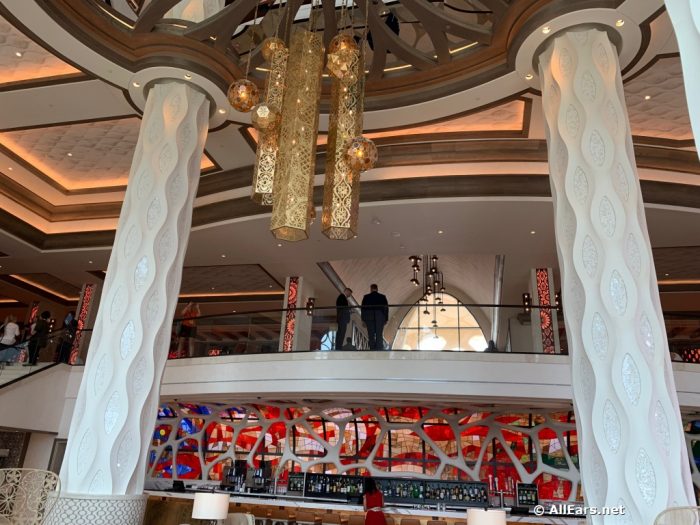 …Rooms are freshly remodeled!
Don't let the old abode-style facade of Ranchos, Casitas, and Cabana buildings fool you! These rooms have been recently redone, and are, in our opinion,  just as fresh as the ones you'll find at Gran Destino Tower!
The standard rooms now feature two queen-size beds instead of the former two full-size mattresses.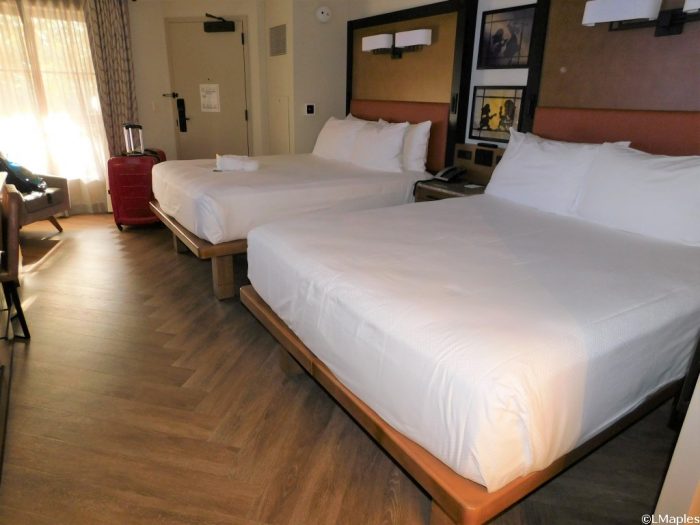 Plus you'll find new laminate flooring and updated lighting, along with a completely refinished bathrooms with new showers, toilets, and tilework. We love how much storage space there is around the double vanity including a convenient little shelf just above the sinks for keeping toiletries out of the way but accessible!
The rooms also come fully-equipped with a single-cup coffee brewing station so you don't have to hoof it over to the food court for your morning cup of joe. There's also a humongous flatscreen TV and all the new soft furnishings including drapery, bed linens, and a cozy armchair. There's also a bunch of outlets for everyone to charge all of their devices — including ones right next to the beds! Perfecto!
…It's centrally-located! 
Hate long bus rides? We feel ya! Luckily, Coronado Springs has a pretty ideal location! You're practically right across the street from Hollywood Studios and only a few minutes down the road from Epcot. Animal Kingdom isn't too bad, either. Magic Kingdom is definitely the furthest from the Resort, but Magic Kingdom tends to be a bit of a haul from ANY Disney Resort that isn't on the Monorail (or accessible by water taxi). If you're planning on spending most of your vacation at Star Wars: Galaxy's Edge in Hollywood Studios or are attending one of the many festivals Epcot hosts throughout the year, Coronado Springs will put you closest to the action!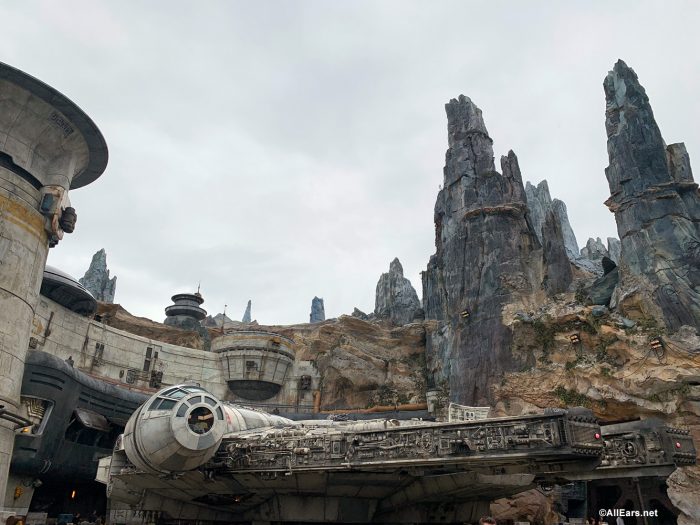 …It's got unique landscaping.
While this one might make you go "huh?", Coronado Springs is a plant-lover's dream! There are hundreds of species of tropical plants and cacti throughout its grounds  — the likes of which you'd be hard-pressed to find anywhere else in Disney World. There are even large sections of the Resort that showcase xeriscaping — a type of gardening that reduces the need for supplemental watering with the use of drought-resistant plants, boulders, and gravel.
Okay, so maybe rocks and succulents aren't your thing — don't worry. There are plenty of flowers, fountains, and bridges to cross over as you explore this one-of-a-kind Disney property!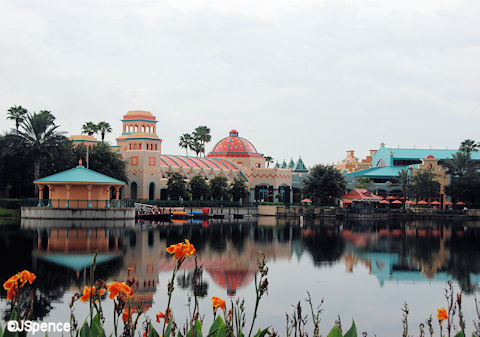 …There are more amenities than the other Moderate Resorts.
Because Coronado Springs Resort is marketed, in part, toward conventions and business, it is the only Moderate Resort to have fitness centers as part of its amenities offerings. Take advantage of the perks like the La Vida Health Club — a fully loaded gym and spa — and the brand new fitness center in the lower level of Gran Destino Tower. These offerings are not reserved for business guests; any guest of the Resort can use either fitness center. There's also a salon, business center, concierge, childcare, laundry services, and more!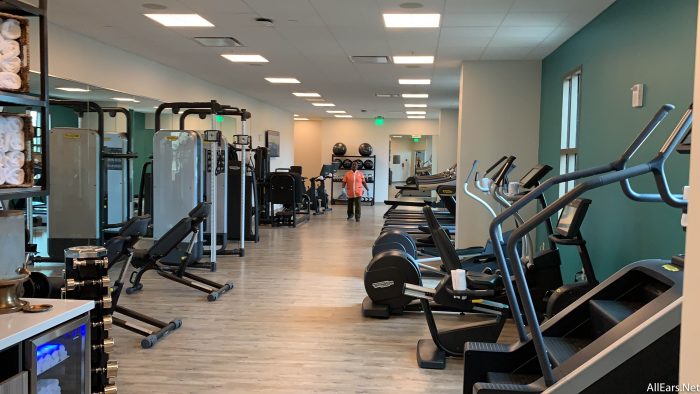 …The Dig Site Pool is super cool! 
Picture the Mexico pavilion's Mayan temple at Epcot — but with a waterslide in it! We think the Lost City of Cibola Pool is really one of the coolest-looking pools at any of the Disney World Resorts. Plus there's a sandy beach volleyball court nearby and Siestas Cantina pool bar to grab a frozen strawberry marg! If you're looking for something a little more serene, check out the three smaller, quieter pools located throughout Coronado Springs' grounds.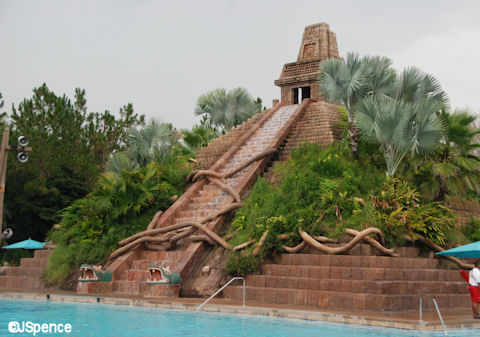 …There are TONS of dining options!
While most Disney World Resorts offer some sort of quick grab 'n' go counter service restaurant and maybe a table service restaurant (at most Moderates and all Deluxe Resorts), Coronado Springs has a lot of places to rustle up some grub! We already told you about the bars and restaurants in Gran Destino Tower, but there's also Rix Sports Bar & Grill — a really cool sports bar with plenty of TVs to watch the big game and a menu that can satisfy just about any sports lover's cravings!
And right across from Rix, you'll find El Mercado de Coronado, a large food court where they serve a fast-casual breakfast, lunch, and dinner with standard fare like pizza, sandwiches, and tacos to refuel you.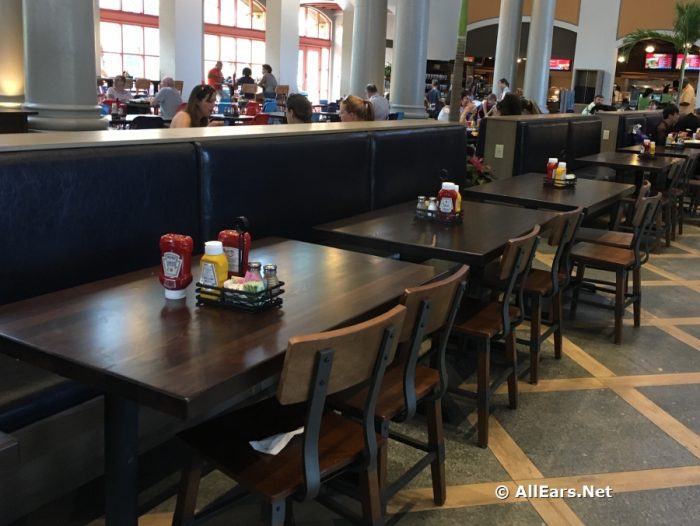 And there's also Three Bridges Bar & Grill which just opened this year as well. Located entirely over water where the three bridges of the Resort connect in the middle (hence the name) of Lago Dorado, Three Bridges is a great spot to relax after a long, hot day at the parks and watch the sunset while sipping a frosty beverage. Plus the menu has shareable apps, tasty entrees and of course, sweet desserts!
Avoid staying at Coronado Springs Resort because…
…It's HUGE!
Disney's Coronado Springs Resort is a humongous, sprawling resort. Even if you stay here for over a week, you'll still get turned around — lost in its Mayan maze of buildings, bridges, and the large, centrally-located Lago Dorado. We gotta say, while the lake at Coronado Springs is pretty, it really makes the guest room buildings feel disconnected from the rest of the property.  You'll probably get a little tired of walking from your room to the main building (where the shops and food are). And while you can catch a park bus as a shortcut to the lobby at Gran Destino Tower (they all stop there before leaving the Resort), sometimes you just want to be able to walk everywhere.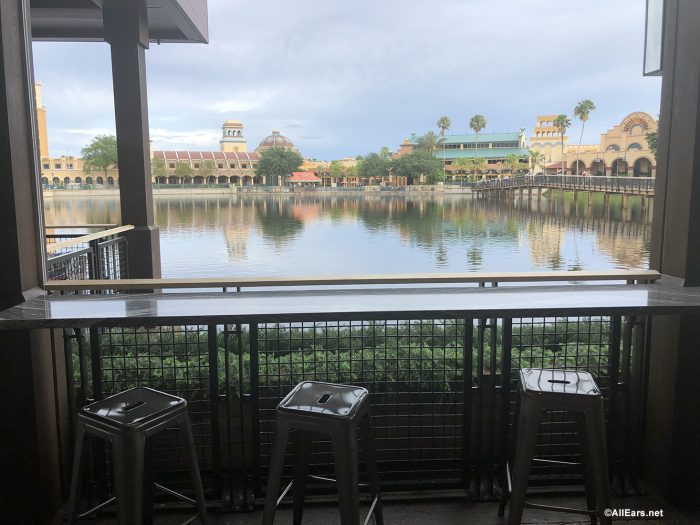 …It's not ideal for children.
This brings us to our next reason for skipping Coronado Springs — it eats children. Crossing endless bridges and walking for seemingly forever to get to the lobby can be rough on small children, which in turn, can also be rough on you! After all, when they get too tired to walk, you'll be the one carrying them (or pushing their stroller) and all of their stuff around!  And because Coronado Springs is a also convention center, the vibe of this Resort feels a bit more adult and not as kid-friendly as some of the other Disney World Resorts.
…The theming isn't very Disney.
Part of that grown-upy feel is due to the Resort's theming which many will find to be rather generic. Don't get us wrong, Grand Destino Tower is quite gorgeous — it just doesn't have the Disneyfied enchantment that other Disney World Resorts have. It feels more like a nice chain hotel in Any City, America, not like we're in Walt Disney World when we're there. And while we know this more subdued style appeals to some travelers, it's not for those looking to immerse themselves in Disney.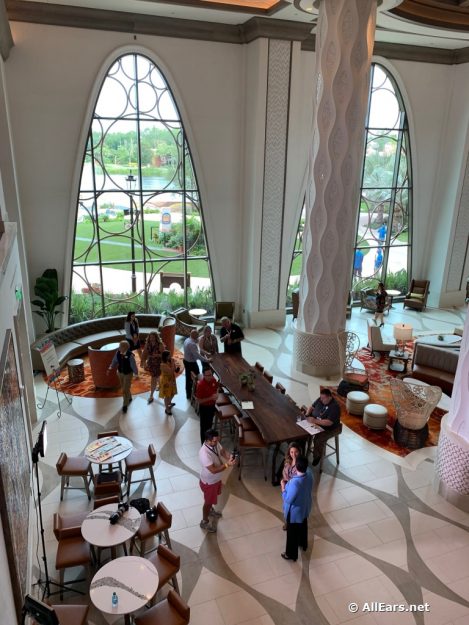 …The transportation is convoluted.
Because Coronado Springs is so massive, the transportation can be kinda lousy. Often buses will arrive already full if you're waiting at the 3rd or 4th bus stop. There's also no alternative means of transportation such as a boat or Disney Skyliner, so you're pretty much at the mercy of the buses to get you where you're trying to go.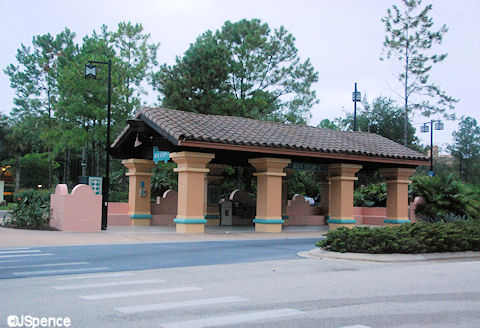 We know selecting a Walt Disney World Resort hotel is a personal decision, so weigh all the pros and cons to figure out if Coronado Springs' positives outweigh the negatives for you. And if you're still not sure, check out the AllEars Reader Reviews linked in the box below — or leave one of your own if you've got some thoughts to share!
Have you ever stayed at Disney's Coronado Springs Resort? What do you think of our assessment? Do you have any pros or cons you'd like to add? Share them with us in the comments below!