It's no secret that Walt Disney World has dining establishments that cater to all types of tastes. From quick service fare to the fanciest of foodie spots, Disney World's Parks and Resorts offer something for everyone.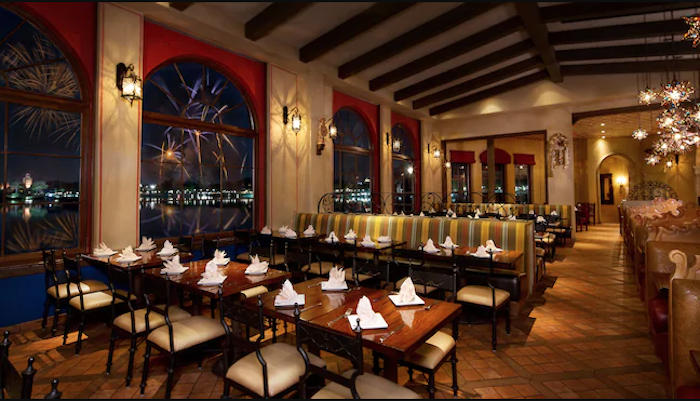 Today we'll be looking at some of the best waterfront dining experiences that the Vacation Kingdom has to offer.
Epcot Waterfront Dining
We'll begin at Epcot, specifically the World Showcase. With its location along World Showcase Lagoon, World Showcase understandably has some great waterfront dining.
La Hacienda de San Angel, located just outside the Mexico pavilion, offers "authentic Mexican cuisine and premium margaritas" served with "Old World hospitality" according to Disney. But if you ask us, the real draw is its location. (Okay, it's also the margaritas… check out these reader reviews!)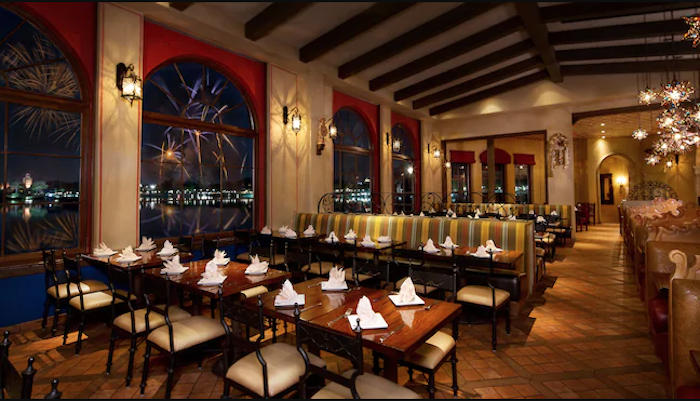 Located on platform that juts into the World Showcase Lagoon, the restaurant offers dynamic views of all the World Showcase pavilions during the day, and an excellent view of Epcot's nightly fireworks spectacular in the evening.
For our next waterfront restaurant, we have to travel all the way around the World (Showcase) to the United Kingdom pavilion. The Rose and Crown Pub and Dining Room provides authentic and delicious British food. (Check out these reader reviews!) It may be a cliche, but try the fish and chips and beer!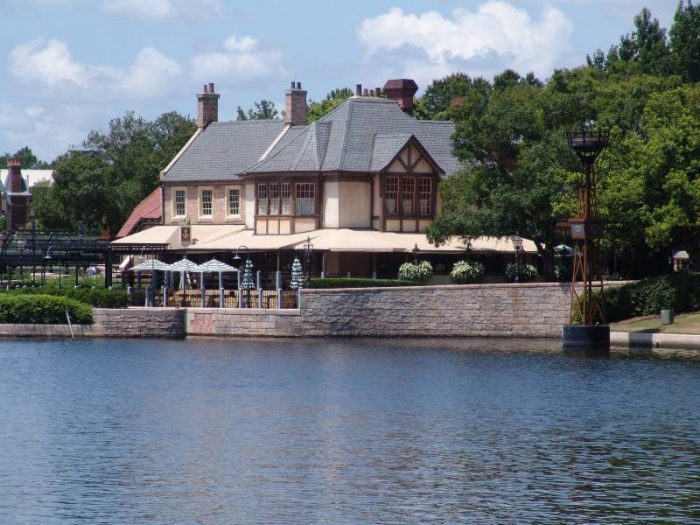 In addition to great food and drink items, Rose & Crown's dining room also has a patio that provides sweeping views of World Showcase, so be sure to put in a request to dine on the patio! 
Disney Springs Waterfront Dining
Disney Springs provides two of the most interesting waterfront dining experiences on Disney property. The first can not only be described as waterfront, but it's literally on the water: the riverboat-shaped Paddlefish restaurant.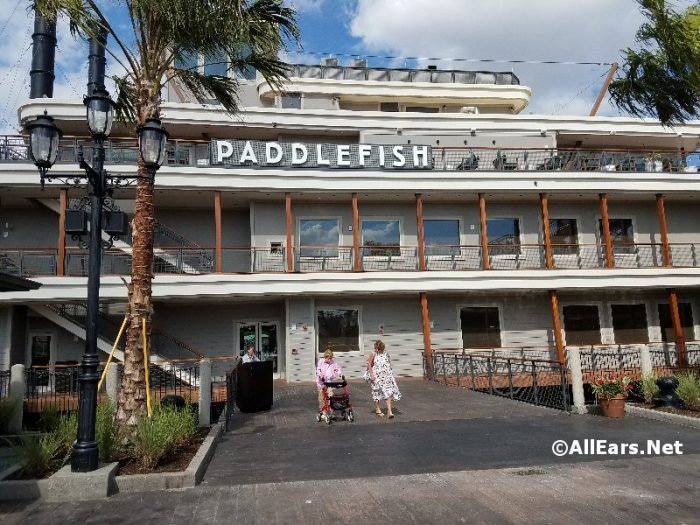 The structure currently occupied by Paddlefish first opened as the Empress Lilly in 1976. Over the next four decades, the 220 foot long, 62 foot wide faux-steamer – actually a building whose foundation is set underwater – went through several renovations and name changes before opening as Paddlefish in 2017. While there have been mixed reactions to the menu, the experience of dining on a 'boat' in Disney Springs is pretty unique. 
Just down the proverbial road from Paddlefish is The BOATHOUSE. Located on the shore of Village Lake, this heavily-themed restaurant serves seafood dishes along with beautiful views of the water and the Saratoga Springs resort on the other side.
Plus, when you're done your meal at The BOATHOUSE, you can hop aboard one of Disney Springs Amphicars!  Click here to see how Amphicars (and more unique Disney World experiences) can take your vacation to another level!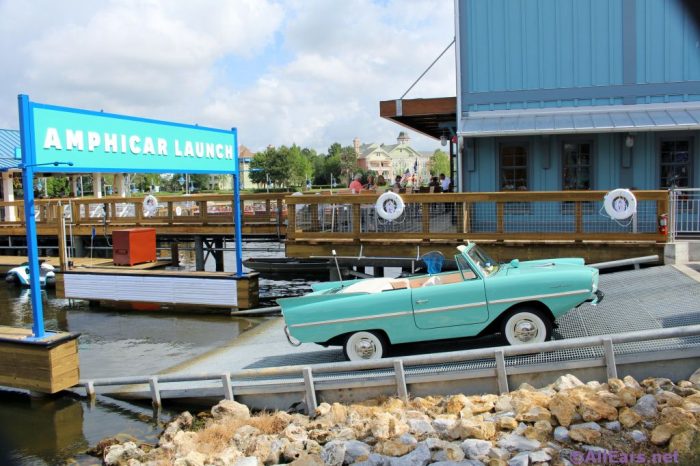 Grand Floridian Resort & Spa Waterfront Dining
The final stop of our tour of some of Disney World's best waterfront restaurants brings us to Narcoossee's at the Grand Floridian Resort and Spa. This relatively upscale dining spot provides American coastal cuisine and fantastic 360 views around the Seven Seas Lagoon, with views of the Contemporary Resort, Polynesian Village Resort, and even Magic Kingdom in the distance.
The restaurant's waterfront verandah in particular provides breathtaking views of Magic Kingdom's Happily Ever After fireworks show as well as the Electrical Water Pageant that takes place on the Lagoon each night.
Dining at Walt Disney World is often a magical experience, but these waterfront restaurants offer more than just delicious food and tasteful settings; they've also got stellar views!
Do you have another waterfront dining spot that you love? Let us know in the comments below!