We've said it before and we'll say it again — we are SO excited for the grand opening of Star Wars: Galaxy's Edge next week at Disneyland! May 31 cannot come soon enough!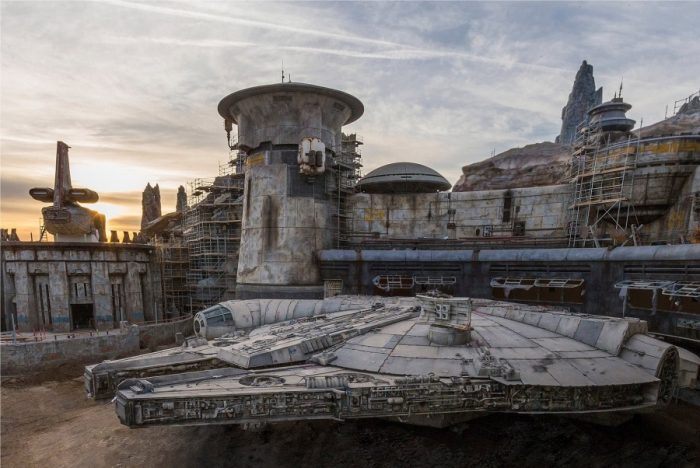 There are going to be so many unique experiences in this new land, among them the chance to build your very own DROIDS and LIGHTSABERS!
Disney has been slowly teasing us with bits and pieces of info about these experiences over the last several weeks, and now we've finally learned just how much all of this fun is going to cost us!
First off, we can customize our own lightsabers and become one with the Force at Savi's Workshop. (This experience is recommended for ages 5 and up.)
This will be a whole experience, not just going in and buying a lightsaber! A group known as the "Gatherers" will take us into a secret workshop packed with unusual parts and essential kyber crystals that we can, under their guidance, use to construct a lightsaber.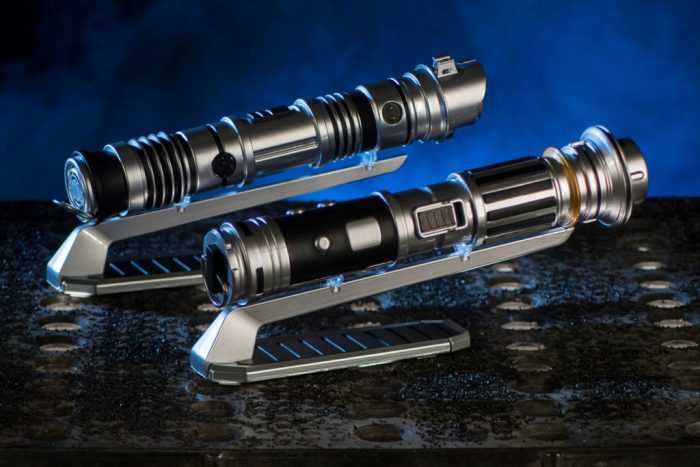 Each lightsaber will be constructed with a box of hilt parts that match the theme you choose — Peace and Justice, Power and Control, Elemental Nature or Protection and Defense.  Each box will include:
1 hilt
4 sleeves (pick 2)
2 emitters (pick 1)
2 pommel caps (pick 1)
2 sets of activation plates and switches (pick 1 set)
Upon hilt completion, the unused parts will be returned to Savi's inventory. These are not included with your lightsaber package.
The Gatherers will masterfully connect your hilt to a 36" lightsaber blade.
Each lightsaber costs $199.99, plus tax.  A carrying case is included, and additional customization items can be purchased at Dok-Ondar's Den of Antiquities.
If we want to have our own customized Astromech Droid Unit, we'll need to visit the Droid Depot. (This experience is recommended for ages 3 and up.)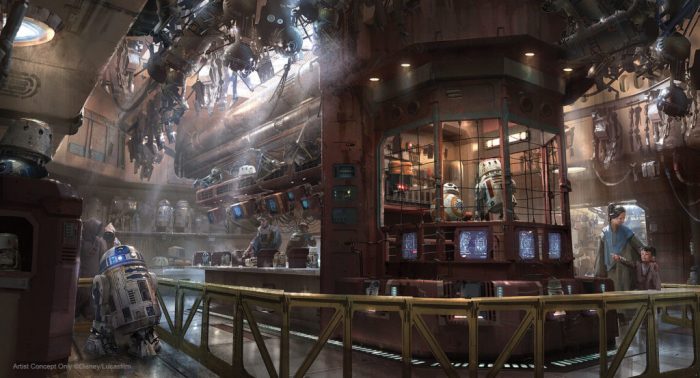 This workshop is stocked with parts, chips, manuals and other tech items useful for constructing your very own droid. Again, this is a total experience, not just "shopping."
After you've registered whether you want a BB-series or R-series unit with the clerk, you'll get a basket and blueprint for parts and begin your droid-building experience. Once you gather all the pieces and put them together, your droid will be paired with a remote control and activated. These droids use Bluetooth® technology to communicate with other astromech droid units as well as certain other elements and objects on Batuu and at Disney Parks and Resorts, you must carry them — you can't use a remote control and let them wander on their own!
Each astromech droid unit will cost you $99.99, plus tax. A carrying case and instructions are included. Various "personality-affiliation" chips and other accessories are available for an additional charge.
REMEMBER: Custom lightsabers and custom astromech droid units are nonrefundable and are not eligible for Annual Passholder or other discounts.
NOTE: Reservations are required to visit Star Wars: Galaxy's Edge between May 31 and June 23, 2019. Beginning June 24, 2019, Disneyland Park, Star Wars: Galaxy's Edge and its experiences will be subject to capacity.
Are you ready to build your own droid or lightsaber? I sure am! Let us know your thoughts in the comments below!
Be sure to follow @allearsnet on Instagram and Twitter!
Check out our YouTube Channel for reviews, news, information and more!
Click below to subscribe to the AllEars® newsletter so you don't miss any of the latest Disney news!