Walt Disney understood the power of the media, so much so that he employed some of the most talented wordsmiths he could find to help publicize his projects.
When Walt wanted to create a newspaper to be sold at the entrance of Disneyland on opening day, he recruited Marty Sklar, who was about to become the editor of The Daily Bruin at UCLA.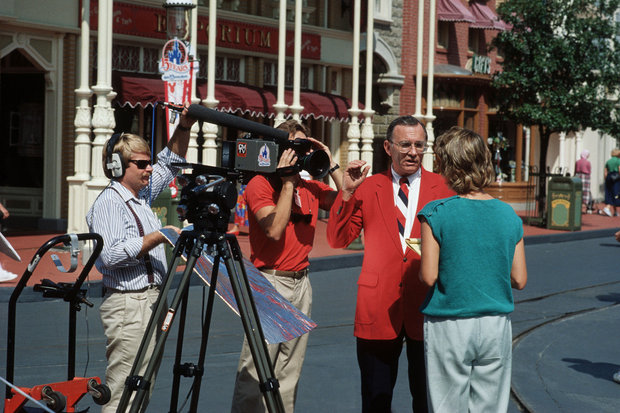 Not only could guests purchase an inexpensive keepsake, Walt reasoned, but they also could learn about the park they were about to visit through The Disneyland News.
Marty went on to become Walt's literary right-hand man after he was hired in 1955 and, after conceiving The Disneyland News, he became a member of Disneyland's public relations team.
Marty wrote Walt's annual report to stockholders, as well as his messages, and publicity and marketing materials. He even put together presentations to corporate sponsors during Walt Disney World's formative years.
Helped Create Vacationland Magazine
Among Marty's chief accomplishments during his tenure at Disneyland PR was to help in the creation of Vacationland Magazine, along with fellow future Disney Legend Jack Lindquist.
The magazine's chief goal was to promote Anaheim-area attractions, with the emphasis, of course, on Disneyland. It was distributed to hotels, motels and other outlets throughout southern California.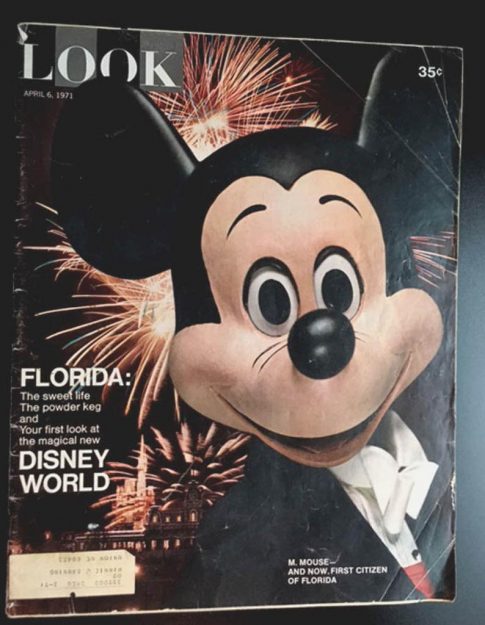 When Marty left Disneyland PR to become a key member of WED Enterprises, the forerunner of Walt Disney Imagineering, he was replaced by another talented writer, Charlie Ridgway.
Charlie was a respected newspaperman in southern California who covered Disneyland's infamous opening day on July 17, 1955, for the Los Angeles Mirror-News.
Charlie was hired to work in Disneyland's public relations department, where he dreamed up creative ways to publicize the park in newspapers and magazines, as well as TV and radio.
Became Disney's go-to publicity guy
He was the go-to guy when the word needed to get out on a park anniversary or a new attraction, and because of his newspaper background, he was aware of just what writers needed to get the complete story.
In 1969, Charlie was asked to transfer to central Florida to become Walt Disney World's director of press and publicity. His task was simple: Let the world know about Walt Disney World, which was still two years from opening.
"The first trip I made when I took the job at the end of 1969 was to go to New York City," Charlie told me in 2014.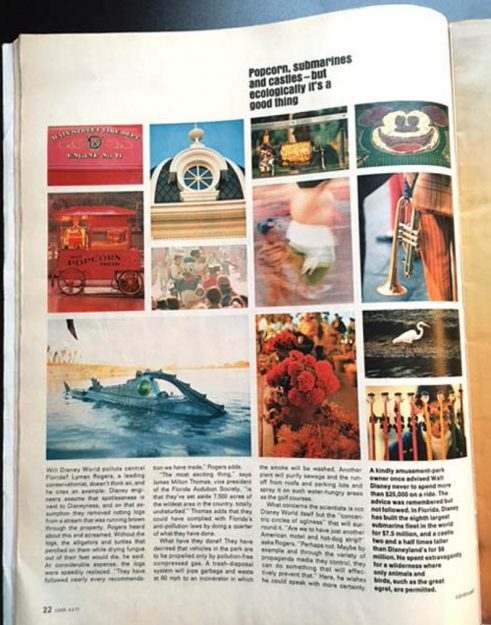 "I went to Time, Life and Look magazines and all the major newspapers and I went to Washington, D.C., to National Geographic."
It was a publicity campaign that quickly bore fruit.
It turned out that Look wanted to get the very first look at Walt Disney World … months before the park was scheduled to open.
"The managing editor of Look [Pat Carbine] said that 'we want to be the first ones with a cover story' on Walt Disney World," Charlie said. Carbine asked if it would be OK to send a photographer and a reporter to the site in the early spring of 1971. "The Magic Kingdom wouldn't be open until October, and there wasn't much really finished," Charlie said.
So, Charlie and his staff improvised.
'Gerrymandered' photos of the park
"We were able to gerrymander things and produce pictures that looked like the park was really done. But it was way too early. We laid some artificial grass on Town Square so we could shoot City Hall," he said.
In the end, however, "Look had a very good layout."
Close inspection of that layout shows tight shots of signs, some sections of buildings and a photo of the submarine from the 20,000 Leagues Under the Sea attraction. There were no wide, panoramic shots of the park, for fear of showing ladders, scaffolding or other construction materials.
The Look cover story ran on April 6, 1971.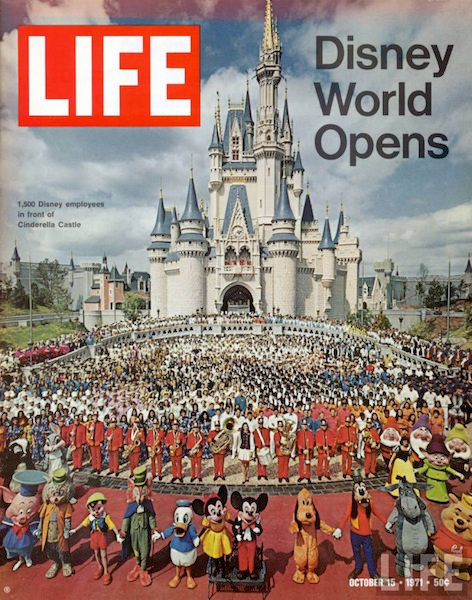 Life Magazine was next up for Charlie and his team. Life already had a long history with Disney, having done several spreads of Disneyland after its opening.
"The idea of going to Life was Sandy Quinn's, who came down in 1967 and was the first Disney guy on the ground. He became very friendly was a lot of the local media."
Suggested a 'mob-scene' photo
As WDW's opening day drew closer, Charlie suggested "we do a mob-scene picture in front of the castle and we carried forward from that point."
Life loved the idea. "They sent down one of their very best photographers [Yale Joel]. He got up on a stand with an 8 x 10 view camera to shoot the picture in front of the castle. We assembled as many cast members as we could there.
"We actually had 5,000 employees then, of which we were able to gather nearly 2,000 at one time for the photo."
That cover photo, which ran on the Oct. 15, 1971, edition, became one of the most iconic shots of Walt Disney World ever taken during the resort's nearly 50 years in operation.
In recent years, Life has published several Disney retrospectives that are both enjoyable and informative, filled with dozens of classic photos.
One, "Walt Disney: From Mickey to the Magic Kingdom," details Walt's life, from his humble Midwestern beginnings to the lean years as an animator in California to his eventual success in film, theme parks and television.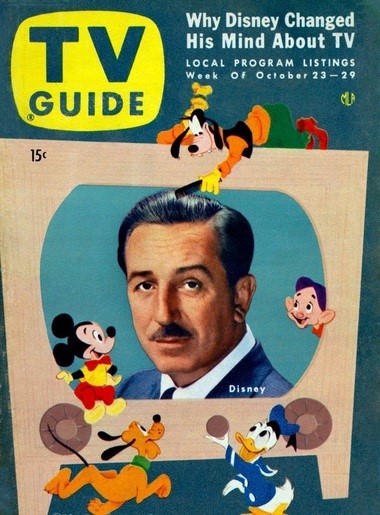 [Walt, in fact, was a strong supporter of television, even as other Hollywood movie moguls turned their backs on the medium. He often was featured on the cover of TV Guide magazine, including the October 23-29, 1954, edition, where Goofy can be seen combing the boss' hair. Walt's photo on the cover of a TV-themed magazine had a huge impact on television's acceptance among those who still doubted its impact.]
Another Life special edition celebrated Mickey Mouse's 90th birthday.
Life's take on all 12 Disney parks worldwide
The most recent Life special edition, "Inside the Disney Parks," gives readers an in-depth look into the creation of all 12 Disney theme parks in the United States, Europe and Asia.
It, too, is filled with wonderful photos and analysis by some leading Disney experts. The text was written by J.I. Baker, who for the most part, does a stellar job of presenting the Disney parks story.
However, there is one line in the magazine that needs to be corrected.
On Page 28, the author states that Marty Sklar is "the only employee involved in the opening of all 12 existing theme parks."
That's simply not true.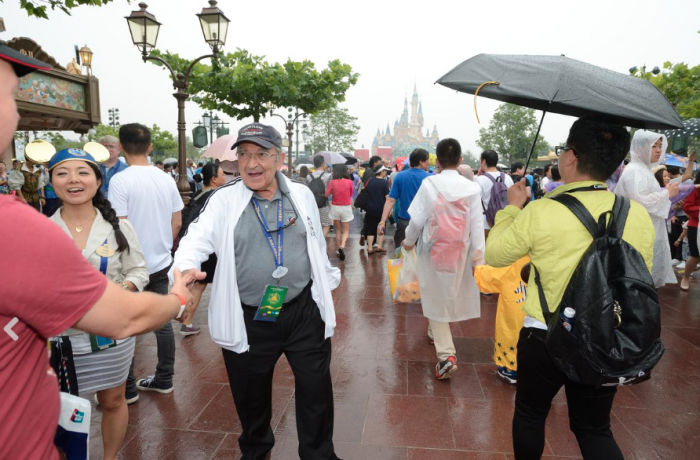 About a year before the newest Disney park, Shanghai Disneyland, opened, I asked Marty if he would be in attendance on opening day. Here's his response to me:
"Even if they want me, I'm not sure what I will do.
"On the other 11 parks, I was actively involved. On 10 of them [except for Disneyland Day One], I had an active part in creating them. Shanghai is different. I've had nothing to do with it.
Bob Weis did 'a marvelous job'
"I love what they are doing and the creative leader, Bob Weis, has done a marvelous job. When the park opens, he will have spent probably six or seven years developing and building it.
"Bob and his fellow Imagineers [many of them I trained] deserve all the credit. I don't want to be seen as horning in on their party. This is their show – some of the key people have been in the field for the first time. Some of them will have spent four years in China with their families!
"They deserve the spotlight."
For the record, Marty did acquiesce and was present when Shanghai Disneyland opened its gates on June 16, 2016 … making him the only person ever to have been in attendance at all 12 Disney parks when they opened.
Weis wouldn't have had it any other way. "We loved having him, of course," he said.
Marty spent several days in Shanghai, touring the park and promoting his second book, One Little Spark!, which was released in Mandarin to coincide with the park's opening … yet another example of getting the word out on Walt's world.
Interested in Disney history and Imagineering details? Take a look at these recent posts:
Be sure to follow @allearsnet on Instagram and Twitter!
Check out our YouTube Channel for reviews, news, information and more!
Click below to subscribe to the AllEars® newsletter so you don't miss any of the latest Disney news!