In researching my book, Disney's Dream Weavers, which dealt with the common thread I felt ran between Disneyland, Freedomland, the 1964-1965 New York World's Fair and Walt Disney World, there were plenty of sources I could tap into for the three Disney-related projects.
Freedomland was another story.
Information on that park, which was open from 1960-1964 on a nondescript plot of land in the New York City borough of The Bronx, was sparse.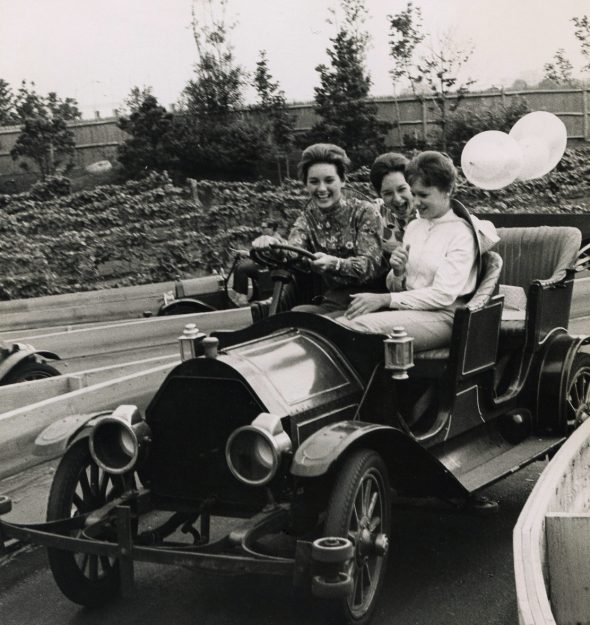 And many of the principals – some of whom had 'made their bones' in the entertainment industry working on Disneyland before heading East to work on Freedomland – had long since passed away.
But then Mike Virgintino contacted me.
It seems Mike had grown up in The Bronx during the 1960s and had visited Freedomland more times than he can remember. During those visits, he developed a true affection for the park.
Back in 2012, when I was writing Disney's Dream Weavers, Mike was a leader in what could best be described as Freedomland's renaissance.
At the time, more and more people were waxing nostalgic about the American history-themed park and Mike was part cheerleader, part ringleader. He wrote often about the park, diving into its history, how it came to be, and its sad, untimely demise.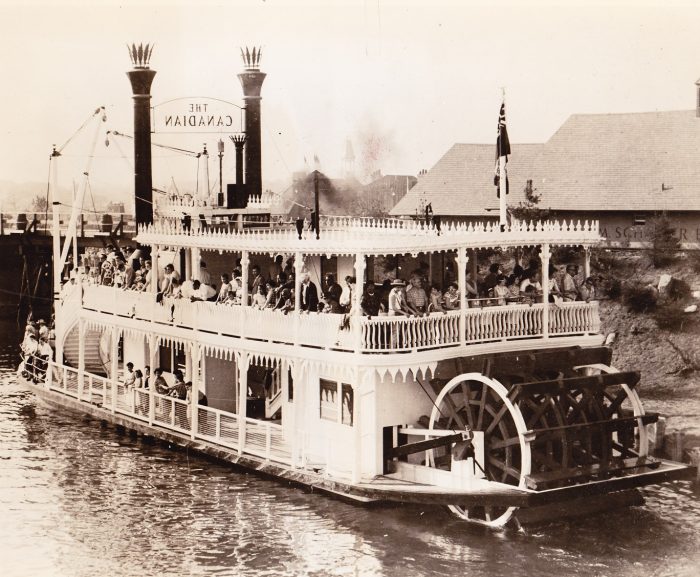 Mike not only gave me spot-on historical material, but he also pointed me to several other folks who had insight into the park.
I quickly learned that if ever there was a Freedomland historian, Mike Virgintino was that guy.
We kept in touch over the years via email. Whenever there was news about Freedomland, he'd let me know. And whenever he stumbled on something Disney-related, such as a vintage magazine article, he'd send it to me.
In my mind, it was more than fitting that I had Mike write the foreword to Disney's Dream Weavers when it was re-released by Theme Park Press in 2017.
Kick-started his own book on Freedomland
As it turned out, that gesture got the ball rolling on Mike's much-anticipated Freedomland U.S.A.: The Definitive History, which was released by Theme Park Press earlier this year.
Thanks to Mike's commitment to getting to the core of the Freedomland story, the book is a deep dive into a theme park that captured folks' imaginations back in the 1960s … and still captivates those who remember visiting the park during their youth.
The thing that impresses me the most about Freedomland U.S.A.: The Definitive History is how thoroughly researched it is.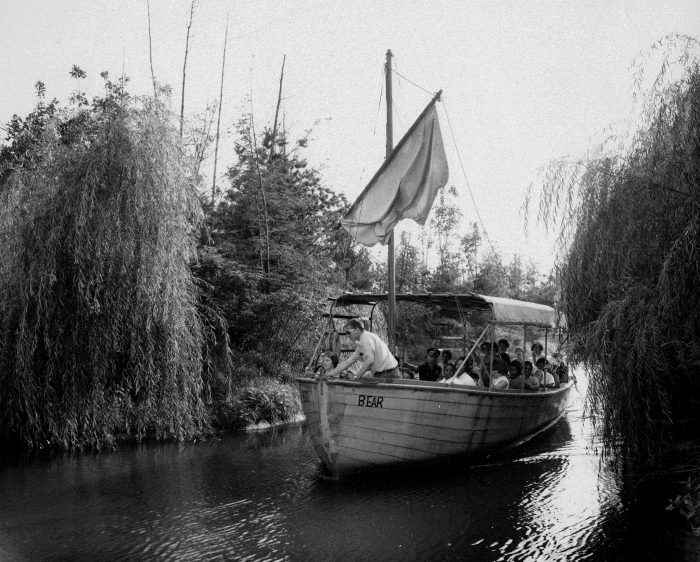 Using good, old-fashioned journalistic legwork, Mike found and interviewed former park workers, several entertainers who performed there … even unearthing the whereabouts of attractions that were sold off after Freedomland had filed for bankruptcy.
Mike also delves into Freedomland's many connections with the Walt Disney Company, chief among them C.V. Wood. As we've documented many times before, Wood played a significant role in the planning and development of Disneyland, but he was unceremoniously booted from the company in early 1956, less than a year after Disneyland opened.
Created many other theme parks
Wood went on to build three theme parks of his own, one in Colorado, one on the outskirts of Boston and the other being Freedomland. After those three parks' demise, Wood helped found the first Six Flags amusement park, Six Flags Over Texas.
In addition, Wood brought Van France, his good friend and former Disney cast member, into his management circle for several years before France returned to Disneyland. Mike interviewed France's two daughters for his book to get their insight.
Perhaps the most intriguing aspect of the book is the behind-the-scenes wrangling that went on to bring Freedomland to life … and how there were ulterior motives in building the park in the first place.
The book contains detailed descriptions of each of Freedomland's themed lands, which were based on a subject near and dear to 1960s-era Americans: The story of America itself. In fact, the park was designed in the shape of a map of the United States.
Freedomland attracted top-flight entertainers
He also dives into the diverse collection of entertainers – many of whom were New York City icons, such as Chuck McCann – who performed at Freedomland, including those who graced Freedomland's Moon Bowl stage.
Those stars included Paul Anka, Bobby Darin, Tony Bennett, Connie Francis, Lena Horne, Lesley Gore, Ricky Nelson, Neil Sedaka and Stevie Wonder.
Groups who performed at Freedomland included The Lennon Sisters, The Tokens, The Shirelles, The Everly Brothers, The Temptations, Smokey Robinson and the Miracles, The Ronettes and The Four Seasons.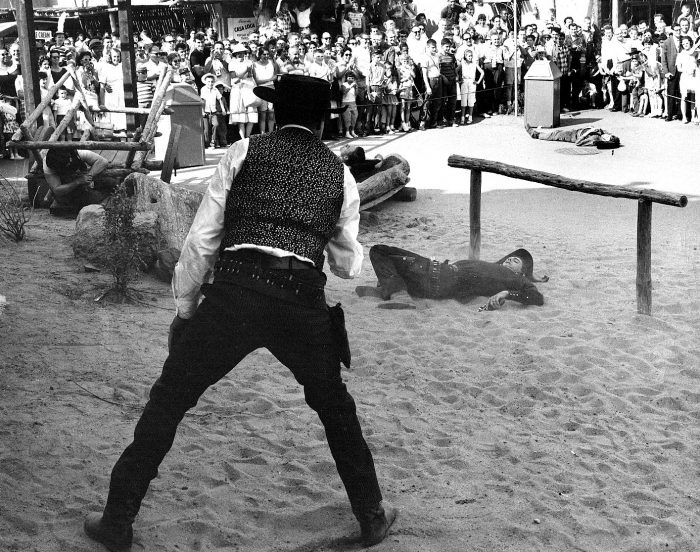 There also was one park entertainer, Ben Rossi, who would go on to produce live shows for Walt Disney World in the 1970s and 1980s.
In short, Freedomland U.S.A.: The Definitive History is a go-to source of facts and figures … as well as a roadmap into the park's rich and storied history through the eyes of many of the folks who experienced it for themselves.
Freedomland opened on June 18, 1960, as the park played host to a special event benefitting children's charities. The event enabled the park to test all of its attractions, as well as give workers a chance to enjoy the park before the official opening day on June 19.
The June 18 charity event was filmed and a 15-minute segment was broadcast the following night on the Ed Sullivan Show.
'Disneyland of the East'
During the show, Sullivan, the world-famous impresario, referred to Freedomland as "the Disneyland of the East." In many ways, his assessment was spot-on.
The influence of many Disneyland veterans, who worked under Walt Disney's watchful eye, could be seen throughout the park … everything from a vintage railroad transporting guests to different themed lands …to a Jungle Cruise-like water attraction … to an indoor pirate ride … to sternwheelers plying the park's waterways … to a main street modeled after 19th century Little Old New York City.
For five years in the early 1960s, Freedomland gave East Coast residents – most of whom would never make their way west of the Mississippi River, let alone all the way to California – a true taste of Disney-style theme park entertainment.
After Freedomland closed in 1964, people turned their attention to the 1964-1965 New York World's Fair, where Disney had a strong presence and four extremely popular – and ground-breaking – attractions.
And a few years later, the theme park landscape would be altered altogether as Walt Disney World in Florida was under development.
An apartment complex, known as Co-Op City, now sits on some of the land once occupied by Freedomland.
Thanks to the efforts of many of Freedomland's biggest proponents – including Mike Virgintino – a plaque commemorating the park now sits near the park's former entrance.
If you want to learn more about the short-lived, one-of-a-kind, Disney-influenced park, get your hands on Freedomland U.S.A.: The Definitive History.
Do you remember Freedomland? If so, do you have an fond memories to share? Let us know …
<strong>Be sure to follow @allearsnet on<a href="http://www.instagram.com/allearsnet"> Instagram</a> and <a href="http://twitter.com/allearsnet">Twitter</a>!</strong>
<a href="https://www.youtube.com/user/AllEarsNet" target="_blank" rel="noopener">Check out our YouTube Channel for reviews, news, information and more! </a>
<h3>Click below to subscribe to the AllEars® newsletter so you don't miss any of the latest Disney news!</h3>
<script src="//static.leadpages.net/leadboxes/current/embed.js" async="" defer=""></script> <img src="http://allears.net/wp-content/uploads/2019/02/free-list-lead-graphic.png" alt="Click here to subscribe" data-leadbox-popup="N2bzisNFMR7vMacnDzjRcg" data-leadbox-domain="dfbguide.lpages.co" />