Even though Van Arsdale France retired from the Walt Disney Company in 1978 and passed away in 1999, his influence on the company is still being felt today.
A week doesn't go by where Van's employee training philosophies don't directly touch new Disney hires, be they fledgling cast members in the parks or even newbies at The Disney Store.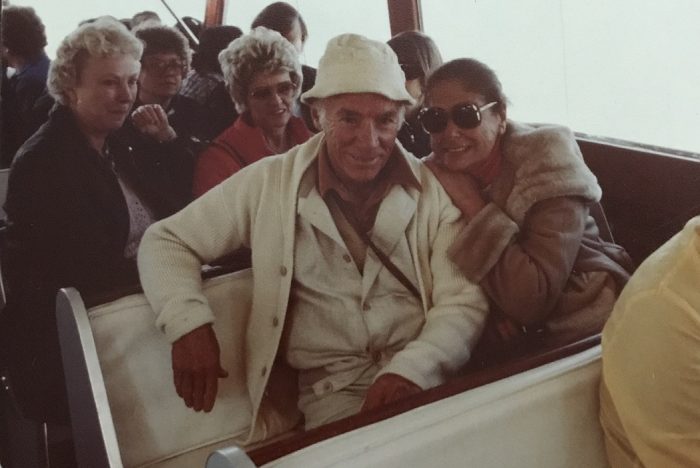 France was hired by Walt Disney in March 1955 to set up a training program for Disneyland's incoming employees. He established Disneyland University, where he taught new concepts in guest service.
His training strategies were ahead of their time and have been copied by many leading companies to this day. Over the years, Disneyland University evolved into what is today's Traditions training program, which is a required course of study for every incoming Disney cast member.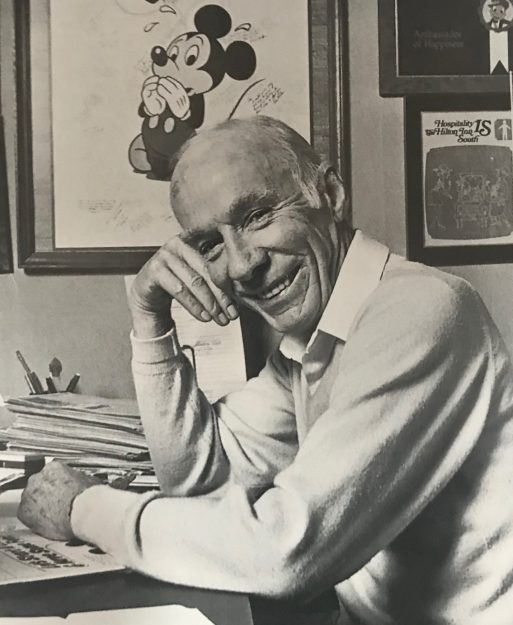 When he started, Van's "office" was located in a renovated house located on the outskirts of the Disneyland property. To turn the house into a functional training center, Disney carpenters came in, knocked down a few walls to create space and painted the exterior white… and thus the training center became known as The White House.
Following his retirement, Van became an author of no small repute. His Window on Main Street was a seminal work, delving into his legendary career as well telling the behind-the-scenes story of Disneyland's creation.
It was released in 1991, but was out of print a few years later. Thanks to the efforts of Theme Park Press and several other folks who knew and loved Van, Window on Main Street was re-released a few years ago, bigger and better than ever.
Writing was second nature to Van. "He wrote all the time," said Susan Webb Fields, the daughter of Van's long-time companion, Estelle [Stel] Webb.
Among Van's literary works was a truly remarkable and endearing essay he wrote after a trip to Disneyland in 1992, which included himself, Stel and Susan's then-3-year-old daughter Stacey, who played a prominent role in what Van called "Guide for Two Old Crocks with a Kid on a Hot, Crowded Day at Disneyland."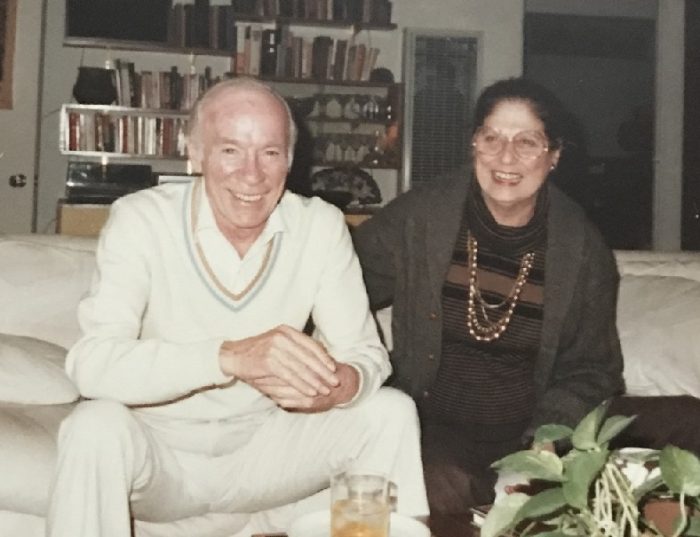 "I love 'Guide for Two Old Crocks,'" Susan said recently. "The 3-year-old is my almost 30-year-old daughter, Stacey.  And, as Van predicted, she grew up and did not stay 3 forever! The story is timeless and needs to be shared."
Here, then, the story of Grandpa Van, Gramma Stel and Stacey's trip to Disneyland in 1992:
Introduction
Picture this: Two elderly – quite elderly – grandparents have a granddaughter, Stacey, age 3, to feed, shelter and entertain over a three-day weekend.
It is Saturday, August 15, 1992. You may ask why that date is important. First, it is one of Disneyland's biggest Saturdays of the summer season. Second, it is one of the hottest days in several Southern California years.
Now at age 3, one cannot expect Stacey to have an extensive vocabulary, but she knows the word DISNEYLAND… and wants to go there.
What do loving grandparents do? They take her, of course… risking death by heat exhaustion and smog-filled air.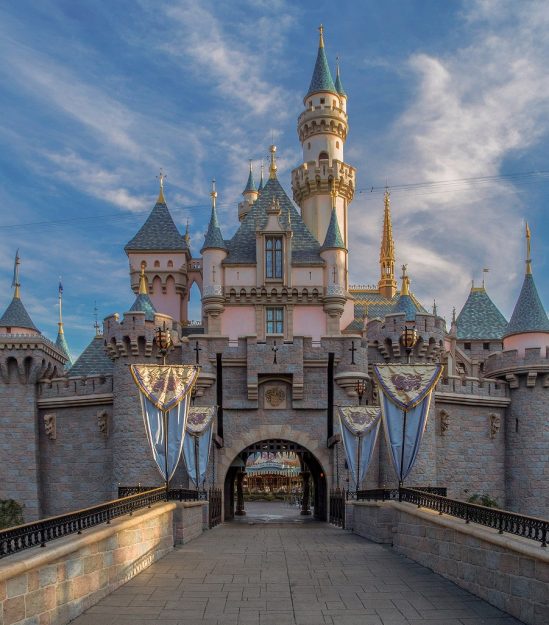 The median age for our threesome, including Stacey's 3.1 years, was 75.6 years. This was hardly your typical group envisaged by Walt Disney when he planned Disneyland for "family entertainment."
One can see a wide variety of "family groups" at Disneyland … representing an infinite variety of combinations of individuals and family relationships.
Our group worked out very well. We had a grand time … just as Walt Disney had planned. Since there may be other elderly folks with grandkids still in the "stroller set," I'm happy to share with them, at no charge, our plan, which I call "Guide for Two Old Crocks with a Kid on a Hot, Crowded Day at Disneyland."
Plan for the fatigue factor
The energy level of a 3-year-old and two old crocks is about the same. When we get tired, we get "cranky."
Kids cry and Grandpas gripe. Ours was a three-hour plan, which would get us out before "crabby time" [Stacey's expression] and get us home in time for lunch and a nap.
Getting in
Although strollers can be rented at the main entrance, we took Stacey's. This saves time … and some money.
At age 3, Stacey gets in free. She still has 11 months to go, but if a kid is small, one might stretch this a bit. Who can tell the difference between 3.8 and 4.1? Can anyone ask to see a driver's license?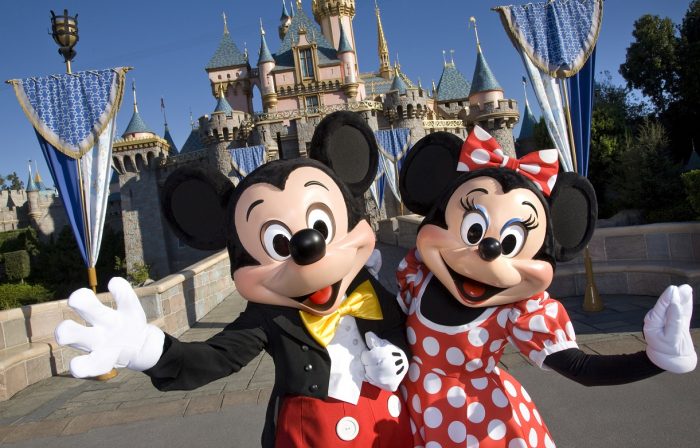 Choosing characters
Characters greeted us at Town Square. We found Stacey loved Minnie Mouse … and managed a hug and a picture with that charming and friendly character.
Although she has seen the video of Beauty and the Beast many times, we found that she has her own preferences. In her words, "The Beast scares me."
Maybe, for a small tot, the Beast is just too big … a matter of size, rather than personality.
Free from thrill rides
There were already long lines at the popular thrill rides. Absolutely no problem. If threatened with a gun, you couldn't get Gramma on the Matterhorn, Big Thunder, Space Mountain, Star Tours or Splash Mountain.
This was a perfect fit in our planning, since Stacey is too short for any of these attractions. This was an automatic saving of our limited time.
The "fascination" factor
So, we didn't have to line up for a 45-minute wait at the Matterhorn, in the blazing sun, but we had another problem with out time schedule.
We stopped to hear the Main Street Bachelors and Stacey was fascinated. We couldn't move her and might have been there all day if they hadn't finally finished their gig.
Stopping for the swans
Although they may be recorded on some payroll, the swans at the Castle Moat proved to be another key attraction. Once again, Stacey was fascinated.
A "wait reduction" plan that worked
To cram the most happiness into the shortest time, we followed a "wait reduction" plan to reduce any time in lines.
While other attractions in Fantasyland already had lines, the wait for the Carousel was only about five minutes. Stacey loves those wonderful horses, and – let's be honest – Gramps and Gramma share her enthusiasm.
After our first trip, we heard [and not for the last time]: "Let's do it again!" … so we got off and back on with a second go-round on the horsies.
Ducking Dumbo
This attraction presented a problem which required a bit of deviousness by Stacey's older guides. She saw those wonderful elephants flying around and wanted to fly with them. Unfortunately, this is a "low capacity" attraction and the line would have used up about 45 minutes. I'll confess, we were a bit sneaky.
We used a "distraction technique" by saying "We'll try to come back after we go on Small World," which is her favorite. She agreed to our suggestion.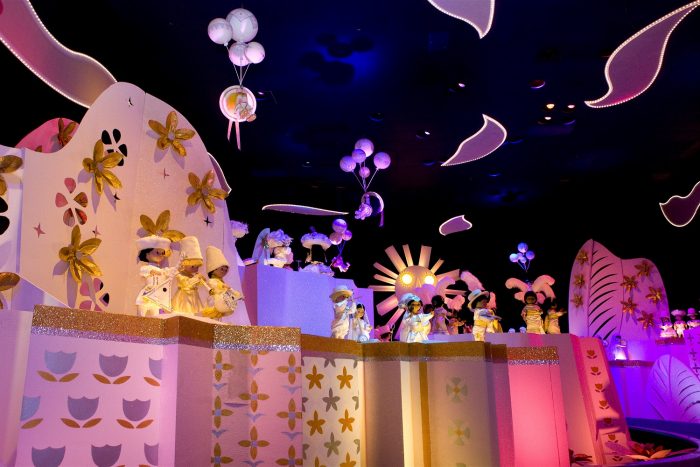 "it's a small world"
I've heard that this great attraction is called a "high capacity" show, taking about 2,400 people an hour. It took no more than five minutes to be seated on a boat – and we even enjoyed the "clock of the world" while we moved along the line.
Stacey had been on this attraction before, but after the first trip, we once again heard "Let's do it again!" We got off, enjoyed the topiary plants, and were soon back on a boat.
This was no problem for Gramma, and as for Grampa, I've loved that attraction since I first experienced it at the New York World's Fair in 1964.
It has improved with age. Just in the last year, it seemed to me there were new bits of showmanship. I always see something new, even after maybe 100 trips.
Didn't pass the PeopleMover
Our plan was to avoid Dumbo on our way back to Main Street. Kiddies and Grampas have one thing in common: A short memory. "Out of sight, out of mind" worked in avoiding the Dumbo line.
We were on schedule, although getting close to "grumpy time." I should mention that I like the PeopleMover in Tomorrowland. It is interesting … and a restful foot-saver. Neither Gramma nor Stacey had ever experienced the ride and agreed to give it a try.
Was this a bore for Stacey? Not a bit. She liked the trip … but even more liked those escalators and the height from the ground. Once again, we heard "Let's do it again!" and we did, one more time.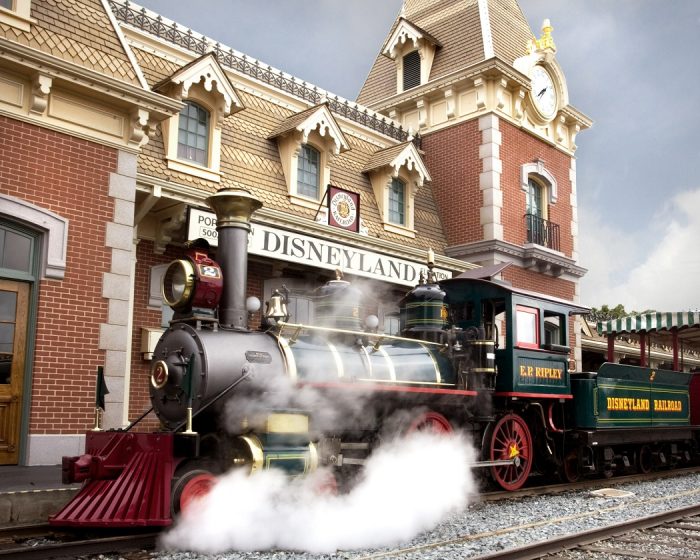 All around the park … by train
We'd rested on the PeopleMover and now, on the way out, I'd mentioned the dinosaurs one could see while on the train.
A reminder: Never mention some attraction if you aren't going to follow through. Three-year-olds remember – and hold you to it. We had a three-minute wait before we boarded the train.
Although the train is one of the first of the 1955 Disneyland attractions, it is getting better with time. It is an "all-age" attraction, except perhaps for teen-agers who love the thrill rides.
And, it had a great dinosaur battle long before these prehistoric animals became popular with Stacey and her brother.
We took one trip. I learned that the "burning cabin" show had been changed, that settlers hadn't been killed by Indians, but was the result of a careless smoker or something.
The trip was interesting, and for the Grampies … a "sit-down" ride, which is sort of an oxymoron. Once again, Stacey said "Let's do it again!" … so we sat and went around again.
When Walt Disney was planning Disneyland, he checked many museums, where he complained about getting "museum feet."
The key to our plan was to avoid fatigue, which could result in a cranky kid or a griping grampa. If you've never seen older folk looking haggard and drawn with children crying or passed out in strollers, you've never been to Disneyland.
When it came time to find our car in the parking lot, we didn't get tears or "I don't want to go." We had stretched our three hours to about 3½, but we left happy. We had a wonderful time … created some memories which will last forever.
We'd spent more time sitting than walking or waiting. We had wondered about using the stroller, but we're glad we did. Stacey could get in and out with ease.
And the popcorn! This is the greatest. In her stroller with popcorn and Coca-Cola, she looked like the queen of Disneyland.
I've read that the song "It's a Small World" is played 365,000 times a year at Disneyland. You can add at least five more times that our threesome sang that catchy tune on our way down the freeways … to lunch and a nap.
It was a memorable day, though it left us with a touch of sadness. Stacey is going to grow up and won't be 3 forever. Damn!
Fond memories of Disneyland trips
Stacey Fields has fond memories of her trips with Grampa and Gramma to Disneyland. "I loved them as if they were second parents! They mean the world to me!
"Although I was very young and my memory isn't the greatest, what I do remember is having so much unbelievable fun and meeting Jasmine, Belle and Minnie.
"I do have one story I recall. When I was going to meet Belle, my grandma told me to go on up and ask if I can hug her and so I ran up and The Beast got to me first and scared the bejesus outta me and I ran back to my grandma and grandpa crying!
"He was really big and scary to little ole me when I was around 3 or 4. While grandma was comforting me, grandpa apparently went over and kindly asked Belle to come over from The Beast so I could meet her, and she did, and I hugged her.
"To this day, costume characters still frighten me a little!"
[Our thanks to Susan Fields and her daughter Stacey for their assistance with this blog, as well as author Mike Virgintino, who sent me a copy of "Two Old Crocks" to get the ball rolling. And, of course, Van France, who penned this charming essay.]
Do you enjoy reading about Disney history? Don't miss these other blogs by Chuck Schmidt for AllEars.Net:
Be sure to follow @allearsnet on Instagram and Twitter!
Check out our YouTube Channel for reviews, news, information and more!
Click below to subscribe to the AllEars® newsletter so you don't miss news of any of the latest Disney news!