The Festival Marketplaces at the 2019 Disney California Adventure Food & Wine Festival offer a variety of foods and beverages, many of them new this year.  After several visits to the festival this year, I've had the chance to sample quite a few of menu items. While I haven't tried all of them, here are the ones I thought were winners – and some that were not-so-good.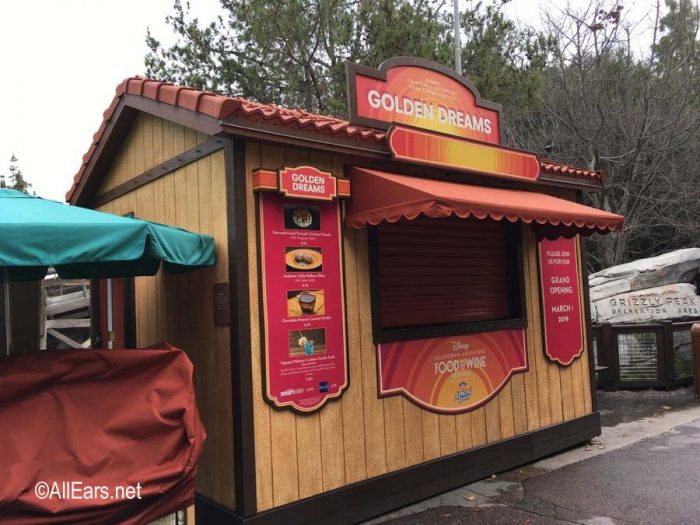 By far my overall favorite was the Chocolate Crunch Cake from the Garlic Kissed marketplace ($5.50). Yes, chocolate at the garlic-themed booth! Seriously, I think it's the best dessert I've ever had at a Food and Wine Festival… and way up there on the list of best Disney desserts ever.  It's filled with chocolate mousse with a vanilla custard center.  There are chocolate crumbs on the bottom, and the whole thing is covered with chocolate ganache.  The ears are yummy dark chocolate.  So good.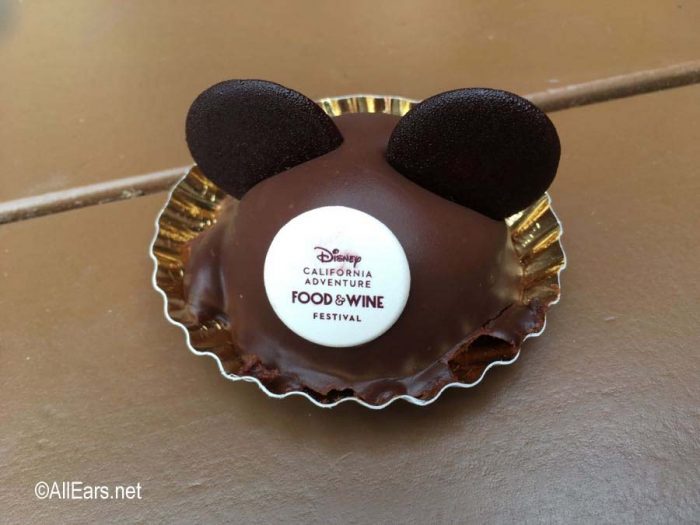 The Festival Beer Garden offers a few non-beer beverages this year.  I sampled the Twisted Horn Blue Cloak Mead ($11.75).  I was surprised at the color, but that's because it's made with blueberry juice in addition to orange blossom honey.   It was not overly sweet.  I found it quite refreshing, and really very good.  The 2 Towns  Outcider hard apple cider ($10.75) gets honorable mention at this location – it was also excellent.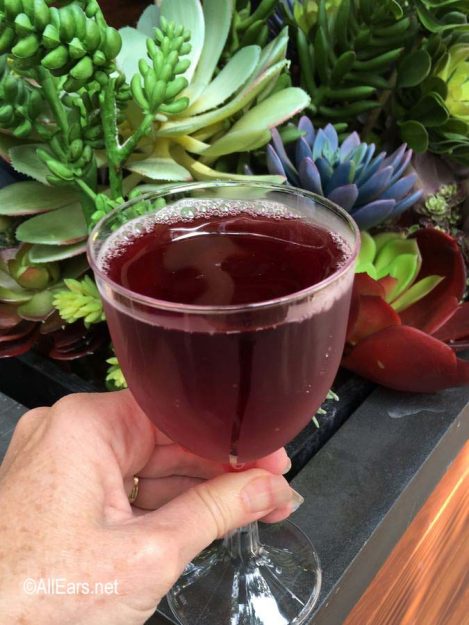 Paradise Garden Grill's Festival menu includes an Impossible No "Meat" Ball Submarine ($11.99 for the full-size dish, pictured is the smaller Sip and Savor Pass size).  This is a vegan dish with soy cheese and marinara sauce.  While the soy cheese didn't do much for me, as a whole it was a really tasty dish.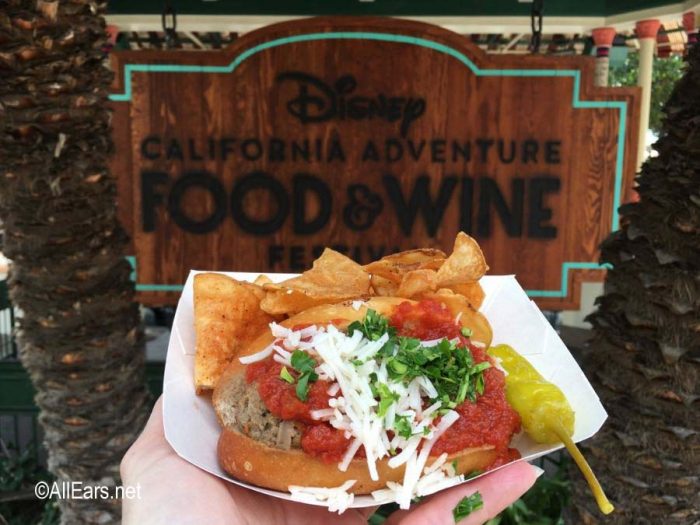 Also at Paradise Garden Grill was another favorite: Beer-braised Pork Tacos with pickled apple slaw, black beans and queso ($12.99).  The pork was tender and not fatty.  The pickled slaw gave it a little bit of crunch and that bite of vinegar.  Very good.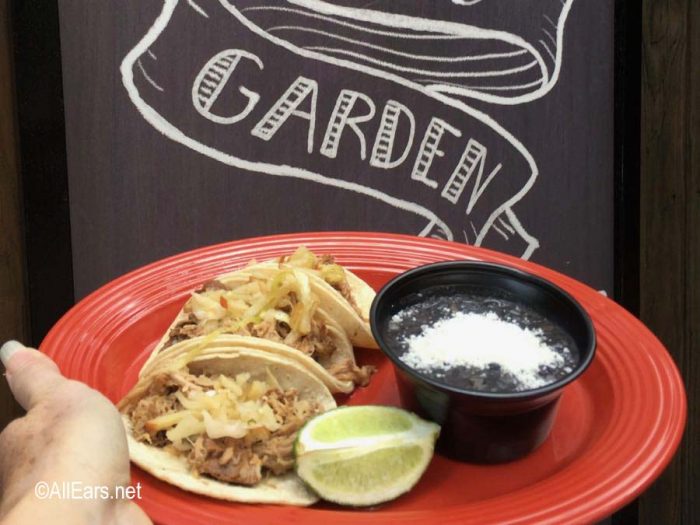 The Chocolate-Peanut-Caramel Parfait from Golden Dreams ($5.50) was another good dessert.  Look at all of those delicious layers! It tasted more of chocolate and caramel than it did of peanut butter (for me that's a good thing).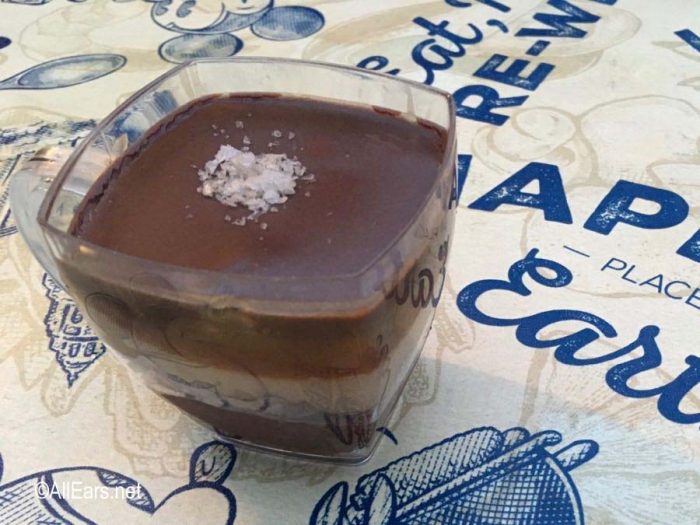 And now we have the not-so-good… though there are fewer of those.
The Orange Chicken and Rice from Citrus Grove ($7.50) was simply not good.  More breading than chicken. And the orange sauce was bitter – tasted like there was too much orange peel in it.  Surprisingly this was a dish that returned from last year.  I didn't sample it last year, but others told me that it wasn't good last year, either. At least it was consistent?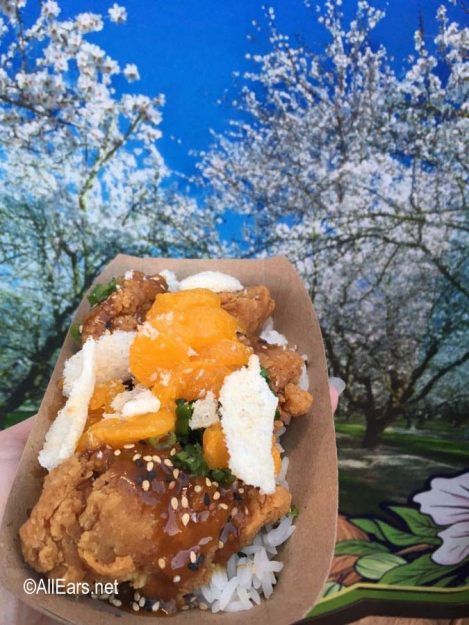 The Petite Impossible™ Burger from Avocado Time ($8.00) did not make a good impression on me.  It was dry.  That could have been because it was not freshly prepared, but I couldn't really tell.  I wouldn't get it again.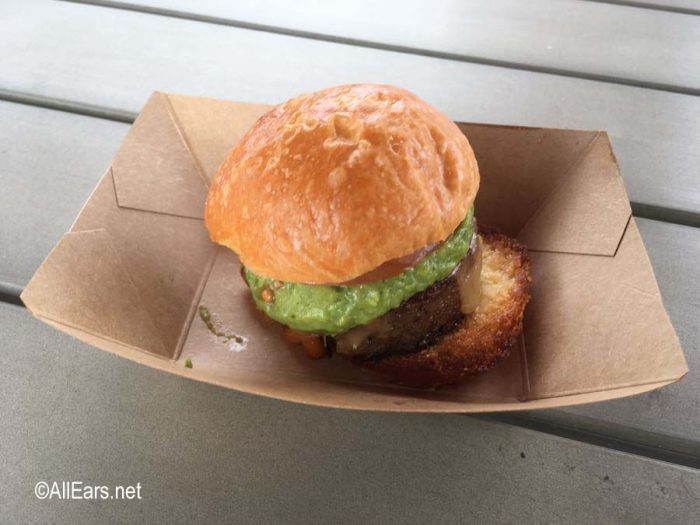 Also from Avocado Time was Spiced Roasted Chicken on Pita, which was just kind of meh. Last year the same place had spiced Oumph on pita (a vegan plant based protein), and it was really good. This was a real come-down.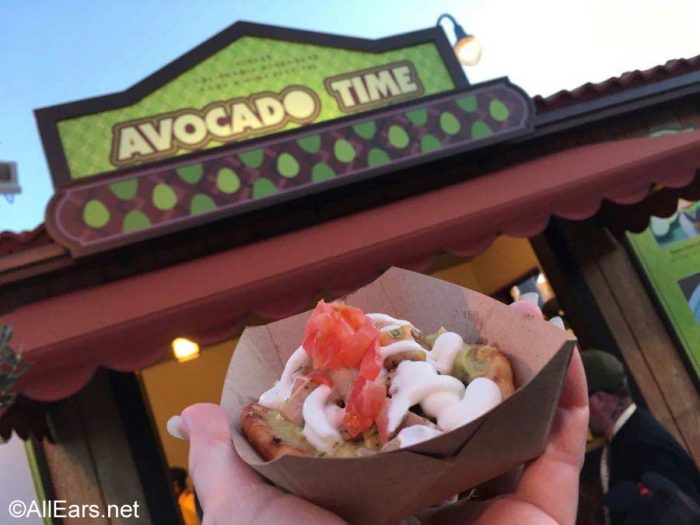 Another so-so dish was Artichoke Toast from I ♥ Artichokes, with olive tapenade ($6.50).  Way more olive than artichoke to this one.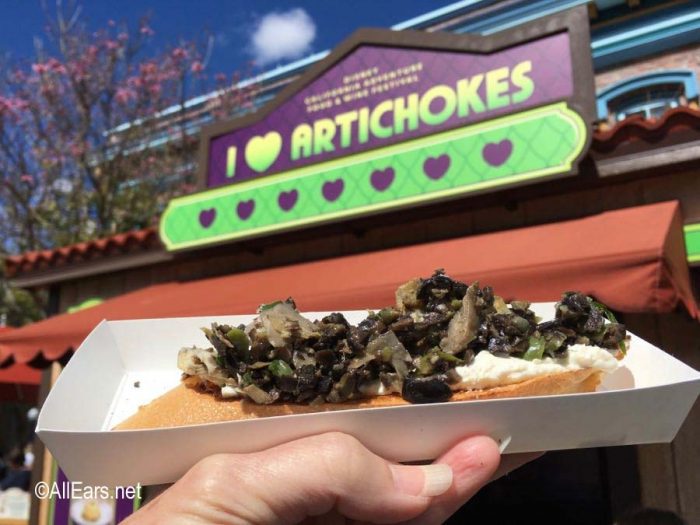 This last one is probably more controversial… while I didn't care for it, others considered it one of their favorites. The dish? The Ham & Vella Jack Cheese Pinwheel from Nuts About Cheese ($7.50).  The bottom of it was overcooked and very tough, and the pastry was not very flaky.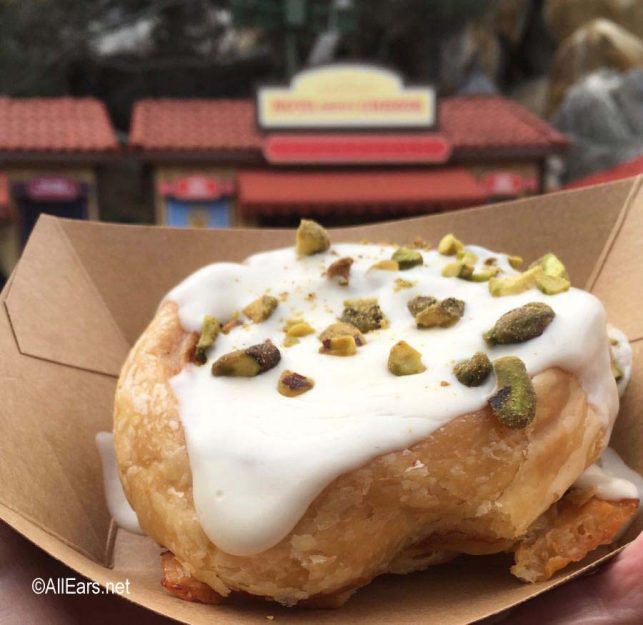 Despite the dishes I didn't really care for, overall I thought the food was better this year than last year.  Though a large part of that could be because there were two really good chocolate desserts this year… and you'll always get me with chocolate!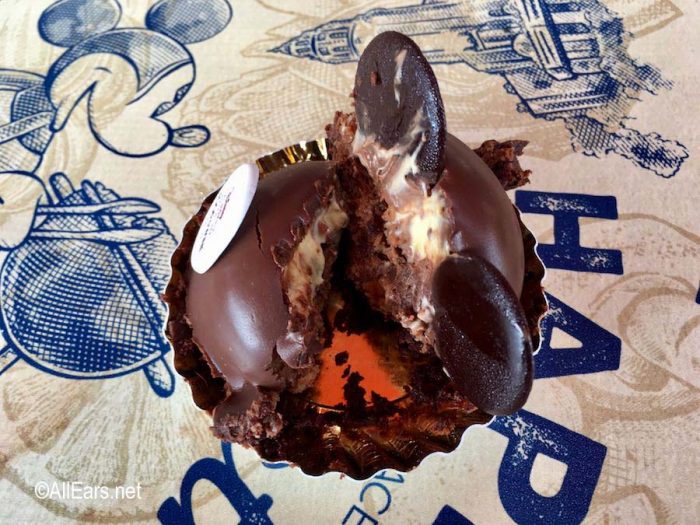 The Disney California Adventure Food & Wine Festival runs through April 23, so there's still plenty of time to check out the food and beverage offerings.
Let us know what you think – were any of your favorites mentioned above?  Leave us a comment below!
Remember! When you're in Disney tag us @allearsnet in your photos!
Don't miss any of the latest Disneyland Resort news! Click below to subscribe to the AllEars® newsletter!