Backlot Express in Disney World's Hollywood Studios is always a reliable location for its quick service menu, decor, and Star Wars themed food. Imagine our surprise when we learned they had a new menu…and the Star Wars themed food is gone!
That's right — just as we start marking our calendars for the Fall, 2019 opening of Star Wars: Galaxy's Edge some Star Wars items are being removed from other areas of the park!
As we read the menu we saw some of the items are actually the same items, just with new names. The Galactic Salad is now the Southwest Salad, and the Royal Guard Burger is now the Backlot Burger.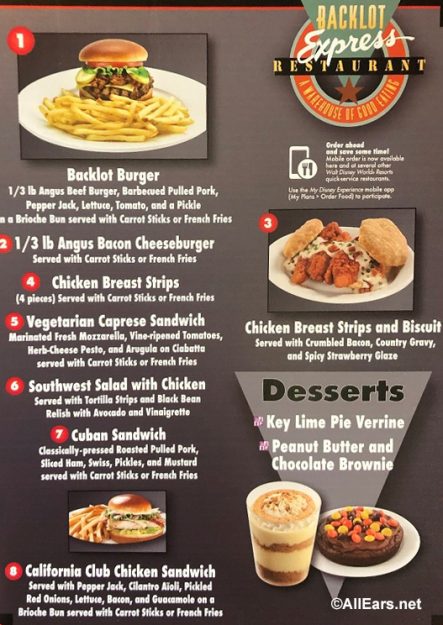 But, Star Wars fans don't need to despair — you can still get a BB-8 souvenir sipper here!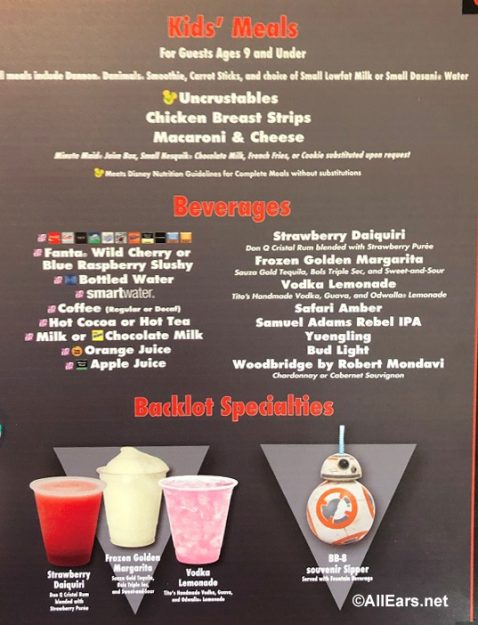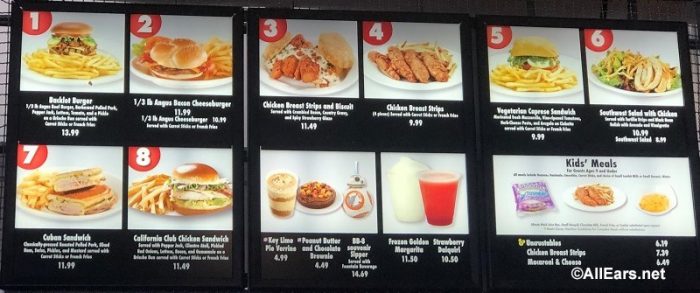 Additions to the menu include the Chicken Strips and Biscuits, Cuban Sandwich, Key Lime Pie Verrine, and Peanut Butter and Chocolate Brownie.  The Chicken Fingers have been updated to Chicken Breast Strips, while the Vegetarian Caprese Sandwich along with the California Chicken Club Sandwich remain on the menu.
We tried out four of the additions: Chicken Strips and Biscuits, Cuban Sandwich, Key Lime Pie Verrine, and Peanut Butter and Chocolate Brownie.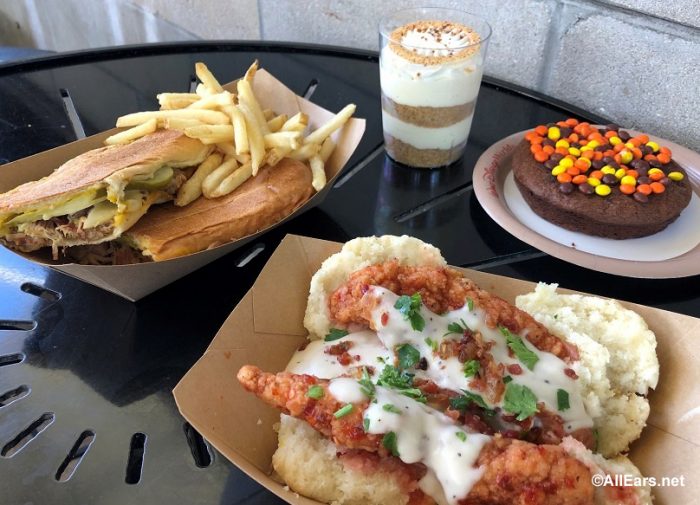 We started with the Cuban Sandwich made with the classic ingredients of  roasted pulled pork, sliced ham, Swiss cheese, and pickles and mustard.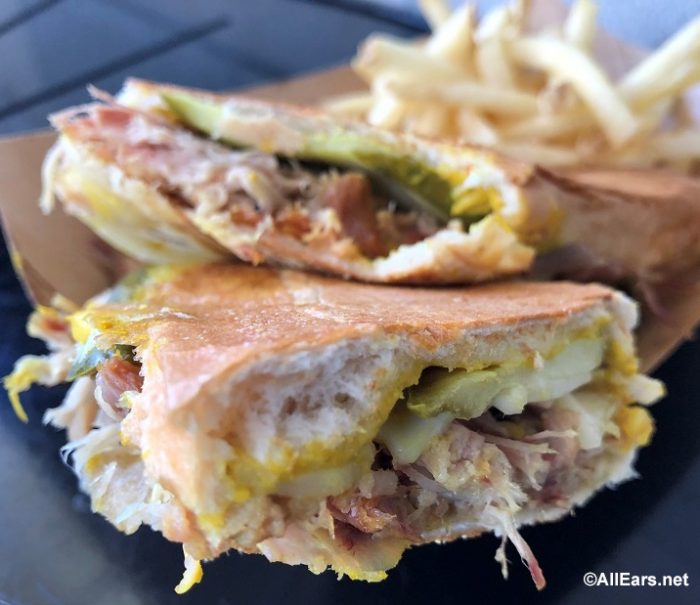 This sandwich is strong on the mustard and pickle flavors (our sandwich had a generous amount of mustard on it). If these aren't your favorite flavors then you may want to ask for your sandwich to made without these items, or on the side.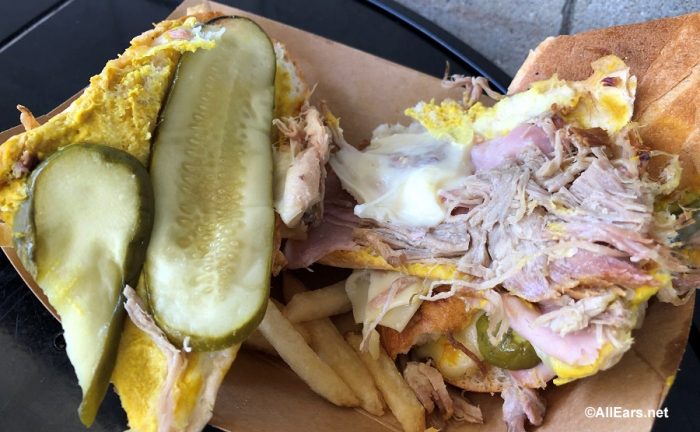 We liked the flavor of the ham much more than the pork. The ham was flavorful, the pork was okay on flavor. The bread was a good, pressed bread for this sandwich.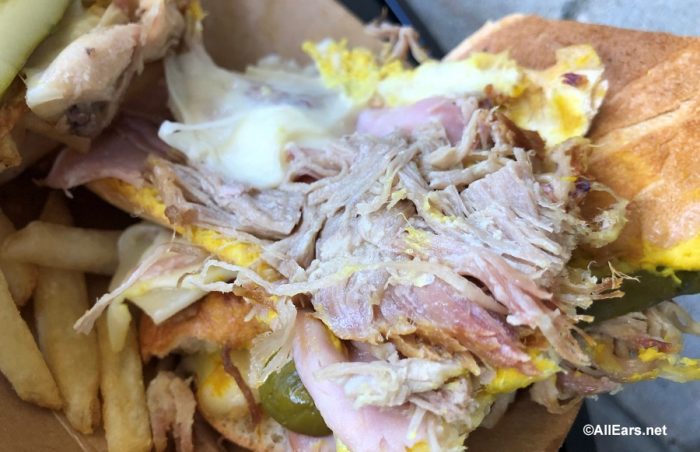 The Chicken and Biscuits dish comes with two buttery biscuits, three chicken strips, country gravy, a spicy strawberry glaze, and bacon crumbles. We know, it already sounds delicious!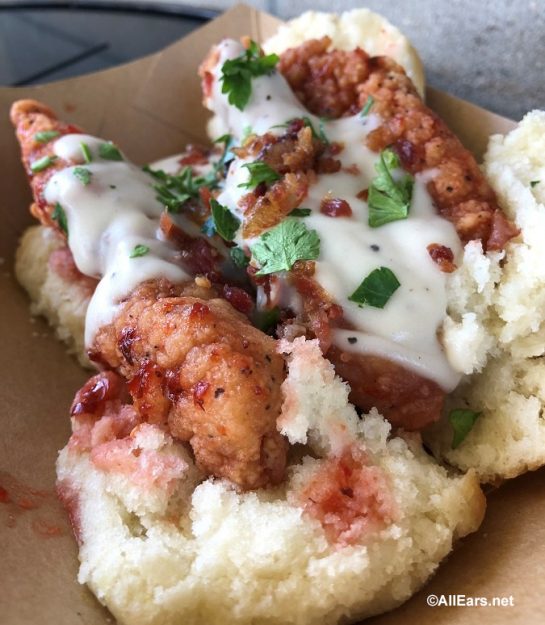 The biscuits are really good, buttery, and not at all dry. The spicy strawberry glaze is another winner (it does have a tang and kick to it, so if you're spice-adverse you may want to order your dish without this sauce).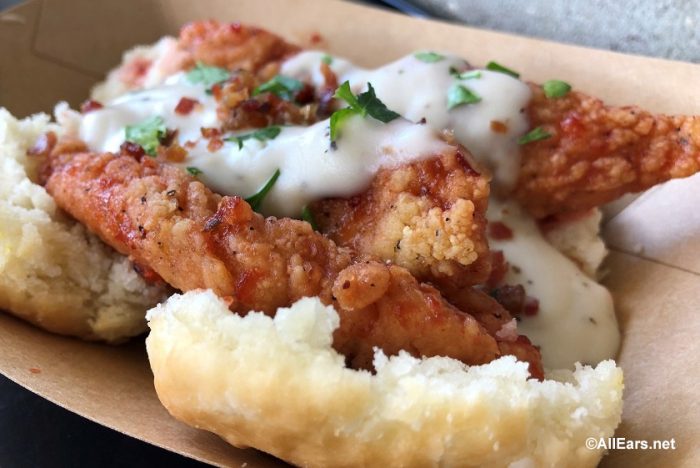 The gravy doesn't have a strong flavor, which we liked as it did not compete with the strawberry glaze. You'll also find less breading on the chicken strips than you would usually find on chicken tenders, which we appreciated.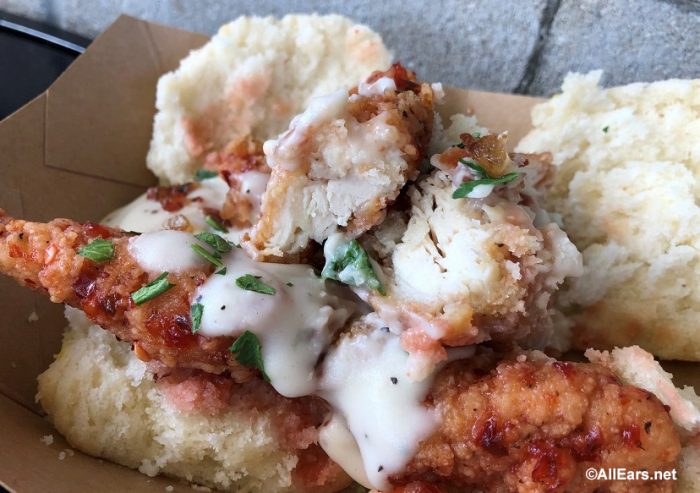 Onto the best part of a meal — Dessert! We tried two items out, the Key Lime Verrine and Peanut Butter and Chocolate Brownie. The Key Lime Verrine reminded us of a few of the Flurry of Fun Verrine style desserts.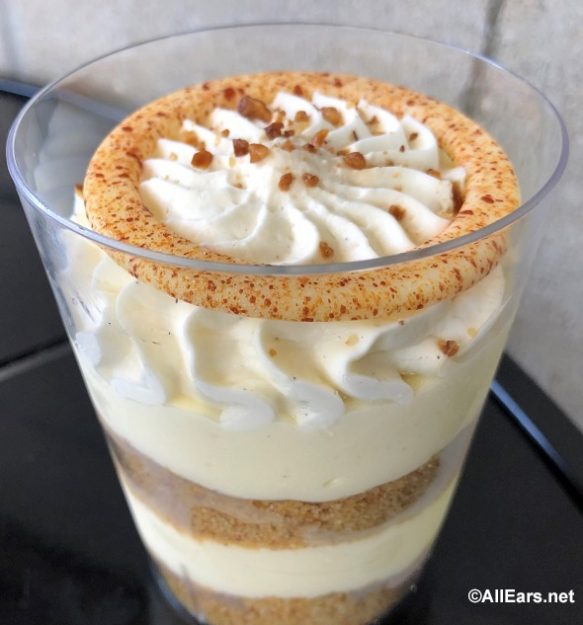 You'll find layers of graham cracker crumbs, key lime custard, and whipped cream in this dessert — topped with a white chocolate ring.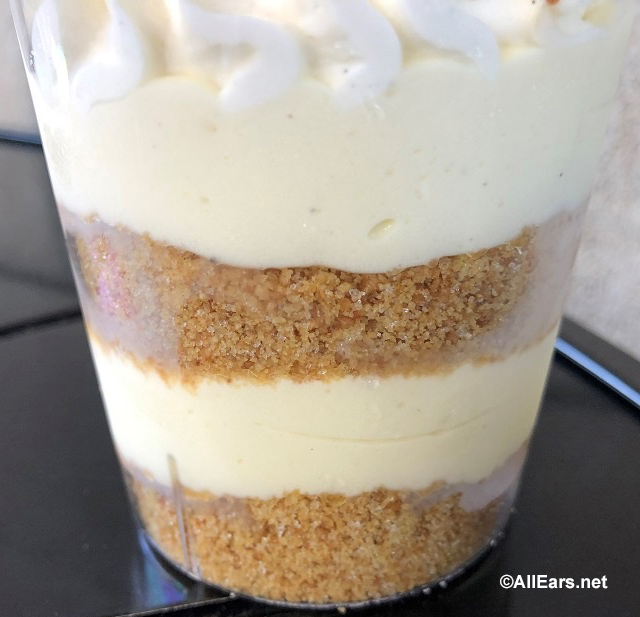 We liked this, but would have preferred a sharper or stronger key lime flavor personally. We found the key lime flavor was overpowered by the graham cracker flavor or whipped cream in some bites. But overall, if you're looking for a sweet and slightly sharp finish to your meal you might like this — if you're a key lime pie fan, you may miss the key lime flavor.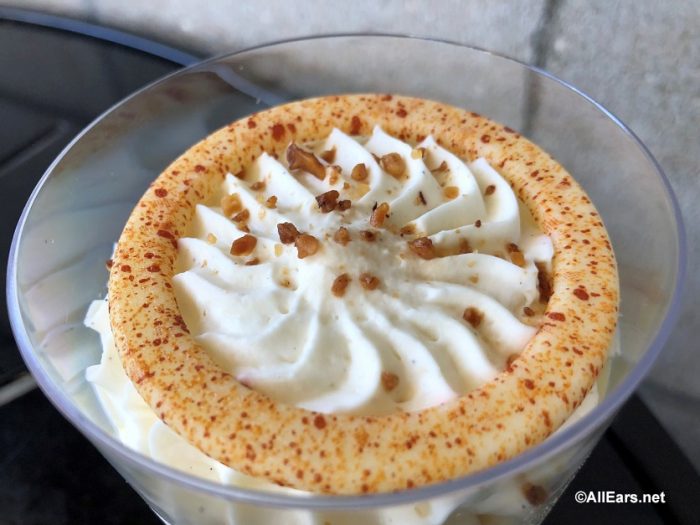 Spoiler Alert — we saved the best for last. This GIANT Peanut Butter and Chocolate Brownie is filled with peanut butter, then iced, and covered in peanut butter candy pieces!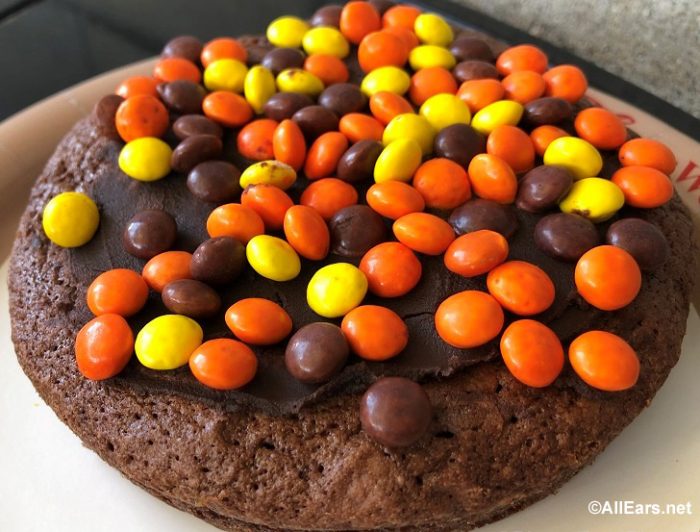 This is dense, rich, and definitely filling. This is share-able, or maybe it's good as your main course or afternoon snack!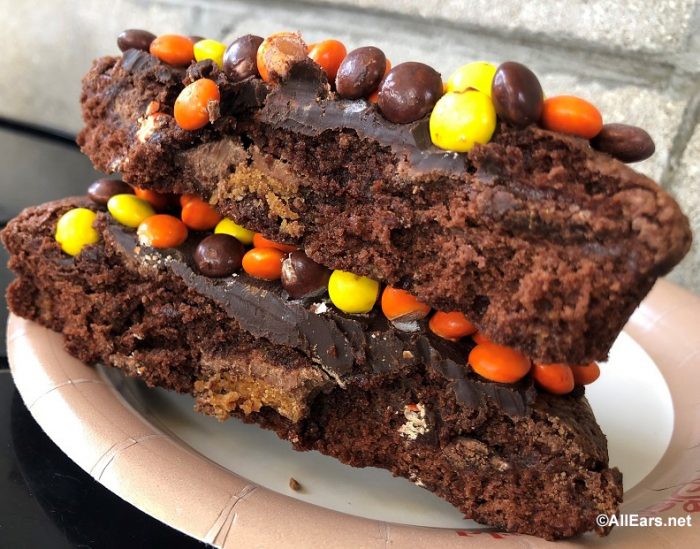 Though we miss the Star Wars theme in the food, we found these additions to be tasty overall, and this location will remain on our list of reliable places to grab lunch or dinner that will likely satisfy everyone in your family. Plus, as we say goodbye to the Star Wars food here, we look forward to what's to come in Star Wars: Galaxy's Edge — including Blue Milk!
We update our menus very frequently, and if you're looking for recent changes there's an easy way to do just that. Click on, "Click here to view recent changes" under the Last Updated date on the menu page and there you'll see what changes have been made to the page.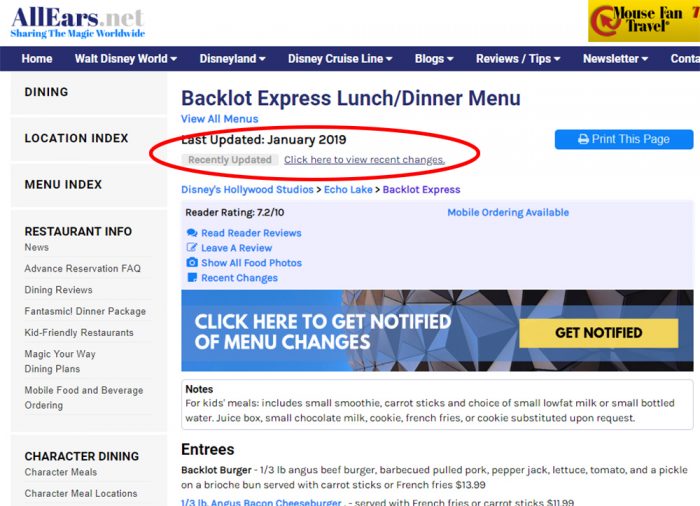 Have you dined at the Backlot Express recently? Are you a Star Wars fan? Will you miss the Star Wars theme here on the menu? Let us know in the comments below!
Huge thanks to our friends at DisneyFoodBlog.com for sharing these photos with us!
Remember! When you're in Disney tag us @allearsnet in your photos!
Want more All Ears content? Be sure to check out our YouTube Channel for reviews, news, information and more! 
Subscribe to the AllEars® newsletter so you don't miss any exciting Disney news!