Once again, E3 has come and gone, leaving a plethora of game announcements and trailers in its wake. This second year of the show opening up to paying fans featured increased programming, more virtual queues for demos, and a continued diaspora of companies headed offsite with individual installations.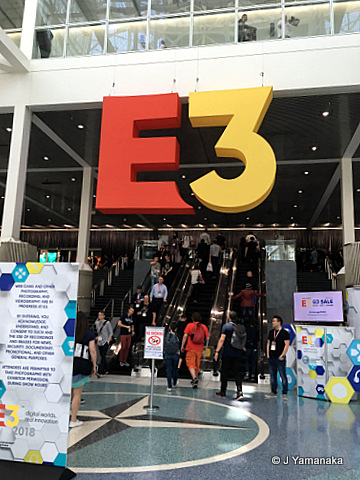 [Obviously, there were a million more announcements and games demoed than I've touched on here–many trailers and individual company press conferences are available on online for those interested in a more in-depth look. These are just the highlights from the standpoint of a non-hardcore gamer/Disney fan/me.]
Prior even to the start of E3 proper, EA rolled out its offerings with the return of their offsite: "EA Play.Fan Fest" This year, they moved further away to the Hollywood Palladium and featured demos of Battlefield V, various EA SPORTS games, Anthem, Unravel 2, Command and Conquer Rivals, a new expansion pack for The Simsâ"¢ 4, a new mode for Star Wars Battlefront II as well as several of their mobile games.
During their press conference, DICE announced various additions planned for Star Wars Battlefront II, including a new Starfighter mode, multiplayer sandbox experience, and Clone Wars content to add to the current Han Solo campaign.
They also announced a new Star Wars game set between Episodes 3 and 4 during the time of the Jedi extermination–Jedi: Fallen Order, set for release at the holiday season of 2019. (Newsletter signup here.)
Their major gameplay reveal was for the upcoming BioWare game Anthem. Billed as a multiplayer co-op with BioWare storytelling integrated in, Anthem delivers a shared, living world that is experienced communally, but also has individual bases where a character's personal stories can play out.
The setup, a world abandoned by its gods who left environmental-altering tools for the inhabitants to reshape it, seems a little familiar to BioWare's last game, the polarizing Mass Effect: Andromeda, but we'll find out for sure when it releases on February 22, 2019.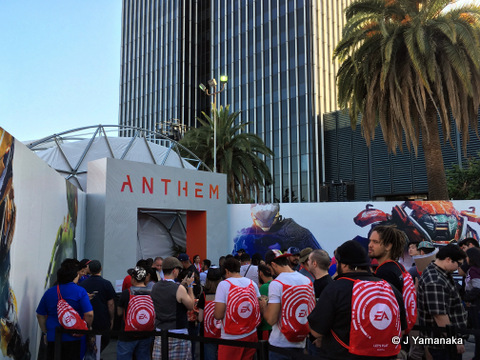 Over at the Microsoft press conference, 50 games were shown, which pretty much made it more or less a trailer clip show. Among the many, a new trailer for a DLC for the action game Cuphead was debuted:
Cuphead is a fascinating game, as cute as its boss battles are challenging, that features animation inspired by the cartoons of the 1930s, complete with hand-drawn cels, watercolor backgrounds, and an original jazz score. Later on in E3, a panel at their Coliseum venue presented a look at the process of hand-drawn animation featuring Disney animator ("Beauty and the Beast," "Lion King") James Baxter, and Studio MDHR lead animator Hanna Abi-Hanna. The two worked quickly to animate a short sequence having been given random starting and ending poses of Cuphead's new playable character Ms. Chalice while Executive Producer Maja Modelhauer described the studio's virtual office process.
For the Disney fan, the biggest upcoming game is Kingdom Hearts 3 (KH3) which got exposure at three different press conferences. At Microsoft, KH3 got a new trailer showcasing some footage from the Frozen universe, including the subplots that Elsa is in danger of falling to the Dark Side, and Aqua (from Birth By Sleep) has maybe already fallen.
In Square Enix's press conference they debuted a slightly expanded version of the Microsoft Kingdom Hearts trailer, and confirmed some of the Disney worlds in the game as being Tangled, Big Hero Six, Hercules, Toy Story, and Monsters Inc.
Another world was added to the list at Sony's press conference, for which they saved the Pirates of the Caribbean story trailer.
[Previous blogs to catch you up on Kingdom Hearts are here, where I talk about the remastered collection of the first two Kingdom Hearts games, and here, where I recently got an early look at Kingdom Hearts III.] KH3 will release on January 29, 2019 on the PS4 and XBox One.
The game that generated the most buzz of the Microsoft press conference, and arguably of all of E3 this year, was Cyberpunk 2077. A single-player story-driven RPG from CD Projekt Red (the studio who produced the massive Witcher 3,) it appears to follow a member of a criminal element through a large dystopian metropolis with "Blade Runner" overtones.

[This game clearly has dark, violent aspects and is probably not for children.]
One of Sony's major games from their press conference was Marvel's Spider-Man, from which they showed a gameplay trailer. Set eight years into Parker's Spider-Man career, the video shows Electro staging a jailbreak at The Raft, and some of the combat between Spider-Man and his iconic supervillains (along with Electro,) Rhino, Vulture, Scorpion, and Mr. Negative. Spider-Man will be released on September 7 for the PS4.
Over on the Coliseum stage, easily one of the highlights of E3 this year was the live reading of select scenes from LucasArts' 1998 Grim Fandango.
Original voice actors reunited for the night with Tony Plana as Manny Calavera, Maria Canals-Barrera as Mercedes Colomar, Alan Blumenfeld as Glottis, Patrick Dollaghan as Domino Hurley, and Jim Ward as Hector LeMans. Game director Tim Schafer narrated, and special guest star Jack Black filled in for miscellaneous parts. Original music composer Peter McConnell provided live music for the show.
ILMxLAB, known to Star Wars fans as the Lucasfilm immersive entertainment division behind the popular Downtown Disney attraction "Star Wars: Secrets of the Empire," held a panel discussion on "Pioneering Immersive Storytelling."
–While storytelling can take many different forms in VR as in any other medium, they have been working on giving guests an immersive cinematic experience: To let them feel they have entered the other side of the movie screen and can explore the worlds they have previously enjoyed watching.
–In VR/AR entertainment, creators have to give up some control over the experience's narrative. The emphasis may ultimately become providing worlds where stories can happen, rather than driving a linear storyline.
–Alternatively, each person going through the experience will have their own individual story specific to them, depending on their actions and what they bring with them.
–One of the goals of location-based VR like "Secrets of the Empire," is not just suspension of disbelief, but absence of disbelief.
–On looking at the actual physical space of "Secrets of the Empire," Mohen Leo (Director of Content and Platform Strategy at ILMxLAB) concluded that realizing the environment as it really was paled in significance to his memories of the fake environment.
–Challenges include making guests feel a part of the environment and not just an observer, while the technology to have characters respond specifically to any guest input is not yet available.
Later, "Avengers: Infinity War" director Joe Russo and Fortnite creative director Donald Mustard talked about the future of storytelling and the integration of Avengers into Fortnite* in "Worlds Collide."
–The more compelling the viewpoint, the greater the emotional connection a work will have with its audience, and worldbuilding is a component of propelling that.
–While Russo feels that 2-dimensional storytelling has had a good run, the traditional two-hour film experience may be done in 5-10 years. His kids lack the nostalgic ties he has to movie watching and are more interested in quickly and easily absorbing innovative content.
–Immersion will be the key component of entertainment in the future. The question will be how to allow players agency while still molding a narrative around them.
–When technology makes it more ubiquitous, AR may change the world, as each person will be able to curate their own existence to suit their own interests/tastes.
–Russo contacted Mustard through Disney about three weeks before the opening of "Infinity War" to put Avengers into Fortnite, and they both felt it was authentic to what the twelve-year-old inside of themselves would want.
–The point of view of "Infinity War" is Thano's point of view, so as the focal point of the film, they found a way to give him a limited time event in Fortnite.
Beyond the panel discussions, E3 showcased the usual sedate, understated displays as usual: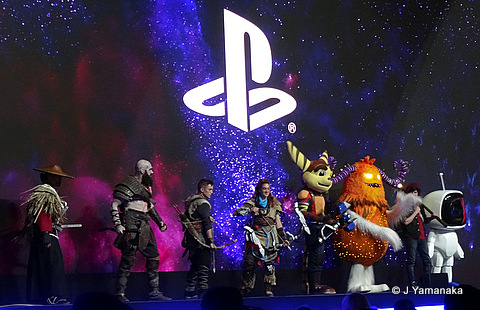 Overall, I felt like the flow of foot traffic was improved this time around (except the first day around the SEGA/ATLUS booth, because people will crush a body for a Persona 5 bag) over last year where the new influx of paying guests had increased the body count to unwieldy numbers. Part of this was possibly because of the continued exodus of companies who used to have major crowd-collecting booths such as EA–Microsoft was the latest defector this year, moving its Fan Fest to an off-site location at Microsoft Theater in LA Live. Subsequently there also seemed like there were fewer things to do as the remaining booths sported pretty lengthy lines for the more popular demos. One thing that did help was the increasing use companies are making of online reservations for demo spots–the only way I got in to check out some of the Playstation VR titles.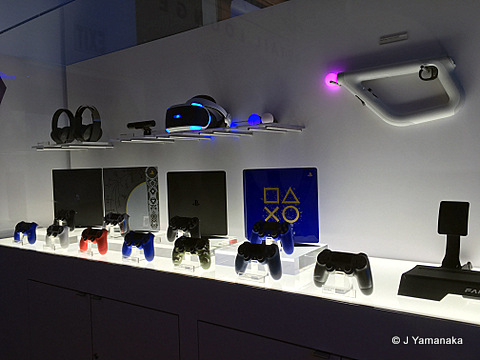 The Coliseum panel lineup was much improved and I think revealed a greater understanding of what kind of programming is needed to make people trek the couple blocks over there from the convention center. In general, the concerts and performances were a much better draw than last year where it was mostly the same trailer discussions you might have the opportunity to see elsewhere.
Probably the main negative I saw for this show was the bizarre security guidelines E3 put out prior to the show, forbidding backpacks in the convention center and any bags at all in the Coliseum (I ended up having to buy a lock so I could leave my stuff at the convention center before going to panels.) While they started out saying that no one would be admitted to the panels with a camera or even readmitted into the convention center with the large bags given away inside the convention center, it quickly became evident that these rules were not being enforced in virtually any meaningful way and by the end, people were bringing pretty much anything, including video cameras and the waist-tall Final Fantasy bags pretty much anywhere.
E3 is clearly continuing to evolve from the industry-only trade show it used to be, into a video game convention along the lines of PAX. This year looked like a step in the right direction–a trend which we will hopefully see continue on next year.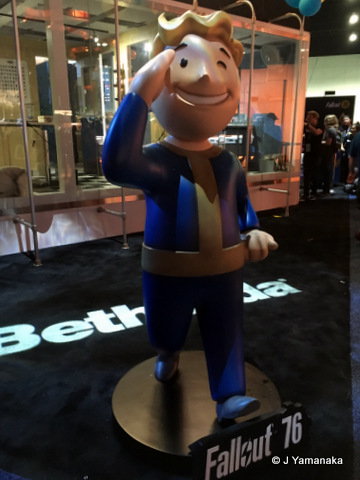 *It's possible that, like myself, you are unfamiliar with Fortnite, which is a free-to-play multiplayer survival game that has proved to be incredibly popular.