Last August Carol took her annual 'solo' trip to Walt Disney World to attend the yearly EPCOT Pin Event. When she got home she couldn't stop raving about the backstage tour that she and her friend Carrie had taken. They signed up for the "Caring For Giants" tour at Disney's Animal Kingdom and spent an hour getting up-close-and-personal with Disney's elephant herd!
When she showed me the pictures I thought, "I can't wait to do that myself."
Carol and Carrie stopped at the booking desk pictured above to book their tour. It's in Harambe Village, on the left as you approach the stand-by entrance for Kilimanjaro Safaris. The tour costs $30.00 but there are discounts for Annual Passholders and DVC Members. There may be other discounts available, be sure to ask when you book your tour.
At the appointed time everyone booked for the tour assembled beside the booking desk to begin their adventure. There was no one there but Carol and Carrie. The group is always small, fewer than a dozen people, but on that particular tour there were only two! Carol and Carrie had a private tour!
A host from the booking desk escorted the ladies through the gate next to Kilimanjaro Safaris and into a 'backstage' area. About a hundred yards away was a small passenger van where they were introduced to the driver who transported them through some backstage areas of the Animal Kingdom, along Perimeter Road. Sorry, no pictures were allowed while 'backstage'.
As the driver took them to the elephant area the host explained the functions of all the buildings and facilities they passed. They enjoyed a quick glance at some of the animal care buildings and the barns many of the animals call home.
Have you ever taken a safari ride late in the afternoon and seen that magnificent sunset out on the savanna? On this backstage tour the driver took them very very close to the sun! Spoiler — that sunset is 100% Disney magic!
Soon they pulled over and parked. The driver and host introduced them to their guide, Ashley, who is a full-time Disney Animal Specialist. The Animal Specialists work with the animals on a daily basis and take turns acting as interpretive guides for the backstage tour.
Ashley escorted Carol and Carrie up a short flight of steps into their private viewing area. The area has been used by animal care workers for almost 20 years because it's a great spot to observe the elephants. That was the sole purpose for the viewing area until the Caring For Giants tours began in March 2017.
WOW! What a view! It's a small area but there were spots where the elephants were no more than 80 to 100 feet away. Amazing!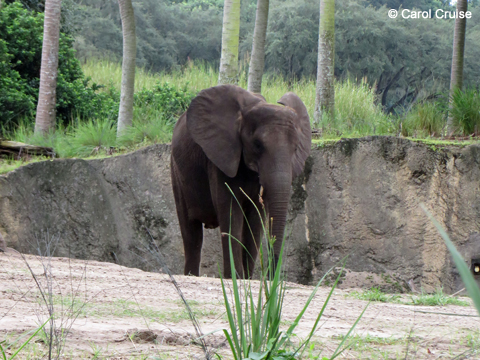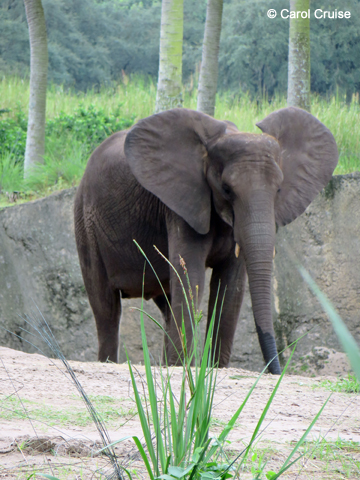 As Carol and Carrie watched and snapped pictures Ashley called all the elephants by name and talked about their unique personality traits.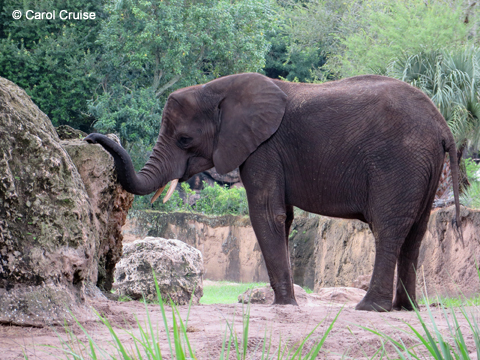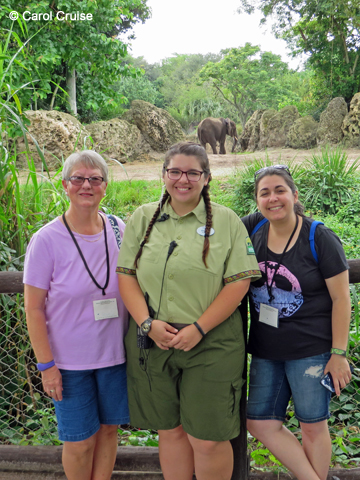 The newest baby elephant, Stella, arrived with her mom and was immediately the centre of attention.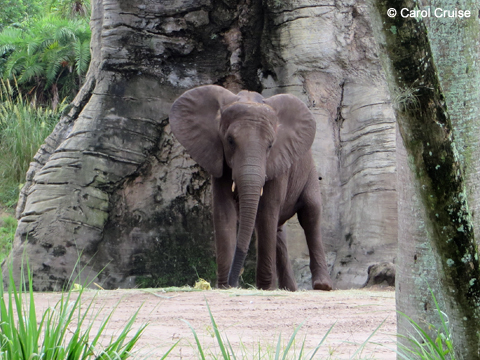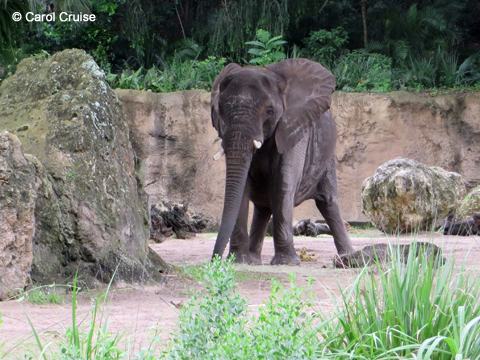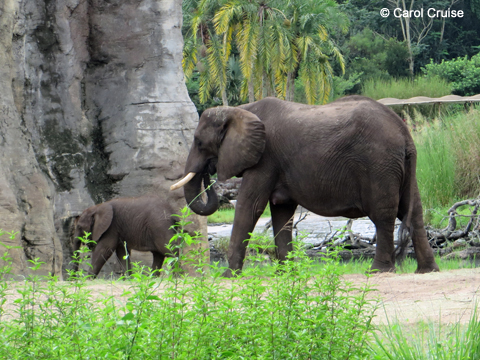 After a few minutes an African Cultural Representative joined the small group and talked about conservation in his native country.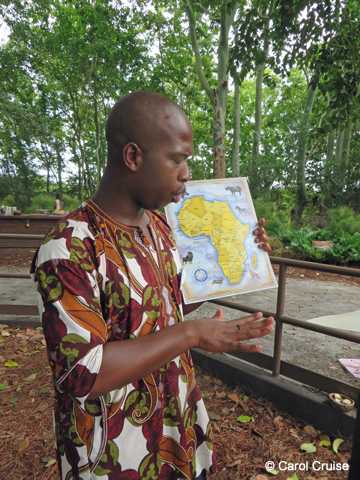 These African employees rotate in and spend a year working at Disney as part of the Disney Cultural Representative Program. It's a program designed for adult employees, but it's similar to the Disney College Program that brings so many students to the International Pavilions at EPCOT.
Carol and Carrie listened to the Cultural Representative as they snapped pictures. He told how African nations are working together to fight poaching and restore natural habitat to help save endangered species. He described innovative programs which are helping to strengthen elephant herds, along with many other species that are threatened as we humans continue to expand our cities and reduce wildlife habitat.
Did you know that elephants are afraid of bees? African farmers used to trap or even shoot elephants to keep them away from valuable crops. There days those farmers have established bee hives which are a natural way to keep the giant beasts away. As an added bonus, the farmers now have some honey to sell!
Part of the fee that you pay for your Caring For Giants tour is contributed to the Disney Conservation Fund and helps support those conservation efforts in Africa!
This is Rafiki, the matriarch of the Disney elephant herd.
While the Animal Specialist and the African Culture Representative provided all that colourful background information Carol and Carrie were able to wander from one end of the viewing area to the other and follow the elephants as they moved.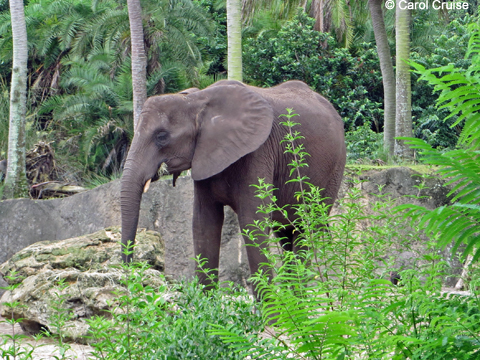 It's a much better venue for pictures than that bouncy old safari truck!
All too soon the hour was up! The ladies headed back down that short flight of steps to the waiting van, which whisked them back to Harambe Village.
Needless to say, when Carol and I were back to Walt Disney World together, just a few months later, one of the first things we did was book another Caring For Giants tour.
We shared our backstage ride in the van with a family of four who had just noticed the tour as they walked past and booked it at the last minute.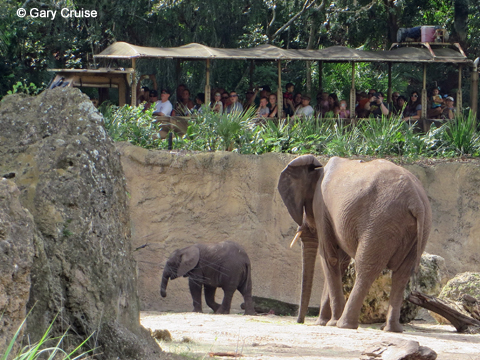 The people in the safari truck couldn't see Stella but we had a great view!
I have to say, I was as blown away by the tour as Carol had been. What a great way to spend an hour! It's true Disney 'edu-tainment' . . . learning and having fun at the same time!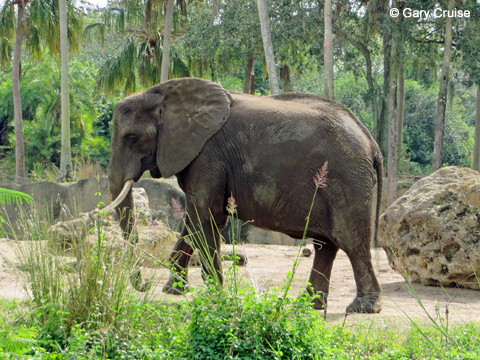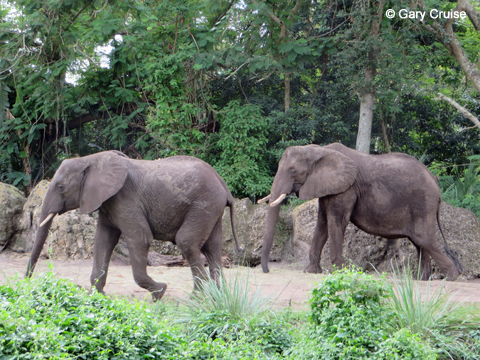 Our Animal Specialist, Amber, and our Cultural Representative, Denise were both excellent. They provided plenty of information about the elephants we were observing as we wandered the viewing area from end to end following the giants.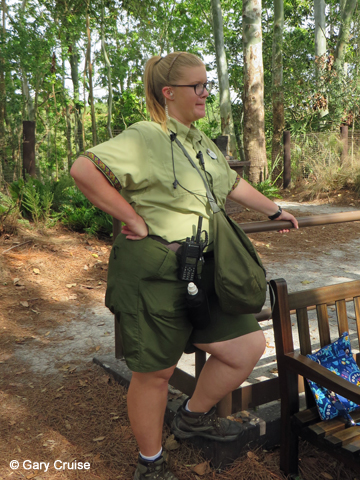 Denise was just beginning her year-long term in the Disney Cultural Representative Program. She was enjoying her time abroad but admitted that she was a bit homesick and was missing her family in Harare, Zimbabwe.
From our vantage point we could see some things which aren't quite so evident from the safari trucks. One of those things we could see clearly was an area where the pachyderms pack away their dinner! There are a couple of areas where hay is spread out on the ground, behind trees and rocks so it is normally out of sight from the trucks.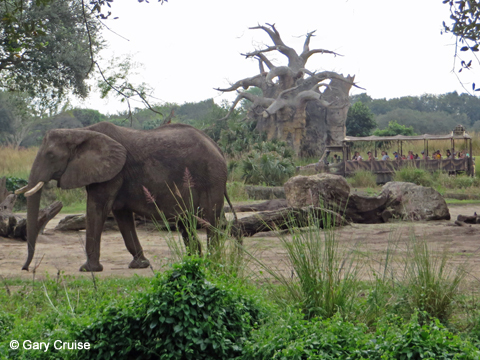 Amber told us that the elephants have to eat a lot of hay, grass and other vegetation every day because their digestive system is not very efficient. Elephant poop is filled with undigested hay, making it very fibrous. She proved her point by passing around a great big chunk of genuine elephant poop. Yes, you read that right — I got to hoist an enormous hunk of elephant poop!
Naturally Carol wanted nothing to do with it!
That was when Amber asked Carol to pull her name-tag out of the plastic sleeve that was hanging around her neck.
"Turn it over and read the back." Amber said.
Yup, like it or not, Carol was holding elephant poop!
About that time baby Stella came back to entertain us again. There were plenty of tree branches scattered about following an October hurricane and little Stella thought those branches made terrific toys.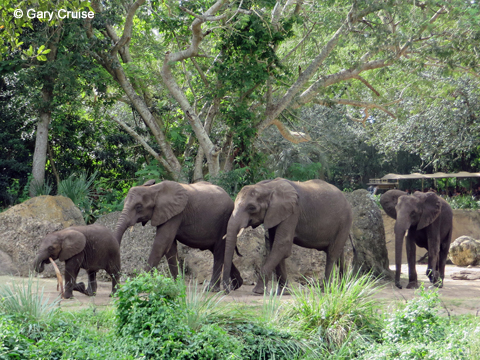 She kept us entertained for several minutes as she carried one around and even tossed it a few times.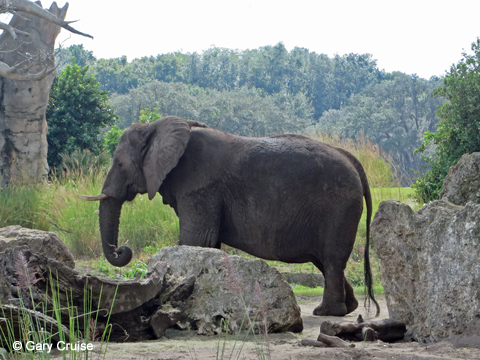 As with all good things, our tour had to end so we boarded the van and were soon back in Harambe Village, just in time for our FastPass at Kilimanjaro Safaris.
As we stood in line I told Carol, "Once is not enough. I need to do that tour again." She grinned and nodded. Twice was not enough for her either.
It's a pretty safe bet that we'll be repeating the Caring For Giants tour when we're back at Walt Disney World in March 2018.
If you're an elephant fan, if you're looking for a change of pace, if you want to add a new wrinkle to your Disney vacation or if you just have an overwhelming urge to fondle a chunk of elephant poop, this is the tour for you!
You can find more information about Caring For Giants HERE