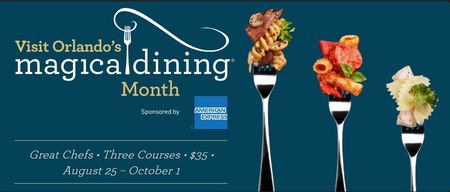 It's that time of year again — the time when a number of Orlando-area restaurants band together to offer patrons a chance to experience fine dining at a bargain price while benefiting a good cause, or causes. Yes, it's time for Orlando's Magical Dining month, and this year we get a bonus preview week, too! The eat-fest begins August 25 and ends October 1, with more Walt Disney World restaurants participating this year than ever before.
You might be wondering: Just how does Magical Dining Month work? It's really quite simple. You book a reservation at a participating restaurant, enjoy three delicious courses and pay only $35 (plus tax and tip) per person.
The Magical Dining website provides a listing of the restaurants (by area/district) and cuisine. You will be able to see the actual Magical Dining menu and also make a reservation through OpenTable.com. When booking through Visit Orlando, one dollar from each meal sold will benefit Freedom Ride and BASE Camp Children's Cancer Foundation.
WHY WE LOVE MAGICAL DINING MONTH!
— It's a deal! Who doesn't love a deal?!
— Food! Who doesn't love food?!
— Encourages us to get out of our rut and try new places to eat.
— Makes a great night out.
— Raises money for charity.
This year 20 restaurants in the Disney/Lake Buena Vista area are participating. In Part 1 of this blog I'll discuss the Walt Disney World dining participants, including those located at Disney Springs. In Part 2, I'll step outside the Disney bubble to look at other dining opportunities in Orlando.
Ok, now for the participating Disney restaurants, of which there is an interesting mix. A combination of what I would call "middle" tier dining and then "signature" dining. So I'll offer opinions on both categories.
I also have to admit, we used to dine at some of these places often, but since the wide variety of options have opened at Disney Springs, we haven't really been to the "middle tier" resort dining as much.
Middle Tier Dining
Overall our recommendation for the restaurants in the "middle tier" is to only go if you were planning to dine there anyway. For the same $35 you can experience a signature dining experience (perhaps for the first time) and in our opinion get a much better value for your money.
The links below go to our Rate and Review Section so you can see reviews about the restaurants.

Boatwrights at Port Orleans Riverside
Grand Floridian Cafe – Grand Floridian
The Turf Club at Saratoga Springs
Out of these Linda and I agree our recommendations are The Wave and Grand Floridian Cafe.
Signature Dining
Il Mulino New York Trattoria at the WDW Swan Hotel. This is one of our favorite places to go, either for a full dinner or just sitting in the bar/lounge with a beverage and appetizer. Great opportunity to try someplace new.
Jiko the Cooking Place – Animal Kingdom Lodge – Another favorite of ours. In addition to the great food they boast one of the largest South African wine lists in the US. Be sure to check out the Magical Dining menu and if it appeals to you, go for it.
Morimoto Asia in Disney Springs – This is one of Linda's favorite places to dine. Need I say more?
Paddlefish at Disney Springs – We have not dined there so can't advise you either way.
Ravello – The Four Seasons – another place we have not dined, but we've heard good things. If the offerings on the menu appealed to me, I would try it out during Magical Dining Month, but I'll be waiting a bit longer. However, if the menu presented makes you drool then by all means go for it!
STK in Disney Springs – We are big fans of the food at STK and dined there several times. The only hesitation in recommending it is the loud music the DJ plays. "It's Not Your Father's Steakhouse" is their tag line.
Todd Englishes Blue Zoo – Another of our favorites — I've become a fan of their Chicken Francese entree, which happens to be on the magical dining menu.
Linda and I don't think you can go wrong with any of the establishments we have been to.
TIPS
MY BIGGEST TIP: I can't stress this one enough — Make sure to check out the menu on the Magical Dining website before making a reservation.
— Reservations are a must!
— For those with dietary needs, CALL the restaurant and inquire before you go.
— Parking – If you dine at the Walt Disney World Swan or Dolphin, use the valet parking and get your parking ticket validated by the hostess in the restaurant!
— In our experience, sometimes we are served the full portions,as if you were a regular diner, and sometimes it is a smaller portion. No matter which, we have always felt like we got our money's worth!
BOTTOM LINE: Orlando Magical Dining month provides a great opportunity for you to explore new dining experiences. Linda and I try to use it at least twice each year to discover new favorites! Leave a comment below about your experience!
Next blog I'll be talking about the restaurants outside the Disney Bubble… check back!
The Magical Dining Website has an FAQ section you should read!