Fans of Club Penguin Island will want to visit Blizzard Beach at Walt Disney World this month for a special day dedicated to them.
On Saturday, July 29, guests at the water park will have the chance to participate in lots of Club Penguin Island-themed activities, such as a penguin splash competition in the Ski Patrol area, coloring contests and a 'snowball' toss with water balloons, according to the Disney Parks Blog. The site promises more details will be released before the event.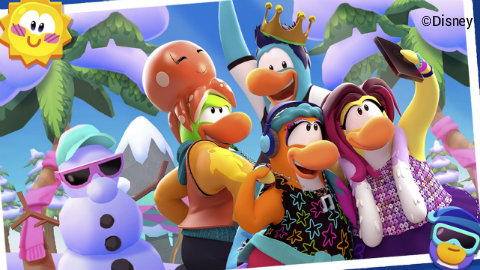 My children, who are now almost 13 and 15, spent a couple of their tween years enthralled with Club Penguin, so news of this themed day brings up a little nostalgia for me, and I can't help but think how fun it might be for old and new Club Penguin fans.
Disney acquired the popular kids virtual world, Club Penguin, in 2007, and just this year closed the original site and launched Club Penguin Island in its place.
The new Club Penguin Island is not unfamiliar to older users, however. It's still a massively multiplayer online role-playing game (MMORPG), which means millions of users are playing at the same time. Penguins can friend each other, and if the requests are accepted, users can interact in a variety of ways, including messaging. Meanwhile, players embark on island quests, earn special rewards, and take on daily challenges to level up their penguins.
The big differences between the original and the new game are that Club Penguin Island now sports 3D graphics; it is only available on mobile devices; and it is primarily a subscription-based app. You can download and access Club Penguin for free, but most of the content is only available to paid users at $4.99 per month.
When Club Penguin Island launched in March, Disney sought to reassure parents that safeguards remain in place because the game is targeted at kids and tweens:
"Club Penguin Island maintains a strong commitment to providing a secure environment for kids, with a new safety moderation system that includes a chat filter. The updated chat function features unique emojis and 3D animations, and personal expression is easier than ever with a fashion-forward penguin customization system. Players will also have access to familiar reporting tools, which lets them self-moderate the community."
Want to revisit a childhood favorite or help bring to life the online world your child wishes he or she could step into? Tickets for Blizzard Beach admission on the day of the Club Penguin Island event are $62 for adults and children ages 3 to 8 pay $56.