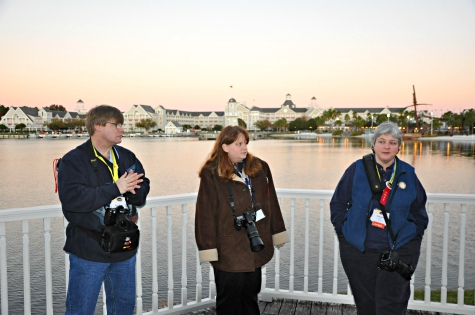 Scott and Lisa listening to Barrie at the first AllEars.net Photowalk during Mousefest 2008.
Photo courtesy of Marc Lorenzo.
Our Picture This! Blogmate, Barrie Brewer, lost her battle with pancreatic cancer last week. I asked fellow photobloggers both past and present to share their thoughts about Barrie.
Deb Wills:
I met Barrie years ago, at a Disney Community meet, perhaps Tagrel. I had seen her before but that was the first time we ever spoke more than just a couple words. She was enjoying watching her friends sing and sipping on her Bombay Sapphire Martini. She smiled and laughed. I think that is what first drew me to her.
Over the years she contributed to AllEars; one of our original bloggers, a photographer for the site, the designer and creator of the AllEars Trading cards. She was the event photographer at many AllEars (and other) fan gatherings.
One of my fondest memories was back in 2010. She was an original member of Team AllEars, the running team that began participating in the Disney January Marathon weekend. It was a cold nasty day with sleet and rain. We really had to gut that one out.. and it was our first half marathon. I remember finding Barrie in the runners' finishing area wearing her medal. Standing there in the rain, we spotted each other, screamed with excitement, hugged each other and cried. Two friends, determined to do something they'd never done before.
Walt Disney World was one of her happy places… where she loved to be. She shared that love with all of us through her photography.
This past May I was walking my 18th Avon Walk for Breast Cancer. I always carry with me an honor roll of those I walk for. The top of the list always has the names of those Fighting Today and I had Barrie's name at the top. I sent her a photo of that and told her I would be holding her close, that she would be my inspiration and motivation for walking each step. She texted me back a little while later and I'll be saving that text for a long while.
As I have been thinking about what I want to say about Barrie I was reminded by something I read a long time ago. "Many times, we wait until a friend has died to tell the world what a wonderful person they were and then we realize we never really told them." I'm just as guilty because I don't think I ever told Barrie what an amazing, talented, kind, person she was and how glad I was we were friends. And now that I think about it, I wonder if I ever told her I love her. I hope I did but I don't know.
May this be one of the gifts she leaves us with… the reminder to be positive, kind and let the people around us know how much they mean to us.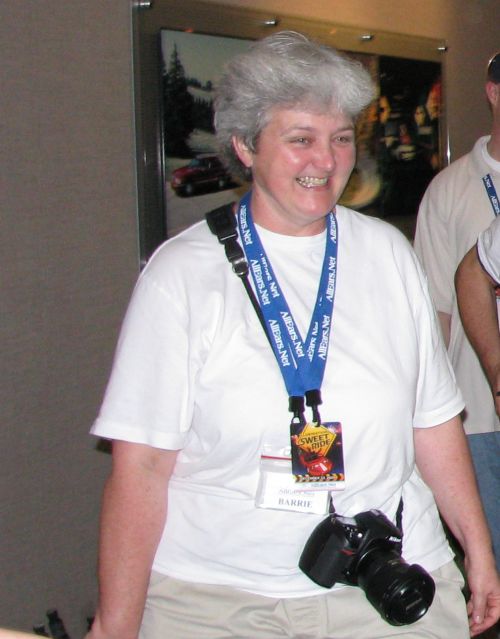 Lisa Berton:
While I'm trying to take in the heavy-hearted news of Barrie's passing, I've been looking at old photographs and reading blogs referencing our fun times together. Scott asked me to share a story about Barrie. Allow me do so and to give you a little insight into who Barrie was.
In September 2008, Barrie let me stay with her at Saratoga Springs. While we spent a fair amount of time running around Walt Disney World on our own and meeting up with other friends, we made time to get out and shoot together. One night we headed to Downtown Disney. I remember Barrie was set up with her tripod and shooting the broomstick statue from Fantasia. Click, click, click in rapid sequence. I remember laughing and asking her what she was doing because the statue wasn't moving. It was one of those moments when I tried to turn our photography skills into a shooting contest and she said it wasn't. This was typical banter. We tried to teach each other and improve each other's skills. If one of us nailed a shot, the other might say "You suck!" with admiration.
She called me out if I wasn't friendly enough or if my jokes went too far. Barrie made me a better person. I will always be grateful for her friendship and encouragement.
Please take a moment to read my trip report from 2008 about the day Barrie and I went to Universal Studios and Islands of Adventure called You Knee Verse Sull. We had a blast.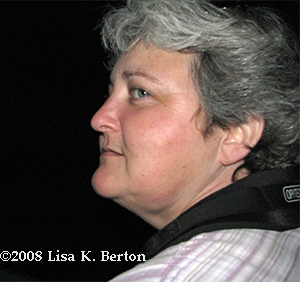 The "look" Lisa got when she snuck up on Barrie.
Erin Blackwell
I can tell you the exact moment Barrie Brewer and I became friends. We were already AllEars.net teammates, but we sat with each other during an IllumiNations dinner and talked and laughed.
She was there for so many people, just through Disney alone. Beyond that, she was my friend. When we got together, we'd go off on our photo walks like Discovery Island trails and resort Christmas decorations. She took one of her favorite, iconic photos with me, a spider web in the morning sun, and when we shared it with DAK cast members who were making sure we weren't disturbing things, they took us off the path to show us one of their favorite things. We'd take hours for our walks and end up sitting in a lounge somewhere and talking for more hours (and a competition to see who could tie a knot in a cherry stem with their tongue the fastest. She won).
I can hear her saying to me, "Go jump up and down on that bridge. I want to play with this new lens and action shots." And, "Go do something with that rabbit carving (in the Tree of Life)." She once thought I sounded down in an email and designed a card using one of our photos and snail mailed it to me. She said it was still nice to get surprises in the mail. Barrie once said, "I love how good friends can just pick up where they left off as if no time has passed at all." That's how I felt about us and I'm sure I'm not the only one. With all the photos we took, including of each other, we never took one of just the two of us. I wish we had. We were part of a wonderful photo at the DAK Lodge (see below). She honestly was one of the best human beings I ever met and I miss her so much.
The World has lost some of its pixie dust.
Barrie Brewer and crew at Disney's Animal Kingdom Lodge.
Scott Thomas
Barrie and I rarely crossed paths in real life except for the AllEars.net photowalks we co-hosted together along with Lisa. We did talk frequently on various projects she was always working on. I always found Barrie to be a very humble and talented person with a wry sense of humor. Her facial expressions told you what she was feeling or thinking. Her eyes were very expressive, bright and mischievous. Very elf-like.
A little history for those who may have discovered the Picture This! blog after Barrie stopped contributing, Barrie was the original photoblogger here. You can still read over her posts via this link: Focus on Disney World by Barrie Brewer. The early posts are missing photos but her words are there. Through them, you will get to know Barrie.
Rest well, Barrie, you are/will be missed by the many people you touched directly in life and through your gift of photography you freely gave to everyone else.
Copyright © 2010 Barrie Brewer, Nikon D300, 18-200mm VR, 1/80s shutter, f4.2, ISO 800.