I enjoyed performances of musicians playing harps in Disney's Animal Kingdom recently. The first one was a very unique instrument called a mandinka harp (kora) which is a 21-string lute-bridge-harp used extensively in West Africa made from a large calabash or bottle gourd. It makes a very pleasing sound.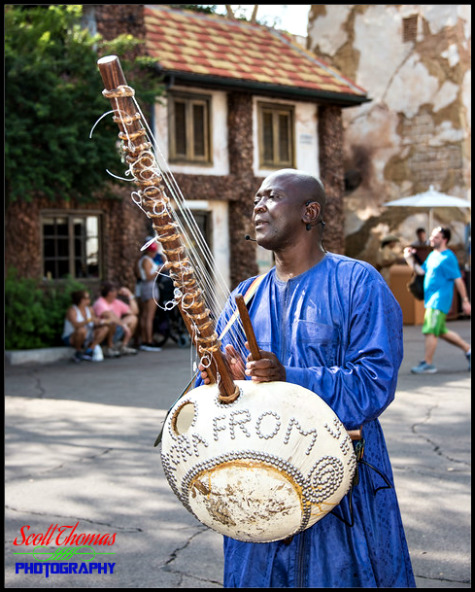 Muscian playing a mandinka harp in the African village of Harambe.
Nikon D750/28-300VR, 1/200s, f/4.8, ISO 100, EV 0, 62mm Focal Length, Fill Flash.
I follow and have read many an article and blog post from National Geographic photographer Joe McNally. He pays a lot of attention to a person's hands in his photographic essays about people in all walks of life. I channeled my inner McNally by taking a close up of the musician's hands while he played the mandinka harp.
Close up of a muscian's hands playing a mandinka harp in the African village of Harambe.
Nikon D750/28-300VR, 1/200s, f/5.6, ISO 100, EV 0, 300mm Focal Length.
Later that day, I happened upon a musician playing the Paraguayan harp, the national instrument of Paraguay, on Discovery Island. I again wanted to emphasize the musician's hands. This time I slowed down my shutter to show motion as his hands moved over the strings. I kept the camera steady by using another Joe McNally technique called Da Grip. Comes in very handy (sorry about the pun) when you do not have a tripod on hand (I just can not help myself!).
Musician playing the Paraguayan harp on Discovery Island.
Nikon D750/28-300VR, 1/15s, f/5.6, ISO 560, EV +0.3, 170mm Focal Length.
Entertainment at Walt Disney World resorts and themeparks are wonderful to experience and photograph as you often can get very close to the performer(s).
As I was writing this post, I listened to mandinka harp music via youTube. I highly recommend doing the same when you wish to relax.