The cover of a long-playing Mickey Mouse Club record. The album features 21 hit Mouseketunes. [Chuck Schmidt Collection]

CHUCK SCHMIDT / Still Goofy About Disney
AllEars.Net Guest Blogger
What do you think of when you think of Disney?
World-class theme parks, with so many iconic rides and attractions, to be sure. And all those classic animated feature films, from Snow White and the Seven Dwarfs to Frozen, and live-action epics like Star Wars and the Marvel franchises … beloved characters … a respected cruise line … a popular time share enterprise … numerous retail outlets in the theme parks, in malls and online … a leading television network …
And let's not forget nostalgia.
"Makin' memories," as they used to say at the Imagination pavilion at Epcot, is a key component to Disney's unparalleled long-term success. A few years back, Disney Parks initiated a year-long campaign called "Let the Memories Begin," because they have long recognized how important memorable experiences are to the fabric of most families.
As a natural extension, memorabilia and collectibles are an integral part of the world of Disney. Just ask anyone who has ever attended a Disneyana or D23 event and you'll get an idea of how great the appeal is for Disney's storied past [more on that in a future blog].
Like most hard-core Disney fans, I love Disney of old. Which goes a long way in explaining why, every time I visit a Disney theme park, I grab several guide maps … one for use that day in the park, the others to be filed away for future reference. Thankfully, I've done this ever since our first visit to Walt Disney World in 1972. To me, these seemingly innocent maps serve as a window back in time, a glimpse at the way things used to be, a barometer of how things have changed.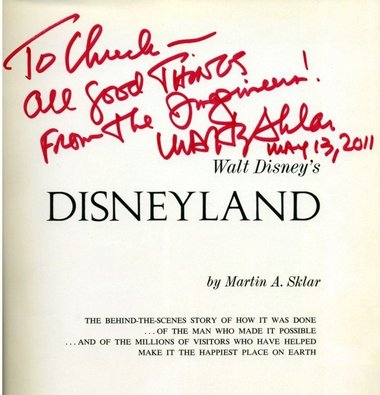 Marty Sklar wrote this in the author's copy of "Walt Disney's Disneyland." [Chuck Schmidt Collection]

Over the years, I've managed to put together a collection of Disney memorabilia that I'm quite proud of. Some of these items I've secured on my own [usually with the help of my wife Janet], others were given to me by family and friends who know of my love of all things Disney.
One of my first "finds" was securing a copy of Walt Disney's Disneyland, a wonderfully detailed book written by none other than my friend Marty Sklar. The books were sold at Disneyland in the late 1960s into the early 1970s as a souvenir of your visit. In truth, the book is a remarkably well-done work, rich in detail about the Happiest Place on Earth.
I found my first copy [Janet and I now have three] of the book at a yard sale in Colts Neck, N.J., in the 1990s.
Years later, in 2011, I had Marty sign the book for me during "a dinner and a conversation" fund-raising event that he headlined in Orlando the night before the D23 event celebrating Walt Disney World's 40th anniversary. It's a cherished keepsake, on many levels.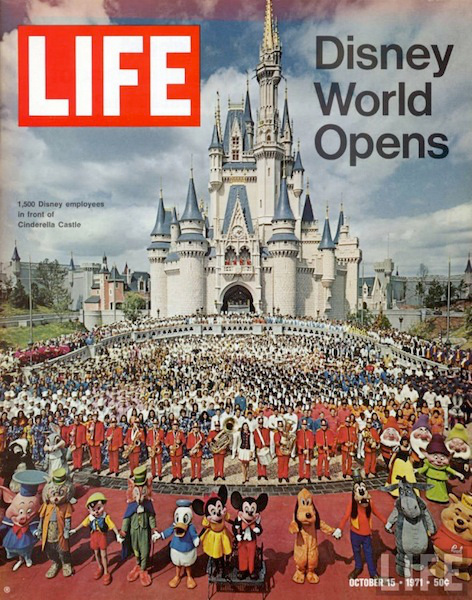 The cover of Life Magazine in October, 1971, featuring a "mob-scene" photo of the cast in front of Cinderella Castle. [Chuck Schmidt Collection]

A colleague at the Staten Island Advance, Steve Zaffarano, was cleaning house one day in 2010 when he came across a copy of the iconic Life Magazine edition, dated October 15, 1971, featuring the Walt Disney World cast posed in front of Cinderella Castle.
He brought it to work the next day and asked me if I'd like to have it. A no-brainer, on many levels. A few years after Steve's generous gift, I was fortunate to speak to the man who was chiefly responsible for setting up that classic photo, as well as several other pre-opening magazine features … Disney Legend Charlie Ridgway.
After making significant contributions to the success of Disneyland, Charlie and his family moved to Florida in 1969 following him being named Walt Disney World's first director of press and publicity.
"The first trip I made when I took the job at the end of 1969 was to go to New York," he told me in 2014. "I went to Time, Life and Look magazines and all the major papers and I also went to Washington to National Geographic.
"The managing editor of Look Magazine (Pat Carbine) said: 'We want to be the first ones with a cover story' [on Walt Disney World]. They wanted to have their reporter come down in April [of 1971; the Magic Kingdom wouldn't open until October], which was way too early. There wasn't that much really finished. But we were able to gerrymander things and produce pictures that looked like it was really done.
"We laid some artificial grass on Town Square so we could shoot City Hall. I think there was a ladder still up on the balcony when we shot it. Look had a very good layout."
As for the Life Magazine cover photo and story: "The idea of going to Life was Sandy Quinn's, who came down in 1967 and was the first Disney guy on the ground … he became very friendly with a lot of the local news media," Charlie said.
"At the time we were getting ready to plan for the opening, I suggested we do a mob-scene picture and we carried forward from that point. We went to Life with the idea and they liked it and they sent down one of their very best photographers, a guy named Yale Joel. He got up on a stand with an 8×10 view camera to shoot the picture. Of course, that one we shot in front of the castle.
"We assembled as many cast members as we could get there. We actually had 5,000 employees, of which we were able to gather 3,000 at one time for the photo." The magazine is a wonderful keepsake, made even more special after getting input from the man involved in bringing it to Life [pun intended].
Disney memorabilia comes in all shapes and sizes, from Mickey Mouse watches to character figurines to Davy Crockett coonskin caps to vintage stuffed animals … a.k.a., plush. Vinyl records – you remember them, don't you? – also fall into this nostalgic category.
Our son's mother-in-law, Cindy, came across several Disney recording gems at a flea market a few years ago and gave them to me. All three records – one is a 12-inch long-playing record, the other two are smaller 6- and 7-inch discs – feature the Mickey Mouse Club and The Merry Mouseketeers, as they were sometimes referred to during the show's prime in the 1950s.
One of the smaller records is a Disneyland Record and Book titled "Mickey Mouse, Brave Little Tailor," while the other is titled "Songs from the Mickey Mouse Club" and was part of a series of official Mickey Mouse Club Records.
"The Mickey Mouse Club March" was featured on this vintage record. [Chuck Schmidt Collection]

The liner notes on the cover of that record are priceless: "Exclusively on these low-priced official Mickey Mouse Club Records are the voices, songs and games from Walt Disney's wonderful daily one-hour TV show. Here are Mickey, Donald and Jiminy Cricket – Jimmie Dodd and The Merry Mouseketeers for your child's enjoyment, participation and education."
The LP – "Walt Disney's Mickey Mouse Club, Mousekedances and Other Mouseketeer Favorites," on Disneyland Records – features a colorful cover, with drawings of Mickey, Donald Duck and Goofy sharing the Mickey Mouse Clubhouse stage with likenesses of club leader Jimmie and Mouseketeers Karen, Cubby, Bobby and, of course, Annette Funicello. The songs on the album run the gamut of what was played during a typical "Mickey Mouse Club" television show, which was broadcast on ABC in glorious black-and-white Monday through Friday in the mid- to late-1950s.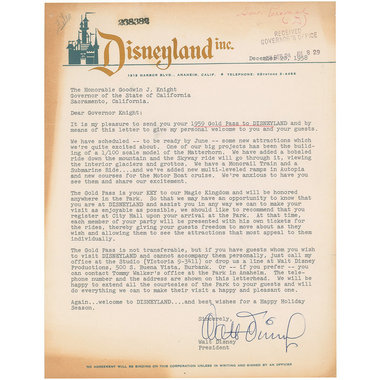 This letter, from Walt Disney to then-Gov. Goodwin J. Knight, was up for auction several years ago. [Chuck Schmidt Collection]

Several years ago, an auction house sent me photos of several Disney-related items that they were about to put up for bidding. One of the items was a letter from Walt Disney to California Gov. Goodwin J. Knight, sent in December of 1958. It's fascinating, on many levels.
The point of the letter, on official Disneyland stationary no less, was to alert Gov. Knight that he was receiving his Disneyland Gold Pass for the 1959 season. In reading the letter, it's obvious that Walt is quite proud of the fact that many new attractions would be opening at Disneyland during the year, including the Matterhorn bobsleds, a monorail system and a submarine voyage.
If need be, according to the letter, Gov. Knight could contact Walt's secretary, Tommy Walker, by calling her at VIctoria 9-3411. If you manage to get your hands on a time-traveling device, make sure to give Walt a call when you go back to the 1950s. Gov. Knight was among the many honored guests on hand during Disneyland's opening day on July 17, 1955.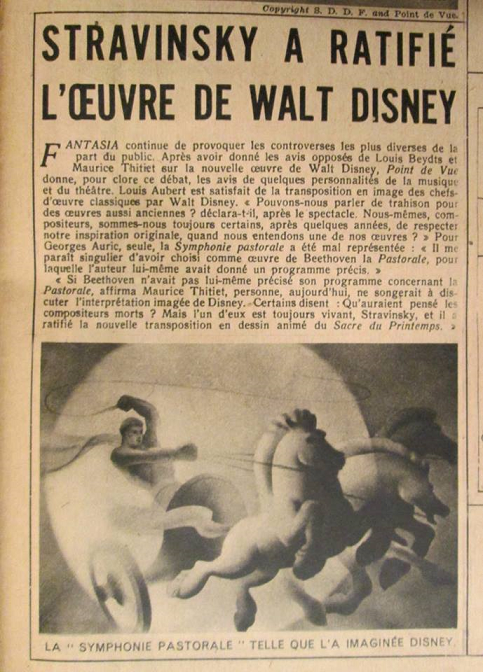 A newspaper article, circa 1939-1940, and in French, dealing with Walt Disney's new film, "Fantasia." [Chuck Schmidt Collection]

Mike Virgintino, my Friendly Freedomland pal, occasionally stumbles on Disney-related gems and he generously sends them to me to add to my collection. "I know they'll get a good home with you," he says.
One such item is quite interesting. It's a newspaper clipping, circa 1939-1940, of a story on Disney's upcoming new film, Fantasia. The article features a photo of one of the film's segments, Beethoven's "The Pastoral Symphony."
The only problem is: The article is in French [any French students out there?].
The clipping adds to my Fantasia collection: I have [on loan from my mother] an original program movie-goers received when they saw the movie during its long-running engagement at the Broadway Theatre in Manhattan. The booklet features a wealth of information about the ground-breaking cinematic achievement, including portraits of Walt Disney, Leopold Stokowski, Deems Taylor and the making of the classic.
There's also one critic's succinct take on the movie: "Fantasia will Amasia." … as will most items from the Disney vault.