Comic-Con everybody!
One of the largest pop culture convocations in the world was recently held yet again–San Diego Comic-Con.
As they have done the last couple of years, Disney Infinity made their usual impressive showing with a pop-up location outside of the Convention Center, close to Petco Park. By hosting at an exterior location, people were able to get some hands-on experience with new Disney Infinity assets whether or not they were able to obtain SDCC badges.
Inside, multiple terminals were set up for gamers to play with the new "Inside Out" and "Star Wars" playsets, along with the Toy Box Expansion games that are all features of Disney Infinity 3.0, set for release on August 30.
A green screen experience and an art gallery featuring the concept and development art that went into the myriad of Disney Infinity figurines were also presented in a similar format to that of their E3 booth, which I wrote about earlier here.
I had a chance to demonstrate my extremely limited platforming skills with the "Inside Out" playset, in which each of the emotions can be swapped out strategically to best meet the needs of a given level with their specific abilities (e.g., Anger can walk on lava, but falls through clouds; Joy can walk on clouds for a little while, but falls through if you take too long; Sadness can float on clouds all the live-long day.)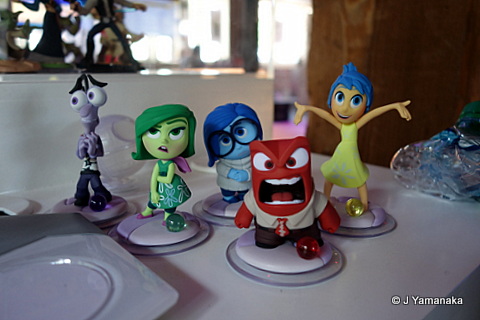 The "Star Wars" sets are marked by a more sophisticated combat system, which has been retooled by Avalanche Software and Ninja (Devil May Cry) Theory to include better responsiveness and more combos and finishing moves.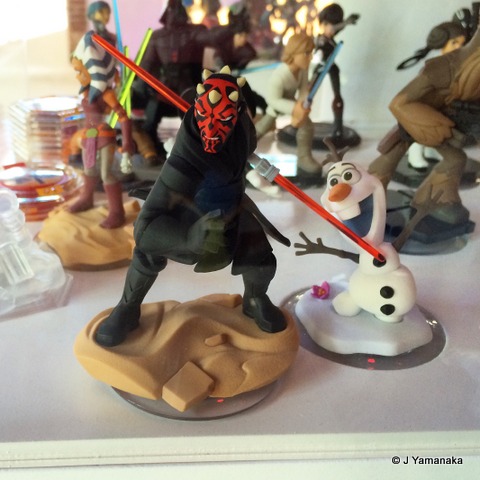 Darth Maul, no.
There were also a variety of events taking place throughout the day at the pop-up, such as scavenger hunts, pre-orders, and a live taping of Disney Infinity's popular web series "Toy Box TV."

Watch live video from Disney on Twitch
Finally, fortunate guests were able to take home one of a selection of upcoming 3.0 characters.
In all, judging from the long lines that were constantly forming to get in, Disney Infinity had another hit on their hands with their SDCC pop-up store, and people lucky enough to get in and pre-order got a bonus figurine and a fun look at the game's next evolutionary step. Everybody wins!

" I can't actually throw up in my mouth, but if I could I would do it!"