by Laura Schmitt CNE
AllEars Guest Blogger
With an upcoming trip to Walt Disney World, I was excited to try out Be Our Guest restaurant in the Magic Kingdom. I was unable to secure a reservation at this popular destination for dinner, but I did manage to grab a lunch reservation. To bypass one step upon ordering, you have the option of selecting your meal in advance. (Note that there is also the option to wait and order at the restaurant.) I was curious if this was something that would work for people with basic food allergies, and here is what I discovered.
When you have a reservation for lunch, you will have the option to choose lunch menus for your party. There is a "Filter" button on the bottom of the ordering screen.
Click that button to see the window titled "Allergens". If your allergies are among this list (corn, peanut, soy, wheat, egg, milk, shellfish, treenut, fish), then you may feel comfortable pre-ordering.
There is an allergen disclaimer at the bottom.
I noticed that "gluten" was not listed, and only "wheat", for example, so a person who has Celiac disease may want to inquire about this.
I selected two filter items, Wheat and Milk.
I proceeded to the next screen of entrees where I found several choices that would work for those allergy restrictions. I chose the quinoa salad.
By adding the menu item from this "filter" window, it tags the foods as "wheat free" and "milk free" on the summary page to follow. If you order the same entree item without first applying the filters it will not mark it as "wheat free" or "dairy free". So, I would definitely make sure to mark your filters first. (See photo below for orange triangle followed by warning of "Does not contain: Wheat.")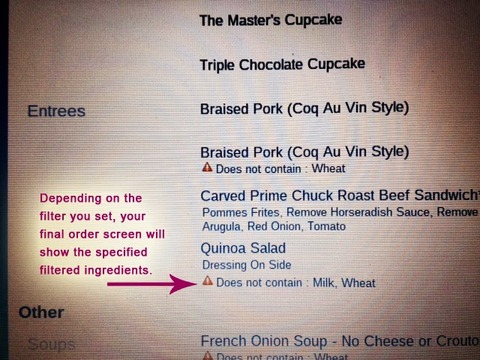 While there was an option for a gluten-free dessert, there was nothing that came up as wheat-free and milk-free. I did find two sorbet options that are marked dairy-free and no sugar added (lemon and raspberry). I felt comfortable with the sorbet, so I ordered that for myself. For my daughter, I ordered the gluten-free cream puff, as she can eat dairy.
When we arrived at Be Our Guest on our reservation date, we found that if you do the pre-order option, a chef will not be sent out for you to consult with, as at other Disney World restaurants. You will have to seek one out immediately upon check-in or your food will be brought to you as pre-ordered. This is another reason why it would likely be best to pre-order only if the current filters work for your allergy needs.
After checking in, we were told to seat ourselves. We found the system a little confusing because no one explained how it would work. For example, no one told us to get a drink, or said that they would come out to find us. I was able to ask a very friendly cast member, though, and we figured it out.
My husband was not excited about the system of ordering and he was already determined to dislike the meal. To his surprise it was his favorite of the trip. My daughter agreed that the wheat-free pork roast was delicious! She absolutely loved her lunch and she proclaimed the green beans and potatoes were also very tasty.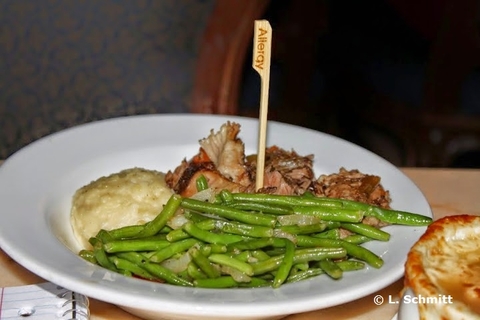 I had ordered the quinoa cake and salad, because I knew I would want a lighter lunch option. It was also quite good, but I only ate about half of it after having a huge breakfast. The quinoa cake was well seasoned and the beet cubes on top were delightful. The olives chopped into the salad greens were a nice touch.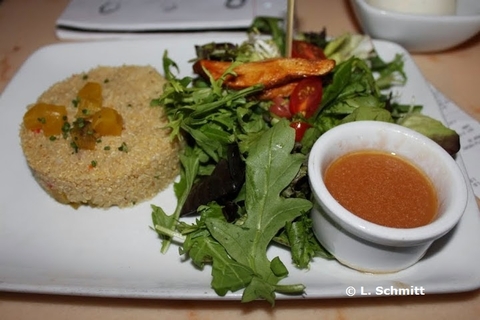 My daughter has always wanted to try French Onion Soup, but we have never found one that was gluten-free and dairy-free. When you order the soup with the wheat filter, it gives you the option to get the French Onion Soup without the bread crumb and cheese topping. This was confirmed on our receipt, so when I saw all the cheese on the soup they brought out to us, I sent it back. They brought out a second batch without any cheese and they explained that they did make it gluten-free, but they had left the "safe" cheese on for my daughter. It was not clearly labeled this way in ordering, so that was a bit confusing. She ended up eating the cheese-free version (which her tummy appreciated). She loved it, and she was so happy to have tried French Onion Soup at last.
The soup and entree were the stars of the show. My daughter was disappointed with the gluten-free cream puff. She said the dough was very hard (rock-like) and that the lemon filling was incredibly tart, which she did not enjoy. As it turns out, a scoop of rice dream would have been a better choice for her, but it was fun to try something new.
As I said earlier, I had ordered the only dairy-free option I could find, a lemon sorbet, which turned out to be bitterly tart. I ate a little, but left the rest behind. While Be Our Guest has mastered the lunch entrees, they have room for improvement in the world of gluten-free, dairy-free dessert offerings. We are still disappointed that the French Meadow Bakery items are no longer offered on property, or the Babycakes/Erin McKenna's in a restaurant like this. I did ask the Special Diet department via email if there were any other options for us, but they did not get back with an answer.
A benefit of pre-ordering and using our dining plan credits is that we didn't have to wait in a line to order at a kiosk, nor did we have to wait in a line to pay. Our meal was already paid for, so we could dine and dash. This worked beautifully, minus the confusion here and there. As we look back on our experience, my family all raves about this beautiful restaurant experience as the best of the trip and a definite "must-do" for future visits.
While we felt comfortable with our pre-order options using the filters available, it is clear that each individual will have to consider their own allergies and determine if pre-ordering is a viable option, or if it would be better to wait and ask to speak to a chef upon arrival before ordering. I suspect this will not add a considerable amount of time to your lunchtime, and the atmosphere is very fun to explore.
For a "quick service" lunch credit, I felt quite spoiled by the great options for everyone in my family at Be Our Guest.