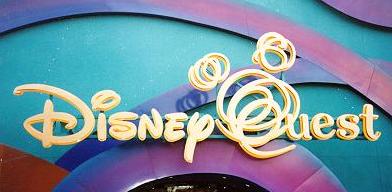 Even Wreck-It Ralph couldn't save the video games at Downtown Disney's DisneyQuest.
Disney officials announced Tuesday that DisneyQuest, its five-story arcade of video games and technology-driven activities, will close in 2016 to make room for the previously announced NBA Experience, which will include a restaurant and basketball-themed activities.
Fans and recent visitors who reacted online to the announcement cited dated technology as the main reason they thought the gaming attraction had fared poorly in recent years. When DisneyQuest opened in 1998, the virtual technology seemed like the Tomorrowland of gaming. But with the increasing capabilities of smartphones, the facility lost some of its appeal, they said. Even classic games, such as Pac Man and Fix It Felix Jr. — which was brought in to promote the animated movie "Wreck-It Ralph" in 2012 — didn't capture the interest of enough vacationers to keep the facility full.
Still, in its heyday, DisneyQuest was a fun place not just for families on vacation, but for local kids and even couples on date nights. My family and I had annual passes to DisneyQuest for a few years when the kids were younger, and we really enjoyed it. We used those passes most often in the summer to escape the heat or the afternoon thunderstorms.
Among our favorite attractions were Mighty Ducks Pinball Slam, a life-size virtual pinball game; Virtual Jungle Cruise, where guests sit in rubber rafts and use real paddles; and Ride the Comix, which requires players to wear virtual-reality helmets and engage in 3D battles. One section of the arcade is dedicated to children ages 2 to 7, and it features age-appropriate games and smaller versions of family favorites.
As my children got older and reached the height requirements, they became more interested in CyberSpace Mountain, which allows users to design their own roller coasters and then ride them in simulators; Buzz Lightyear's Astroblasters, which are bumper cars that pick up and shoot balls at targets on other cars; and Pirates of the Caribbean — Battle for Buccaneer Gold, which allows players to steer a pirate ship and man cannons against enemies while searching for treasure.
Plus, as I mentioned in yesterday's blog post, there is a second location for the Animation Academy inside DisneyQuest. It will be the only remaining location after the one inside the Magic of Disney Animation at Hollywood Studios closes on July 13. On the same floor as the Animation Academy, visitors can participate in other creative endeavors, such as making music and other art projects.
DisneyQuest houses two restaurants. FoodQuest serves pizzas, pastas, sandwiches, salads, burgers, hot dogs, wraps and assorted snacks. Wonderland Cafe offers various desserts, snacks, adult beverages and ice cream novelties. For a time, The Cheescake Factory ran the food concessions at DisneyQuest, but that hasn't been the case for years.
Disney officials have not announced a closing date for DisneyQuest, but they did stop selling annual passes. Guests still can buy a one-day ticket, good for unlimited use of all games and attractions, for $45 plus tax for adults and $39 plus tax for children ages 3 to 9.
You can see my photos of the various attractions in this gallery from when I worked at the Orlando Sentinel and when my kids were younger.