A cherished part of Walt Disney World has been highlighting artwork and drawing since the late 1980s, and now it is drawing to a close.
The Magic of Disney Animation at Hollywood Studios is closing, local media outlets, including the Orlando Sentinel, have confirmed this week. The attraction features a short movie about Disney animation; two character greeting areas; and Animation Academy, where guests can learn to draw popular characters. The Magic of Disney Animation closes on July 13, so the last day for guests is July 12.
My family and I have enjoyed this attraction on many visits to the Walt Disney World theme park, so of course we're sad to hear it is closing. The Magic of Disney Animation is one of the park's original attractions, and it allowed budding artists and those fascinated with animation to delve into techniques used in the field. In fact, for years, animators actually worked in bays with large windows designed to allow visitors to watch them draw. Now, guests see their work during an introductory film clip.
In addition, the Magic of Disney Animation usually offered several character meet-and-greets. Mickey, Minnie and The Incredibles were regulars, and a separate, central area with a themed backdrop was used for characters from the latest Disney and Pixar films. Currently, Baymax and Hiro from "Big Hero 6" are located there. Disney officials have not revealed where Mickey and Minnie will be relocated — or if Hero and Baymax will continue to have a presence at Hollywood Studios.
The third component — Animation Academy, the hands-on opportunity for kids and adults alike to learn to draw from a trained cast member — is what we will miss most. I've written about this hidden gem for years because it's such a unique opportunity.
Drawing classes at the Animation Academy are offered every 30 minutes, and the subjects are chosen from requests by visitors. The classroom inside the Magic of Disney Animation is quite large, and the setup is fun, with each student sitting on a stool at a slanted drawing board, just like a "real" artist. The Disney animator guides guests through the process of drawing a character, line by line. And the pencils they provide purposely do not have erasers. As the cast member explains, they want guests to understand these drawings are sketches. The pencil strokes are done lightly until the end, when the guests then go over their finished products with bolder markings.
Speaking of finished products, each guest leaves the Animation Academy with a pretty cool souvenir. Guests are invited to autograph their work at the end of each session, but they also could visit the subject of their sketch for a character signature if that character is in the park.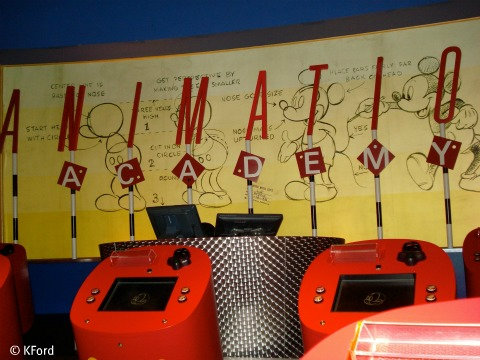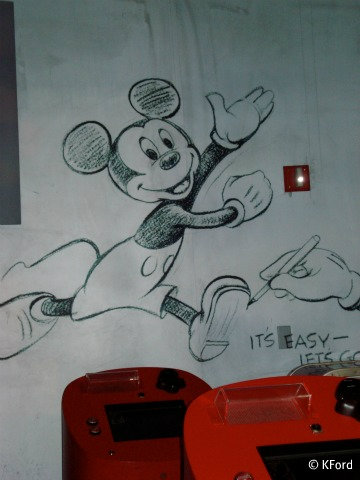 Guests who really want this experience the Animation Academy after the Magic of Disney Animation closes can visit a second drawing school of the same name, located inside DisneyQuest at Downtown Disney West Side (soon to be renamed Disney Springs). It operates in the same fashion, except that subject requests are not accepted. Instead, there is a posted schedule of the characters to be drawn each day. To access that Animation Academy location, guests must pay admission to DisneyQuest, which is $45 plus tax for adults and $39 plus tax for children ages 3 to 9.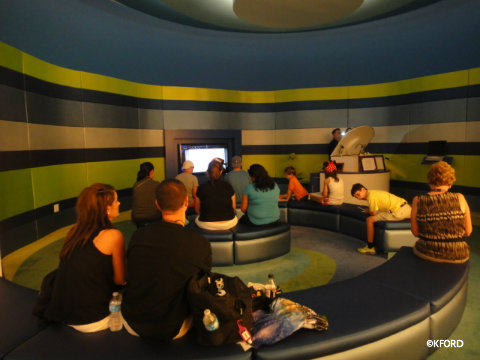 A similar activity has been built in the lobby of Disney's Art of Animation hotel. Tucked in a corner to the left of the registration desks, guests will find comfy benches and an animation station, where the instructor shows line by line on a projection screen how to bring a Disney character to life. The classes are free for resort guests. Check with the front desk for the current schedule.
Kids, teens and even adults of all talent levels usually find the drawing classes fun. And getting the chance to learn to draw your favorite character is a unique kind of entertainment you might not find just anywhere. My two kids always got a thrill whenever their "favorite" character was the featured one for the artwork session.
Animation and artwork are, of course, the basis for all of what Disney is and has become. Hopefully, whatever replaces the Magic of Disney Animation will be just as moving and inspiring for guests as this attraction was for my kids and our family.