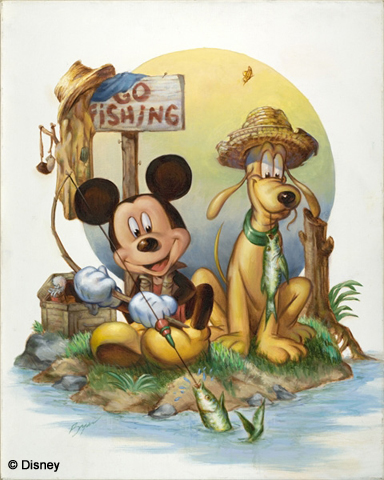 Last October Carol and I were on our way from Fort Wilderness Resort & Campground to the Magic Kingdom. As we stood on the dock at the Marina waiting for the boat we were able to watch the joy a young boy experienced as he caught his first fish. Wow! He was grinning from ear to ear and his eyes were sparkling; his grandfather, standing behind the boy, was beaming too! That bass was the first of several fish he landed in the few minutes that we waited on the dock.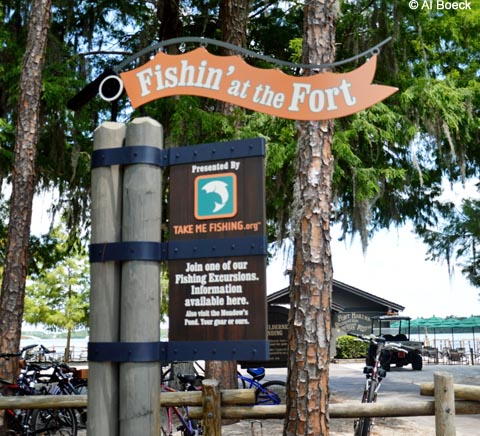 They hadn't even sailed away from the slip where the 21-foot Tracker pontoon boats moor; the Disney guide simply backed the boat up, about 20 feet, and they fished between the boat slip and the marina dock. The guide baited the hook and then demonstrated how to cast the line. After several practice casts the happy young angler was able to consistently drop his line in the shadow of the dock, where the guide had told him the fish like to hide.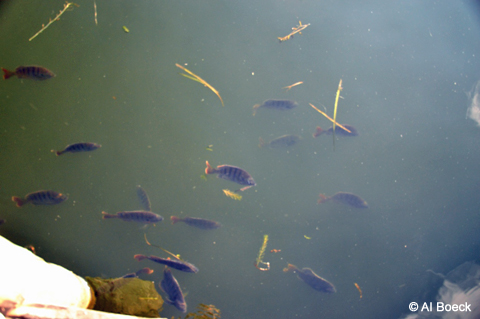 I think the folks on the dock were having almost as much fun as the boy and his grandfather. Everyone was cheering him on!

It took me back to fond memories of my childhood; I grew up in a small town on the north shore of Lake Erie. Boating and fishing were a big part of our family life and those few minutes on the Fort Wilderness dock took me back decades to happy times catching yellow perch, often pulling in two at a time, on the reef about 5 miles offshore.
It's not unusual to see people fishing in Bay Lake near Fort Wilderness, but it was a rare treat to be so close to the action. We could watch and listen as the guide worked with that boy and helped him land his first catch! It was another illustration of Disney Magic!
Here's how the Fort Lauderdale Sun Sentinel described fishing at Walt Disney World in a September 9, 2010 article:
Lake Buena Vista – Bass guide Dave Osani offers these words of caution to those who fish the lakes at Walt Disney World for the first time:

"Warning," Osani said with a laugh. "May be habit-forming."
Osani, who has guided at Disney for 15 years, knows what he's talking about. He's seen novice anglers – men, women, boys and girls – get hooked on fishing and had experienced anglers become speechless after catching more bass and bigger bass than they'd ever caught before.
Then there were the sisters, one a veteran saltwater angler from Miami and the other from Polk County. In a four-hour trip with Osani last year, they caught 20 fish on lures.

They asked Osani if he was available to fish the following day and he guided them to 30 bass in four hours.

They came back the next day with two other members of their group. Osani guided the four anglers to 64 fish in two hours. The quartet came back the next day and caught 49 fish in two hours with Osani, including a big bass of 6 pounds, 15 ounces.

Outings like that make fishing at Disney a magical experience, both for the anglers who fish there and for guides like Osani.

"It's not always great, but a bad day here is better than a good day at most places," Osani said. "It's not uncommon to catch 40 fish in two hours."
An article in the Spring 2003 Issue of Disney Magazine provides a bit of interesting background.

Click on the image below to see a larger version.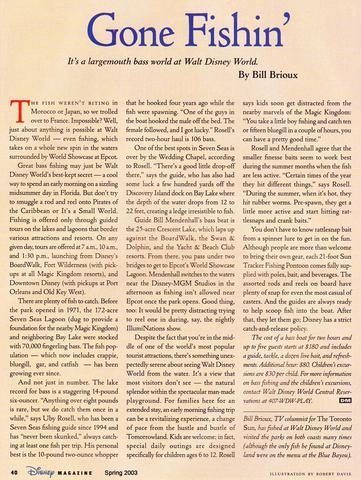 A guest comment in 2004 gives this perspective!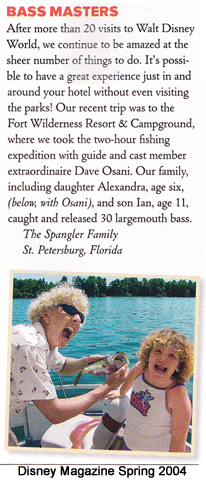 Disney offers two fishing options, the Guided Fishing Excursions described above, and Dockside Fishing.
Here is the sign listing current pricing at the Fort Wilderness Marina. Click on the image to see a larger, easier to read copy.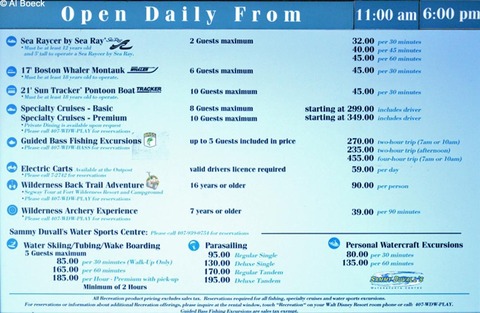 The fishing excursions are a bit more than some vacation budgets can accommodate but dockside fishing provides some lower-cost options. At either Port Orleans Riverside or Fort Wilderness Resort and Campground you can rent a fishing pole, grab some bait and wet a line! If you bring your own poles, just buy some bait, the fishing is free!
At the Riverside resort the Fishin' Hole at Ol' Man Island is stocked with catfish, blue gill and bass. Click on the picture of the sign below to see current prices.
At Fort Wilderness you can fish along the side of any of the streams and canals that criss-cross the property or on the shore of Bay Lake or any of the ponds. You will find bluegill, gar, catfish, crappie and bass.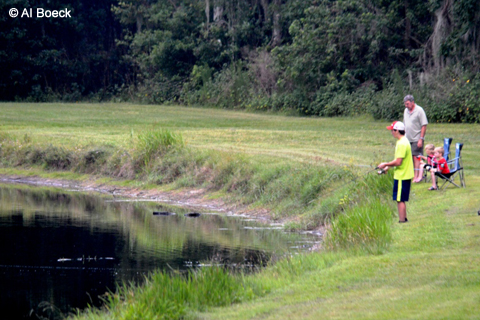 There is no fishing allowed from roads, bridges or docks, with the exception of a special "fishing dock" located behind the Meadow Trading Post. The fishing dock is pictured below.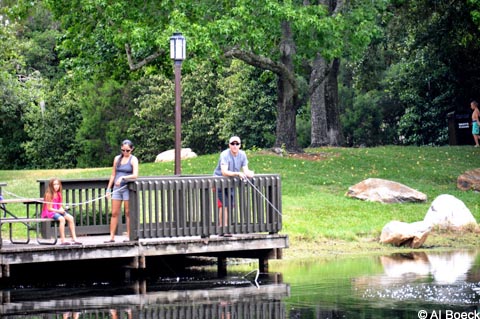 Bud M. from Cumming Georgia is pictured below holding the 5 1/2 pound bass he caught behind the Meadow Trading Post on June 3, 2015.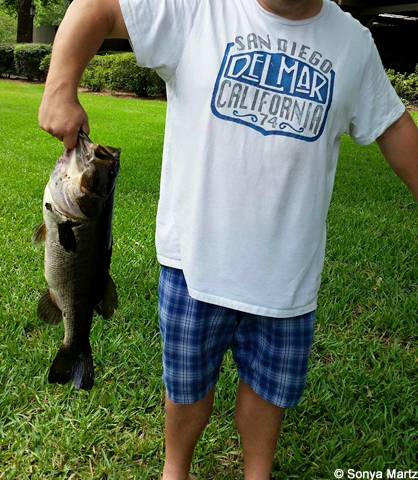 Just a few minutes later his daughter Ally landed a 3 pound bass.
Daughter Katie's bass was smallest, but still much better than no bass at all! Nice work Katie!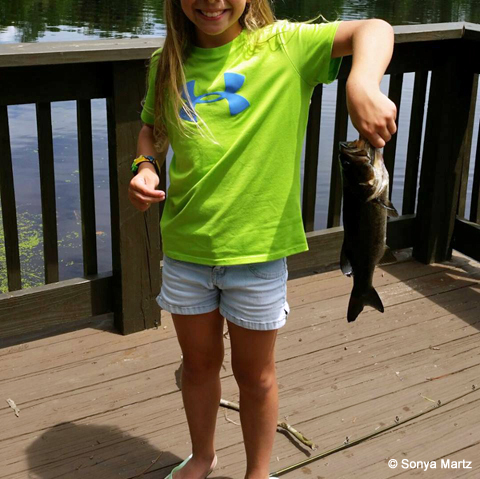 The fish were all landed using worms Bud bought at the Bike Barn. Looks like it's no coincidence that the large-mouth bass is the Official Fish of the Peach State! Thanks for sharing your pictures Bud & Sonya!
Read more about fishing, and find current prices on the official Disney site HERE or on AllEars.net HERE.
All fishing at Walt Disney World is "catch and release" so be sure to take pictures of your trophies before you let them go!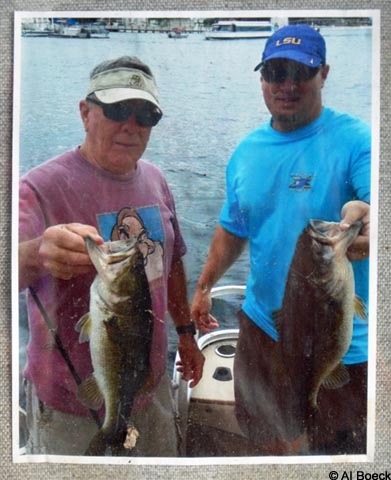 So, the next time you're at Walt Disney World and you decide you need some quiet time, a bit of a break from the hectic pace at the theme parks . . . why not go fishin'?
Head on over to Fort Wilderness or Port Orleans Riverside, grab a pole and spend a few hours pretending to be Huck Finn, Tom Sawyer . . . or maybe Ally or Katie M. from Cumming Georgia!
Doesn't that sound relaxing?
PS – Special thanks to my friend and fellow Fort Wilderness camper, Al Boeck, who endured some unusually hot weather in May to take many of the photos you see in this blog.