To all who come to this photo trivia game, Welcome! Along the way, the photos can make us relive memories and see details Walt's Imagineers put into everything we love in Walt Disney World!
Mike Venere is down in Walt Disney World! Have a great trip, Mike!

Last week's challenge: number #341

And here's the answer: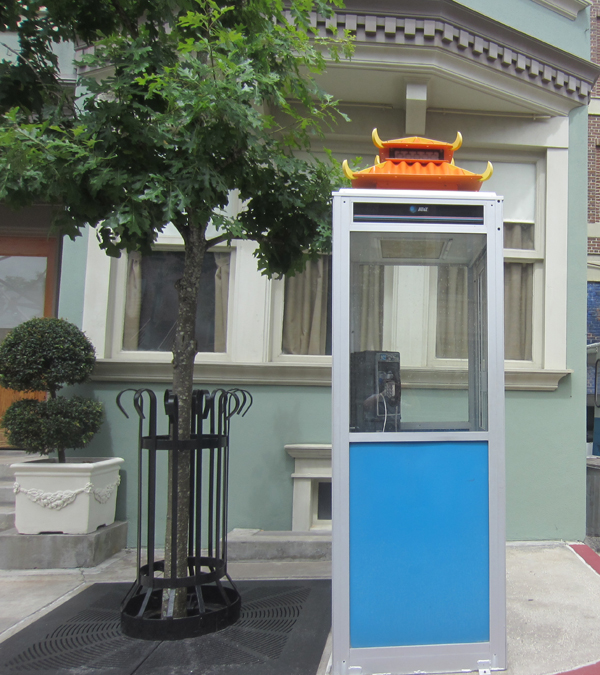 Copyright © Erin Blackwell
Phone booth in the San Francisco-Chinatown section of the Streets of America in Disney's Hollywood Studios. As Chris Kelly pointed out, "During the winter months you may find a snowman in it trying to make a call." I like the jokes about "Phone booth? What's a phone booth?" Well, kids, back in the day, Superman would go into these to change. 🙂
Tricia Petty was the first to send in the correct answer! Congratulations to Tricia and to all our winners this week! Antoinette Leblanc, Linda Ranatza, Carol Ney, Nan Amor, Donna Frank, The Kertes Family, Kristi Strembicki, Kris Nixon, Lyn Johnson, Diane Lopez , Andrew Carrieri, Laura V., Mary Mach, Pat Schwier, Team Hill, Jen Tremley, Nadine Grieshaber, Craig, Chris, Gretchen, And Katie Barnes, Kyra C, Melissa Such, Janet T Thorn, Mary Ann Lamay, Kate Fischer, Karrie Duffey, Anastasia Macneil, Matt Holley, Smitty, Jim Finley, Chris Kelly, Heidi Goodhue, Gabriella, Terry And Matthieu, Jane Johnson, Joseph M. Zafia, Jackie Purcell, Ijacq, Keith Baumann, Daniel Record, Margie Larmon, Danielle Harsley And Agnes Ciotti, and Jeff Blank.
__________________________________ _____________________
Challenge #342 Where in the world is this?
This might seem hard, especially if you haven't seen this for yourself, but think about who this is. Where else would you look for him? [And that is a clue since they have a sign saying "Look for friends of ______"].
Do you know? Do you have a guess? Please send in your answer, before the end of the day on Thursday, July 31st, by clicking on the blue box below.
Please do not post answers using the Feedback Form link at the bottom of this post.
See you next week, Players!



_______________________________________________________________________
Everyone who sends in a correct answer to a Where in the World Challenge this month will be entered in a drawing at the end of the month for some special AllEars® goodies!